Sponsor Content: Jaybird
Jaybird's New Wireless Earbuds Are Damn Near Perfect
We spent a long weekend testing Jaybird's new Vista headphones in Glacier National Park. Here's what we found.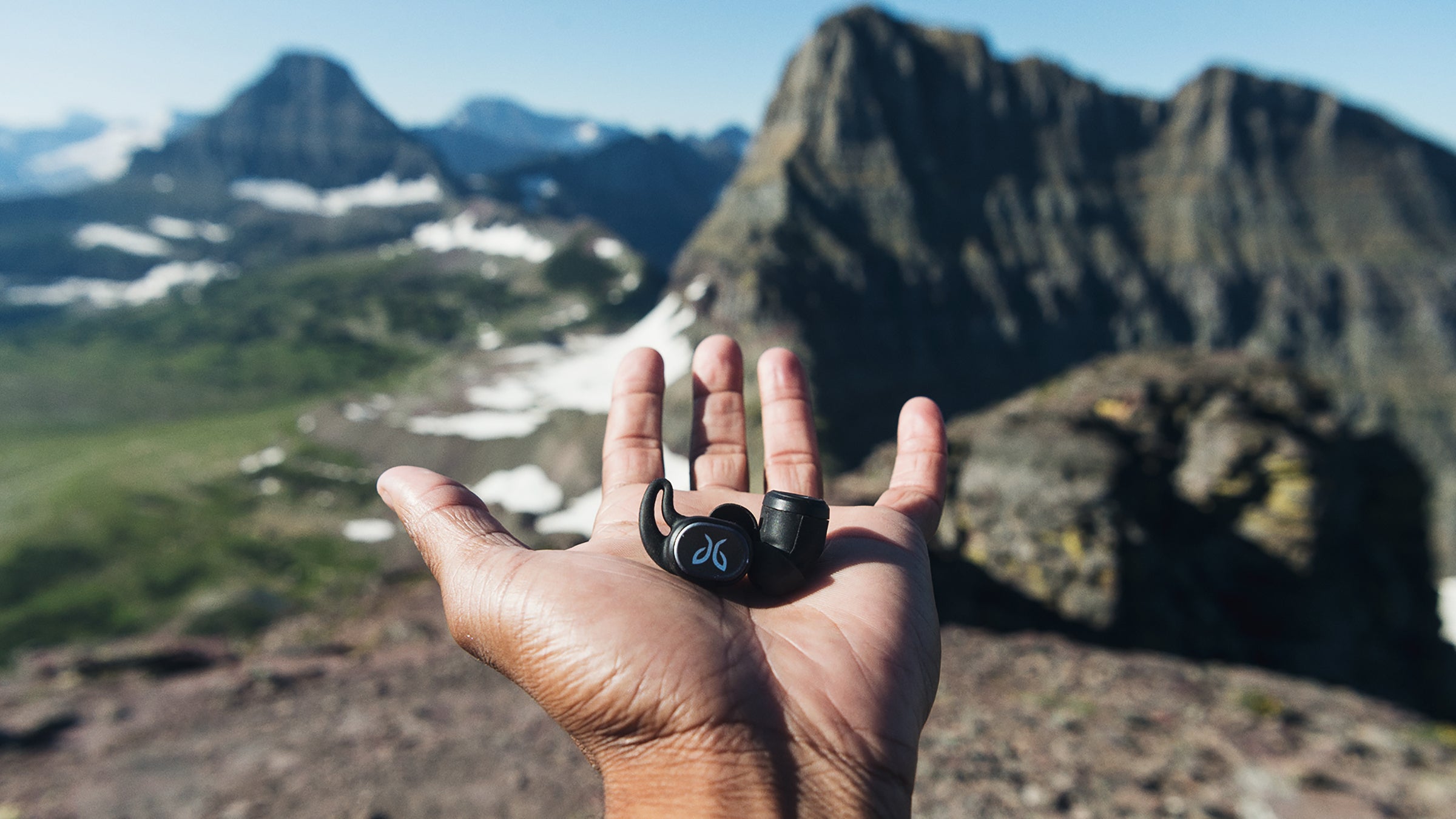 Clack clack clack—the sound of Timothy Olson's feet hitting the thin pieces of shale on the trail was the only proof that he was not actually flying. The long-haired, tattooed, bearded, and sinewy Western States 100 champion, wearing a paperweight tank top and Steve McQueen shades, had run past a herd of bighorn sheep grazing in the meadow, a handful of marmots, and a family of mountain goats, the kids cocking their heads at him curiously.
He's one of a number of high-profile runners—including Olympic gold medalist Gwen Jorgensen, ultraman and podcast host Rich Roll, and Black Roses NYC run-club co-founder Knox Robinson—who gathered in Glacier National Park earlier this summer to test out the new Jaybird Vista wireless sport headphones.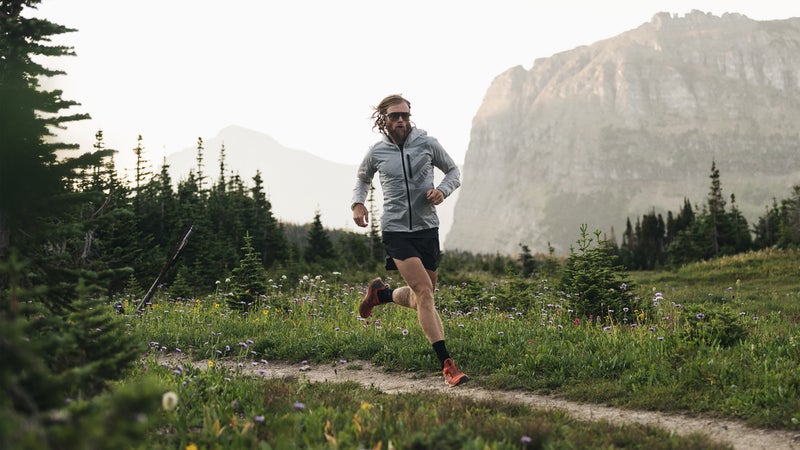 The culmination of 13 years of research and development, the Vistas are designed to withstand both heavy perspiration and the nastiest weather and to keep out dust and sand. Naturally, our first task was to see how the headphones performed on an early-morning run to Avalanche Lake, a glacier-fed beauty in the heart of the park. Their Earthproof construction is rated at IPX7—one of the highest waterproof and sweatproof ratings in the industry. And while it was too cold for anyone to volunteer to test them underwater—the Vistas are waterproof down to a meter for 30 minutes—everyone was impressed with how rock-solid the headphones felt in our sweaty ears.
The main reason for that is the fit. The Vistas' fins anchor them snugly in your ears, and the headphones themselves require no fitting or molding—Jaybird studied thousands of different ear scans to develop a unique replaceable wing that nests neatly in your ear—so they feel great right out of the box. (And in the rare event they don't, they come with ear gels in a variety of sizes for customization.) Translation: the Vistas felt secure even when we were running at eye-watering speeds down a rocky trail or, later, doing downward dogs and headstands on yoga mats. "They fit my ear really well, and stayed put," Olson says. "They're so small I could barely tell they were there."
Size matters, especially with an endurance-minded crew like this, which is Jaybird's sweet spot. The company is based outside of Park City, and, as Roll, observed one day, "they do all the same stuff we do, and that informs the products they make." At only six grams apiece, each earbud weighs as much as one sheet of paper. The included charging case weighs 45 grams (about as much as two AA batteries) and is small enough to fit in the car-key pocket of your running shorts. It opens and closes with a satisfying snap and the buds are secured with magnets.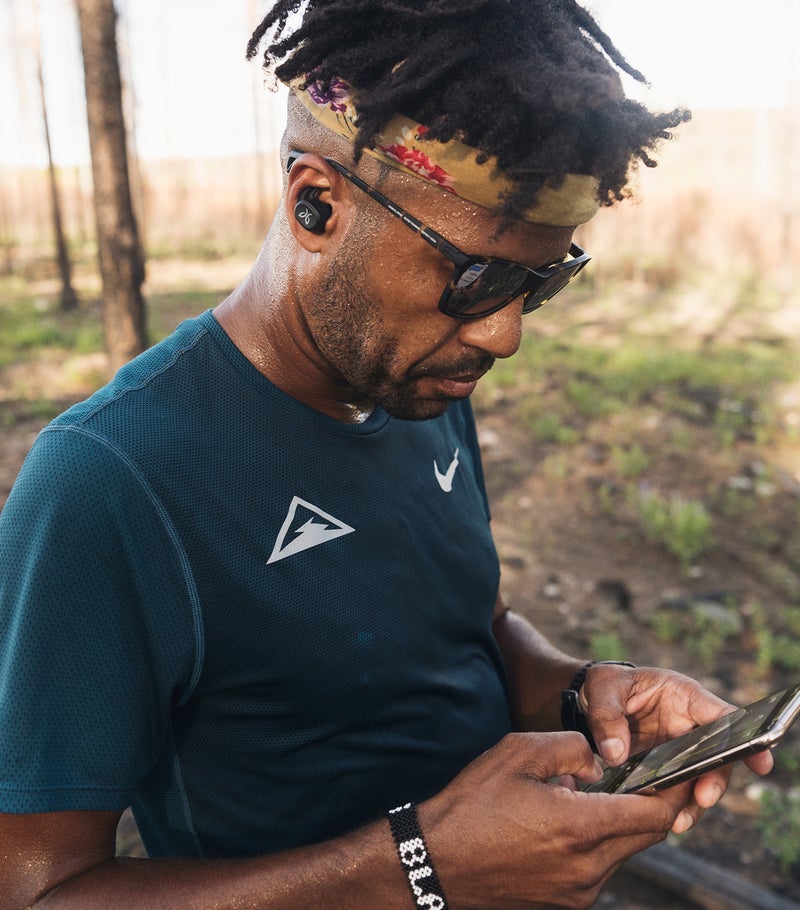 Speaking of charging, most folks won't need to do so all that much. The Jaybird Vistas have one of the longest-lasting batteries on the market, with 16 hours in the headphones alone and ten more with the charging case. If you use one bud at a time, you can get up to 32 hours of continuous use. (If you do forget to plug them in, five minutes of charging—about the time it takes to lace up your shoes and stretch out—provides an hour of power.)
The single-bud option is also where the Vistas stand out among the competition, as lots of runners, including Olson, prefer to listen to just one headphone at a time—an especially important feature in bear country. "I want to pay attention to my surroundings," Olson says, echoing a sentiment illustrated by the nervous chitchat I heard from our crew before one predawn run in Glacier. But the benefits of listening through a single bud don't stop at safety. It also means the ability to chat with other trail users or runners in your group. For Olson, that means during the stretches when he lets them catch up, anyway.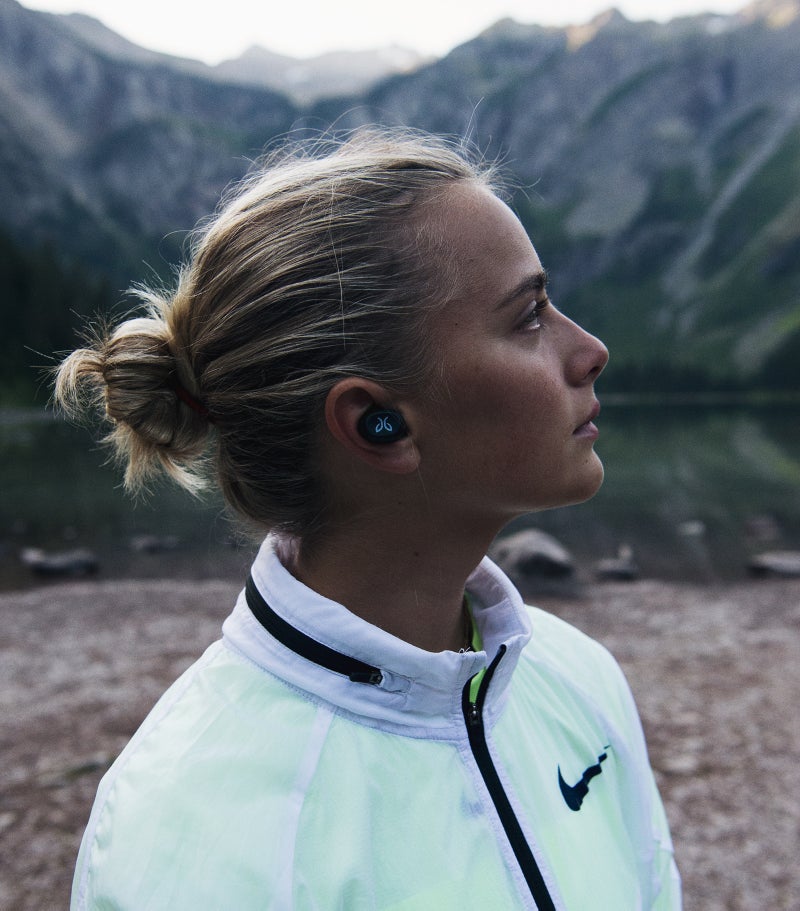 To enable this single-bud option, Jaybird diverged from the typical wireless operating system, where one bud is the master. Instead, each of the Vista's buds connects to your phone independently, eliminating connectivity and syncing issues. Additionally, each bud features voice activation and identical control features—tap to play or pause a song or answer a phone call, double-tap to skip to the next song. The new JBS1 chipset pairs and connects seamlessly with your phone or watch, too.
Somehow, in making these buds smaller and lighter than previous models, Jaybird also managed to improve the sound, redesigning the six-millimeter milled drivers for better accuracy and less harmonic distortion. Jaybird also designed an app feature that allows you to customize the equalization settings, adding more bass or even downloading another user's settings. (The app also features a "Find my Buds" feature that identifies the last place they were used.) And although the Vistas don't have active noise canceling, they block out an impressive amount of ambient chatter and noise, an appealing feature for urban runners or frequent travelers.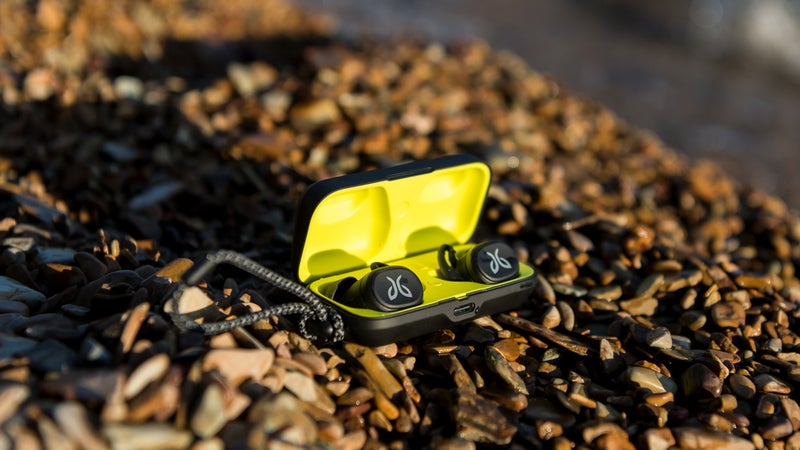 "The quality of the sound really got me," says Olson, who listens to calming meditation music before races and then ramps it up when he's low or tired. Indeed, meditation and mindfulness were hot topics here, because being present, thinking about nothing but the next bend in the trail, is precisely why athletes love to run, bike, ski, and hike in the first place. And as far as Jaybird is concerned, the less distracted you are by your devices, the easier it is to be in the moment.
If that's the ultimate test—how well a pair of wireless headphones allows you to push your limits—then the Jaybird Vistas are in a league of their own. On the performance side, they can easily handle any weather that comes your way and will stay put no matter how rough the trail gets. But what sets them apart from the pack is how good they are at everything else. "It's a giant step forward on the product," noted Roll, who has tested all of Jaybird's previous models. "They're way lighter weight, the noise-canceling is better, and the battery life is longer." In other words: better all the way around.