Secrets of the Seriously E-Fit
Do you have a healthy social-fitness life? It all depends on your motivation.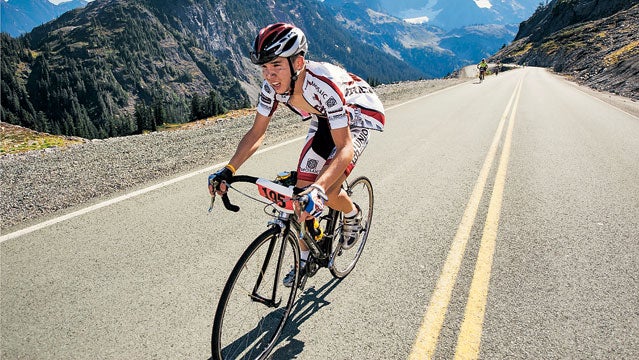 Heading out the door? Read this article on the new Outside+ app available now on iOS devices for members! Download the app.
Last January, Matt Carnal, a cycling coach and endurance athlete in Colorado Springs, logged an astonishing 3,347 miles on his bike in 26 days. And while the distance alone is impressive (128 miles per day!), what's more intriguing is that his primary motivation was to claim bragging rights in a month-long online competition, Strava's Ride Base Mile Blast. "I would have been training anyway, but not like that," admits Carnal. "Strava gave me the motivation to really push myself and see what I could do."
Tens of millions of people now share their workout data on social-fitness platforms like Strava, MapMyRide, Nike+, and Endomondo. And for good reason. A Michigan State study last year showed that the presence of a virtual cycling partner can boost the likelihood that you'll stick with your training program—by as much as 100 percent. You also get accountability, since your workouts are viewed by friends. And with leaderboards like the ones created by Strava and Nike+, you have constant fuel for your competitive fire. No need to wait for organized races; now you can compete whenever you want.
There are downsides. Turning every training ride or weekday run into a race can distract you from the slow-build periodization that coaches recommend for achieving peak performance. "Too much Strava chasing inevitably turns recovery rides into hammer sessions, which can blow a training plan," says Lynda Wallenfels, who coaches some of the country's top endurance mountain bikers. "But used properly, these sites are great for motivation and amusement—two positive things for an athlete logging long, hard hours."
PLAY NICELY
Apps like Strava come with unspoken etiquette. In short: don't be an ass.
Obey traffic laws: If you really think it's worth risking trail closures or car or pedestrian accidents to set a virtual record, go to EntitlementIssues.com, not Strava.
Annotate dodgy rides: Use detailed notes, or, better yet, make the rides private. Nobody wants to repeat your 10-mile hike-a-bike to 13,000 feet.
Facebook when it matters: It's OK to share your ride if: (1) it's actually impressive, and (2) you do so infrequently—think quarterly. Truthfully, nobody cares all that much.
Don't goad: If you're that desperate to compete against someone, pay for a real race—or an MMA session.
LEARN THE LINGO
Every social site has its jargon. Here's how to sound like a veteran user.
Segment: Any designated stretch on a ride for which records are kept.
KOM: Denoted by a golden crown on Strava, you rack up king (or queen) of the mountain awards by being the fastest on a given segment.
Suffer score: Strava assigns one of these to your ride or run based on distance, time, speed, power output, and heart rate.
Guru: MapMyFitness' version of Strava's KOM, this award is based on regularity, so you can be the Guru even if you're not the fastest.
Beat yourself: This unfortunately named Endomondo feature lets you compete against previous times—and provides an audio coach that gives you split times. And yes, you can also Beat a Friend.
Pep talk: Another Endomondo feature, this lets you follow friends and send encouragement in real time.