So Wrong It's Right
Ramp up for winter thrills with counterintuitive cross-training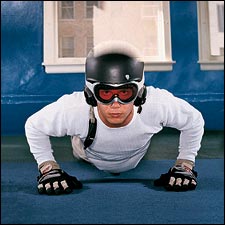 Gregg Segal
Heading out the door? Read this article on the new Outside+ app available now on iOS devices for members! Download the app.
IF YOU'RE A SKIER, snowboarder, or skater, there's a catchphrase you should keep in mind this winter: "Bode knows."
Cross-training

Mix master: What do push-ups have to do with snowboarding?

That's because Bode Miller—a top slalom and giant-slalom skier on the World Cup circuit and a double medalist at the 2002 Winter Olympics in Salt Lake City—provides a perfect example of what serious off-snow cross-training can do for your on-snow (or on-ice) performance.
"Bode's an excellent tennis player. He's an excellent soccer player. That's what sets him apart on the racecourse," says Ron Kipp, a Park City, Utah–based technique consultant to the Norwegian downhill team. "His ski style is not necessarily superior to anyone else's. It's just that he has that extra agility from his ball-sports background to get away with mistakes on his runs that would ruin a less capable athlete.
"I see a lot of skiers with good technique who don't progress further as athletes," Kipp says of people who don't cross-train off the mountain. "They do everything right, but they just don't have a lot of extra pop in their style, and that's what'll take their skills to the next level."
Make like Miller this winter and you too can tap into an extra dose of skill and power. To get there, add a Monday-to-Thursday cross-training activity that will boost performance in your Saturday-to-Sunday cold-weather sport. Whatever level of expertise you bring to your winter pursuits, one of the following exercises is guaranteed to improve your precious days on frozen H2O. Run through the appropriate drill twice a week, and when the weekend comes around, you'll be ready to rip.
Downhill Skiing
YOUR SPORT IS: DOWNHILL SKIING
CHANGE-UP REGIMEN: TRAIL RUNNING
THE CONNECTION?: AGILITY
Any skier will benefit from proprioception training—that is, training the body to maintain balance in unpredictable situations. "Not only will proprioception teach you balance and agility," says Kipp, "it may also reduce the incidence of ACL injuries." Kipp explains that when you lose control on skis, your knees become vulnerable to tendon-snapping amounts of stress, because the muscles relax in anticipation of a crash. Proprioception training will help you engage your entire leg through any tricky situation, dispersing the forces that could wrench a knee joint and helping you to stay in control.
The Exercise: Craig Roderick, a conditioning coach for Endicott College, in Beverly, Massachusetts, suggests downhill trail running for five- to ten-minute stints at differing grades and speeds. This will teach your body to react to variable surfaces such as a mogul field on a ski run. One descent per running session is all you need to see results.
"You're hopping, you're jumping, you're running, you're planting your feet," he says. "It's like you're training yourself to see beyond your current obstacle to the next step in front of you."
Snowboarding
YOUR SPORT IS: SNOWBOARDING
CHANGE-UP REGIMEN: STRENGTH WORK
THE CONNECTION?: UPPER-BODY POWER
"A weak torso is the snowboarder's nemesis," says Kipp, because the torso bears the brunt of any falls. To help your cause, you want exercises targeting the muscles that cushion spills—the shoulders, chest, and triceps.
Working these muscles will also give you better control. "In situations where you're out of balance, it's your upper body that helps hold you steady so you can regain it," says Park City–based Andy Walshe, assistant athletic director for the U.S. Ski and Snowboard Team. "Being able to move quickly and powerfully could save you from a wipeout in the first place."
The Exercise: Try three sets of 20 push-ups, with a clap at the top of each one. Follow with three sets of 20 bench presses with light weights on a Smith Machine—a weight machine in which the barbell slides up and down on a track. Using a spotter, throw the weight off your chest and catch it on the way down. With every set of each exercise, vary your hand placement from narrow to shoulder width to wide. That way, your joints are better prepared to absorb impacts from a variety of angles.
Nordic Skiing
Nordic Skiing

Thaw power: swimming is a nordic skier's best friend
YOUR SPORT IS: NORDIC SKIING
CHANGE-UP REGIMEN: SWIMMING
THE CONNECTION?: BACK STRENGTH
Swimming provides the best all-around way to simulate the strength and endurance you'll need during a long day on the cross-country ski trails. "Modern skate-skiers' torsos have that inverted-triangle look," says Kipp, "exactly like a well-muscled, competitive swimmer. It comes from pushing off with their poles."
Any swimming stroke will help improve your stride, but the butterfly translates best to cross-country skiing. "Look at a nordic skier and the way he leans over the poles when he's driving through his stride. His lower spine muscles pull a heck of a lot of weight," says Kipp. "In the butterfly stroke, as you porpoise through the water, you'll use a lot of similar back-stabilization muscles to flex your torso."
The Exercise: Jump into the pool and practice the butterfly for 20 to 30 minutes. Too tough? Alternate each lap with a pool-length stretch of easier freestyle swimming.
Hockey
Hockey

What the Puck? Sprints will improve your hockey game.
YOUR SPORT IS: HOCKEY
CHANGE-UP REGIMEN: SPRINTING
THE CONNECTION?: STAMINA
In hockey, you hit the ice and go as hard as you can for 45 seconds, gasp for oxygen, then do it again. To thrive in this game, you need the kind of stamina that comes from running sprints. These high-intensity bursts of power will quickly increase your endurance, allowing you to play harder, longer. "Repeating sprints on a track or a ball field simulates the on-again, off-again energy of a hockey game," says Roderick.
The Exercise: Sprint through ten 40-yard dashes—the first four at half speed, the next two at 75 percent intensity, and the last four as fast as you can. Rest between each sprint as you walk back to the starting line. For side-to-side mobility, try this lateral drill: Place two pieces of tape ten feet apart. Stand on one line, feet parallel to it, and then hop sideways until you touch the opposite line with your hand and foot. After that, leap back and touch the start line. Complete ten circuits as fast as you can. As your fitness improves, start adding an extra sprint to your track work and another circuit to the lateral speed drills each week.
Trending on Outside Online