Jeff Lenosky's World-Record-Breaking Training Tips
Jeff Lenosky travels the U.S. knocking out mountain biking's toughest trails. Here's how he stays fit.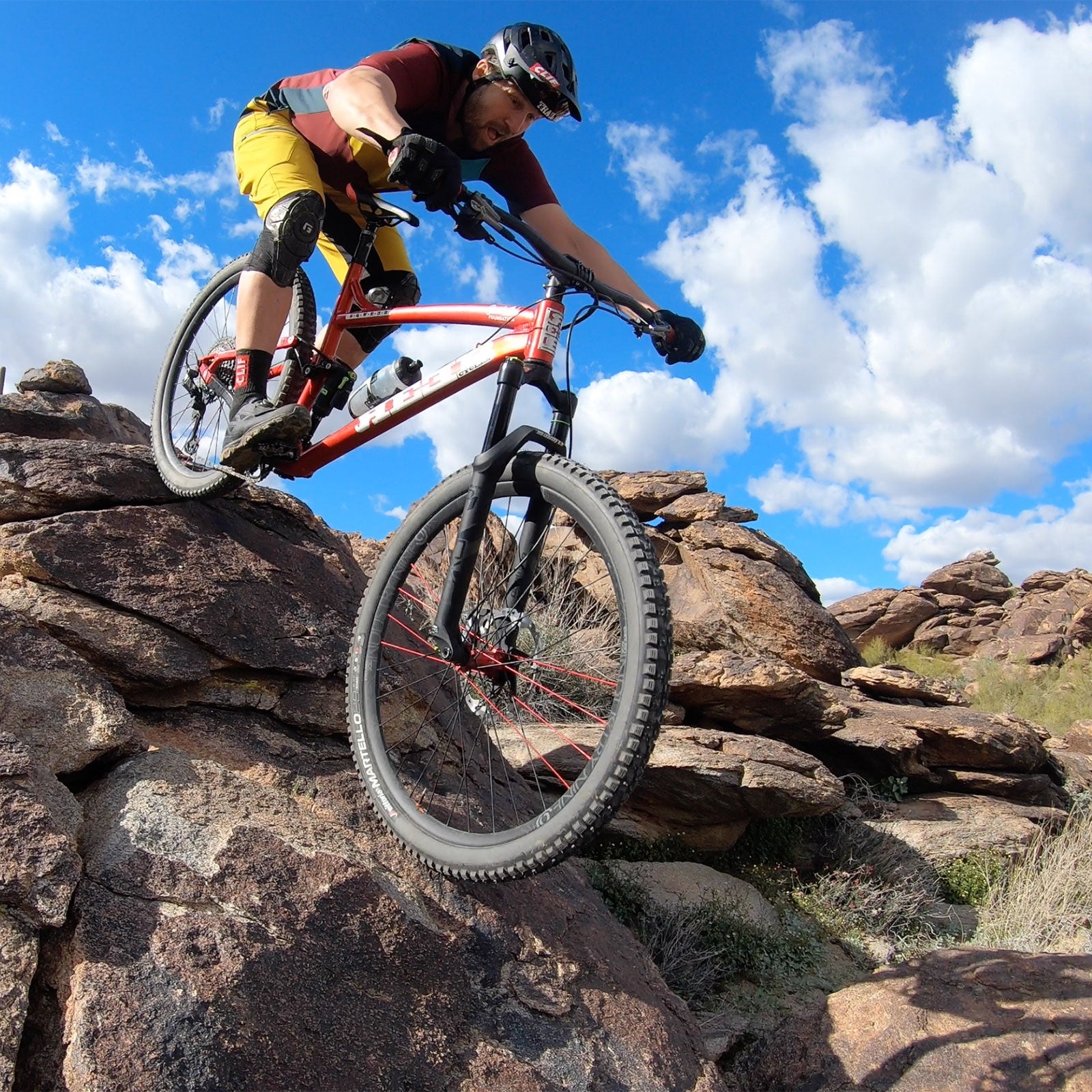 JVargus(Photo)
Heading out the door? Read this article on the new Outside+ app available now on iOS devices for members! Download the app.
Farlow Gap is one of the most notoriously difficult mountain-bike trails in North Carolina's Pisgah National Forest. Riddled with boulder-heavy creek crossings, big drops, steep switchbacks, and the occasional 34 percent grade, it's a boogeyman that gives mountain bikers nightmares. But not Jeff Lenosky. The 48-year-old pro mountain biker styles it like a beginner flow trail at a county park, picking apart the technical bits with a smooth combo of track stands and bunny hops that make him look weightless.
But then, that's what Jeff Lenosky does. With a start as a trials rider, biking over picnic tables and pickup trucks, he has put together a 23-year career that includes three national championships and a Guinness World Record for highest bunny hop on a mountain bike (45.5 inches, or roughly the height of an average four-year-old). Now, instead of competing, Lenosky travels around the country, knocking out mountain biking's toughest trails for a popular YouTube series called Trail Boss. With each ride and video, he brings his physical, trials-style riding to technical singletrack that takes him deep into the backcountry.
"I always liked trying to ride my bike over stuff, and when I first started, trials was the only place I could really do that," Lenosky says from his home in New Jersey. That desire to "ride over stuff" has translated well to the technical riding he's now known for. It's a graceful but physical style that demands incredible balance and strength. "I've always loved challenging myself on a technical line. Now I can do it ten miles into the woods instead of just in the parking lot," he says.
Lenosky started mountain biking during his senior year of high school. He grew up skateboarding in New Jersey, trying to skate obstacles like stairs, rails, and trash cans, which helped hone his street-skate sensibility to biking. "I wasn't really interested in a 15-mile cross-country ride back then," Lenosky says. When he was younger, Lenosky only trained while riding his bike, spending day after day sessioning, riding the same obstacles repeatedly. But as he's gotten older, he's gravitated toward more gym-centric exercises. "I realized years ago that the trail can't be the hardest thing you do," Lenosky says. "It can't be your hardest effort. So I'm in the gym lifting weights to build the strength I need on the trail."
While most cyclists focus their energy on building endurance, training their legs and lungs, Lenosky says the key to riding technical terrain is building strength in the hips. "So many movements on the bike engage your core and require a hip pop. You have to keep your lower back and hips strong," he says. 
Watch Lenosky demonstrate how to perform the bunny hop or the punch, an alternative to the bunny hop that allows mountain bikers to climb stairs or boulders, and you'll see how important these areas are while you're navigating technical terrain. Both moves require the hip pop, in which the body compresses and provides power that hinges from the hips. To re-create this necessary movement, Lenosky focuses on exercises in the gym that build full-body strength, like the rowing machine—Lenosky says rowing for 15 minutes is essentially like doing 50,000 bunny hops in a row. He also focuses on kettlebell swings and deadlifts, which help develop strength from the knees to the shoulders, as well as the box jump, a key plyometric drill that re-creates the compression and explosion needed when mountain biking, whether you're climbing over roots, hitting kickers, or launching drops.
As for bike drills that help improve technical skills, Lenosky takes it back to the basics. "Track stands," he says, referring to the move where a rider is balanced on the bike without moving. "That's the foundation of technical riding. And once you get track stands down, try small wheel pivots, where you lift and move your back wheel to the left and then to the right, while holding the track stand. Then work on moving the front tire."
If you have that balance, Lenosky says, you can come to a standstill on the trail, and if you lose momentum and start to wobble, you'll have the skills to give you a few more seconds to regroup and keep moving. Being able to hold that track stand, and move from it, also comes down to having strong hips and a strong lower back.
But training in the gym and practicing bike drills will only get you so far. If you truly want to master technical terrain, Lenosky says, you have to spend more time riding technical terrain, over and over and over. "When riders suck at riding technical stuff, it's because they don't take the time to session things," he says. "They don't take the time to practice something on the trail in a group ride. You have to play and have fun. Go out one time a week and just play on your bike, hop some curbs, find a tabletop, ride a skinny. Don't worry about your heart rate or calories. Forget about Strava. Just go play."
Lenosky will spend the rest of 2019 hitting the biggest mountain-bike festivals in the country with Reeb Cycles, leading group rides on local trails. The idea is to stop and session different tech zones with the locals to help them conquer their own boogeyman trails. "You can never master everything," Lenosky says. "That's what keeps mountain biking interesting after 23 years. I travel around enough to know that there's always new sections of trail that people say are unrideable. I love finding these spots and trying to figure them out."
Lead Photo: JVargus
Trending on Outside Online