Ski-Mountaineering Will Redefine Your Notion of Winter Fun
The high-altitude, lung-busting challenge imported from Europe has become one of the hottest winter sports in North America. Why? Because this pursuit proves that premeditated suffering can be highly addictive.
Heading out the door? Read this article on the new Outside+ app available now on iOS devices for members! Download the app.
By the time I catch up to Jenn Shelton, an ultrarunning star from Colorado, she's on her back in a ditch next to the trail, covered in snow. She's wearing a white and purple racing onesie, a beanie, a headlamp, clear-lens glasses, and gloves. Skinny mountaineering skis are attached to her lightweight boots, the bases aimed at the night sky, her arms and legs writhing like a flipped beetle's.
"Help! Help me!"
I can't tell if she's laughing or crying, maybe both. It's three o'clock on a late March morning in 2014, and it's cold—as in scary cold, maybe 15 below. It's been snowing for days, but now a swath of bright stars sparkle overhead. I reach down and give her a hand up, anxious to keep moving, even though I'm exhausted and just want to stop. We're ten miles into the Gore-Tex Grand Traverse, a 40-mile, 7,800-vertical-foot backcountry ski race that departed from Crested Butte, Colorado, at midnight and will finish in Aspen later today.
Because the terrain is remote and dangerous, you're required to race with a partner. Shelton and I teamed up just a couple of weeks ago, when her original teammate bailed. With so little time to prepare, my training for the Grand Traverse essentially consisted of eating a couple of salads and buying heat-moldable insoles for my boots. Shelton, a top-shelf athlete who set a world record for a 100-mile trail run, is petite and jackrabbit fast on climbs, but she hasn't skied all that much and crashes often. I'm a plodder with zero records to my name, but I move fast downhill, which allows me to catch up. We've been inchworming through the dark like this for hours.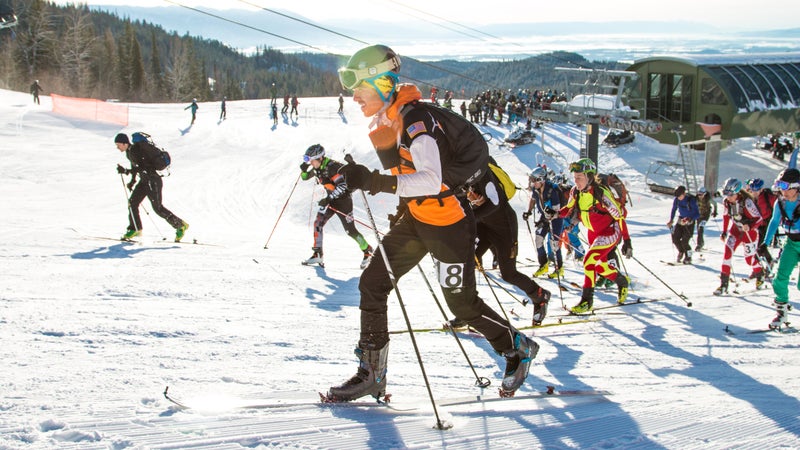 I'm chasing Shelton through the frigid high country because I have a skimo problem. "Skimo" is short for ski mountaineering, in this case ski-mountaineering racing, a masochistic winter sport that, for reasons I don't fully grasp, I've become obsessed with. I'm not the only one. Big-name runners like Shelton have also taken to the sport, and in some cases they've owned it—among them Kilian Jornet, Rob Krar, Emelie Forsberg, and Stevie Kremer, to name just a few.
The influx of high-profile runners is one reason skimo's popularity has spiked in the past couple of years. And it's not just at marquee events like the Grand Traverse. Last winter, in Summit County, Colorado—home to several ski areas, including Breckenridge and Arapahoe Basin—dozens of people routinely showed up at 7 a.m. for a Tuesday recreational series at A-Basin, some driving two hours from Front Range cities before work. A weekly race series in Brighton, Utah, has grown from a dozen or so competitors to more than 120. Last year, when registration opened for the Grand Traverse, the race hit its 200-team limit in 24 hours—at $400 per team. "All our events have doubled or more than doubled," says Joe Risi, director of the COSMIC race series, in Colorado and New Mexico, the largest skimo series in North America. Something's happening with this sport, and it's happening fast.
---
Uphill skiing, lightweight touring, and "fitness skinning" are all part of this burgeoning branch—particularly when it's done in-bounds, which is safer and often more convenient than the backcountry. This kind of ski mountaineering has become popular enough that even general-audience media like The New York Times, The Wall Street Journal, and NPR are paying attention. "Today, people skin to reach isolated sections of a mountain," the Times wrote in December 2014, "to search out fresh, deep powder or for the calorie-torching workout."
I read the report with a smile. Ski touring for fun and fitness isn't exactly new; I've been doing it, along with many of my friends, for nearly two decades. Of course, I live in northern New Mexico, about 30 minutes from uphill-friendly slopes, so I have to remind myself that ski touring is, in fact, unfamiliar to a lot of people who don't live in mountain towns. It's hard for me to imagine such impoverishment, but skinning up for a powder run before work still isn't part of most people's weekly routine.
Skimo, sometimes called rando racing (from randonnée, a French term for ski touring), sits at the fanatical edge of this activity. Many people, like me, come to the sport through casual adventuring and early-morning skin-up workouts. It isn't much like skiing, at least in the traditional downhill sense, or even mountaineering. In Europe, where the sport originated, it's sometimes called ski running, though mountain-bike racing might be a better analogy.
The convergence of improved equipment, a lively new community, and possible some sort of adult-onset competition disorder has lured me back and ignited my quest to get good at skimo.
Almost everyone who's serious about skimo racing wears a body-hugging Lycra outfit. The events involve hoofing up tall peaks, often for several thousand vertical feet, using mohair climbing skins to grip the snow. At the top, in a hypoxic swoon, you rip off the skins, affixed to the bottom of your skis with a tacky, reusable glue, stuff them in your stretch top, and then blast downhill.
The latest skis—hyperlight and about half as wide as what you ride at a resort—perform surprisingly well once you get used to them. But they're so narrow and hard to handle that on several occasions I've unintentionally executed spectacular high-speed cartwheels in the middle of a run, sometimes cratering, sometimes landing back on my feet, hardly slowing down.
I've dabbled in races on and off for several years. Recently, the convergence of improved equipment, a lively new community, and possibly some sort of adult-onset competition disorder has lured me back and ignited my quest to get good at skimo. The race I did with Shelton in 2014 was the fourth time I'd done the Grand Traverse, though my previous one was seven years prior. Now here I am again, standing next to my partner, who's on the ground trying to pull stretch pants over her boots. One boot has become stuck in a pant leg. It looks like a python is swallowing a piglet.
"I'm fucking freezing!" she says, thrashing.
So am I. My sweat-damp race suit has leached the last heat from my body, and I start shuddering violently, teeth clacking. My hands have frozen into claws inside my lightweight race gloves. Our situation feels desperate already, and we have a long way to go. Even fast teams can take ten hours; we'll be lucky to make it in twelve.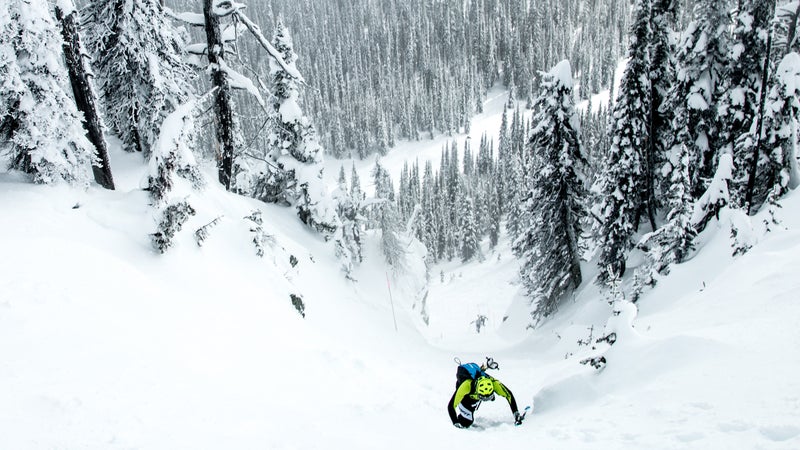 Shelton gives up on the stretch pants, and I manage to fish my side-zip overpants out of my pack and help her into them. Then we're off again, shuffling in tandem while I gnaw on a frozen gel block. I can see a few headlamps in the distance, creeping up the headwall of the first huge mountain pass. Daybreak seems achingly far away.
Eventually, we make it, even though I've bonked so hard by the end that the only thing propelling me is Shelton's "secret fuel," which turns out to be Starbucks Via Caramel Flavored Iced Coffee mixed in a water bottle. (The tricks of the pros!) We finish in roughly 12.5 hours, good enough for 66th out of 141 teams. I think: What if I had actually trained?
---
In the off-season, the spring and summer of 2014, I ride my mountain bike, lift weights, even start running, which I hate but accept as a necessary evil. When fall arrives, I sign up for a bunch of races, seven in all, including the Grand Traverse and another monster, the Audi Power of Four, also in Colorado, which involves climbs on Snowmass, Buttermilk, Aspen Highlands, and Aspen Mountain—24 miles and more than 10,000 feet. It's terrifying. Fear drives my intervals until the snow flies.
I arrive at my first race in February 2015, held at the local hill in Santa Fe, my hometown, kitted out in a flashy orange and black speed suit that makes me look like Tony the Tiger. I'm feeling confident, given my diligent work in the preceding months. The starting gun fires, and I take off with the lead group. The initial pace is shocking, nearly a sprint. We boogie up a cat track and then turn into the woods on a single-file skin track.
I'm in front! But not for long! After a minute or two, I pull off the track and double over, gasping, as twenty, maybe thirty racers fly by me. Suddenly, I'm alone, and it's all I can do to keep moving. After a little while, a lanky guy on clunky old telemark skis, dressed in baggy clothes, scoots by. I catch a waft of cannabis.
"Going up sucks!" he says. He was DFL—dead fucking last—and now I am. My goal for the season is to compete in one of the big European races, where they draw Tour de France–size crowds on the high ridges, feasting on fondue and clanging cowbells. Yet here I am, getting thumped by stoned hippies on my home turf. I'm tempted to quit the sport forever, but I don't.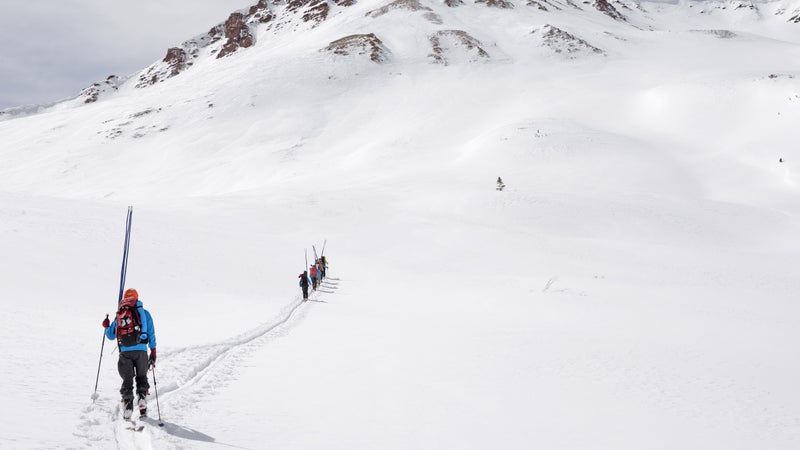 If you get serious about skimo, all roads lead to Europe, where the sport is more established by several orders of magnitude. The origins there go back to armed-forces training in the Alps during the early 1900s. In 1924, the winter Olympic Games in Chamonix featured an event called Military Patrol that was a mashup of modern skimo and biathlon, involving a rigorous 30-kilometer alpine course with target shooting at the top. The oldest race of this kind still around today is Italy's Trofeo Mezzalama, created in 1933 and run every two years in Italy's Valle d'Aosta, in the shadow of the Matterhorn. The Italians take their skimo seriously, and the Mezza remains one of the burliest races anywhere.
The event is named after Ottorino Mezzalama, a decorated Italian army captain who is considered the grandfather of ski mountaineering. He was well regarded by his soldiers, but in private he was a melancholy bachelor who lived with his mother. "Who do you think will marry me?" he would lament to her. "I'm too ugly and I haven't got time: one finds a wife on Sundays, and on Sundays I am always alone and at high altitudes."
Mezzalama's great dream was to pioneer a ski route across the Alps, something he called, for reasons unknown, "the Path of the Year Two Thousand." In 1931, in his early forties, after years of touring and exploring, Mezzalama died in an avalanche. In a final dispatch, published posthumously, he wrote, "Knowing how to get the most out of one's skiing capabilities at altitude and on long excursions, requires training that is by no means brief, and the closer to perfection one's technique the greater the results will be. … Only after long usage and many crossings can all the miraculous results possible with skis be achieved."
---
This is what I'm after, Mezzalama's "miraculous results." At its core, skimo speaks to a higher purpose—moving with speed and efficiency through rugged, sometimes dangerous terrain. The races are a contrived form of real ski mountaineering, but they allow you to push closer to the edge. You get to assess how well you've prepared and whether you can keep yourself together when trouble crops up.
"I like skimo because I generally think of myself as a pretty with-it person," says a female friend who goes by the nickname Maddawg and did a few races with me last winter. "This sport makes me lose my shit and revert to being a grumpy five-year-old who needs hot cocoa. It's like a capability cleanse."
Steadily, painfully, I race myself into shape. I rise before dawn, grinding laps in the dark by moon- or headlight. I create short loops to practice transitions—ripping skins, folding them in one fluid motion. I pass up epic powder days in lieu of intervals on groomers. My friends shake their heads solemnly. They don't understand.
If you get serious about skimo, all roads lead to Europe, where the sport is more established by several orders of magnitude. The origins there go back to armed-forces training in the Alps during the early 1900s.
By the time I arrive for the Power of Four, held in Aspen in late February, I've dropped ten pounds in as many weeks, and I feel less self-conscious and more like a Power Ranger in my skin suit. Because the Po4 is a partner event, I've recruited another buddy, Chris, a strong skier and runner who has been my teammate for previous Grand Traverses. Some 200 racers mill around at the start, including some top Americans, Aspen locals Max Taam and John Gaston, who have been untouchable all year.
My only objective is to beat two friends who thrashed me in this event the previous winter by more than an hour—and that was on the short course. They're tough, and it's a good battle. We leapfrog much of the day, until we hit the Congo Trail, a dreaded section of windy downhill singletrack that's as icy as a bobsled run and about as wide. I biff often and gloriously. Frustrated, I try bombing it, with hockey stops at the hairpins, but collide with an aspen tree so hard that I nearly knock myself out. No technique seems to work well, and by the bottom our opponents are gone and I'm rattled and cursing like a sailor. But then all those lonely early-morning sorties kick in, and we catch them on a long climb. By the top, they're off the back and out of sight. Chris and I white-knuckle through steep moguls to the finish line, on the brink of losing control, thinking they'll catch us at any moment, but they never do. My first miraculous result is in the can.
---
At the end of March, I team up with Jenn Shelton again for another Grand Traverse. Conditions are fast and firm, and, thank God, less frigid. The field is flooded with runners, two of whom—Scott Simmons and Paul Hamilton—are from Durango. They not only win but set a new course record.
It's an upset of considerable proportions. They're out-of-towners, and while Simmons is a serious skimo racer who has competed on the U.S. national team (yes, there is one), this is Hamilton's first Grand Traverse. Marshall Thompson and Rob Krar, winner of the Western States 100 in 2014 and 2015 (also racing his first Grand Traverse), are a close second. As for Shelton and me, we shave more than an hour off our time. Better yet, I feel great, invincible. No bonking. No bottles of instant Starbucks to help me survive.
In the spring I go to Europe, to the Trofeo Mezzalama, which takes place in early May. I'm hoping to horn myself into the race, but the Mezza requires teams of three, roped together for much of the event.
I settle for watching. The course is unlike anything I've seen in the U.S., climbing some 10,000 feet and spanning 28 miles across the crest of the Alps. A rope, crampons, and ice axes are mandatory for all teams.
Several sections require threading knife-edge ridges blasted by high winds. One icy 40-degree slope is so sketchy that organizers installed fixed lines and chainsawed steps into the face to keep racers from plunging to their deaths. Gauntlets of spectators three deep in places ring cowbells and holler, "Dai! Dai! Dai!" ("Go! Go! Go!") as teams glide past in their matching onesies. The Italians are the favorites and are currently in first.
It strikes me that this is skimo's past and future. Europeans discovered long ago that the deeper pleasures of skiing, and racing, are not confined to chairlifts and groomed runs.
I tour up to a high ridge with expansive views across the peaks, and I feel oddly indebted to Ottorino Mezzalama. Skimo has made me a better skier in every way: more fit, more skilled, more adaptable, more confident. I watch the race for a while from my high point, content this time to be a spectator, then zip back down to the base area, where I arrive at the finish just in time to see the first-place team cross the line. It's the Italians. No one seems surprised.
Contributing editor Nick Heil (@nickheil) wrote about the feature film Everest in September.
Catalog of Skimo Races
A select list of North American events. The calendar gets busiest in February and March.
November
11/22: Wolf Creek COSMIC Skimo Race, Wolf Creek Ski Resort, Colorado
11/26: Wasatch Citizen Series begins, Brighton Ski Resort, Utah
December
12/5: Irwin Guides Griggs Orthopedics, Crested Butte Mountain Resort, Colorado
12/18–20: Grand Traverse Skimo Academy, Crested Butte, Colorado (training for the Grand Traverse in March)
January
1/9: The Heathen Challenge, Sunlight Mountain Resort, Colorado
1/16–17: Wyoming Rando Roundup, Jackson, Wyoming
1/23: Devine Incline Skimo Race, Powderhorn Mountain Resort, Colorado
1/23: The Beast Northeast Rando Race Series, Berkshire East Ski Resort, Massachusetts
1/27: The Bolt Northeast Rando Race Series, Mount Greylock, Massachusetts
February
2/2: SIA Uphill/Downhill Challenge, Copper Mountain, Colorado
2/6: Santa Fe Fireball, Santa Fe, New Mexico
2/7: Rio Hondo Rando Raid, Taos, New Mexico
2/12–14: U.S. Ski Mountaineering Nationals, Crested Butte Mountain Resort, Colorado
2/27: Audi Power of Four, Aspen, Colorado
March
3/4–6: Wasatch Powder Keg, Brighton Ski Resort, Utah
3/5: Jay Peak Rando Race, Jay Peak, Vermont
3/12: Five Peaks, Breckenridge, Colorado
3/12–13: The Magic USSMA National Series Weekend, Magic Mountain Ski Area, Vermont
3/20: Mad River Valley Skimo Race, Sugarbush Resort, Vermont
3/25–26: Gore-Tex Grand Traverse, Crested Butte Mountain Resort, Colorado
April
4/2: Cody's Challenge, Steamboat Springs, Colorado
4/9: Shedhorn Ski Mo, Big Sky, Montana