Tony Little Saves Tonga
Tony Little (I'm the World's Number One Personal Trainer!) travels to Tonga (it's a monarchy, right? you just stop the fatty food from coming in!) and whips the island nation into shape (holy shit, these people are huge!)
Heading out the door? Read this article on the new Outside+ app available now on iOS devices for members! Download the app.
It's a bright, orchid-scented morning outside the customs area at Tonga's Fua'amotu International Airport, on the main island of Tongatapu. A merry throng of locals, resplendent in woven grass skirts, clusters around a double door, greeting friends and relatives from the weekly Honolulu flight. Every few moments the doors swing open, triggering a round of shouts and bearlike embraces. Luggage carts wobble beneath piles of boxed TVs, cigarettes, VCRs, Nintendos, microwaves, and other American exotica. A Christmaslike expectancy hangs in the air, each moment holding the promise of happy surprise.
The doors part, and Tony Little emerges into the tropical sunshine, blinking like a newborn. He stands a burly five-foot-seven and carries his muscly arms slightly away from his torso, as if they were electrically charged. He wears leather sandals, snug denim shorts, and a sport shirt unbuttoned to reveal a silver Celtic cross nestling between tawny hummocks of pectoral flesh. Framed by the sharply creased brim of a black baseball cap, his face is strikingly handsome, in a computer-enhanced kind of way. His blond ponytail hangs piratically on his right shoulder, stained a zippy orange in spots where the Estëe Lauder Self-Action Tanning Creme has rubbed from his skin.
"So what are Tongans gonna think of a hyper guy in a ponytail?" he asks me. His voice rises into his trademark primal scream. "COME ON—YOU CAN DO IT!"
At the sound of his voice, several large bodies swivel, radiating a degree of menace attainable only by impassive, powerfully built men wearing skirts. Ever alert to audience mood, Little shifts to the hoarse sotto voce he uses for a whisper. "They gonna rip my head off, or what?"
Good question. Though the Tongans' reputation for size and ferocity is unparalleled in the Pacific, it's important to note that they haven't massacred any foreigners since 1806, shortly before the widespread practice of cannibalism fell out of style. Tenaciously independent—visitors are often reminded that this is the only South Pacific nation never colonized by a European power—Tongans nonetheless welcomed Christian missionaries with open arms, a historical tidbit that does not go unappreciated by their latest guest.
"That's cool," Little says. "They'll get to know me, don't worry."
Tony Little, as his infomercials tell us, is a Worldwide Electronic Media Superstar, Record-Breaking Business Entrepreneur, Record-Breaking Health and Fitness Expert, and the World's Number One Personal Trainer. Shouting on late-night television, the 41-year-old former bodybuilder has, since blasting onto the national airwaves ten years ago, persuaded more people to exercise than anyone else on the planet. He is the highly evolved embodiment of our multibillion-dollar-a-year national fitness obsession, selling $170 million in equipment and videos last year alone, an amount roughly twice Tonga's gross domestic product. Little ranks as the unrivaled emperor of the highly competitive personal-fitness industry because he possesses the ability to, as one of his colleagues puts it, "irritate, irritate, irritate" viewers into buying ab machines, fitness gliders, books, bio-rockers, leopard-skin leotards, workout shoes, vitamins, dog beds, and dozens of other products stamped with his image. Three days from now, he'll be screaming at a thousand neophyte network-marketers in Philadelphia, but for the next 40 hours he belongs to Tonga, or rather, Tonga belongs to him. He strides to the van, shrugs off his bags, and takes a moment to gaze back at the palm trees, the paradisiacal skies, the grass-skirted civitas who until this moment could not have dreamed that Tony Little existed.
"Holy shit," says the World's Number One Personal Trainer. "These people are huge!"
---
Weaving through a gauntlet of scurrying chickens, the van grinds toward Tonga's capital city of Nuku'alofa, literally, "abode of love." Little peppers our driver with questions about the country's population (97,000, 25,000 of whom live in Nuku'alofa), industries (almost entirely subsistence-level farming and fishing), language (Tongan and English taught in schools; 90 percent literacy), and crucially, television availability (sadly, not much—one Pacific-feed channel, no infomercials as yet). After several moments, Little leans back in his seat.
"I got this thing figured out," he announces. "This is a monarchy, right? You just stop the fatty food from coming in, get some Spam-sniffing dogs. Then get some adult recreation going—it needs to be fun, you got to make it fun, some baseball, maybe football. Hey Valu, do people here play softball?"
Valu Leha, our genial and mumbly driver, who bears an unnerving resemblance to O. J. Simpson, lights a cigarette. His eyes narrow in deep consideration. "Mmm, yes, a little bit, I think."
Leha is being agreeable. By the government's best estimates, 60 percent of adult Tongan women and 40 percent of the men qualify as obese; rates of diabetes, heart disease, and hypertension are beyond epidemic proportion; and life expectancy has sagged into the high sixties. The average 14-year-old weighs 145 pounds and ranks sleeping and watching videos as his two favorite activities. The mainstays of the local diet are tinned corned beef and fried sipi, a belly-cut of mutton imported from New Zealand. Mary Bourke, Miss Tonga 1996, stands five-foot-three, weighs 143 pounds, and is teased for being too skinny. It took visiting physician Frank Gutmann six months to teach the nurses at the national hospital to refrain from chortling when he prescribed weight loss to his patients. Tongans do not, despite Leha's courteous answer, play softball.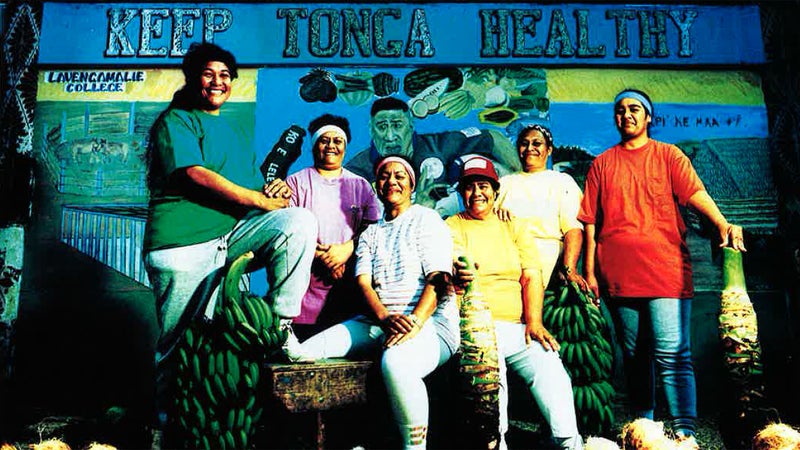 They are, however, trying to lose weight, inspired by their beloved 79-year-old monarch, King Taufa'ahau Tupou IV. Following his own 20-year drop from 444 pounds to a relatively ectomorphic 319, he decreed a national war on flab in 1995. In keeping with the deific powers that allow him to appoint cabinet ministers for life and be referenced in print with capitalized pronouns, he promoted a series of government-sponsored exercise and nutrition classes, health walks, and weight-loss contests. In posters and handouts, loyal subjects are reminded, "You are what you eat." Street corners bloom with edifying banners that glorify Tongan feats of athleticism, notably His Majesty's 1932 pole-vault of ten feet, a national age-group record that stood unbroken until 1989. Were the king not on an extended tour of America, he would be lifting weights at the gym in Nuku'alofa and in all ways gracefully shouldering his national role-model status (though the license plate on his British diplomatic Rolls still reads 1 ton).
In its first two years, the health and fitness program has met with less than regal results. Half of the 2,296 people registered for the weight-loss contests dropped out, and approximately 70 percent of those who finished have put some or all of the weight back on. Organizers have encountered technical difficulties—several scales at the 26 weigh stations broke under the constant strain—but mostly, they're running up against a more intractable problem: The average citizen lacks a compelling reason to reduce.
"You must remember, this is Tonga," says Malakai 'Ake, the noncommunicable disease officer at the Ministry of Health. "Most people are farmers, and food is the central preoccupation of our culture. Obesity is a sign of nobility and sophistication, and it's exceedingly difficult to change that overnight. Given that, the weight-loss program is quite a success."
Leha yawns. Two days ago, he was up all night helping to prepare a feast for his nephew's seventh birthday. The menu was for 60 people and included 14 suckling pigs, eight roasted chickens, 40 pounds of baked yams, raw fish in coconut milk, macaroni, lu pulu (salted beef wrapped in taro leaves), mussels, lobster, octopus, watermelon, breadfruit, mango, yellow cake, and fruit sherbet. "A small feast," Leha says apologetically. "You should see some of the big ones, like for the 50th anniversary of the high school." He spreads his arms wide and smiles. "Ten days of feasts. Big feasts."
"I got one," shouts Little from the back of the van. "A slogan for Tonga: We show a photo of a good-looking woman walking down the street, and we say, 'It's cool to eat low-fat, because you'll get that.'"
"Mmm," Leha says. "You're funny."
---
"God, my bicep is killing me," Little moans, flexing his arm slowly over his lunch of grilled whitefish, french fries, and coffee. "I was doing curls at the gym in Hawaii and a bunch of kids were yelling my name and pointing at their abs. I lost concentration for a fraction of a second. Boom, sprained it." He shakes his head in disbelief.
The injury comes at a bad time. At 199 pounds, Little's already 14 pounds overweight, and his 35-inch waistline is three inches broader than he'd like. Beneath his black muscle-shirt I can make out the faint outline of his waist-trimmer, a Velcro-closed neoprene truss he wears when he works out.
"Would you believe my blow-dryer won't work?" he says. "The plug won't fit in the socket, and now my hair's going to be all packed down. I didn't pack any of my detangler either." He tugs on the bill of his cap. "I'll be lucky to get a brush through the stuff tomorrow."
Little knows adversity. His promising bodybuilding career was derailed when his car was hit by a bus in 1983. Depressed and 50 pounds overweight, he "drummed up his last spark of passion and drive" to produce his first cable fitness show in his home state of Florida. Other trials have followed, each overcome in turn.
"EATING SIPI IS LIKE SAYING 'I WANNA DIE!'" Little shouts to the assembled and in response receives a solitary cough. "Tough crowd," he says.
"There was the time I accidentally sat in a pool of acid at a pet-supply manufacturer and burnt my butt and balls; then I got kicked in the balls by a horse—those were both in '85. I've been electrocuted a couple of different times, got meningitis from a bad spinal tap, and my ex-wife beat me up and dislocated my jaw—the National Enquirer did a pretty accurate piece on that. Then there was the car wreck last year: Got run off the road going 50, slid backward down a hill—the only frigging hill in Florida—and hit a palm tree. Split my face open like a cantaloupe, got 160 stitches, and was back on television 21 days later." He pauses to swallow a fry. "See, everything that happens to me becomes a selling point. In fact, there's a stitch coming through my nose right now." He leans forward, permitting closer examination.
"Mmm," says Leha, chewing a large piece of prime rib.
"So I was just visiting my 11-year-old son at this camp in the Berkshires," Little says by way of transition. "It's a weight-loss camp, and this place is great. But it's only open three months out of the year. Three months! Which gets me thinking: Convert this thing to year-round, bring in adults, and boom, it could be huge!" His voice drops to a businesslike timbre. "I'm seriously considering acquiring an interest.
"I'm unique because God gave me a gift to see things simple," he continues. "If the Tongan people conceive, believe, and achieve, they'll watch that body fat leave. Hey!" he signals the waitress, voice tight with urgency. "Can I get more coffee?"
Three hours later, we're at Teufaiva Fitness Centre, a high-ceilinged cinder-block gymnasium with an ancient Primo Carnera poster above the front desk. Little's visit has ignited a steady murmur of anticipatory coverage: radio and television ads, an article in the weekly paper, and here, outside the gym, a large signboard plastered with his toothy image.
"Hello, hi, you look great," Little tells people as they shyly file in, their eyes flitting from the poster to the real thing. A few are wearing traditional garb; most are outfitted in pastel sweats. As the appointed hour comes, Little is apprehensive. Pacing and sipping coffee—he averages eight to ten cups a day—he peeks into the gym, where perhaps 70 people have gathered.
"This place looks dead," he says."Is this all the people that are going to come?"
"Look," says Leha, gesturing with his cigarette tip.
A woman steps out from behind the building. She's wearing polka-dot green tights and a pink T-shirt, a kitchen towel tied around her head as a makeshift sweatband. She's six feet tall and weighs 342 pounds by her own estimate. Her name is Katalina. Little's eyes light up; this is the telegenic moment he has been waiting for. Gesturing for Ray, the cameraman, to follow, he leaps down the steps and walks to her. The top of his head is exactly level with the tip of her chin.
"HOLD ME," Little bellows, pretending to leap into her arms.
Katalina's arms stay at her sides. Little jiggles her shoulder, as if to awaken her. "HEY! YOU LOOK GREAT! REALLY!" He pokes her in the belly. "HOW MUCH OF THAT DO YOU WANT TO LOSE?"
Some of Katalina's friends are beginning to laugh. "Twenty kilo," she says, and breaks into a smile. "Maybe 25."
"TWENTY-FIVE! WE CAN DO BETTER THAN THAT!" Little escorts her through the doors, his hand nested in hers like a child's. A few minutes later, he begins.
"MY NAME IS TONY LITTLE," he shouts. "I'M THE WORLD'S NUMBER ONE PERSONAL TRAINER, AND I THINK YOU SHOULD HAVE FUN IF YOU'RE GOING TO HAVE FITNESS!"
Throwing a glance toward Ray, he walks to a woman seated on a bench and plops down on her lap. The crowd laughs loudly. "My husband!" she hisses in his ear. Little leaps off as if hit by an electric shock.
He finds his feet and faces the crowd, ponytail swinging. "I believe in ENERGY! I believe in ENTHUSIASM! I believe in a ZEST FOR LIFE!"
On his early infomercials, Little honed his pitch by employing a feedback loop: a monitor that provided a running tally of the number of calls coming in. When he said the right thing, the screen turned red. Now, in front of the quiet Tongan audience, he pulls out all the stops. He yells about calories, that a pound of muscle burns more than a pound of fat, that diets don't work. He tells them about the school bus that hit him and his Lazarus-like series of recoveries. Throughout, the people sit politely, laughing occasionally, not asking questions. At one point he howls, "EATING SIPI IS LIKE SAYING 'I WANNA DIE!'" and in response receives a solitary cough.
"A real pleasure to meet you, Your Majesty," Little bows. "Are you ready to do a workout—with me?" His Highness laughs hard.
Near the end of his 20-minute spiel, he pauses, then cuts to the chase.
"Because I'm aggressive enough to ask for what I want, I've got a 15,000-square-foot house, seven cars, I've got my kids' college paid for, I've got a future, and I can die tomorrow and be absolutely happy because I had ENERGY, I had FUN!"
The Tongans look at him blankly. The woman on whose lap he sat slouches next to her now-scowling husband. Katalina scratches a polka-dotted leg. The only sound is the rhythmic creak of ceiling fans.
"Tough crowd," Little says, climbing back into the van. "But I think I really connected to that big woman, the one with the towel on her head. Did you see the expression on her face?"
The road swarms with chickens. Little regards them circumspectly. "If I lived here, I'd be a king," he says. "I'd go around at night and steal the chickens, paint 'TL' on them, and sell them on TV: THESE ARE FORTIFIED CHICKENS! THESE ARE VITAMIN CHICKENS!"
---
The next morning little is back at Teufaiva Fitness Centre, bestowing gifts on the staff: training videos, fat-measuring calipers (which are immediately and vigorously deployed), his trademarked negativity sucks shirts and hats, up-close glossies of his post-car-wreck face, and the piêces de rësistance, two Tony Little Gazelle Gliders, ski-trainer-like devices that sell for $249.99 with shipping. Last New Year's Eve on QVC, Little sold 13,000 of these in 80 minutes.
Little unpacks a glider. Forty-three pounds of aluminum tubing hit the tile floor with a hollow clank. "I have no idea how this thing goes together," he tells an instructor. "It's supposed to take ten minutes."
Forty minutes and several hammer blows later, the Gazelle Glider stands in the center of the gym, wobbling slightly. Little hops aboard, seizes the handles, and quickly demonstrates the Basic Glide, the Slim Glide, the Low Glide, the Forward Push, and his personal favorite, the Back Pull.
"CHA-CHA-CHA!" Little waggles his head ebulliently. "WE'RE DANCING!"
He's still dancing when the motorcade rolls in: two police motorcycles, two Toyota Land Cruisers, and a Mercedes limousine. At the sound of tires, everyone in the gym moves in well-practiced choreography. The weight-loss personnel and visitors exit briskly. The Teufaiva staff scurries to tidy up, changing the music from the Beatles to Labour of Love, Tonga's most renowned pop-gospel group. In seconds the gym is vacant, clean, and ready for the daily workout of the king's brother and next-in-command, King Regent Tu'ipelehake Tupou.
Thirteen guards from the Tongan Defense Forces and police escort His Royal Highness into the gym. At 77, having suffered the debilitating effects of a degenerative nerve disease, Tu'ipelehake is not the physical equal of his older brother. Nonetheless, he takes his fitness seriously, hitting the gym five days a week for a carefully monitored two-hour program of stretches and weight lifting with Kalauta Kupu, Teufaiva's muscular manager. Today is a stretching day, and so the gym staff has set up a low table covered with inch-thick blue matting. A crew-cut lieutenant marches in bearing a box of Kleenex, a stopwatch, and a large frilly pillow cross-stitched with orange and purple flowers. He places them on the table and stands frowning at attention.
The 330-pound king regent wears a burgundy sweatsuit and black high-top Reeboks. Even seated in his wheelchair, Tu'ipelehake is a giant, with papery skin and dark, amused eyes that rove the room and come to rest on Tony Little.
"A real pleasure to meet you, Your Majesty," Little bows. A member of the royal guard helps lift the king regent's arm for a handshake. "Are you ready to do a workout-with me?" Little exaggeratedly elbows Kupu to the side.
His Highness seems unable to speak, but he is able to laugh, a gulping, sucking sound like the call of a bull sea lion. Sensing receptivity, Little points an accusing finger at Kupu. "DOES HE HAVE TECHNIQUE? IS HE ANY GOOD? YOU SHOULD HIRE ME!"
His Highness laughs hard. The lieutenant stiffly extends a white towel and blots a spume of royal saliva. With great formality, Little presents the king regent with a gift basket of Tony Little Cortura personal care products: the Gentle Facial Scrub, the Finishing Spritz, the Body Lotion, the Colloidal Vera Intense Moisture Conditioning Lotion, and the Nature's Miracle Rejuvenating Complex with 6 Percent Alpha-Hydroxy Formula Including Glycolic Acid, Vitamins, and Antioxidants. He demonstrates the Gazelle Glider and promises to send one for the king regent's personal use. He does the cha-cha-cha move. "TO HEALTH, WEALTH, AND HAPPINESS, YOUR MAJESTY," he shouts.
The workout begins. Four guards raise the king regent from the wheelchair to a sitting position on the edge of the table. His head is gently lowered to the flowered pillow, the Reeboks are placed in rubber stirrups, and his legs are moved in slow cycling motion by Kupu and another staffer to the peppy two-four beat of "Saved, Saved, Saved." The stopwatch chirps, and Tu'ipelehake is returned upright. He gestures to the lieutenant, communicating a desire. Little, watching the exchange intently, whispers loudly in my ear.
"I think they want to put him in that thing." His ponytail jerks toward the Gazelle Glider. "It's only made to take 300 pounds, and if it breaks…" He looks frantically about the room, as if checking for escape routes.
Before Little can interrupt, five guards prop Tu'ipelehake into a standing position, while two more skid the Gazelle Glider next to the table. It stands there teetering while all seven fall into formation around His Highness's bountiful physique. Two seize each leg, plying their shoulders against the king regent's buttocks; two more secure grips on the royal armpits. The lieutenant hovers grimly, white towel held at the ready.
With great solemnity and some panting, the men lift His Highness onto the glider.
"YOU CAN DO IT," Little shouts. "YOU'RE NOT RUNNING, YOU'RE SCOOTING!"
At Little's command, the guards operate His Highness's limbs. Tu'ipelehake looks down and is greatly pleased by the sight of his moving feet. He begins to laugh his great bull-seal laugh, "Ooooooeegghhhhh, ooooooeegg."
The collapse begins in stages. The dark eyes go glassy, the knees buckle, and the king regent loses rigidity in his spine. Perhaps it's the heat, perhaps the excitement of the moment, but whatever the reason, Tu'ipelehake is slumping into a faint, his head dipping toward the horrified Little, whose arms reach out helplessly.
Little will later call what happens next "a miracle." As the king regent's unsupported weight tumbles downward, Little prays to God that his Gazelle Glider not break. As he has become accustomed, God answers. The flimsy tubes absorb the blow, supporting Tu'ipelehake for one tenuous instant. Reacting with well-drilled precision, the guards arrest his fall, lift him out of the Gazelle Glider, and deposit him safely on the edge of the table.
Regaining his composure, Tu'ipelehake takes a series of deep breaths. After a few moments' rest, he resumes his exercise program. The guards relax. The stern lieutenant, leaning over to apply a towel to His Highness's upper lip, shoots Little a quick, affirming smile, as if to say everything's OK, as if to confirm Little's bedrock belief that adversity can be overcome, that strangers can become friends, that fat people can become thin, that, as Little shouted to the crowd at Teufaiva yesterday, "THERE'S ALWAYS A WAY!"
But Little doesn't notice. His head is down, and he's adjusting the little silver cross on his chest so that it hangs straight.
"Well," he sighs, "I guess that's the end of that workout."