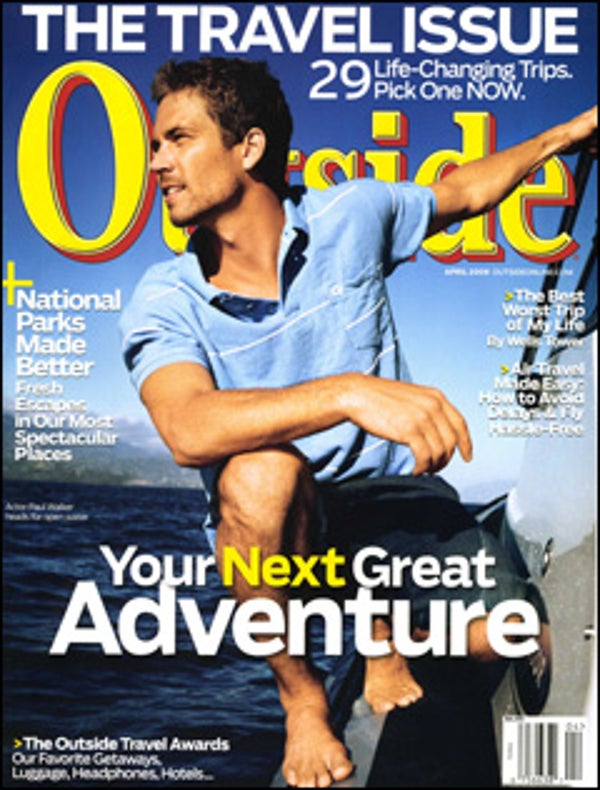 Outside Magazine, Apr 2008
Stories
Days into a trip spent with his father and brother in Greenland, author Wells Tower was seized by a tantrum-pitching impulse and the overwhelming desire to punch himself again and again in the face
---
F E A T U R E S
OUTSIDE TRAVEL AWARDS
THIS YEAR'S BEST TRIPS
52 WAYS TO WANDER BETTER

Drop the suitcase and read this. Our crack travel team scoured the planet to find the best hotels, beach bars, train trips, airlines, luggage, Web sites, and, of course, destinations. PLUS: The results of our first-ever READERS' CHOICE TRAVEL SURVEY.
MELTDOWN

Two feuding brothers celebrate their frequently nude father's recovery from cancer by taking him on an Arctic vacation, where they nearly come to blows. Toss in a botched seal hunt, menacingly drunk locals, and a few horny elves and Greenland may be at risk of something worse than global warming.
BY WELLS TOWER
THE DECIDER
Pasquale Scaturro spends three months a year charging multinational companies huge sums to search for oil reserves in some of the world's most dangerous places…so he can spend the rest of his time leading adventure expeditions to some of the world's most dangerous places.
BY MICHAEL McRAE
YOU'RE GROUNDED
The journey is more important that the destination? Not so if you're flying these days. Here's everything you need to survive and thrive in the jet-lagged, flight-delayed, luggage-losing world of modern air travel.
THESE PICTURES ARE WORTH 2,965 WORDS

The plan: Set seven of the world's best surfers, skiers, and snowboarders loose on a secret New Zealand spot that offers big waves, bigger mountains, and deep snow; ply them with booze; convince them to try out each other's sports; then document the mayhem. Come along and see how veteran photographer Tony Harrington got the shots.
BY ROB STORY
T H E O Z O N E
» FIRST LOOK: ANDRE AGASSI serves up a new resort in the wilds of Idaho.
DISPATCHES
» THE OUTSIDE INTERVIEW: The swell life of modelsurfer JOY BRYANT.
» THE BIG IDEA: Why traveling to countries ruled by cruel dictatorships is actually a good move.
» THE DRAWING BOARD: Juice up your next vacation with a portable SOLAR-POWERED GENERATOR.
» TREND SPOTTING: What happens when the Travel Channel discovers Ultimate Fighting? Three new TV shows celebrate the art of the far-flung beat-down.
PLUS: Kiwi Pete Bethune fires up his speedboat with an alternative kind of alternative fuel; GREEN BEDS take over; why soft-rocker JAMES BLUNT is really hardcore.
MEDIA
» CULTURE: Lord of the Rings, Into the Wild both movies caused travel booms. Which film and books will lure the tourists in '08?
» BOOKS: Lonely Planet writer Thomas Kohnstamm reveals the dirty little secrets of the guidebook biz.
» PLUS: Pico Iyer globe-trots with the DALAI LAMA; a new book tackles the death of snake charmer JOE SLOWINSKI.
DESTINATIONS
» NATIONAL PARKS SPECIAL: Our tent-free guide to the newest adventure lodges and luxe hotels.
OUT OF BOUNDS

ERIC HANSEN rolls through Mexico in search of the world's finest tequila. Because somebody had to.
REVIEW
» ROAD BIKES: A growing category of road bikes combines race-ready performance with seat-happy comfort. We tested five of the plushest.
STYLE
» TRAVEL WEAR: Nail the well-heeled look with the right white jacket.
BODYWORK
» THE ROUTINE: How PAUL WALKER mastered the weight-free workout.
» FIT GETAWAYS: Shed your winter layers at a new climbers' gym in Jackson, Wyoming; a runners' camp in North Carolina; or one of five other gut-busting escapes.