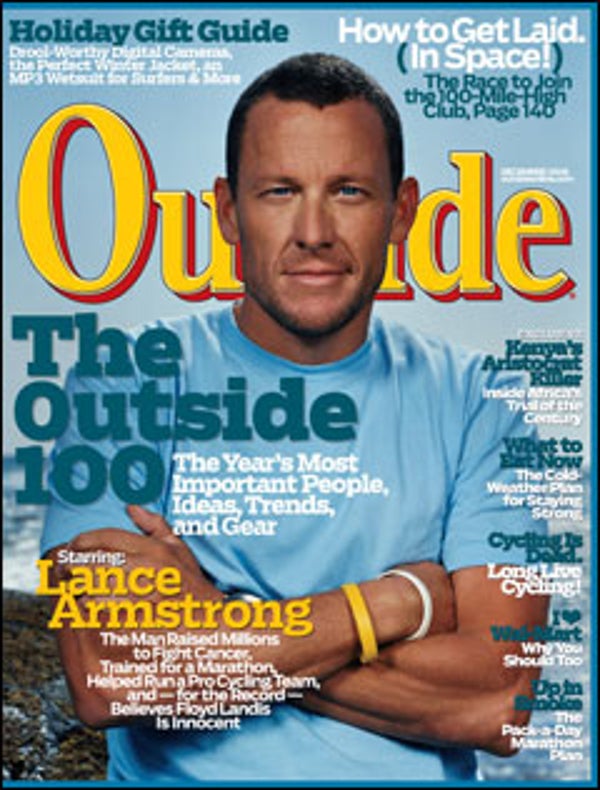 Outside Magazine, Dec 2006
---
F E A T U R E S
THE O LIST
Lance Armstrong, Richard Branson, and Warren Buffett in a full-on philanthropic smackdown! The first energy-independent city in the U.S.! Your phone, your trainer/GPS unit/Web interface! Oh, yes, the time has come to sing the praises of 100 things—be they vegetable, animal, mineral, or secretary of the interior—worth getting overexcited about right now.
THE ZERO-G SPOT
With luxurious commercial spaceships (and swanky cosmic hotels) due any minute, the vox populi can be heard asking one slightly naughty question: "What's sex like sans gravity?" MICHAEL BEHAR investigates.
"DUDE… I MEAN DAD"
Somewhere on North America's slopes lurks a walking anachronism: the "snowboard dad." Witness the bewilderment of one gruesome specimen as editor at large HAMPTON SIDES, sire of a fine young shredder, wrestles with his curse.
THE KENYAN COWBOY
In the Great Rift Valley, the suspicious shootings of two black men by a wealthy white landowner have fomented a clash between the remnants of British colonialism and Africa's aggrieved tribal descendants.
BY JOSHUA HAMMER
ONE FISH, TWO FISH, WIN FISH, LOSE FISH
What's an overindulgent Vegas casino to do for a spot of redemption? Throw some muscle around for the little guy in this case, the tiny Devils Hole pupfish, a Death Valley species sinking into oblivion.
BY MIKE STEERE
D E P A R T M E N T S
DISPATCHES
» FIRST LOOK: Slater vs. Irons: Surfing's grudge match hits the Pipeline Masters.
» THE CURRENT: Patriotism is a ski glove; gliding the Andes; belt buckles.
» THE OUTSIDE INTERVIEW: Olympic skier Phil Mahre's comeback at age 49.
» THE BIG IDEA: Pro cycling, I wish I knew how to quit you.

(PODCAST LINK CURRENTLY UNAVAILABLE)
» ASK DAVE: When is it OK to wear a safari jacket? Never. Unless you're Dave.
» PLUS: Mountain resorts battle global warming; the Wild File on feral children; and, you heard it here first, Ogden, Utah might just be the future center of the winter-sports universe.
MEDIA
» BOOKS: New biographies of polar explorer Robert F. Scott and primatologist Jane Goodall. PLUS: Roger Tory Peterson de-nerdifies birdwatching and Michael Perry praises the pickup truck.
» FILM: In time for Casino Royale, we chart James Bond's action-sports arc.
CODE GREEN
Make room in the environmentalist tent. Here comes Wal-Mart.
BY AMANDA GRISCOM LITTLE
DESTINATIONS
» SPOT ON: Patagonia's new wilderness hotel has us heading south for winter.
» CENTRAL AMERICA: Escape the cold at these eight hot hideouts.
» THE GO LIST: Ski with the pros; Iceland's eternal nightlife; Arizona mountain biking; new passport regulations; and a new So There I Was photo submission
REVIEW
» COVET: Behold the Ibis Mojo, the year's most artfully crafted bike.
» DIGITAL CAMERAS: Six of the season's best new shooters.
» UPGRADE: Make your own pocket-size ski sling; new shoes from Patagonia.
» STYLE: Multifunctional new messenger bags for a cooler commute.
BODYWORK
» THE MOVE: How to get over your terrain-park jitters and nail a rail slide.
» WINTER NUTRITION: Up the calories, go heavy on the garlic, and finish with antioxidant-rich pumpkin pie.
» LAB RAT: NICK HEIL finds his fitness baseline to help you improve yours.
» THE PULSE: A burger with half the beef; the top ten antioxidants.
OUT OF BOUNDS

(PODCAST LINK CURRENTLY UNAVAILABLE)
Will winning an Arctic marathon save pack-a-day smoker ERIC HANSEN from his big bad habit?