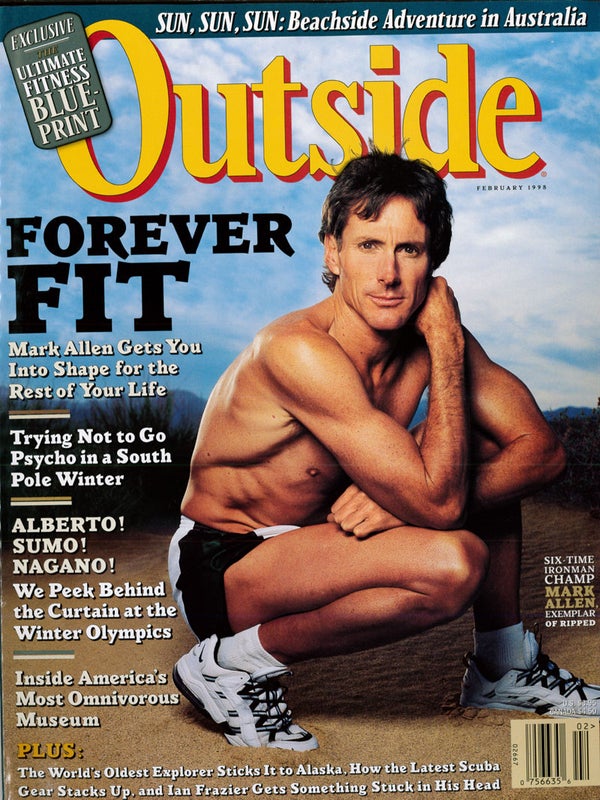 Outside Magazine, Feb 1998
---
COVER
Fitness Special:
We Won't Let Him Hurt You
The Gospel According to Mark — Mark Allen, that is, who has translated the lessons he learned as a world- class athlete into simple fitness secrets anyone can use to get in shape and stay there. How many days a week do you really need to exercise? When's the best time to stretch? Do vitamins help or hinder an athlete? The answers may surprise you.
By Paul Keegan
ALSO THIS MONTH:
Yes, It Is a Lovely Morning.
Now Why Don't You Just Go to Hell.
Hankering for some peace and quiet? There's plenty of both when you winter at the South Pole, but be forewarned: The cold can crack your teeth, the darkness lasts eight months, and something as innocent as fresh produce can inspire thoughts of homicide.
By Sara Corbett

I See a Little Silhouetto of a Man
(Scaramouche, Scaramouche, Will You Do the Fandango?)
It's the outdoor person's nemesis: ideas that creep into your head and grimly refuse to leave. Ruminations about pointless phrases, odd names, and yes, annoying song lyrics, from a longtime victim of id‰es fixes.
By Ian Frazier

The Winter Olympics:
Nagano? Naga-yes!
Our guide to the Games' comers, goers, and soon-to-be-a-plush-toy heroes of winter. Complete with almost official handicapping.
DEPARTMENTS

Dispatches: News from the Field
With a surgically fused ankle, an artificial knee, and a spanking-new pacemaker, 92-year-old Norman Vaughan
mushes back onto the trail.

A Good Samaritan adventure race that's adopted the
manner of its masochistic founder.
Three skydivers' pole-to-pole quest ends in tragedy
and raises some unsettling questions.
A balloonist with credentials to match his lofty
ambitions enters the round-the-world fray.
The doughy king of shovel racing hustles to reclaim his
aluminum throne.

PLUS: Main Street becomes the killing field of black bears in the Smokies; K2 and El Ni±o team up to bring surfers a big-wave bonanza; the Sierra Club floats an unlikely plan to pave a hallowed peak; Barbie — yes, that Barbie — tops out on Mount McKinley; and more.

Field Notes: Diorama Obscura
The American Museum of Natural History was founded with a recipe of two parts swashbuckling exploration, one part scientific scholarship. Wandering the galleries today, some 30 million artifacts later, one can't help but wonder what such a collection says about our desire to conquer all that we survey.
By Mark Levine

Out There: OK Gorillas, No Belching During the Pledge of Allegiance
As the adult world ponders the fate of the Rwandan gorillas, our man returns to the rooms of nap time and cut-and-paste to impart a little mammalian knowledge. Hey Miss Larson, that kid with the beard keeps looking at me!
By Tim Cahill

Destinations: Lost in Space
Getting way Outback: In a remote expanse of northwestern Australia known as the Kimberley, the roads are temporary and the frontier seemingly permanent. Hints to help you lose yourself amid alien rock outcroppings, idyllic coastline, nation-size ranches, and the taste of Emu Bitter beer. Also, the finer points of navigating this sometimes harsh paradise.

What to know before
dipping — and perhaps
losing — your toes in a
croc watering hole.

PLUS: The skinny on skiing the southern Adirondacks' forgotten backcountry.

Review: Getting Your Feet Wet
Gear up for going deep: All-purpose scuba essentials suitable for divers of any proficiency. Including the latest dope on masks, fins, snorkels, buoyancy compensators, regulators, dive computers, and, naturally, wetsuits.

Performance underwear you'll never be too modest to show off.
The cutting edge of ice axes.
Trousers as tough as they are presentable.

PLUS: An avalanche beacon with life-saving bells and whistles; a blanket-sleeping bag hybrid so cozy it turns your tent into a cocoon; Riddle of the Ice: A Scientific Adventure into the Arctic, by Myron Arms; In Search of the Racial Frontier: African Americans in the American West, by Quintard Taylor; Wild Thoughts from Wild Places, by David Quammen; and more.
Illustrations by Tim Bower, Michael Bartalos
Copyright 1998, Outside magazine