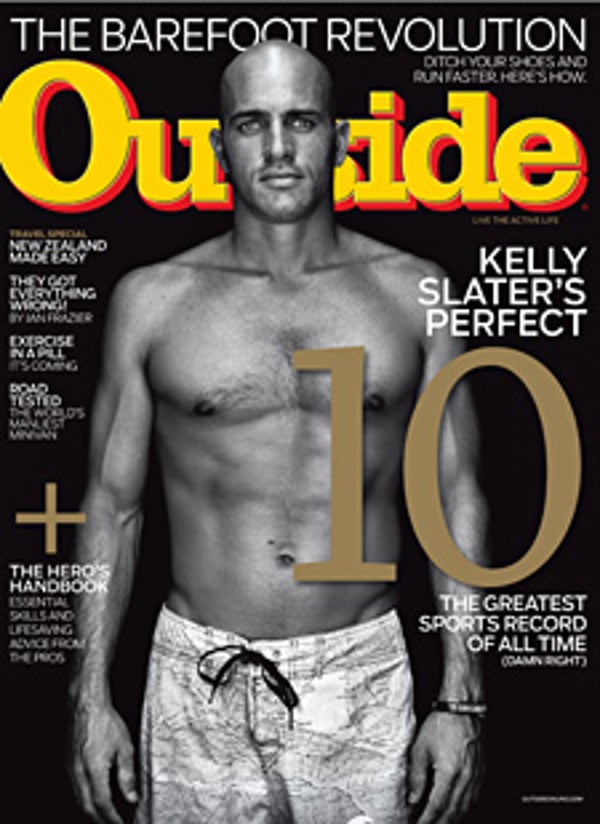 Outside Magazine, Feb 2011
---
IN A HOUSE BY THE RIVER
Northern California's Otter Bar kayaking lodge was a peaceful family retreat, until one night in 1995 when tempers flared and the author's stepfather wound up dead. Megan Michelson returns to the banks of the Salmon River to unravel a mystery that has haunted her childhood memories.
CRACKING THE KIWI CODE
In New Zealand, you can climb the mountains where Hillary first roped up, take the best bike tour on earth, and pursue every other known species of adventure. By Stephanie Pearson. PLUS: David Vann expounds on the expat dream.
THE LONG WAY BACK
When marine Ronnie Simpson was left burned and defeated after a 2004 explosion in Iraq, he knew he needed to make a change. So he decided to become a boatman—and sail alone around the world. By Tim Zimmermann
exposure special
THE GATHERING
On Oahu's famous Seven Mile Miracle, Robert Maxwell photographs the greatest riders in the surf world as they vie for the top spot at the year's biggest event. Essay by Matt Warshaw
departments
DISPATCHES
First Look: The new film The Way Back chronicles an audacious prison escape from a Siberian gulag. Ian Frazier does some fact checking.
News from the Field: World-record bagger Sean Burch runs the 1,250-mile Great Himalaya Trail at a marathon-a-day pace; an oral history of the World Extreme Skiing Championships (LINK CURRENTLY UNAVAILABLE); the latest in custom skis; mountaineering tips on playing cards.
XX Factor: After a spate of injuries, free­skier Sarah Burke has Olympic ambitions.
The Wild File: Gorillas under the hood, rabies on the rise, and the most dangerous winter sport.
Books: Two new novels, from authors David Vann and T.C. Boyle, delve into the curious realities of leaving the mainland behind; plus Douglas Brinkley's latest heavyweight enviro history.
ESSENTIALS
Vehicles: Call 2011 the Year of the Car, when automakers finally quit sulking and unveiled the smartest and most advanced cars and SUVs ever produced.
BODYWORK
Ready to join the barefoot revolution? Good. Just read this primer before ditching your shoes. PLUS: The truth about high-fructose corn syrup, and an athlete's guide to going with the whole grain.
columns
NATURAL INTELLIGENCE
In 2007, a biologist flipped a genetic switch and turned test mice into super-athletes. It's only a matter of time before he does the same with humans. By Michael Behar
the guide
THE HERO'S HANDBOOK
Take the best stuff, say the right things, and, failing that, fall with grace. The first of our four-part Fundamentals series is a primer on getting out there—wherever there is.
plus
BETWEEN THE LINES
LETTERS
PARTING SHOT