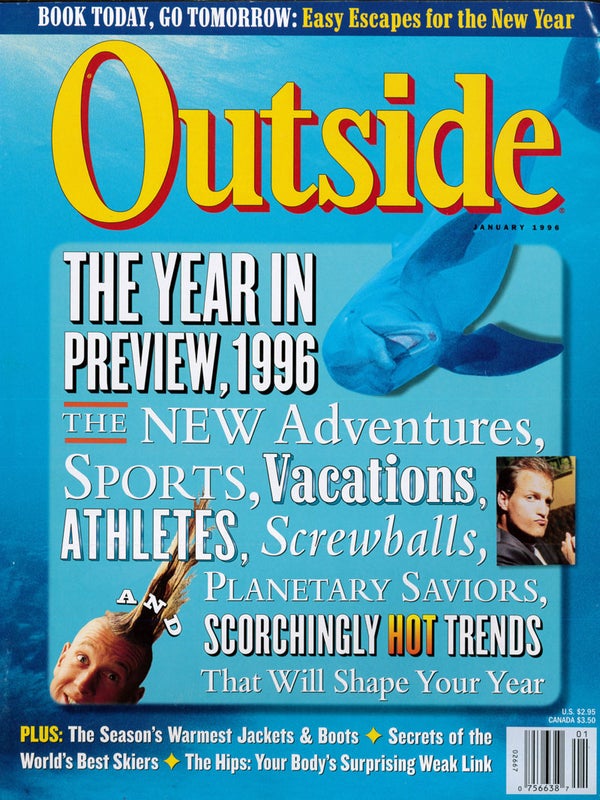 Outside Magazine, Jan 1996
---
Departments
Dispatches
Can Hilary Lindh, arguably America's best skier, finally emerge from her teammate's shadow to become the world's premier downhiller? Top U.S. lifeguard Craig Hummer tries to beat the Aussies at their own surf-rescue game. Plus: Matt Carpenter completes his threepeat in the Everest Skymarathon, a convict banished to a deserted isle offers his camping tips. Yanks and Brits get into a spat at the World Surf Kayak Championships, and more.
Inside Stories
It was widely viewed as a landmark in wildlife law enforcement, combining elements of a federal sting operation and Silence of the Lambs. In the end, three men received some of the harshest sentences ever meted out to their breed of felon: the butterfly poacher.
By Caroline Alexander
The Wild File
What makes stars twinkle? Do hibernating bears take bathroom breaks? Is it really warmer to sleep naked in your sleeping bag?
Destinations
Kicking off 1996 the wild way: Whether you picture yourself backcountry ski touring in the Colorado Rockies or diving the Bay Islands of Honduras, six winter escapes to start the new year right. Rambling Mexico's miledeep Copper Canyon from base camp at a colonial hacienda. Communing with marine mammals and marsupials on Australia's Kangaroo Island. Plus: Free skiing at Colorado's Copper Mountain, scientific expeditions to Polynesia, and more.
Bodywork
Steering clear of hip pain: The hinges that connect the lower body to the trunk are the strongest and perhaps most important joints in your entire body–but take them for granted and they'll make you feel it. Tips for avoiding a breakdown in your ball-and-socket suspension system. A twice-a-week regimen to keep your hips supporting you. Plus: Perfecting your technique for falling–yes, falling–on the ski slopes this season, and a naturally occurring supplement that helps you stave off dehydration.
Review
Insulated jackets for instant warmth: When layering is not an option, down and synthetic-fill outerwear is the space-saving alternative to buffer you from the cold. The latest, coziest models from The North Face, Patagonia, Sierra Designs, Mountain Hardwear, L.L. Bean, Marmot, EMS, Moonstone, and MontBell. Lightweight, waterproof boots that handle the worst of winter. Two-in-one touring snowboards from Nitro that make traversing a snap. Plus: A hybrid ski binding that lets you take your downhill gear into the backcountry; A Place in Space: Ethics, Aesthetics, and Watersheds, by Gary Snyder; Ship Fever and Other Stories, by Andrea Barrett; and more.
Features
The Outside Prognosticator
Our all-knowing look at the people, places, and trends to watch out for in the years ahead.
A Bimonthly Bath, Penguin Porn, and Thou
Via satellite from Antarctica, New Year's greetings form Don and Margie McIntyre as they close in one full year of hypothermic, claustrophobic marital bliss.
By Jack Barth
Heave To, Felix! Thar Blow th' Faeroes!
Twenty-two hours of sunlight. Force-seven winds and heaving waves. The respect that comes from pulling into port on a sloop from halfway around the world. Under full jib and mainsail on the North Sea, two foolhardy friends revel in an adventure that needs no justification.
By John Skow
The Three-Minute, Star-Studded, Fix-It-by-the-Fireside Ski Lesson
Because nothing can raise the level of your game like some focused pointers from the pros.
By Michel Beaudry