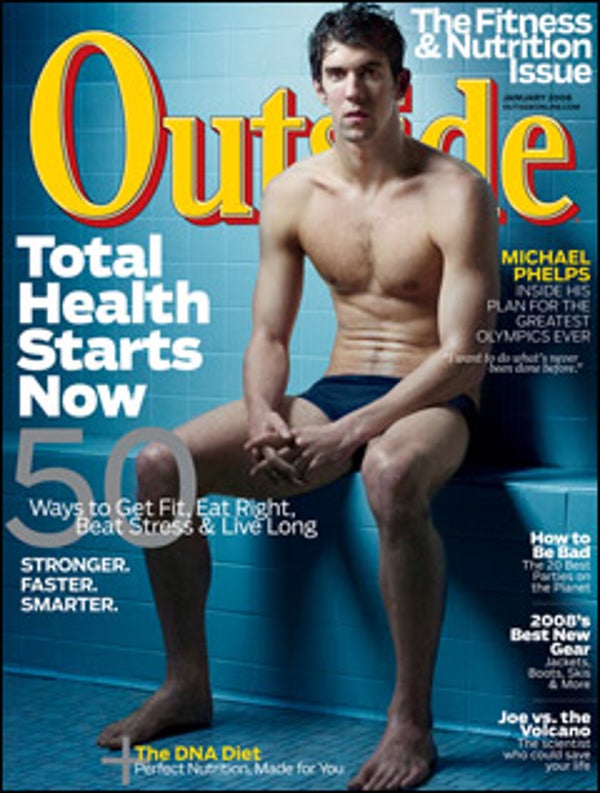 Outside Magazine, Jan 2008
Stories
When Pete Absolon, the Rocky Mountain director of NOLS, set out for a climb in Wyoming's Wind River Range, life couldn't have been better. A deadly mistake by another man ended it all in an instant—and started a nightmare that's never going to stop.
You skipped breakfast because you overslept because you couldn't fall asleep because you didn't have enough time to exercise. Sound familiar? Then turn the page and let us—and Michael Phelps—show you how to recalibrate for your best year ever.
---
BODYWORK SPECIAL
THE BIG CHILL
Relax, man. It's time to reassess your wellness strategy. And with our complete guide to getting fit, eating right, and beating stress, the hard part's over. PLUS: Record-smashing swimmer Michael Phelps shows you how it's done.
DROPPED
High in the Wind River Range of Wyoming, in a flash of catastrophic luck, Pete Absolon lost everything without making one wrong move. In this mountain tragedy, nature was not to blame, and all was not as it seemed.
BY ALAN PRENDERGAST
THE UNRETIREMENT OF DARON RAHLVES
A great athlete staying retired is about as likely as a scandalized politician staying contrite. Don't expect World Cup downhiller Rahlves to break with tradition (or his comeback to include bashing gates). ROB STORY rides the lifts with the legend.
LOADED (YOUR CALENDAR, THAT IS)
Animal House a perennial favorite? Have we got a story for you: All the world's a venue, and all the men and women merely partyers. So come on in for 20 of the greatest soirees on earth, from raging on the roof of the world to dancing on King Arthur's grave.
JOE BLOW
Remember Pompeii! No, seriously, says volcanologist Chris Newhall, because with hundreds of pockets of red-hot magma percolating beneath the earth's crust, the next strange wind to blow through your town could be a 1,200-degree, 100-mile-per-hour pyroclastic flow.
BY KEVIN KRAJICK
THE O ZONE
» FIRST LOOK: We have seen the car of the future, and it's missing a wheel.
DISPATCHES
» EPIC: Americans Cedar Wright and Renan Ozturk bag the last unclimbed spire in Pakistan's Trango Group.
» THE BIG IDEA: Does a fitness-focused president make a fitter president?
» THE DRAWING BOARD: Big Brother tests its first remote-control cyborg spy moth. Yes, moth.
» PLUS: Near beer finally gets tasty; renaming Mount McKinley; and Werner (Grizzly Man) Herzog's new Antarctic documentary.
DESTINATIONS
» SPOT ON: An eco-centric treetop lodge opens in the hills of New Zealand's South Island.
» WINTER ESCAPES: Nine icy-hot adventures, from dogsledding in Alaska to heli-skiing in Turkey.
MEDIA
» FILM FESTIVALS: Use our mini-guide to Sundance 2008 to plan for the best of Park City and the nearby Wasatch wonderland.
» Q&A: Animal communicator Penelope Smith dishes advice on speaking to grizzlies and more.
» BOOKS: Omnivore's Dilemma author Michael Pollan gets down to the main course with In Defense of Food.
» PLUS: A DVD-of-the-month club for nature lovers.
(LINK CURRENTLY UNAVAILABLE)
REVIEW
» COVET: A luxe laptop whose IT staff is wherever you are.
» JACKETS: Killer shells that handle the backcountry or a bar with equal aplomb.
» WINTER GEAR: Stuff that New Year's duffel with all the swag that fits and will get you out the door.
» STYLE: Bringing you the best new boots and shoes.
» PLUS: We have a latte with Keala Kennelly, surfer/actress/barista.
OUT THERE
Building an igloo is easy (with help from the Internet). Creating an entire igloo vacation village? Well… you'll see.
BY TIM NEVILLE