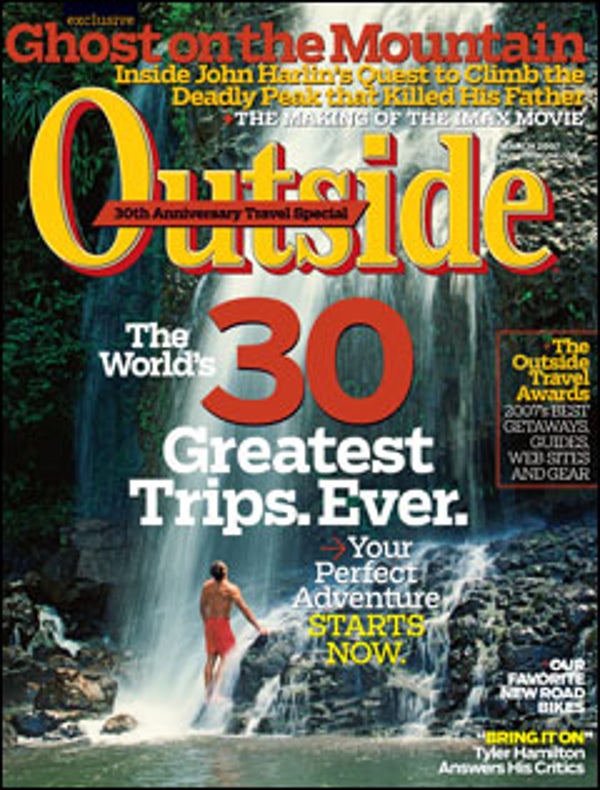 Outside Magazine, Mar 2007
---
TRAVEL SPECIAL
SPIN THE GLOBE

(VIDEO LINK CURRENTLY UNAVAILABLE)
In 30 years, we've done a hell of a lot of roaming, and we're psyched to say the world is smaller than ever. Why's that a good thing? It's never been easier to go where you want, when you want, and how you want whether you're looking for the lap of luxury or hardcore adventure. Now go already.
RISING SON


(PODCAST LINK CURRENTLY UNAVAILABLE)
JOHN HARLIN III has long been haunted by Switzerland's Eiger, where his father lost his life in 1966. In an exclusive excerpt from his new book, The Eiger Obsession, he finds that, fight it though he may, the only way to get some peace is to take on the mountain of his nightmares. PLUS: Director Stephen Judson on following Harlin up the Eiger for the stunning new Imax film The Alps.
SLICK
All you boys in Big Oil better watch out. A big-time New York City attorney is after you, and his clients are pretty hard to ignore: 30,000 Ecuadoreans unhappy about a certain massive mess. They're looking at $6 billion in cleanup costs, and somebody's gotta pay.
BY PETER MAASS
LOVE IN THE RUINS
The levee system down in Louisiana is both the savior and scourge of New Orleans. It also makes for a harrowing, absurd, heartsick bike ride for one former denizen. Join WELLS TOWER and his old two-wheeler on the anniversary of Hurricane Katrina and bring raingear.
BACK PEDALING
After getting spanked for alleged blood doping in 2004, masochistic American cyclist Tyler Hamilton is on the road again. He's a little older and wiser, and his hide is more than a little chapped. JOHN BRADLEY has a revealing conversation with the man who would be the Man.
THE O ZONE
DISPATCHES
» The Big Idea: "Storm traps climbers! All eyes on Mount Hood! Details after the break!" How a media circus turned a routine tragedy into the most misunderstood story of 2006.
(PODCAST LINK CURRENTLY UNAVAILABLE)
» Newlywed Games: The first couple of mountain biking eye a Beijing honeymoon.
» The Drawing Board: Meet the new heroes of search-and-rescue: robots.
» Epic: Slovenian superswimmer Martin Strel takes on the Amazon.
» Ask Dave: Wrestling alligators, building a vacation home, and acquiring a jetpack.
» PLUS: Rocking white shades, parking bikes in Portland, skiing in jeans, and The Wild File.
MEDIA
» Books: Cullen Thomas's soul-searching tale of hard time in a Korean prison; Tom Bissell's chronicle about a visit to Vietnam with his war-hardened Marine father; and Larry Brown's final, gritty portrait of life in the South.
» PLUS: The Outside Oscars.
DESTINATIONS
» Spot On: Affordable (well, kind of) heli-skiing in Nevada's Ruby Mountains.
» Sail Away: A surprisingly fast and easy guide to captaining your own ship.
» The Go List: Costa Rica's new treehouse community; Ethiopia heats up.
BODYWORK
» The Owner's Manual: In the first installment of our 2007 series, we focus on your back, delivering vital info on injury, recovery, and prevention.
» Lab Rat: Nick Heil puts the world's most expensive ice pack to the test.
(PODCAST LINK CURRENTLY UNAVAILABLE)
REVIEW
» Covet: Is that digital audio in your shorts? Pearl Izumi's jammin' bike bibs.
» Road Bikes: Four worthy steeds for tearing the pavement a new one.
» Fresh Loot: Patagonia's PVC-free PFD and an ultralight rain shell from REI.
» Upgrade: Marathon madness, potable water anywhere, Ski Skins 101, and a soft-shell sombrero.
» Style: Eight new action-oriented wristwatches for every element.
OUT OF BOUNDS

(PODCAST LINK CURRENTLY UNAVAILABLE)
Talk about yard art: On a farm in Georgia, they're tying pencils to branches and watching them scribble away. ERIC HANSEN gives it the critical eye.