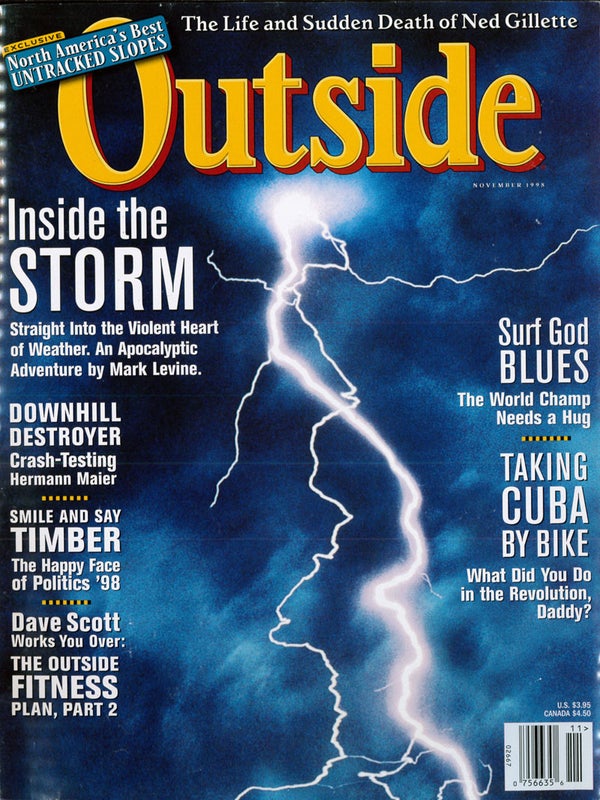 Outside Magazine, Nov 1998
---
November 1998
C O V E R
The Fresh Stuff
British Columbia's deeper half: Sure Whistler-Blackcomb gets all the accolades, but BC's Other Three get something even better — dry, light, feathery powder, and plenty of it. A downhiller's guide to the emerging resorts of Big White, Silver Star, and Sun Peaks. Plus: the locals' favorite homey little ski haunts, and a swank back-country lodge that's fast becoming the place for off-piste devotees.
F E A T U R E S
Thinking About Machine-Man
Look at what the altar of speed requires by way of sacrifice: broken bone, shredded muscle, endless training, random blood. To become the world's best ski racer means supplying all this, and more. It seems too much for a human to give. But no one says Hermann Maier is human.
By Hampton Sides
A Storm at the Bone
When a man is hunting clues to a world of weather gone increasingly insane, well, he tightens his laces, secures his slicker, and heads to Bangladesh. An exploration into the violent heart of weather.
By Mark Levine
Love on the Rocks
Everyone knows that finding that perfect someone is a struggle, an uphill exercise at best. Nowhere is this more true than at your friendly — and we mean friendly — neighborhood climbing gym.
By Edward Hoagland
Are You Trying to Seduce Me, Mrs. Chenoweth?
She's the scourge of the green movement, the spooky pol who bats her Maybellined eyes while extolling the sensibility of Wise Use. So what is it about Helen Chenoweth that's so darn … attractive? An election-eve rendezvous with the Lorelei of Capitol Hill.
By Daniel Coyle
With All Due Respect to My Opponent, the Devil Incarnate …
The rhetoric is heating up, and so are the environmental issues it impacts. A guide to the key races across the nation.
But They Dig Me in São Paulo!
That's Guilherme Tamega! The best bodyboarder in the world! Right there! In front of you! Him! That guy! Hey … where'd everybody go? (Ah, the vagaries of fame.)
By Mike Grudowski
Scratch the Island from the Map
Over the centuries the remote and unforgiving landscape of Attu has played host to all manner of invasions, including a horrifying World War II battle. Now the fog and the sea are taking it back, leaving only what there was in the beginning: no man's land.
By Stewart O'Nan
The Annotated Manifesto of Troop 109
Being a proclamation of independence by the Noble Wolverines, prepubescent masters of basketry, whitewater canoe construction, backcountry navigation, and homemade explosives.
By David Rakoff
D E P A R T M E N T S
Dispatches: News from the Field
After two decades of climbing, skiing, and rowing the globe's peripheries, American explorer Ned Gillette meets a tragic end in Pakistan.

Out There
The Black Rock Desert is the flattest place on earth, dotted with waist-high sage and glittering mirages. Then, of course, there's the lone naked cowboy who just tipped his hat at you. Is this poetry, adventure, or just another day in Nevada?
By Tim Cahill

Field Notes
On a bicycle tour of the Cuban Revolution, you're bound to encounter some bumps in the road. Like sleeping in child-size hammocks. Bunkmates whose fervor is greater than your own. And perhaps the largest: that little voice urging you to seek out daiquiris and $10 cigars.
By Ed Zuckerman

The Wild File
What's the oldest-living organism on earth? How far does electric current travel in water? And is it really dangerous to hold in a sneeze?

Destinations: Ace is the Place
Paddling South Carolina's meandering ACE Basin, otherwise known as "the pearl of the low country."

Bodywork: The Outside Fitness Plan, Part Two
Do you know your lactate threshold? How much time on a bike equals a half-hour run? How hard to push to boost your speed? Well, it's a good thing six-time Ironman champion Dave Scott is on hand, outlining his blueprint for cardiovascular dominance in the latest installment of our five-month series.

Review: Snowboards for those who want it all
In a sport that's growing increasingly nichefied, versatile "freeride" boards are now the platform of choice for little-bit-of-everything riders. Ten foolproof picks from Arbor, Burton, K2, Lib Technologies, Morrow, Nitro, Option, Ride, Rossignol, and Salomon.

Buying Right: Stylin' snowboard jackets that add the performance of skiwear.
The Other Stuff: Goggles that de-fog with the flip of a switch; a wrist toy to bring out your inner James Bond; and the new video that puts you face-to-foam with California's most fearsome surf break.
Books: The Endurance: Shackleton's Legendary Antarctic Expedition, by Caroline Alexander; The Poisonwood Bible, by Barbara Kingsolver; and more.

Cover: John Eaves scoring first tracks in the Cariboos.
Photograph by Patrick Morrow