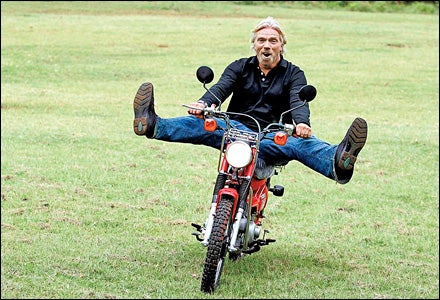 Heading out the door? Read this article on the new Outside+ app available now on iOS devices for members! Download the app.
The Outside 100
World records, human firsts, technological triumphs, and even some great stuff on TV—there was a lot to love about 2007. But it all begins with RICHARD BRANSON.
2–15: Kayaking world record, the iPhone, mountain-climbing tennis players, and more.
16–32: The X Prize, trans fats, a floating pub, and more.
33–39: Cycling's New Beginning?
40–50: The world's best escape artist, a new take on fast food, major shrinkage, and more.
51–56: Giving
57–65: Everest on the cheap, the surfboard crisis, biking Paris, and more.
66–80: Icebreaker's BaaCode, Andrew Skurka, Michael Phelps, and more.
81–90: Running records, 600 people nude on a glacier, the Life-Straw, and more.
91–100: The SuperSherpas, Google Street View, Steve Fossett, and more.
Good King Richard
In the past year, Richard Branson has done everything except reinvent the limo. Oh, wait, he did that, too.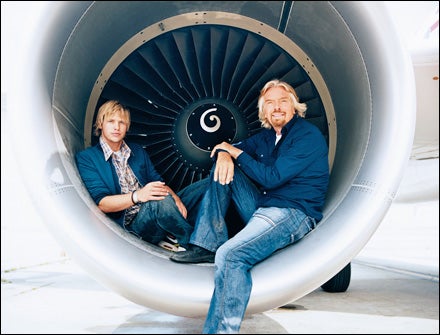 Richard Branson

Branson delivering motorcycles to a charity in Nairobi, Kenya
SIR RICHARD BRANSON has a hangover.
It's a sweltering Sunday morning in Baltimore, and Branson shambles in to meet me for breakfast in the tony Explorers Lounge of the InterContinental Harbor Court hotel. He says he tied one on last night after the Police show at the Virgin Festival, and now he's a bit worse for wear. As a morning tonic, he orders tea and nibbles on a wedge of dry toast.
"For the past several weeks I've been keeping to my island in the Caribbean, staying clean, no drinks," he says. "You know, swimming, kiteboarding, staying fit. But then you get an occasional…relapse." He pulls a scowl of mild self-reproach and adds, "I might have broken a few rules last night."
Branson is wearing jeans and a simple black T-shirt, his long strawberry-gray locks still wet from the shower. His eyes are bloodshot, and his famous toothy smile is not yet open for business. Right now he doesn't look much like the chairman of the Virgin Group, an international empire that consists of more than 200 companies and employs some 55,000 people across the blue planet. And yet, you have to hand it to him: The man seems astonishingly well preserved for a 57-year-old risk taker who has crashed balloons, survived shipwrecks, bailed from doomed aircraft, speedboated across the stormy Atlantic, partied for decades with lizard-skinned rock stars, and courted more permutations of harm than anyone but Evel Knievel could imagine.
Branson informs me that his son, Sam, a 22-year-old sometime model who is Virgin's heir apparent, will not be joining us for breakfast, as had originally been planned. It seems the young Branson attended the same bash and is now out of commission for much of the day. "He's a good lad," Branson says. "You'll like him—if he ever wakes up."
Now Branson gazes out the window, toward Baltimore's boat-filled harbor, with its celebrated aquarium, and tries to get his motor working. We talk for a while about his interest in low-orbital commercial aviation (New York to Australia in less than an hour!) and the privatization of the cosmos (Virgin hotels in space!). We talk about some of his friends—Nelson Mandela, Stephen Hawking, Peter Gabriel—and about the Arctic dogsled expedition he and Sam made this spring on Canada's Baffin Island. We talk about Branson's extraordinary life, extraordinary year, extraordinary week. (Just a few days ago, his newest corporate child, Virgin America, made its debut flight to San Francisco from New York.)
But it's simply too early in the morning. The Bransonian magic won't kick in; the fog refuses to lift.
Now he says the chauffeur is waiting outside to whisk us away to the Virgin Festival. Branson has invited me to tag along today as he does a semichoreographed dance of meetings, press conferences, and backstage photo ops surrounded by a sea of more than 74,000 sun-addled festivalgoers. The Virgin Festival is a sprawling, two-day rock concert set in the infield of Maryland's Pimlico Race Course, with three stages cranking out nonstop music from bands like Wu-Tang Clan, the Beastie Boys, and the Yeah Yeah Yeahs. But it's also a kind of eco–big tent designed to showcase the Virgin Group's new green thinking. Branson has come here from his energy-efficient hideout on Necker Island in the (where else?) British Virgins to throw the weight of his persona behind the conglomerate's carbon-neutral message.
"I'm not entirely sure what I'm supposed to be doing today," Branson confesses. "But someone will point me in the right direction."
Even as he says this, two of his Bond-girl handlers (are there any unattractive people working for this company?) hover in the wings of the InterContinental's mezzanine, motioning for him to wrap up our breakfast. Hangover or no, the Branson Machine must get a move on. His chariot awaits.
But when we walk downstairs to the lobby, I'm a bit confused. There is no limousine, stretch or otherwise. No bodyguards or bouncers. No retinue of sycophants. I had secretly hoped we would be boarding a smoke-hazed tour bus with Ben Harper or the Smashing Pumpkins. I had imagined rolling hot tubs, dry martinis, and (if Sting happened to be on board) marathon orgies of tantric sex. But all I can see, parked out in the valet lot, is a staid, corporate-black Prius, idling in silence.
"Brilliant—that's our car," Branson says. "C'mon, let's make for the show."
And so we hop in—Branson in the passenger seat, me in the back with Holly Goodhead and Alotta Fagina—and the driver takes off through the traffic snarls of downtown Baltimore.
"God, I hate the sound of engines," Branson says. "All the fleet vehicles we use at the Virgin Festivals are either hybrids or flex-fuel cars— it's in our contract. These Toyotas are massively sexy, don't you think?"
On this 90-degree August day, riding through the wavy Chesapeake heat, no one recognizes the multibillionaire knight as he coasts on Japanese battery power toward his own personal rock concert.
SPORTSMAN, swashbuckler, aviation folk hero, and all-around bon vivant, Sir Richard Branson has, over the past year or so, broken into an altogether different level of celebrity—one that transcends business, transcends entertainment, transcends Jules Vernean endeavor. These days the Virgin Group founder and chairman is increasingly serious and increasingly preoccupied with doing something beneficent with all those billions. And in so doing, he has gradually entered the big leagues of global do-gooderism, a world occupied by a very few others—Gates, Clinton, Oprah, Carter, Bono.
Up until a few years ago, Branson had been entirely skeptical of the urgency surrounding climate change. And anyway, over much of the previous two decades, he had been pretty much consumed by his ambitious ventures to circumnavigate large swaths of the globe in balloons and other craft—while attempting to set, sometimes successfully, all manner of esoteric world records. ("My ballooning days are concluded," he now says. "They were magnificent, and they were miserable. But I love life—and I'd like to stay alive.")
Then, two years ago, Al Gore got Branson's wheels turning when he paid him a visit. "This was before An Inconvenient Truth," Branson recalls, "and when someone you respect is willing to fly halfway across the world just to see you, you take him very seriously. For three or four hours, while I just sat on the sofa, he gave me a personal, one-on-one lecture. He opened my eyes to a very disturbing picture of the world. Then I realized, We have a real problem on our hands."
Not the sort of man to mess around with half measures, Branson hurled himself into the cause with his usual full-throttle panache, devoting significant amounts of his personal wattage—and mounds of his own cash—to the task of saving the world.
Early this year, with Gore by his side, Branson announced the Virgin Earth Challenge, a $25 million prize that will go to the first inventor who can develop a viable mechanism for scrubbing carbon gases from the atmosphere. He has pledged to reinvest all the profits from his transportation businesses over the next ten years into developing ecologically benign fuels—a commitment that could amount to more than $3 billion. Now the Virgin Group is venturing into all sorts of unexpected eco-preneurial areas, attempting to put the "massively sexy" Virgin spin on such worthy but often dreary fields as recycling, photovoltaics, battery technology, electric cars, and windmills. ("You know," Branson says with a smile, "windmills actually come in colors—they don't have to be white.") Branson even plans to go into green tourism; he's now building what he says will be the most advanced sustainable eco-resort in the world, on a Caribbean island next to his beloved Necker.
As commendable as all this sounds, skeptics have inevitably been asking: Is he doing this because he really cares, or is he doing it because he's found that environmentalism—or at least environmental talk—sells? Is the greening of Sir Richard Branson just another marketing stunt in the life of a world-class showman?
After all, Branson is, among many other things, the owner of an airline, one of the dirtiest enterprises there is. What's the harm in saying you care about the planet, even as your planes crisscross the firmament with contrails, burning through the ozone, sucking up lakes of fuel?
"We aren't doing this as a charity," he tells me. "We want to prove you can make money at it. It's all a wonderful challenge, and I love challenges. As the chairman of a company whose businesses contribute to global environmental problems, I felt I had a responsibility to address this head-on. We now have many, many people whose full-time job is thinking green, thinking carbon. We're aiming to develop an alternative fuel, alternative cars, alternative batteries—something entirely new that will shake the foundations of the petrol and coal companies. Because if we don't, the world could be doomed."
A FEW HOURS LATER, Branson is behind the wheel of a golf cart, tearing through the Virgin Festival crowd to make his appointment with a mermaid.
Well, not exactly a mermaid, but actress Daryl Hannah, who has flown in to help Virgin spread the green word. In ten minutes, Branson and Hannah are scheduled to share the spotlight at a press conference over at the Green Spot, Virgin's eco–demonstration venue on the far side of the Pimlico infield.
As we trundle along, two of his handlers are riding on the back, nervously eyeing their watches. Everything's on a tight, tight schedule, and the chairman has a tendency to stray. Branson is an endearingly terrible driver of the British madcap school. "Where's the brake on this blasted thing!" he says at one point before slamming, half deliberately, into a hay bale.
"You golf?" I ask.
"Badly," he says, now veering wildly to miss a patchouli cloud of hacky-sackers. "But my grandmother made a hole-in-one once—in her nineties. I think it's still a record in England for the oldest one ever made."
Branson is obviously having a great time buzzing around the infield, investigating the whole weird scene. There are performance artists twirling from enormous, bobbing cantilever contraptions. There's a skateboard park and a "philanthropy mall," with booths manned by GreenDimes and various charities. There are jugglers, magicians, beach balls bouncing through the acres of reefer fog as sweaty cyclists ferry people and supplies on rickshaws. Overhead, an airplane buzzes above the racetrack with one of those long, trailing signs, which reads, SAVE A HORSE, RIDE A VIRGIN.
"I get satisfaction from all this," Branson tells me. "Life should be fun. People take themselves way too seriously—businesspeople especially."
Gradually, fans start to recognize Branson. Cell-phone cameras wink. Pens are proffered for his autograph. He waves, flashes the considerable dentistry, and eventually hops out of the golf cart to shake hands. Now there is positively a stampede of well-wishers. "I hope you're all enjoying yourselves!" says the happy impresario of Richardstock.
I look back at the Bond girls, and they only roll their eyes. "He does this all the time," one says. "You can't stop it."
At their urging, he finally hops back on the golf cart and we pull up to the Virgin Green Spot just in time for the press conference. It's a cozy compound of bamboo-and-hemp-canvas yurts billowing in the breeze, with tangled vines, potted ferns, anda sculpture of Pegasus made of recycled materials. Throughout this little eco-tabernacle, there are numerous displays concerning such matters as compact fluorescent bulbs, junk-mail reduction, and the problem of phantom loads (even when turned off, your appliances, stereos, and computers are still pulling juice). The stylish displays appear mod, slick, even lascivious. EVERYONE HAS A GREEN SPOT, one poster reads. WHERE'S YOURS?
Daryl Hannah is over by the microphones, looking tastefully frumpish in her faded jeans, cowboy hat, and Converse All Stars, her platinum-blond hair skimming the small of her back. Branson joins her against a backdrop of diesel generators and solar-panel grids, and the cameras from the entertainment press click away. (Although Branson's
a committed family man, it seems to be part of the Virgin PR strategy to show the chairman cavorting with models and Hollywood beauties.)
Besides, Hannah has environmental bona fides. A well-known activist and biofuel crusader who runs a sustainable-solutions blog, Hannah tells the assembled journalists about how she spent an action-packed week on Necker Island with the Branson family. "It was Death Week—he tried to kill me over and over again," with kiteboarding and other sports. "If we can just keep him down here on the ground—he's always going up."
At this, Branson smiles coyly and presses his palms into a namaste.
Hannah acknowledges that huge rock shows like this are not exactly good for the earth, but, she insists, "this is a very, very, very clean festival." The generators, she notes, all run on B99 biodiesel fuel, the plates are made of sugarcane, the cups and utensils of corn. Everything is compostable, with recycling stations set up all over the dusty infield.
"But you better eat fast," Branson butts in with a laugh, "because these utensils melt in this heat. The good news is, if the concession lines grow too long, you can eat your fork!"
Branson hops on a stationary bike that's hooked up to a blender and in a few minutes pedals up a fresh, human-powered smoothie made from the super-healthy açai berry, harvested wild from the Brazilian rainforest. He hands Hannah the purplish concoction, but she shakes her head. So Branson takes a big gulp of the swill and cheerfully smacks his lips, his mustache gooped in purple.
AFTERWARDS, Branson takes me to the Virgin VIP section, a roped-off area with beefy bouncers patrolling the perimeter. Inside, the Virgin mood enhancers have created a perfect lounge environment, with Moroccan poster beds, roving burlesque performers in trippy animal costumes, and a half-dozen luxury tepees, each one appointed with kilims, modern Scandinavian furniture, and giant plasma screens showing live images from the main festival stage.
I strike up a conversation with a Virgin associate about Branson's son, Sam, who is now reputedly awake and waiting for me to interview him in one of the tepees. "It must be stressful being the son of Sir Richard Branson," I say. "I mean, those are some unique footsteps to follow in."
The Virgin employee looks at me like I'm crazy. "Stressful?" she answers. "I think you'll see Sam's handling the stress . . . just fine." As she says this, a dancer wearing platform heels and a purple rabbit suit hops by us.
Sure enough, I duck my head into one of the tepees and find what has to be the most relaxed billionaire's son alive, a handsome, blue-eyed slacker prince. Sam is lounging in a rattan chair, wearing a Jimi Hendrix T-shirt and multicolored Nikes. He has an impressive soul patch, and his blond hair is pleasantly haphazard. Well-mannered, respectful, and instantly likeable, he's said to be one of Britain's most eligible bachelors and is renowned in the UK for the $300,000 21st-birthday party his dad threw for him last year—a Mad Hatter– themed bash attended by Kate Moss, Bob Geldof, Prince William, and Paris Hilton, among others.
"What are you up to these days?" I ask. "College?"
"God, no!" he says, reminding me that his dad didn't finish high school. "I enrolled in the University of Westminster [in London] and left after three weeks. I couldn't see myself doing that."
Sam now keeps a flat in London, which he shares with some of his "mates." He plays guitar, surfs, travels, and nurses the adventuring gene. "I'll do it my own way, but I've definitely got the bug," he says. "I'm spending most of next month in the Masai Mara bush. And I've got a trip to Ellesmere Island planned for next year."
I ask him about his recent expedition on Baffin Island with his dad. (Arctic legend Will Steger, who led the three-week dogsled trek this past spring, told me how well Sam acquitted himself as a young explorer.)
"Yeah, that trip was brilliant," Sam says. "We sledded from one village to the next, interviewing the Inuit about their perspective on global warming for a documentary we're making. I'm working on a book about it, too, based on a journal I kept."
Outside the tent, I can see an Evil Monkey Man cartwheeling around the VIP compound. Daryl Hannah is there as well, along with hordes of thirsty roadies, techies, and rock stars too numerous to name. Sir Richard Branson stands in the middle of it all, laughing and buying the drinks—organic rum mojitos, all around! Everyone is smiling.
"This is quite a world your dad presides over," I say. "Are you interested in running all this someday?"
"After I've done my thing, I might want to get involved," Sam answers. "It's not a bad life."
LATER THAT DAY, in a tricked-out Virgin trailer parked behind the festival, Richard Branson sips Gatorade on an electric-blue couch and talks about the topic that really lights his eyes. Over the past year he has made it clear that Virgin will be a major player, possibly the major player, in the private conquest of space, and he's outlining his ideas for the ultimate untapped market. Even now, Branson says that rocket scientists are out in the Mojave Desert putting the finishing touches on a spaceship prototype designed by aviation legend Burt Rutan. Branson wants to be the first to offer well-heeled travelers the chance to experience the rarefied frisson of weightlessness, charging $200,000 a seat to slingshot passengers into low Earth orbit and glide them safely back down.
"With space," Branson says, "there are significant challenges ahead, enough for the next few generations at least. Our first goal, our immediate goal, is to build a reliable spacecraft that provides our customers with a guaranteed return ticket."
Right now, that is far from guaranteed. Earlier this summer, three employees were killed in an explosion while working on the SpaceShipTwo project at the lab in the Mojave Desert. "It was terrible," Branson says of the disaster, "but not a show-stopper. Our investigations suggest the problem was not in the design itself." The accident, in addition to the recent loss of his friend and fellow adventurer Steve Fossett, is yet another reminder that exploration of any kind involves serious risk. "I daresay we'll never see anyone like him again on this earth," Branson says of Fossett. "It's my greatest hope that in ten years' time he'll write me a lovely letter from some beautiful place in South America." Despite all this, the ever-sanguine Branson insists that Virgin Galactic will be unveiling its first viable spaceship sometime in the spring (and that the mother ship will be renamed The Spirit of Steve Fossett).
Of course, merely puncturing the thermosphere is only the beginning, Branson says. As with nearly all his businesses, he believes in jumping in now and asking questions later. "I like to keep a David-vs.-Goliath stance and shake up complacent, tired old industries," he says. Only in this case, the "industry" is NASA and other bloated, hidebound national space programs. In the not-too-distant future, Branson envisions private space stations, colonies on other planets, and—why not?—maybe even rock concerts on the moons of Jupiter.
"We're at the birth of an enormously exciting new era," Branson says. "Instead of being citizens of a country, we'll just be earthlings, with citizen-of-the-world passports."
And when the first Virgin Galactic voyager leaves the spaceport, Citizen Branson plans to be on board, with his fair-haired Sam beside him—going anywhere, as long as it's up.
2–15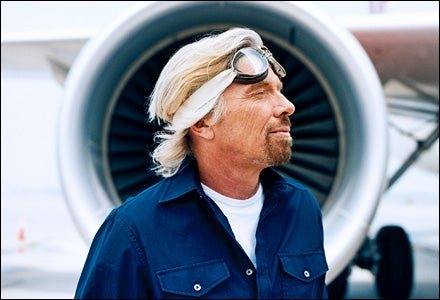 [02] In September, TYLER BRADT, 21, set a kayaking world record by flinging himself off Canada's 107-foot Alexandra Falls. Ed Lucero made the same run in 2003 but popped out of his boat on landing. Bradt stayed in, giving him the undisputed record and, we're guessing, a sore back.
[03] OMG, I summited! With a May ascent of Mount Everest, at age 18, American SAMANTHA LARSON became the youngest person to climb the Seven Summits.
[04] The metrosexual backlash continued in 2007 with the rise of the GREEN-NECK—he of progressive politics and solar power whose fishing tackle, hunting rifles, bags of compost, and commuter bike all share garage space with his hybrid truck.
[05–06] The iPHONE and the PRICE CUT.
[07–10] As if ROGER FEDERER's near perfection, his rivalry with RAFAEL NADAL, and the surging SERBIANS weren't enough to make us love tennis this season, former world No. 1 MARAT SAFIN, of Russia, ended the year by climbing Cho Oyu, the world's sixth-highest mountain.
[11–13] After the 2006 documentary Who Killed the Electric Car? renewed our interest in battery power, the 2007 TESLA ROADSTER (teslamotors.com) made us drool, and the CHEVY VOLT concept car (chevrolet.com/electriccar) and VECTRIX electric scooter (vectrix.com) gave us real hope.
[14] STILL GOING! Long-distance swimmer MARTIN STREL braved piranhas and tropical disease to add 3,375 miles of the Amazon to his swims down the Mississippi, Danube, and Yangtze rivers.
[15] Last summer, Cal Poly San Luis Obispo student MATT ISHLER, 21, rode his skateboard down approximately 1,200 miles of the Pacific Coast Highway, from Canada to Mexico, for our favorite cause: the hell of it. Fully self-supported, he spent 33 days on the board, then took a train home to get ready for his senior year.
16–32
iPhone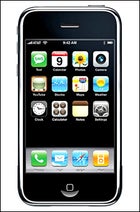 iPhone
[16] With its rocket competition, the X Prize Foundation got civilians off the planet, and now it's trying to bribe them into saving it. The AUTOMOTIVE X PRIZE will give at least $10 million to the first team to create a production-ready 100-mile-per-gallon car.
[17] In May, a group of scientific institutions—backed by MacArthur Foundation millions and supported by legendary Harvard biologist E.O. Wilson—announced the ENCYCLOPEDIA OF LIFE, an effort to document all 1.8 million named life forms in a network of formatted, interconnected Web pages.
[18] Provided you understand the caveats made necessary by the title of this magazine—something is preventing you from being outside, you have nothing better to do while you're inside than watch television, and you positively must watch football inside on said television—please watch FRIDAY NIGHT LIGHTS. There is no better show right now on the planet. Not inside, at least.
[19–23] The Green Apple! New York City mayor Michael Bloomberg announced that the city's 13,000 TAXIS WILL GO HYBRID by 2012, suggested FEES FOR DRIVING INTO MANHATTAN (to ease congestion and pollution), and BANNED TRANS FATS in restaurants. Wait, New York gets even better. Three years after completing a 32-mile commuter bike path around the edge of Manhattan, NYC authorities opened a four-mile mountain-bike trail in Manhattan's HIGHBRIDGE PARK and another six miles of off-road fun on Queens' CUNNINGHAM PARK trail systems.
[24] Though unicorns still elude us, scientists can now PREDICT MOONBOWS—rare nighttime plays of mist and moonlight—at Lower Yosemite Fall, with precise dates and times. Schedule: uweb.txstate.edu/~do01.
[25] Thanks to well over 100 outdoor groups and adaptive-recreation programs like Colorado's Challenge Aspen and the Washington, D.C.–based Team River Runner, rehabilitation for WOUNDED U.S. SOLDIERS now often involves adventure sports and nature retreats.
[26–27] The new BOEING 787 DREAMLINER, built largely of lightweight composites, and the 555-seat AIRBUS A380, the world's largest commercial passenger plane, are considerably more fuel efficient than current airliners, while promising quieter, plusher rides.
[28–32] In July, FIVE NEW ZEALANDERS set out from the South Island in a fully functioning pub set atop a barge. Bound for London, they stopped along the way to serve cold beer and good times in Panama, Samoa, the Bahamas, and New York City.
33–39
[33–39] CYCLING'S NEW BEGINNING?
THE 2007 SEASON left pro cycling burning in its own toxic stew. Which has left me psyched for 2008. Why? As painful as the process has been, the sport is finally shedding the cheaters. First came the forced mea culpas from 1996 Tour champ BJARNE RIIS and sprinting specialist ERIK ZABEL, who admitted to taking EPO in the nineties. Even IVAN BASSO, Lance's would-be heir and the 2006 Giro winner, made a cowardly half-confession. Then came the suspension of Tour favorite ALEXANDRE VINOKOUROV, who, like ex–2006 Tour champion FLOYD LANDIS a year earlier, absolutely tanked during one stage, only to smoke the field the next, then fail a doping test shortly thereafter. Before the Tour ended, race leader MICHAEL RASMUSSEN had been yanked for lying to his team to avoid doping controls. By the end of the summer, Floyd had lost his arbitration case and the Discovery Channel team, which had hired scandal-tainted riders in Basso and Alberto Contador (the eventual Tour champion by default), had disbanded.
Now for the good news: A CLEAN GENERATION seems to be taking over. Young riders, who have always deferred to the veterans, are speaking out. British pro Bradley Wiggins wrote an essay in the Observer newspaper titled "Tour Ruined by Old Guys Who Think Doping is Normal." Several riders even staged a protest at the beginning of one stage, stopping in the middle of the road to send a message to the cheats. Teams are instituting costly internal controls that virtually assure their riders are clean. And talk about zero tolerance: Pulling Rasmussen from the race merely for lying took true courage. If Bud Selig had the balls to take the bat from Barry Bonds and slap him with a batting glove in front of America, I'd feel the same way about baseball.
40–50
[40–42] That caffeine buzz feels even better now. GREEN MOUNTAIN COFFEE ROASTERS went ape for Jane Goodall with the launch of Gombe Reserve blend, a move that will help support 2,700 small-scale farmers near Tanzania's Gombe Stream National Park. STARBUCKS started cutting trans fats and switched from whole milk to 2 percent in its North American stores, and DUNKIN' DONUTS, which has been brewing Fair Trade coffee for its espresso drinks since 2004, zapped trans fats from all of its 5,400 locations.
[43] STILL GOING! He played at benefit concerts in Hawaii, and the Surf Industry Manufacturers Association named him Environmentalist of the Year, but our favorite EDDIE VEDDER moment from 2007: his soundtrack for the born-in-the-pages-of-Outside movie Into the Wild.
[44] Best escape artist: REGGIE, a seven-and-a-half-foot alligator that eluded trappers for nearly two years in Machado Lake, in Harbor City, California, was finally captured last May and taken to the Los Angeles Zoo. A week after settling into his new pen, he escaped over a mesh fence. Workers found him later near a loading dock and have since modified his enclosure.
[45] THE G-TRAINER antigravity treadmill uses a pressurized air chamber that can suspend from 1 to 80 percent of a runner's bodyweight, lessening impact and speeding injury recovery. Thanks to the system, American Dathan Ritzenhein placed ninth in the 10K at the World Track and Field championships in August despite suffering a stress injury in his foot just four months earlier.
[46] Boldest land grab: With its eyes on Arctic oil rights—and its mind in the 17th century—Russia sent a pair of submarines 13,980 feet below the North Pole to PLANT A TITANIUM FLAG and claim about 460,000 square miles of Arctic Ocean floor as (soggy) Russian soil.
[47] The International Dark-Sky Association, an Arizona-based group of stargazers, named Utah's NATURAL BRIDGES NATIONAL MONUMENT the first International Dark Sky Park, citing it for having one of the darkest, most pristine night skies in the lower 48. darksky.org
[48] For too many Americans, the local-foods movement means eating at the closest McDonald's. Hilary Brown, 38, a chef with an environmental bent, split the difference with LOCAL BURGER. Her fast-food restaurant in Lawrence, Kansas, sells about 200 burgers a day made with grass-fed beef and organic, in-season vegetables sourced from nearby farms.
[49] Another reason to love New Zealand: FLIGHT OF THE CONCHORDS, an HBO show about a down-and-out Kiwi musical-comedy duo trying to hit the Billboard charts, aided by their earnestly clueless manager, who runs the band from his office at the New Zealand Consulate.
[50] Best opportunity for a shrinkage joke, No. 1: In July, British swimmer LEWIS GORDON PUGH set a world record with an 18.5-minute dip in the 29-degree waters of the North Pole, wearing only a Speedo, goggles, and a cap.
51–56
[51–56] GIVING
YOU MAY NOT have an extra $30 billion to hand over for humanitarian projects (like WARREN BUFFET did), a book titled Giving on the bestseller list (BILL CLINTON), or a reality show called The Big Give on network TV (OPRAH), but, AVERAGE AMERICAN CITIZEN, we salute you anyway.
According to the Giving USA Foundation, about 90 percent of U.S. households earn less than $100,000. Yet 65 percent of them, or about 65 million families, contribute almost 60 percent of all individual donations. In 2006, total private contributions in this country added up to $223 billion. Add corporate and institutional giving to the pile and it grows to nearly $300 billion. That's roughly the GDP of Poland and about the same as what we spent on the war in Iraq between 2003 and 2006.
Statistics aren't yet out for 2007, but we're willing to wager that American giving will surpass the $300 billion mark by the end of the year. Why? Because whether you're mountaineer-turned-philanthropist GREG MORTENSON, who got American kids to collect 15 million pennies to build schools in Afghanistan and Pakistan and who co-wrote Three Cups of Tea, the ensuing bestselling book about his experiences, or BILL AND MELINDA GATES, who donated billions to bring health care and education to the masses, generosity hasn't been so cool since the days of Carnegie and Rockefeller. This frenzied altruism may be driven by a collective urge to right our nation's karma or a competition to one-up Bono and Brangelina. But it doesn't really matter how it happened. Just use the momentum to take stock of what you've been given, look around (globalgiving.com is a good place to start), and see how you can pay it forward.
57–65
[57] That's not a mosh pit; those are our cheerleaders. Seven Los Angeles high schools have added skateboarding as a sanctioned sport. They're the first members of the nascent NATIONAL HIGH SCHOOL SKATEBOARD ASSOCIATION, but plans call for adding 13 schools next year.
[58–59] THE PROSTHETIC LEGS of double-amputee sprinter Oscar Pistorius, of South Africa, forced international track-and-field officials into an unusual debate this year when he began edging close to Olympic qualification times. They're still doing tests to determine whether or not his futuristic prosthetics give him an unfair advantage over able-bodied runners. Got that?
[60] Blue-light special on the South Col! Though prices for MOUNT EVEREST CLIMBING PERMITS will remain the same during the big spring climbing season (about $25,000), Nepal is proposing lowering rates for fall and winter by 50 and 75 percent, respectively.
[61–63] American cycling is dead! Long live American cycling! Discovery Channel riders took FIRST and THIRD at the Tour de France, then the team promptly announced that it would fold at the end of the season. At the same time, TEAM SLIPSTREAM/CHIPOTLE began assembling a roster almost entirely of U.S. stars, including Discovery refugee Tom Danielson and CSC stars Dave Zabriskie and Christian Vande Velde, in an attempt to create a new American superteam.
[64] WHAT SURFBOARD CRISIS? BY BRIAN ALEXANDER
TWO YEARS AGO, Gordon "Grubby" Clark, whose Clark Foam made 90 percent of the polyurethane cores, or "blanks," used in surfboards, suddenly shut his doors, creating a panic in the industry and spawning doomsday predictions. Shops and manufacturers hoarded inventory and raised prices dramatically. But after a brief pause, dozens of suppliers began flooding the world with cores and surfboards. Many are now mass-manufactured in Asia and sold at discounters like Costco. Even boutique makers are humming. My own board guru (Dennis Murphy, of Murphy Shapes, one of a diminishing cadre of hand-shapers) says many of his blanks come from U.S. Blanks, run by former Clark Foam employees using a modified Clark Foam formula.
In the days after "Blank Monday," there was talk of using Clark's closing as a chance to address the industry's green-image problem. On the one hand, surfers are constantly haranguing officialdom about clean water, while on the other they rely on board-manufacturing processes that an industry newsletter has described as "somewhat deadly." While there have been signs of interest in safer techniques and materials, so far they're tentative. Some, like a sugarcane-based epoxy over bamboo, are mainly curiosities. Exotic materials like carbon are impractically expensive. A researcher at Sandia National Laboratories, in Albuquerque, New Mexico, announced that a foam he created to protect electronics in nuclear weapons would make excellent, affordable blanks and be easier on the environment. But it has yet to find its way into commercial surfboards. The industry has been using slightly less noxious polystyrene blanks—basically styrofoam—covered with epoxy resin, though the verdict on their staying power is still out.
In the not-so-green meantime, there's still good news for me in the post-Clark fallout: Murphy has slightly lowered his prices.
[65] Our new favorite thing about Paris: VÉLIB' (vélo, for "bike," and liberté, for "freedom"), a program aimed at easing pollution and traffic by making rental bikes available for short trips. By year's end, there will be 20,600 bikes at 1,451 automated rental stations throughout the city, available for as little as $1.40 a day.
66–80
[66] In May, a team of Swiss sailors completed the first TRANSATLANTIC CROSSING IN A SOLAR-POWERED MOTORBOAT, piloting the Sun21 catamaran 7,000 nautical miles from Chipiona, Spain, to New York City in 156 days.
[67–72] Michael Phelps's massive HANDS, 79-inch WINGSPAN, elongated TORSO, and size-14 FEET powered him to five world records in a single meet, the 2007 FINA World Championships. Next up: Beijing, where he'll be the American face of the Games.
[73] Citing a desire to promote sustainable apparel manufacturing and supply-chain practices, New Zealand–based Icebreaker recently unveiled BAACODE, an online tool that allows consumers to type in a code from any of the company's sharp merino-wool garments and trace it back to the sheep ranch the wool came from. icebreaker.com
[74] After new requirements for travel to Canada, Mexico, Bermuda, and the Caribbean backlogged the understaffed U.S. STATE DEPARTMENT, which then had to endure the wrath of Americans who faced waits of up to three months, the agency announced this fall that it was back on schedule. Thanks, guys. And sorry about all those calls.
[75] STILL GOING! Pioneering conservationist, pal of Ed Abbey, Grand Canyon legend: Call him what you will, but don't call MARTIN LITTON finished. He's been running the Colorado River since 1955, and he did it again this past summer, at age 90. Rapids pinned his aluminum dory—the first time he's lost a boat in his 53 years on the river—but he made it through the whitewater by clinging to the bow of a friend's kayak.
[76] Can cars raise cycling awareness? In Colorado, yes. Last June, bike-loving governor BILL RITTER signed into a bill law that gives drivers the option of paying an extra $75 for a license plate with an image of a cyclist and the words SHARE THE ROAD. Proceeds will fund bicycle-education programs.
[77] STILL GOING! Ultra-long-distance hiker ANDREW SKURKA, who already has hikes of 7,778 miles and 2,174 miles under his belt, set out in April on the 6,875-mile Great Western Loop. He is the first to attempt the route, which links all the major trails of the West—the Pacific Crest, Pacific Northwest, Continental Divide, Grand Enchantment, and Arizona. He expects to finish in November.
[78–80] Let the sun shine in! North Carolina entrepreneur Michael Sykes's ENERTIA BUILDING SYSTEM turns wooden houses into thermal batteries by injecting nano-size minerals into the resin of sustainably grown pine, maximizing the wood's ability to absorb, retain, and transfer energy. Swiss company FLISOM has come up with paper-thin plastic solar panels that can stick to buildings like wallpaper and weigh 200 times less than their glass-based counterparts. And New York– based Veeco Instruments' MOCVD technology uses an optical concentrator to increase the conversion efficiency of solar cells from 18 to 41 percent.
81–90
[81–82] Fast times: In August, 24-year-old ALAN WEBB ran a 3:46 mile, breaking the American record set by Steve Scott in 1982. Seven months earlier, RYAN HALL, also 24, smashed the 1985 U.S. record in the half-marathon by 72 seconds, becoming the first American to break the one-hour barrier.
[83] Best opportunity for a shrinkage joke, No. 2: In August, photographer Spencer "Is Everyone Comfortable?" Tunick shot 600 PEOPLE NUDE ON A GLACIER in Switzerland to call attention to the world's receding ice sheets.
[84] STILL GOING! CHRIS SHARMA put the first ascent of the French route Three Degrees of Separation (5.14d) on his résumé, which also includes the world's first 5.15, then started on a new route in California that he calls Futuristic But Possible. That means you can't climb it.
[85] Organic clothes never looked so good: Eco-friendly fabrics went high-end in a big way when apparel company VIRIDIS LUXE unveiled its cashmere, bamboo, cotton, hemp, and silk clothing line in May. Scarlett Johansson, Julia Roberts, Al Gore, and Ben Harper scooped them up, and the clothes became so popular that the company had to briefly halt orders in July. viridisluxe.com
[86] PLANET EARTH's high-def footage of snow leopards hunting in the Himalayas, pygmy seahorses hanging on gorgonian coral, a vampire squid flashing an abyssal light show, and 30 starving lions tracking African elephants made the 11-part around-the-globe BBC/Discovery Channel miniseries the highest-rated natural-history program of all time.
[87] NASA's brightest PR moment of the year: While 20,646 runners tackled the 2007 Boston Marathon 210 miles below, astronaut SUNITA WILLIAMS, 41, ran the same 26.2-mile distance on a treadmill aboard the International Space Station. Her time: 4:23:10—during which she made nearly three orbits around the planet.
[88–90] The Cooper-Hewitt National Design Museum's "Design for the Other 90%" exhibition showcased 35 innovative ways to help the 5.8 billion people in the world who lack basics like transportation, shelter, drinkable water, or education. Our favorites: the BIG BODA, a bike designed to carry heavy cargo; the LIFE-STRAW, a personal mobile water-purification tool; and the ONE LAPTOP PER CHILD initiative, a program aimed at providing inexpensive laptops to schoolchildren in developing countries. other90.cooperhewitt.org
91–100
[91] STILL GOING! Record holders for longest continuous flight using one's own wings: BAR-TAILED GODWITS. Scientists recently tracked one of the foot-long birds as she flew 7,200 nonstop miles from Alaska to New Zealand—in eight days.
[92] Rock? Stump? Orto-vox's new INTELLIGENT PROBE TIP, which screws onto the end of an avalanche probe, takes the guesswork out of snow rescue with a short-range sensor that picks up the signal from a victim's rescue beacon.ortovox.com
[93] Since getting into triathlons eight years ago, DESIRÉE FICKER has become one of America's top female Ironman competitors, racing to second place at the 2006 Ironman World Championships and earning a spot as the only American woman on the prestigious Tri-Dubai team. She's also very easy on the eyes and has a mantra meant to intimidate: "If it's hurting me, it must be killing them."
[94] Hats off to the staff and volunteers of MOUNT RAINIER NATIONAL PARK. After 18 inches of rain fell November 6–7 last year, creating the worst flooding in the park's 108-year history and causing an estimated $36 million–plus in damages to campgrounds and infrastructure, staffers and 1,700 volunteers worked through the winter to get the main access road and portions of the park reopened by May 5.
[95] CHINA
[96–97] Most intimidating climbing team of the year: In May, the SuperSherpas™, the first all-Sherpa team to climb Everest, was led by APA SHERPA, who has a record 17 Everest summits to his name, and LHAKPA GELU SHERPA, who holds the speed record of 10:56:46. Yes, they made it.
[98] GOOGLE'S STREET CRED BY DAVID KUSHNER
ONCE WE COULD ONLY DREAM of wandering to faraway places. Now we just boot up Google Street View. Since it was introduced in May, nothing has transformed the way we think about travel like this new feature. The Web site had already given us Google Earth, but with Street View you can get intimate, scrolling through a panoramic, photographic, 360-degree re-creation of 14 cities from New York to San Francisco. Soon the site will expand to international cities. It's a model of Googlian efficiency: Fleets of camera-equipped cars cruise streets recording the scene, then the images are assembled automatically back at Google HQ.
Street View isn't in real time—yet—but it's close enough to practically smell the breath of Big Brother. Almost immediately after the launch, frozen for the perusal of Web addicts everywhere, was a dude picking his nose, a guy in front of a strip club, and a cat perched on a windowsill. The cat's owner posted the shot on boingboing.net, a pop-culture Web-zine, and lamented, "I feel like I need to close all my curtains now."
But topping its addictive voyeuristic applications, Street View can show you whether that luxury suite you booked in Miami really does have an ocean view. Getting misty for your bachelor party? Go to ground level in Vegas and cruise the Strip in pixelated 3-D. The experience is transporting in the most postmodern sense. A few clicks of your mouse make you feel like you've momentarily left your sack of meat and bones at your desk and touched down halfway around the globe. And the great Google eye might keep on growing. In September, a satellite that will take images that let you zoom down on objects as Lilliputian as 50 centimeters was blasted into space. Google "thong," anyone?
[99] Austrian MARKUS "HERCULES" STOECKL aimed his mountain bike down a 45-degree ski slope in Chile in September and hit 130.7 miles per hour, a new world mountain-bike speed record.
[100] Steve Fossett
MOST SEARCHES ARE CALLED OFF IN A COUPLE OF WEEKS, but it was a full month after stock-trader-turned-adventuree Steve Fossett's single-engine plane went missing in Nevada that rescuers —who'd been scanning the desert for the 63-year-old with high-tech gadgetry like spectral imaging and something called the Amazon Mechanical Turk—finally went home. Why such a rollout of technology and manpower? It wasn't just because Fossett poured millions into his feats, but because he did them with such flamboyance and determination: It took him six tries to circumnavigate the globe in a balloon and flour to swim the English Channel. With all that, people couldn't believe he was dead after only a month in the desert. And that's how we'll remember him: as a survivor, as the holder of more nautical and aeronautical records than would fit on a single page, as someone who finished the 1991 Leadville Trail 100 and turned in a 16-hour Ironman in 1996 even though and "endurance athlete" was just a footnote on his resume. We looked to him as an example of how we might spend our days if we had the time and money. Like anyone who lived large, he was always entertaining, sometimes controversial, and completely irreplaceable.
-GRAYSON SCHAFFER