Aron Ralston's Adventure Race
Just five months after amputating his own arm when it was crushed by an 800-pound boulder, Ralston resumed his career as an outdoor athlete by competing in last weekend's six-sport Adventure Duluth race.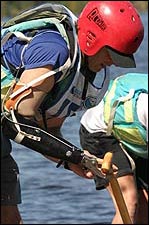 Heading out the door? Read this article on the new Outside+ app available now on iOS devices for members! Download the app.
Aron Ralston, the Colorado climber who self-amputated his right arm barely five months ago, competed Saturday in Adventure Duluth, a six-sport race in its namesake Minnesota city.
Aron Ralston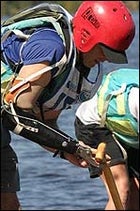 On April 26, Ralston was climbing in Bluejohn Canyon in southeastern Utah when an 800-pound boulder crushed his right hand and lower forearm. Five days later, after running out of water, Ralston used leverage to snap his radius and ulna about eight inches below the elbow, then sliced through skin, muscle, and other tissue with a cheap, dull multi-tool blade. Outside's Mark Jenkins gave a detailed account of Ralston's ordeal in his August 2003 column, "Between a Rock and The Hardest Place."


Ralston lost 40 pounds to malnutrition and dehydration while in the canyon, but by late August he'd already hiked nine of Colorado's 14,000-foot peaks. On an August trip to Grand Teton National Park, Ralston and friends also climbed Mt. Moran (which they accessed by a three-hour flatwater canoe paddle) and the Grand Teton. While in Duluth, Ralston went on a long trail run an hour after his flight landed on Wednesday, and hiked up Eagle Mountain, the state's highest peak, on Thursday. He received two standing ovations after giving a speech to 700 people on Friday, and then completed the 11.5-mile sea kayak, 4-mile whitewater canoe, and 12-mile trail run portions of Adventure Duluth on Saturday. The race also included a Lake Superior swim, a 17-mile mountain bike ride, and a 12.5-mile in-line skate.


During Saturday's race, Ralston used a prosthetic forearm manipulated by a harness that slips around his left shoulder and attaches to the arm across his back. He gripped the kayak and canoe paddles with a locking, pincer-like clamp in place of a hand. Despite limiters on either side of the clamp, it slid up and down the shaft of the double-bladed kayak paddle, and Ralston was forced to pull over in the first mile and duct-tape the clamp to the paddle. He finished the leg—which was the first time he'd ever been in a sea kayak—in 2:08:41.


"I've got a bruise here," he laughed Sunday morning, while pointing to a black-and-blue mark just below the crook of his right arm, where the prosthesis rubbed during the kayak paddle. "That was a pretty tough first kayaking lesson. The ergonomics of paddling and my prosthetic arm just don't match.


"I did find a reluctant serenity while I was kayaking, about nine miles in. After all the excitement of the morning—walking to the start area as the sun was rising, the activity at the swim-kayak exchange, and getting out in the water—that serenity took a long time to come, but I found it."


For the two-person whitewater paddle, Ralston sat bow; world-class triathlete, adventure racer, and Adventure Duluth co-Director Rod Raymond took the stern. Ralston used a bent-shaft, wood paddle with a one-inch diameter hole bored through the handle. He stuck one side of the clamp through the hole, then closed and locked the device. "Paddling the canoe was way more comfortable," he said. "Because I can rotate the hand, I was able to get some good leverage, and the ergonomics of that stroke were just a lot easier than kayaking." They finished the leg in just over 50 minutes. Ralston's team, the Green Chile Winds, finished 38th in a field of 72 teams, with a total time of 7:51:24.


Ralston was very warmly received during his five days in Duluth. He earned numerous standing ovations, including two after his Friday speech, one at the Adventure Duluth spaghetti dinner Friday night, and one Sunday morning at the post-race pancake breakfast and awards ceremony. At Friday's dinner, Duluth Mayor Gary Doty told Ralston and the crowd that that afternoon's speech was the most compelling, emotional, and engaging he'd ever heard; Ralston was visibly moved.


"I've had a great time here," Ralston said. "I'm sorry to leave. I've met so many people."


Any time Ralston was in public, an endless stream of curious people approached him; some were tactful, some were not, but he was gracious and patient with all of them.


"People have shared so many stories with me, of things that have happened to them, and of something I've done or said that's affected them. Imagine what a positive experience that would be for anyone—if every day people were coming up and telling you that something about you has helped them."


Raymond and the other race directors publicly invited Ralston back for the 2004 Adventure Duluth, but in private conversation after the pancake breakfast, Ralston said he'll probably be on a book tour next September. He's got a publishing deal, but the only details he could give are that his contract is with "a major New York publishing house," and that he's writing it himself.


"It never even occurred to me to use a ghostwriter or a co-author," he said. "I started writing almost immediately after the accident. A lot of chronicling of what went on in the canyon, a lot of notes on my rehab and therapy. It provides some good mental therapy for me. Talking to people does that, too.


"The book will cover the accident and about five years of my life before that, which will help set the context for why I was in the canyon—why I was doing what I was doing, what I enjoy, and how it led me there."


Ralston said the book will probably be published next September. At the post-race party on Saturday night, a stranger asked him, "So, what do you do for a living?" After laughing, he said, "Well, for the next six months I'll be a writer." He said he's completed the outline, started writing, and will be researching a lot. He keeps in contact with the Dutch hikers who were the first people to see him after he amputated his arm, and he's trying to get in touch with other people involved in the story.


"At the end of October, over my birthday weekend, in fact, I'll be going back to Bluejohn Canyon," he said. "The logistics for that are going to be tough, because I'll be taking Tom Brokaw and a Dateline NBC crew, and I'm trying to get all the search and rescue people together, too." An NBC cameraman followed Ralston around Duluth during his stay, including along the Adventure Duluth course, and Ralston said NBC plans to run the Dateline segment in conjunction with the book's release.


"I haven't had as much balance since the accident," Ralston said. "Not as much time alone, or wilderness time. The next six months is going to be tough, because I'm still early in my rehab, and I'm pretty guarded. I just don't have the mobility or wilderness independence I had before, and it will be a while before I can get it back.


"I've also got many larger commitments now," he said, as someone hollered from across the room to ask if he'd mind having another picture taken.
Trending on Outside Online