Astronauts Complete Cave Training
Team spends a week underground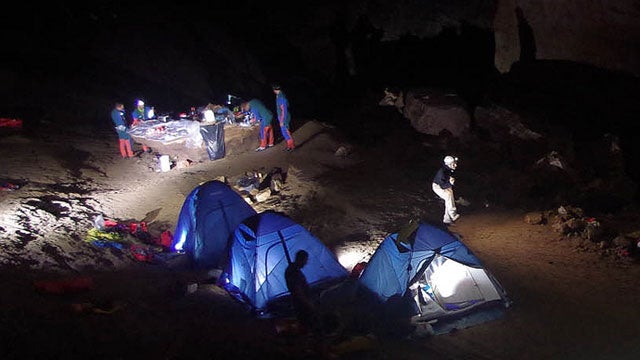 ESA-V(Photo)
Heading out the door? Read this article on the new Outside+ app available now on iOS devices for members! Download the app.
Although astronauts are professional space travelers, a majority of their training takes place on earth—or even underground. That was the case for six astronauts who spent a week in Italy's Sa Grutta cave as part of the European Space Agency's Cooperative Adventure for Valuing and Exercising human behavior and performance Skills (CAVES) course.
The mission was designed to simulate the isolation and danger they might experience on a space mission. They also mapped Sa Grutta using the prototype CaveSniper surveying tool, which allowed them to take measurements wirelessly. 
 The crew recounted the experience in their blog:
As it was on the Space Station, the end of our days were spent organizing data and images to make a coherent set of information for the ground team—or in this case—the surface team."Communication with the surface team was limited to twice a day, more like what may be expected for planetary exploration, so questions had to be organized and formulated carefully.
The international team (two Americans, one Italian, one Canadian, one Russian, and one Japanese) was also tasked with scientific experiments. According to Space.com, "samples were taken for later analysis of water chemistry, microbiology of soil and surfaces, and atmosphere for CO2 [carbon dioxide], temperature and humidity."
They also looked the part. "We were transformed into cavemen," the team wrote on their blog. "Sporting beards, dirty clothes, and a pungent aroma that we had become accustomed to." 
Learn more about cave training @ESA_Caves
Lead Photo: ESA-V