The Tour de France Is Halfway Over. Here are 6 Stories You May Have Missed.
Costly crashes, American close calls, and a victory salute that will make you cry—the 2023 Tour has produced plenty of memorable moments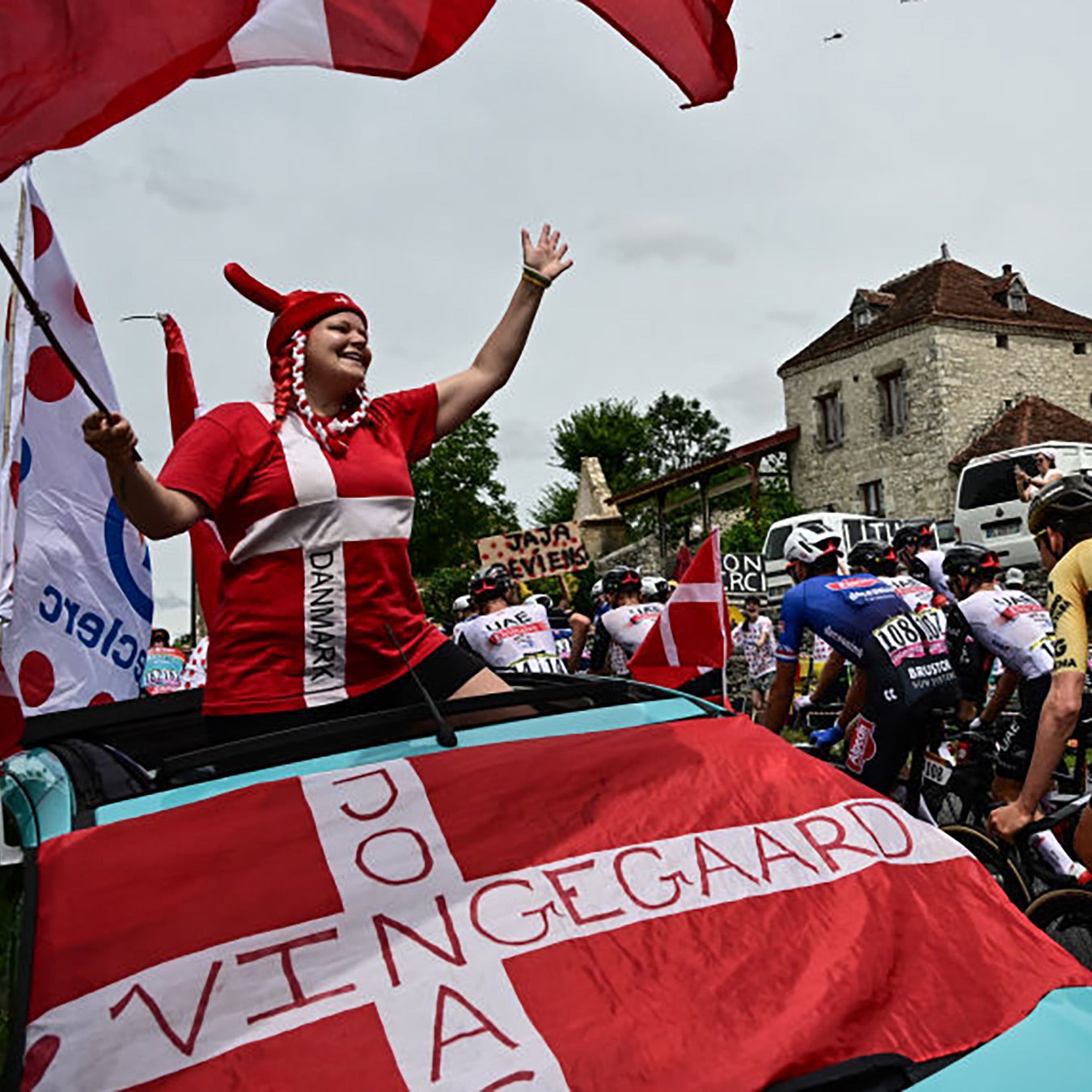 MARCO BERTORELLO / Getty Images
Heading out the door? Read this article on the new Outside+ app available now on iOS devices for members! Download the app.
The 2023 Tour de France reached its official midpoint on Thursday, July 13, as stage 12 (of 23) wrapped up in the wine country town of Belleville-en-Beaujolais. Ion Izagirre (Yon Iz-a-geerie) of Team Cofidis won, while Denmark's Jonas Vingegaard of team Jumbo-Visma maintained his lead in the race for the yellow jersey.
This year's Tour has already produced plenty of drama and moments of intrigue. But hey, I understand if you've been unable to follow along—the stages happen early in the morning, they are broadcast on streaming platform Peacock, and the Tour is three flippin' weeks long. For those hoping to catch up, here's a helpful rundown of the major storylines that you may have missed.
Mark Cavendish's Costly Crash
British cyclist Mark Cavendish is 38 years old, a geriatric age for a sprinter—these are the riders who navigate high-speed chaos and crashes in the final moments of a flat race. Throughout his career, Cavendish has won 34 total stages of the Tour, which ties him with Belgian legend Eddy Merckx for the most ever. Cavendish announced plans to retire following the 2023 Tour. So, whether or not he could break history was a major story heading into the race.
Cavendish was close—he finished second in a sprint on stage 7. Then, disaster struck on stage 8. With 36 miles remaining, Cavendish and a handful of other riders crashed, and camera footage of the aftermath showed him grimacing and holding his shoulder. He was diagnosed with a fractured collarbone and had to abandon the race. Now, all anyone can talk about is whether or not Cavendish will delay his retirement party until 2024 (myself included). C'mon Mark, you can retire at 39 instead!
An emotional reaction from Christian Vande Velde after Mark Cavendish's crash. @ChristianVDV pic.twitter.com/rjWwemc9cZ

— NBC Sports Cycling (@NBCSCycling) July 8, 2023
Close Calls for Americans
American cycling has yet to see a stage winner at this Tour. But two riders have been close: Idahoan Matteo Jorgenson of Spanish squad Team Movistar and Californian Neilson Powless of U.S. squad EF Education-EasyPos. Both have ridden aggressively in the Tour, attacking into breakaway groups again and again. Jorgenson has two near misses—on Thursday he finished third on stage 13, and on July 9 he was fourth place on the summit finish to Puy de Dôme. The second result was a true nail-biter—Jorgenson dropped his breakaway companions near the finish and then started a long, steep climb to the line. The victory seemed within his reach, until Canadian rider Mike Woods bolted from a chasing group behind and began motoring up the ascent. Woods caught Jorgenson inside a half mile to go and blasted past him for the win. Many Americans—myself included—were hoarse from screaming at Jorgenson to hold his gap.
An epic conclusion to stage 9 as Matteo Jorgenson and Michael Woods battle to the summit of the Puy de Dome. #TDF2023 pic.twitter.com/KODQw0GJzb

— NBC Sports Cycling (@NBCSCycling) July 9, 2023
Powless was also part of the breakaway on that stage, but his motivation was to chase points in the King of the Mountains classification—the polka-dot jersey race. He currently leads that competition aheads of Tobias Halland Johannessen of Norway. No American has ever won the KOM prize at the Tour. Go USA!
Bizarre Race Radio
Throughout this year's Tour, the NBC Sports broadcast has aired audio snippets from the Tour. Team managers situated in cars behind the peloton use two-way radios to communicate with riders—they inform them of upcoming hazards or geographic features, and bark out orders to go faster, slow down, stop, etc. On stage 11, the broadcast aired a very unorthodox audio clip from Team UAE Emirates bosses to the riders. "OK guys, now we do plan C. Everybody jump the tiger!" the boss barked into the radio. "When the crocodile starts to swim, you jump!"
📻 An elaborate Plan C for UAE Team Emirates 🐊🐯

Watch out for tigers and crocodiles on Stage 11 of the Tour de France 👀
_____________
🇫🇷 #TDF2023 pic.twitter.com/8npuQx6veK

— Road Code (@RoadCode) July 12, 2023
Every sport has its quirky codes and clandestine language. MLB managers and players communicate in elaborate hand signals. NFL fans can recite some of the best quarterback audible calls of all time (Blue 42! Omaha! Mamba Georgia hut hut hike!). 
I've covered pro cycling since 2004 and have never known the sport to support verbal codes and covert communication. After all, they are speaking to each other on radios. The whole situation makes me wonder if Tour de France teams also employ decoding operatives who intercept the radio transmissions, translate them, and then attempt to glean strategic advantages from the messages. I hope this is the case.
A Tear-Jerking Tribute
Basque rider Pello Bilbao of team Bahrain Victorious won stage 10 by sprinting past his breakaway companions into the town of Issoire. As he crossed the line, the 33-year-old Bilbao pointed to the sky and then to his heart. The gesture paid homage to Bilbao's former teammate and friend, Gino Mäder of Switzerland, who died on June 16 after crashing at the Tour of Switzerland. "When I crossed the line, I put out all the energy that I had inside and remembered the reason for this victory," Bilbao said afterward.
Mäder's death sent shockwaves through the peloton—just 26, he was an emerging star that had the physical gifts to contend for the Tour one day. Multiple riders paid homage to Mäder with victory salutes and tributes in the weeks after his death. And prior to the race, Bilbao said he would donate 1 Euro for every rider he finished ahead of on each stage to the Basoak SOS Association—a group that plants trees on deforested land—in Mäder's honor. Still, Bilbao's tribute tugged at my heartstrings. When Mäder adopted a dog from the streets of Bilbao, Spain, he named it "Pello" after his teammate.
🗣️"J'étais juste concentré pour être dans la bonne échappée. J'ai vu que la @JumboVismaRoad avait laissé partir un groupe, c'était ma chance!
Cette victoire, elle est pour Gino." – 🇪🇸 @PelloBilbao1990 #TDF2023 pic.twitter.com/yDqyM7Ei2y

— Tour de France™ (@LeTour) July 11, 2023
Wout About the Baby?
In the hours before stage 11, reports appeared on cycling websites that Belgian star Wout van Aert—an important lieutenant of race leader Jonas Vingegaard—would abandon the race that day due to the impending arrival of his second child. This was akin to Patriots great Rob Gronkowski quitting the Super Bowl at halftime to go be a dad—an unlikely situation, but one that most fans could also relate to. Even the broadcasters brought up van Aert's coming abandon—a sign that the rumor was being taken seriously. Van Aert attacked into a breakaway that day and seemed to ride aggressively. Was that a sign that he was going to bid the Tour adieu?
Found some Wout van Aert fans in the cold mist on top of the climb and they do NOT think he will make it to Paris. #TDF2023 📺: Peacock pic.twitter.com/3Fh5R9b5fM

— NBC Sports Cycling (@NBCSCycling) July 5, 2023
After the stage, van Aert told reporters at the Jumbo Visma team bus that the story was false. His wife, while still very pregnant, was not about to give birth, so his Tour would continue. Where had the rumor come from? Turns out Danish rider Mattias Skjelmose of rival team Lidl-Trek had said it to a TV reporter from Denmark earlier that day. Skjelmose apologized to van Aert for sparking the storyline. The entire ordeal, however, has placed cycling fans on paternity watch for van Aert.
Jasper the Disaster No More
Belgian sprinter Jasper Philipsen was the focus of the recent Netflix docuseries Tour de France: Unchained for all the wrong reasons. The series honed in on Philipsen's penchant for crashing, disobeying orders, and generally screwing things up. It's no wonder his teammates gave him the unfortunate nickname "Jasper the Disaster." Well, Philipsen helped tone down that nickname last year when he won two stages, including the final one in downtown Paris.
In 2023, Philipsen has won so much that he's garnered a new nickname: "Japer the master." He has already grabbed four stage victories and he holds a healthy advantage in the Tour's green jersey competition, which is awarded to the best sprinter. I spent a few hours this morning trying to think of a better nickname than Jasper the master. Jasper the blaster? Jasper goes faster? Jasper Jasper, speedy podcaster? Jasper rips like a Stratocaster?
Looks like I'll need to workshop a good nickname for Jasper during the Tour's second half.
Lead Photo: MARCO BERTORELLO / Getty Images