9 Crazy Things That Have Already Happened at the 2023 Tour de France
Thumbtacks on the roadway, twin brothers battling for the win, and an 'Unchained' Netflix storyline that continues to evolve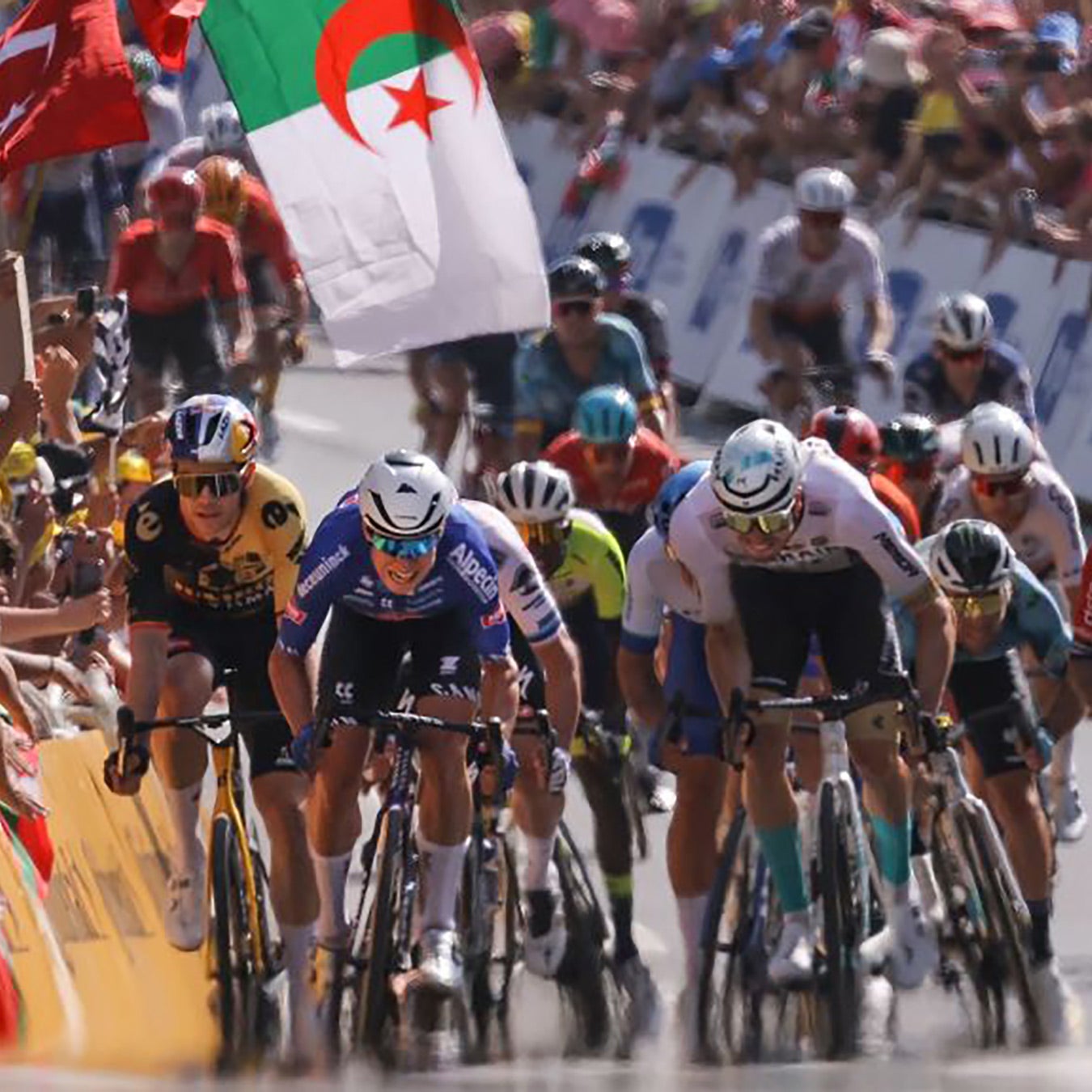 THOMAS SAMSON / Getty Images
Heading out the door? Read this article on the new Outside+ app available now on iOS devices for members! Download the app.
The 2023 Tour de France kicked off on Saturday, July 1, and after just three stages the race has already produced plenty of drama and intrigue, as well as several zany storylines. Opening-week weirdness is pretty typical at the world's biggest bike race, and some readers will recall that during the opening stage of the 2021 Tour, a fan carrying a cardboard sign that basically said "Hi grandma and grandpa!" leaned out into the roadway in an attempt to get on television and accidentally knocked down the entire peloton. It was one of the worst crashes in recent Tour memory.
Thus far, the 2023 edition has felt weirder and even more frenetic, with crashes, acts of trickery, and more than a few viral moments. Come, let us examine the moments that have already defined the 2023 Tour.
Thumbtacks on the Road
Now we know why there were so many punctures! 😬 #TDF2023 (Via: @L_Calmejane) pic.twitter.com/HcjYSEBqhq

— NBC Sports Cycling (@NBCSCycling) July 2, 2023
During Sunday's stage 2, viewers may have noticed that multiple riders had to pull over to the side of the road with about 25 miles remaining and exchange their bikes. As it turns out, they had all suffered flat tires at exactly the same time. Most of them hopped on fresh bikes, pedaled away, and rejoined the peloton. But the moment was still weird. After the stage, French rider Lilian Calmejane uploaded a video showing half a dozen thumbtacks embedded in his front tire. Yup—the punctures were the result of a tack attack.
Were the thumbtacks tossed onto the roadway by a local scallawag? Did a truck carrying tacks accidentally spill its cargo onto the street? Or, were they dropped by a local college kid on his way to hang up a Bob Marley: Legends poster? Alas, we will never know. Strange as it may seem, this isn't the first time that thumbtacks have disrupted the race. In 2012 more than 40 riders had to stop with punctures on stage 14, among them race leader Bradley Wiggins and the defending champion Cadel Evans.
Like the 2021 crash, Sunday's tack situation highlights the fragility of the Tour's ecosystem, since spectators can walk right up to the roadway. Imagine if the Super Bowl was played in a public park, and fans could stand as close to the sideline as they pleased?
Twins for the Win
#ÚLTIMOKM da vitória de Adam Yates @AdamYates7, disputando com seu irmão gêmeo, Simon Yates na Etapa 1 do #TDF2023 pic.twitter.com/XrAiKiqII3

— BikeBlz (@BikeBlz) July 1, 2023
Nope, you weren't seeing double during the final moments of Saturday's stage 1. Near the finish, identical twin brothers Simon and Adam Yates of Great Britain attacked from the peloton and pedaled toward the finish in Bilbao, Spain, together. Adam sprinted past his brother at the finish line to win the stage and take the first yellow jersey of the Tour. As the old saying goes: there are no friends (or siblings) when the yellow jersey is at stake. Still, the Yates bros managed to hug it out after the finish. Simon has already won a grand tour (the 2018 Vuelta a España), and Adam has yet to finish on a podium.
These days it's easy to distinguish Adam from Simon, since the latter races in the blue-and-white jersey of Jayco-AlUla, and the former is in the jersey of UAE Team Emirates. But for years the two Yates' were teammates on Australian team Mitchelton-Scott, and telling them apart was always a struggle.
Lost Leaders
Heartbreaking crash for two contenders. Enric Mas has abandoned and Richard Carapaz is far behind the peloton.#TDF2023 📺: Peacock pic.twitter.com/10jnwFZOvw

— NBC Sports Cycling (@NBCSCycling) July 1, 2023
May I present a football analogy. Imagine if the hard-luck Cleveland Browns somehow traded for one of the best quarterbacks in the NFL, and proceeded to build the team around the quarterback's talents, strengths, and ambitions. Then, during the opening game of the season, the quarterback tore his ACL into nine pieces and was gone for the season. Oh wait, something far worse happened to Browns fans last year? Well, a scenario similar to this is basically what happened to American team EF-Easy Post on Saturday's opening Tour stage. In the offseason, the team—which has one of the smallest payrolls in the WorldTour—signed Ecuadorian mega-talent Richard Carapaz, who is the reigning Olympic champion and has already won the Giro d'Italia. EF build its entire 2023 ambitions around chasing the yellow jersey with Carapaz. It hired staff and riders specifically for this goal, and sent its squad to various high-altitude training camps to prepare.
Then, with about 40 miles to go on Saturday, there was a crash on a seemingly innocuous stretch of road. Cameras arrived on the scene to show Carapaz and Spanish rider Enric Mas lying on the ground. Both men suffered painful injuries and had to abandon the race entirely. Carapaz was the leader for EF and Mas was the leader for team Movistar, and now both teams must soldier on without their respective quarterbacks. The disaster is a reminder that all of the preparation cannot overcome bum luck in bike racing.
A Drought Ends
Incredible finish on stage two of the Tour de France with a massive upset!#TDF2023 📺: Peacock pic.twitter.com/xvZeuVvMl2

— NBC Sports Cycling (@NBCSCycling) July 2, 2023
Tour de France teams are grouped into an unofficial but extremely real caste system. The richest squads hire the big stars and gobble up all the wins, while the poor teams are relegated to cannon fodder. Well, on stage 2, the proletarians upended the race's societal order. Frenchman Victor Lafay of plucky French squad Cofidis launched what appeared to be a hapless and doomed attack inside the stage's final mile (solo moves like this are often brought back), while behind him, Dutch uber-team Jumbo-Visma amassed its riders on the front to chase him down. But Lafay kept his legs pumping and pumping, and despite being outnumbered, he somehow held off the chase until the end, crossing the line just before Jumbo-Visma's sprinter Wout van Aert caught up to him. The win was Cofidis' first at the Tour in 15 years, a huge milestone for a squad that's been in the race since 1997.
This Unchained Storyline Continues
Too bad for Wout Van Aert today. So many defeats, but he knows how to recover and return to the top. Instead, if you had been in Vingegaard, would you have helped him for the last 200 meters? #TDF #TDF2023 pic.twitter.com/Txv3jstkmj

— Procyclinglover (@procyclinglover) July 2, 2023
Did you watch Netflix's Tour de France docuseries Tour de France: Unchained? If you did, then you no doubt recall the inter-squad drama with Dutch team Jumbo-Visma. Danish rider Jonas Vingegaard won the yellow jersey in 2022, and his teammate Wout van Aert collected three stage wins. Team directors had to decide whether to steer their resources toward Vingegaard and the yellow jersey, or van Aert and stage wins (spoiler: they did both). After the series aired, van Aert went online and said that a lot of the drama was overhyped. But hey, it was entertaining. Anyway, Jumbo-Visma's split between van Aert and Vingegaard became a talking point after van Aert narrowly missed out on the win on Sunday's stage 2. That's because Vingegaard chose to sit in the pack and not help pull back Victor Lafay, who narrowly escaped with the win. Had Vingegaard pulled, would van Aert have won? Perhaps. But sitting in the pack and resting is a luxury afforded to the Tour's defending champ. After the race, van Aert threw his water bottle in anger, prompting more online chatter that Jumbo-Visma was again dealing with inter-squad tensions. Then, prior to Monday's stage 3, van Aert told TV crews that hey, it was NBD.
Pogačar the Meme
Everyone saw Wout van Aert's angry bottle toss on stage 2, including Slovenian super-talent Tadej Pogacar of Team UAE Emirates, who many see as the favorite to win (he won the 2020 and 2021 Tours). A few minutes after the finish, Pogačar poked fun at van Aert's reaction, recreating his own version of it to the TV cameras as he warmed down. Yep, the moment became a meme, circulated bike Twitter for 24 hours (it's still going strong).
Tadej Pogacar making fun of WvA, you absolute legend pic.twitter.com/E8Keg49XKc

— dominique pozzovfefe (@Pozzovfefe) July 2, 2023
Why did this moment capture so much intrigue? Pro cycling is a pretty buttoned-up sport, with riders rarely talking trash or acting uncouth in any way toward one another. Pogačar's fake bottle throw is the equivalent of LeBron James telling a joke to a TV camera in which the punchline is "Stephen Curry sucks." As a longtime fan, I welcome this type of smack talk, and to be honest, I simply cannot get enough of Pogačar's hijinks. He's probably the most naturally gifted cyclist in the entire peloton. But rather than act serious and nervous, he's carefree and silly. Check him out below photo-bombing Dutch sprinter Jasper Philipsen shortly after Philipsen won stage 3.
Tadej Pogačar is always there. Even when you think he's not. He is. #TDF2023 pic.twitter.com/luAzdoczZy

— le tour de robyn (@robynjournalist) July 3, 2023
Cav Watch Begins
🇫🇷 VIDEO: @LeTour

Stage by stage the Tour de France is closing to the sprinter's stages. The time of @MarkCavendish is coming…#TDF2023 #AstanaQazaqstanTeam pic.twitter.com/VsUXTT3er2

— Astana Qazaqstan Team (@AstanaQazTeam) July 3, 2023
British racer Mark Cavendish is 38 years old, which is great grandpa age for sprinters—the fastest riders who try to win the flat stages. Cavendish is on the cusp of breaking Tour history in his final trip around France. He currently has won 34 total Tour stages in his career, which ties the all-time mark set by Belgian hero Eddy Merckx. Cavendish equaled the Merckx mark during the 2021 Tour by winning four stages, and his haul represented one of the biggest comebacks in the sport's history. He had suffered injury and illness prior to the 2021 Tour, and had been close to retiring on a few occasions.
Broadcasters gave Cav's storyline some shine during Monday's third stage (he finished sixth in the sprint), and you can bet that the attention is only going to build as the race goes along. Winning a stage won't be easy for Cav or any of the other sprinters. Tour organizers ditched the traditional flat opening week for mountains, and this year there are only six stages that cater to bunch sprints. I dare you to watch the Cav sizzle reel above and not get a wee bit verklempt.
An American in Polka Dots
American cyclist Neilson Powless came into the Tour de France with one big assignment: be a helper for teammate Richard Carapaz. But Carapaz's injury and departure means Powless can ride for his own ambitions, and right now that is to maintain his lead in the Tour's King of the Mountains classification. Yep, that's the competition that awards the garish polka-dot jersey. Look, the KOM prize is based on an arcane points system that I just don't have the brainpower to explain right now. In simple terms, the award goes to the rider who is first to ascend a number of important climbs throughout the race. No American has ever won it. Go USA!
Doggie Maillot Jaune
Look at Adam Yates's very good dog!
Adam Yates's dog is dressed for the occasion #TDF2023 pic.twitter.com/yr1Fx4BOu1

— Tom Davidson (@t_davidson) July 2, 2023
The men's Tour de France runs July 1-23, and the women's Tour de France Femmes runs July 23-July 30. You can follow full coverage of both events at Velo, and we will continue to publish daily updates from the races on Outside. 
Lead Photo: THOMAS SAMSON / Getty Images