Breaking Away
As he rolls for number seven, wrap your mind around the life and legacy and farewell Tour de France of Lance Armstrong—hero, dad, six-time King of the World, rock-star arm candy, and (sometime after '06) the next! governor! of Texas!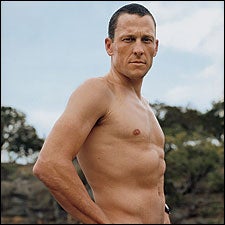 Heading out the door? Read this article on the new Outside+ app available now on iOS devices for members! Download the app.
THE SCIENCE EXPERIMENT
Lance Armstrong

MAIN SQUEEZE: Lance Armstrong and Sheryl Crow at the champ's ranch, near Dripping Springs, Texas
Lance Armstrong

Lance Armstrong
Lance Armstrong
Lance Armstrong
Lance Armstrong

Lance Armstrong
Lance Armstrong
Lance Armstrong
Lance Armstrong

Lance Armstrong
Lance Armstrong

"TUCK AND GO": With one more Tour to ride, the soon-to-be-retired cyclist looks forward to "a whole bunch of other stuff I want to do."
"This individual was born on September 18, 1971. He engaged in competitive swimming at ages 12–15 y and competitive running and triathlon racing at ages 14–18 y. Thereafter, he competed in and trained primarily for bicycle road racing…. Before turning 22 years old in 1993, he became the youngest winner of the World Championships in Bicycle Road Racing, a one-day road race. At age 25 y, this individual was diagnosed with testicular cancer. Thereafter and during the period of October through December of 1996, he underwent surgeries to remove the involved testicle and then to remove cancerous brain tumors and he received chemotherapy… During the 3rd and 4th mo. following chemotherapy, he cycled approximately 5 d/wk for 2–5 h/d at moderate intensity. During the 5th and 6th mo., training intensity was increased…. He resumed international bicycle racing in 1998, and… went on to become the now six-time 'Grand-Champion' of the 'Tour de France' over years 1999, 2ooo, 2oo1, 2oo2, 2oo3 and 2oo4…. During the months leading up to each of his 'Tour de France' victories, he reduced body weight and body fat by 4–7 kg (i.e.; approximately 7%). Therefore, over the seven-year period, an improvement in muscular efficiency and reduced body fat contributed equally to a remarkable 18% improvement in his steadystate power per kg body weight when cycling at a given VO2… It appears that [even] in the detrained state, this individual's VO2max is in the range of the highest values that normal men can achieve with training."—Dr. Edward F. Coyle, "Improved Muscular Efficiency Displayed as 'Tour de France' Champion Matures," Journal of Applied Physiology, June 2005


WE ALREADY KNEW Lance Armstrong was a unique physical specimen, a paragon of human self-propulsion. But a just-published paper by Edward Coyle—the result of a seven-year study he conducted at the University of Texas's Human Performance Laboratory, in Austin—proves that Armstrong is, as they say, off the charts. Looking for a solid measurement of what it takes to win the world's toughest bike race? You can't do much better than an 18 percent improvement in efficiency from a man who can kick your ass even when he's out of shape. Power per kilogram of body weight may be a clinical measurement, but power plus heart, technology, aggression, and superior tactics is what Lance used to win an unprecedented six Tours de France. Armstrong will bring the same mix to the starting line on July 2, when, in what will be his final professional bike race, he begins his drive to win a seventh.


Earlier this year, as Armstrong commenced training for the race, my Outside colleague John Bradley and I caught up with him for two remarkable conversations. The first took place in February on Armstrong's ranch, 30 minutes west of Austin, as his serious training was just getting under way and his personal calculations about his fitness level were still in flux.



Outside: You're getting a late start this year. How's the schedule?

Armstrong: You know, I don't know where I am. I'll find out in a week, when I go to Europe. But I'm not very good.


But you've got the data on your training.

Yeah, that's why I say I'm not very good. Because it doesn't lie. It's funny, for about a week my SRM [a device that measures a cyclist's pedaling power in watts] wasn't calibrated right. I was like, God, I'm—damn, I'm crankin', I'm doin' good. And then I realized: I don't know. And so I went and looked at it and realized it wasn't set up right, and then I recalibrated it, and the truth hurts. Literally. So much of it is power to weight, so I've got to increase the power and lower the weight and, you know, you can lower the weight anywhere, but you can't increase the power just anywhere. To increase the power, you have to have great training.
THE IRONIST

The interview was held on the patio of Lance's ranch house, which is perched high on a spot overlooking the West Texas Hill Country as it rolls away to infinity. As we spoke, I was thinking about the Ed Ruscha canvas hung in the living room inside. More sign than painting, it reads, in bold white capital letters set against a stormy blue background, SAFE AND EFFECTIVE MEDICINE.


The painting works, dizzyingly, on all the levels that Armstrong himself works. It can be read as a sincere acknowledgment of the medical intervention that saved his life, the surgery and the drugs and the rehab that brought him back for an exquisitely leaner, more potent second chance. Or as a reflection of the gratitude, passion, and empathy he brings to his work with the Lance Armstrong Foundation on behalf of cancer survivors.


The painting, one speculates, is also a defiant example of the withering aggression Armstrong aims toward his detractors and tormentors, the conspiracy theorists who say there has to be something more to his amazing achievements than healing, training, natural ability, calibrated teamwork, and angry, focused, uncompromising prowess. Namely, performance-enhancing drugs.


Or finally, could it be a dark joke? If Lance has secretly managed to dope all these years—a myth as unkillable as the one about the ruthless efficiency of the CIA—the Ruscha painting is just about the most cynical gesture imaginable, a true leap into the moral abyss.


God knows the things people are capable of, but the idea of Lance leading a Faustian double life of dishonesty and deception just won't fly. Forget the straight-arrow stance, forget the courage and intelligence of his victories, the total absence of stupid moves. Look at the conclusion of Coyle's paper in the Journal of Applied Physiology, a revealing longitudinal study that required Lance's voluntary participation over its seven-year duration.


"Clearly," Coyle writes, "this champion embodies a phenomenon of both genetic natural selection and the extreme to which the human can adapt to endurance training performed for a decade or more in a person who is truly inspired."


SIXES AND SEVENS

A few months after the Texas interview, Lance was training in the mountains near Los Angeles. We caught up with him by telephone just before he announced that 2005 will mark his last Tour.


Are you sure you're ready to hang it up?

There'll be moments when it's hard. At first Sheryl said, "There's no way you're stopping." But it's done. It can't be any simpler: The farewell is going to be on the Champs-Elysées.


Last year, obviously, was a mountaintop experience in every way.

Six held a special place in my mind, in my heart, and in my soul, as an athlete. But the jinx thing really worried me—like, This just can't happen. If guys like Merckx and Indurain can't do it, then nobody can do it. So I was like, God, maybe that's true. Maybe I should do it and I deserve to do it, but something freaky comes along and, you know, sticks a shovel in my wheel…. But to do that—it was special.


Now, seven. For me, I have to eliminate the first six and go back to focusing on just one Tour. And being used to winning, and accustomed to winning, being able to provide a victory for my team and for the sponsors and seeing the joy in their faces, 'cause they really, really love it. And to remember what it's like to look in their eyes at the dinner table and just get through on that.


How would it feel to lose?

I don't want to lose. At all. It's a hard race; you suffer a lot. It's a long race, so it's long suffering, which is worse than suffering. Now, having said that, if I train hard, and if everything equates the way it should in terms of my preparation, and I know that I'm where I need to be—if somebody beats me, hey, you get beat by somebody better. That's sport.


What do you think about the course this year?
Only three uphill finishes, only one long time trial. Kinda not so hard, but maybe not bad for a guy who's getting older. You've got other mountain days, but they're not so tough. You've got Courchevel [Stage 10], which is tough, and big mountains before it. Then you come down around the bottom [of France] and you've got Pla-d'Adet [stage 15], which I won in 2001. Took the jersey finally in 2001, which is a tough, tough day. So you've got those and then, you know, you stay close there and then you've got the long time trial, which, you know, you use all our experience and hard work and technology. Tuck and go.
SURPRISE, SURPRISE

We're tired of asking Lance about drugs, and he's tired of answering. He says that he's never tested positive and that he's never used performance-enhancing substances, period. Yet he'll never escape the paradox of a sport in which some riders cheat, some are caught, and many believe others get away with it.


So if Lance Armstrong had absolute power in cycling, we asked, what would his prescription be for making the drug problem go away?


The race controls could not be made any better. The winner is tested every day. Three or four people tested at random. And on certain days even the top three are tested. There's a lot. And I think at the Tour they do 10 to 15 controls a day. And now they're doing both urine and blood. I don't think very many sports can say that they do that.


The one thing that I think will change a lot in the future is the out-of-competition controls. That's the best way to control drugs in sports. Surprise controls. Knock on the door: We're here, where are you? I would think that is a serious deterrent for any athlete tempted by drugs. I got four surprise controls this season.


TANNED, RESTED, AND READY

Two months after this year's Tour, Armstrong will turn 34. Many great athletes fail to go on and have interesting second acts, but his chances seem better than most. For one thing, he's already had a second act, and his aura—the idea that here's a man who enjoys still being alive against all odds—surrounds him convincingly.


You're going to be changing professions at some point.

I'll obviously stay involved with the team for the remainder of its existence. Many of the sponsors, I have long-term deals with—like Trek and 24-Hour Fitness and Nike and Discovery.


There's just a whole bunch of other stuff I want to do. I want to go ride my motorcycle on my ranch. I want to go kayak the Pedernales down to friggin' Lake Travis and call somebody and say, "Uh, can you come pick me up?" I've got a lot of stuff, goofy things like that. I want to build a rock wall out here. Just weird things. Right now, I can't go build a rock wall, because I'd get arm muscles that I can't use. It sounds funny, but it's true—everything you do.


Maybe I'll run for governor.


Joke or serious?

There's no follow-up. I'll leave it at that. Not in '06, though. I drove Sheryl by the governor's mansion last night on the way home from dinner. It's a nice mansion. Nice place, nice house—I hate the word mansion, but it's a nice house.


Location, location, location.

Well, it's next to work, next to the capitol.


That's more like it. I mean, it all sounds good—building walls and taking vacations—but you don't strike us as that kind of person.

No, and everybody says that. But that stuff I'm talking about—I'm not talking about doing that for 20 years; I'm talking about taking a year or however long I need to just step back from the sport, decompress, download, figure out where I am in my life, where my children are in their lives. How much traveling I want to do or don't want to do. But no, I'm a person who needs projects and needs to work and needs to be building something or trying to create something. Otherwise I'll go crazy.


I would want to do Australia, do Malaysia, just some stuff that's different. Everest is not on my list.


What about staying fit?

Ex-athletes get soft and they're not as fit as they were, but I've got to be fit. Forever.


No beer gut?

No. I mean, I get a little beer gut in the winter. You know, I'm not going to turn into a Greg LeMond. Forty extra LBs.


Now we've got our scandalous headline.

I thought about it before I said it.


Any idea of going back to triathlon?

No. Listen, I am going to do a triathlon, and it's called Luke, Grace, Isabelle. Those are the three; that's enough. My first priority is just to be there for my children as much as I can.


Beyond that, I guess there's no real ranking, but my commitment in the cancer community will increase significantly. I'll go back to working a lot more on that. The relationship with Discovery will continue for years to come. I'll be more and more involved in programming there and in all their networks.
HE'S GONE

If you've never heard Lance speak with a real Texas twang, rest assured that he can do a convincing cowboy. John Bradley and I were leaving his ranch at dusk after the February interview, threading through a labyrinth of twisting country roads back to the highway, when a big pickup truck roared in from behind, then pulled alongside. At the wheel, a guy who may or may not have been Lance Armstrong bawled out, "You boys ain't from around here, are ya?"


When you spend time with the world's greatest athlete as he heads toward his final reckoning with history, the regular-guyness is striking but deceptive. Lance's steely self-control and drive may take him even further beyond the reach of any future rival for Tour de France domination, but he's also a gambler who knows how lucky he's been—win or lose. And nothing can be taken for granted when you're trying to win the Tour, even if you've done it six times.


Later, during our April conversation, Lance made it very clear that the desire is still there.


Are you enjoying yourself? Is it sweeter because you know this is it?

Oh, yeah, man. You're just on top of the gear and you're sweatin' your ass off. There's nobody on the road; the occasional car passes. It was funny: Today we had people hanging out of the car, like getting aggro. We had this guy on a bike coming the other way, and I thought he was going to jump off his bike and throw it on the ground. It was unbelievable. He was all pumped up. Pumping his fists. It was like he had just won Flanders or something. He was looking over at me, conveying this energy that was just killer. Man, I hit the next canyon and I just tore the pavement off.