Back Pedaling—the Interview Outtakes
In the March, 2007 issue of Outside, Dispatches editor John Bradley sat down with recently-reinstated pro cyclist Tyler Hamilton for a candid conversation with the 36-year-old about coming back from exile. Here, read more of Bradley's interview with Hamilton where he discusses his court battles, Floyd Landis, and his new team.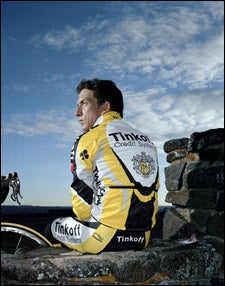 Heading out the door? Read this article on the new Outside+ app available now on iOS devices for members! Download the app.

ON HIS HEARINGS

Tyler Hamilton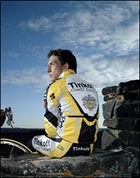 How hard was it to lose your second and final hearing?

I expected to win. There wasn't one part of me that thought I was going to lose. We had a great case. It's just a lot of different reasons that I don't want to get into. But to be honest with you, it dragged on so late, until February or early March of '06, I think, that by that point it was just a few more months until my suspension ended in September. Sure, I did lose, but one small positive out of the whole thing was that my suspension started from September '04, rather than what the USADA [the United States Anti-Doping Association] wanted, which was to start the suspension from April of '05, the date of my first hearing.
So it was CAS [the Court of Arbitration for Sport] who bumped it back to September '04?

I hadn't raced since then, so they backdated it to when the suspension should have started. But then there's the whole thing with ProTour eligibility. [The rules of the International Cycling Union (UCI), cycling's governing body, state that suspended riders can return to cycling after two years but must wait an additional two years before competing in any top-tier ProTour events]. That rule officially started January 1st, 2005. My suspension officially started September of '04. But [UCI President] Pat McQuaid still says I still have the four-year ProTour ban. Eventually lawyers could have to get involved, if it comes down to it. The guy just blabs his mouth. A lot of people assume that if this guy, the president of the UCI, says this, then it must be the rule. He doesn't even know his own rules.
So you're more in the David Millar [who recently returned to the Pro Tour after a two-year drug ban] boat?

Yeah, the exact same situation. Except that he did something wrong, and I did not.
Was there ever a point where you said, "I'm not going to ride again."Never.
Throughout your case, there were independent scientists calling the test deeply flawed, pointing out that there was never a test to establish false positives. The L.A. Times called a lot of things into question, suggesting that the test might have been rushed into use for Athens. In your first hearing, the dissenting judge wrote a very strongly worded dissenting opinion.

At that point, there had only been one dissenting opinion in the history of USADA.
Despite a sizeable body of evidence suggesting that they should probably have looked at this test harder before putting it into use, you lost at every level of appeals. Why do you think that is?

It's sad. It's sad that there's an athlete sitting at home for two years. It's terrible. I've spoken to a lot of lawyers who know the ins and outs of my case, and in a normal court of law, my case would have been thrown out. To me, it's just unbelievable the way this process goes with USADA and CAS. My biggest mistake, looking back now, was not requesting a public hearing.
Like Floyd Landis is doing?

Yeah. Because then they have to be honest and they have to play straight. They didn't do that. If people are going to watch, then the prosecutors have to watch their backs.
So why didn't you?

I was a rookie at this whole thing. To be honest, I didn't speak much about my case the whole time because I respected the process. I felt like that was the way it should be done. After the case, the decision, then you can talk. I felt like that was fair. And then I wasn't treated fairly. So looking back now, if anybody else is in a similar situation, (like) Floyd Landis, and I believe they're innocent, then I would recommend strongly that they have a public hearing.
Given your typically stoic nature, how did you take this very public playing out of your case?

It was hard. I'll be the first to admit, I lost the battle of public opinion because I was too quiet. That hurt me. And when I was actually ready to talk, nobody wanted to listen. I'd tell my story to members of the media, and they'd shake their heads like they got it, and, a week later, what they'd write would be totally different.
Who or what really helped you through the last couple of years?

Number one was my wife. She's been amazing. Without her, I don't think I could have done it. If I was by myself through this whole thing, without someone to lean on, it would have been too much. And my family's been great. Both sides. They've been awesome, always a phone call away. Another blessing in disguise is that I've really learned who my true friends are in this whole situation. A lot of friends really came out that, maybe just from having been so busy over the last ten years racing my bike, you really learn who your true friends are. So I feel like things are a lot clearer for me. There are people who I don't need to spend as much time with, and certainly other people who I want to be sure I spend more time with. I'm going to be on the road a lot again, but I'll make it a priority to stay in touch.

ON FLOYD LANDIS

Do you think your comeback would be a lot easier if it weren't in the wake of the Floyd Landis stuff and the Operation Puerto stuff? It's not a very friendly environment for cyclists right now.

Both are too bad for the sport. But to be honest, both, there still aren't any answers in both of those situations. They're still either investigating them, or there are hearings to be held. I believe in Floyd. I believe he didn't do this. I believe he's innocent. And I hope everything's going to work out, and I think it will be great for the sport of cycling. It's taken a huge, huge hit. But cycling's been around for over 100 years. It'll be back. It's gone through its ups and downs, and it's certainly in a big down right now, but I believe in the sport. Certainly if I didn't love doing it with all the passion, I wouldn't come back.

ON DRUG TESTING

Do you agree that there needs to be drug testing?

Oh, yeah. I don't really tell the world this; I keep it to myself. But I've been part of the out-of-competition testing program since spring of 2000. So basically, if USADA were able to open their books, which they wouldn't, you could go back and find my whereabouts from spring 2000 all the way up to now.
Even the past two years?

Yeah. I got tested a bunch over the past two years.
What would have happened if you had pulled out of the program while you were away from the sport? Would it have affected your chances of coming back?

I don't know. Honestly, I was more than happy to do it. Sometimes it's a pain in the butt, because they expect you to fill out your paperwork three or four months in advance. "Where are you going to be in nine weeks?" It's difficult. So you fill it out ahead of time, and you have to do a lot of last-minute changes, because your schedule changes. But I've done that for the last six or seven years.
But is it voluntary? Doesn't every cyclist have to do that?

It was voluntary at first. I was part of the first group to do it. But again, you could go back and find my whereabouts to spring 2000. That right there shows you something. And obviously they can get you at the races. But if someone's going to dope, they're going to do it between races. Unless they have a few screws loose, they're not going to dope at the races. So if you're going to catch the cheaters, you're going to catch them when they're at home or wherever. And again, I haven't made this public, but it shows right there that I'm not a cheater. If I were, I never would have started this program.
How many times were you tested during your suspension years?

I would guess about six. Plus I've been tested at races. I did a triathlon a couple weeks ago and got tested there. But I'm happy to get tested. The only thing I worry about is a bad test or something like that.

ON THE NEW SEASON

I know you just got a big snowfall in Boulder. Can't be good for the training.

I have a special mountain bike with spikes on the tires, so that's what I'm training on right now.
How's the initial atmosphere at Tinkoff, your new team?

Great. First time meeting the team. A lot of young riders.
Are they the only team you talked to?

I talked to other teams. But even when I first started with U.S. Postal it was really a small, unestablished team. And when I started at CSC, people thought I was crazy. And look at CSC now. Then to Phonak, where we had to get a wild card selection just to get into the Tour that year. So this is kind of par for the course with me.
Why the preference for smaller teams?

Well, one thing for sure is that I'll be one of the team leaders. That's what I'm racing my bike for these days. I've done my time being a domestique. Certainly I have no problem being a domestique if someone on the team is going really well, I have no problem with it. But in general, my focus is being more of a team leader.
You're 35 now. Obviously a pretty advanced age for a cyclist. But people have always talked about the fact that you came into the sport kind of late. You were in college before you really started racing, so your body didn't take the abuse that a lot of guys who were racing when they were 12 or 13 suffered.

Yeah, I started racing really late, by the time I was really serious. Basically, I didn't really consider myself a bike racer until I was about 23.
So do you feel fresher than your age would suggest?

Mentally I feel like I can go. At this point you take it one year at a time. But mentally I'm fresh. I'm probably fresher now than I was in the fall of '04. I tacked on eight Tours de France. It's hard, because bike racing, especially at the top level, is so hard on your body. Every Tour de France you age twice as fast. You know, maybe, in a roundabout way, this time off has been good for my body.
So at the outside, how many more seasons would you like to race?

I still have a lot more that I feel I can do in the sport. It's hard to really put a number on it. Like I was just saying, if you were to say, "Could you race for the next five years?" I'd say great. I don't feel beat up. My body's probably in better shape than it was two years ago. Obviously I have some work to do to get up to race speed. But I think my body's probably healthier. Not as worn down.
If you were to get into the Tour again, you'd probably automatically be considered a contender. But getting into it might be a higher hurdle than winning it at this point. Do you see yourself back in that race?

Well, even if I were to do the Tour this year, I'd have a better chance in 2008 than 2007, because it's going to take me awhile to get back up to race speed.
But do you think it will require you being on a ProTour team, that they're not going to invite you as a wild card?

Well, I have a one-year contract with Tinkov. So far I've had a great experience with the team. And the ultimate goal of the team is to become a ProTour team. He's got vision, and he wants this team to be one of the best in the world. I mean, this is just the start. I guess you could say we're the Bad News Bears right now, like we were at Postal in '99, like we were at CSC in 2002, like we were at Phonak. But it's not crazy to think that. By 2008 it could be because we're a ProTour team that we're in, or we could be a wild card.