Beating the Boys
Recent endurance milestones in open-water swimming and trail running suggest that women may one day be faster than men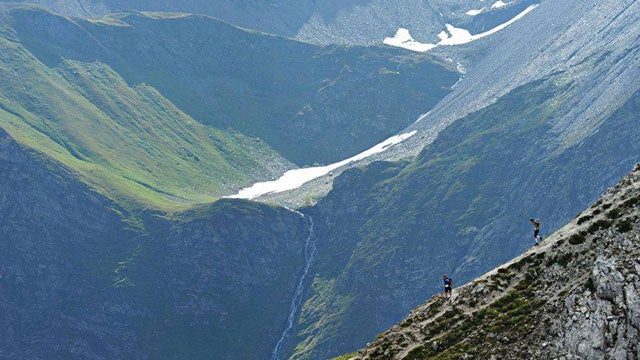 Heading out the door? Read this article on the new Outside+ app available now on iOS devices for members! Download the app.
It's been a good month for female endurance records, with Diana Nyad's (some might say unexpectedly) successful 110-mile-swim from Cuba to Florida, and North Face ultrarunner Rory Bosio's top-ten finish at the Ultra Trail du Mont Blanc (UTMB). Though naysayers in the marathon swimming world have raised questions as to whether Nyad actually pulled off the swim (her fifth attempt in 35 years), the accomplishment is just one benchmark in a list of endurance records set by the 64-year-old swimmer, her career ending on a high note with no real challenger rising up to meet her.
Rory Bosio:
"The disparities become less apparent in endurance sports like ultrarunning. And the fact that women tend to place higher overall despite being proportionally way out numbered by men, also speaks to the strength of women's running."

Bosio, too, made history when she sashayed across the finish line in downtown Chamonix to place seventh overall—the first time a woman has ever broken the top 10 on that particularly demanding 104-mile, 30,840-vertical-foot course. Bosio finished the race in a time typically associated with the top male runners, smashing Krissy Moehl's 2009 record by almost three hours, and adding the 29-year-old to the short list of women who are running with, and occasionally beating, their fastest male counterparts. Are these performances hinting at a future where women will be shoulder to shoulder, or, more to the point, ahead of the men at the finish?
 
In 1985, the journal Nature published a paper hypothesizing that by the year 2000, women would eventually beat men in long-distance running events, the thesis being that women's times were improving much faster than men's. At least in the case of marathon running, that didn't end up happening as elegantly as early studies suggested, partly due to the fact that women were so new to marathon running at the time that their record times were getting faster at a much more rapid rate, skewing the performance data. The female world record, set by Paula Radcliffe in 2003, is still almost 11 minutes slower than Patrick Musyoki's 2011 men's world record. In fact, men started hitting Radcliffe's winning time as early as 1958.

Some of this can of be blamed on physiology. Women naturally have a lower aerobic capacity, a result of lower blood hemoglobin levels, lower oxygen extraction in the arm and leg muscles, and a smaller stroke volume in the left ventricle of the heart. Basic statistics also play a role. Like many endurance sports, women only represent about 27 percent of the field, and at many big races like UTMB that number is closer to eight or ten percent. "The top women at most races are very fast, but then there's a precipitous drop," says longtime North Face runner, Nikki Kimball.

The same can't be said for men's fields, where even the top 10 are typically within an hour of one another. Alex Hutchinson wrote an interesting piece for Runner's World during the summer Olympics last year analyzing "sex differences in velocity" by looking at the participation rates and finishing times of male and female marathon runners. Between 2006 and 2010, the fastest woman was about 13 percent slower than the fastest man, while the 10th place woman was closer to 17 percent slower than the 10th place man. That gap was always larger when the ratio of participation between the sexes was greater, while percentage-difference decreased when the ratios were smaller. In other words, the plateau in women's times may have something to do with the lack of competitive parity that has existed in the women's field up until recently.

Actually, this used to be the case for men as well. As Christopher McDougall, author of Born to Run, points out, "In 2006, Tony Krupicka could camp out in a public restroom the night before Leadville, win the next day, and place high in five more ultras that same year. But now, with a growing core of young, well-sponsored athletes who train in prime locations around the world and peak for a few select races, those days are coming to an end."

So are women catching up because better women are racing? That's one explanation. Ten years ago, the men's top 5 men's times from UTMB averaged about 23 hours, while the women's field averaged about 10 hours slower than that. This year, the women's field crept closer to four hours slower than the men's times, with Bosio's time bringing the two fields closer than they have been in the history of the race. "The disparities become less apparent in endurance sports like ultrarunning," says Bosio. "And the fact that women tend to place higher overall despite being proportionally way out numbered by men also speaks to the strength of women's running."

But that still begs the questions why more and more elite women are logging times previously associated with some of the fastest male runners. Competitive parity may have something to do with it. Long-distance running is one of the only sports where men and women are competing on an the same playing field, and like the famous avatar experiment—in which scientists at the Northumbrian University of England tricked cyclists into biking faster than they thought they were capable of, by having them race against avatars programmed to ride faster than they ever had—women might just be getting faster because their competition is as well.

A 2004 study, conducted by a team of scientists at Oxford University, also gives weight to the 'women could start beating men' argument. After analyzing data from Olympic winning times in the men's and women's races from the beginning of the 20th century, the group noticed a steady decrease in the margin of difference between men's and women's times in the 100 meter dash. This lead them to conclude that, if female athletes continue to close the gap on their male counterparts at the same rate, by 2156 the fastest runner on the planet could very well be a woman. That's still a ways off, of course, but in a separate study, mentioned in David Epstein's new book The Sports Gene, South African physiologists found that when men and women are matched for their marathon time, women will typically win if the race distance is extended to 40 miles.  

In my own amateur forays into the sport of ultrarunning, I've found myself in an interesting in-between place in almost every race I've run. Not quite as fast as some of the lead boys, but somewhat faster than some of the women, I often end up running long sections of 50-100 mile courses alone, and I once won an age group award simply because I was the only person running in that category. UTMB was different. With 2,800 runners, circling Mont Blanc I spent a good portion of the night following a line of headlamps up and over 11,000-foot peaks in the French and Italian Alps, passing hundreds of men on my way up and yo-yoing back hundreds of places on the way down and throwing up every single calorie I put into my body. After 50 miles, I finally gave up, driving back into Chamonix just in time to see Bosio cross the finish line ten hours earlier than I would have had I kept stumbling along. And that's only one example of what gives achievement's like hers such perspective.  

There's another argument, though, that goes beyond basic biology and has far more to do with the psychology of endurance—an intangible measure, but also a significant one. In McDougall's Born to Run, he writes about the mental toughness of women in longer endurance events, including a story about Emily Baer finishing 8th at the grueling Hardrock 100 even after stopping to nurse her baby at aid stations along the way. For whatever reason, while few women are able to log the training mileage that their male counterparts put in on a weekly basis (which even on the amateur level can be anywhere from 110 to 150 miles a week), fewer women DNF and many are far more consistent in their split times from start to finish.

Recent research also suggests that women are better at pacing themselves, and that a lack of testosterone helps keep them from laying everything down on the line at the beginning of a race and blowing up or bonking too soon. It's that mental grit that pushed Pam Reed to back to back overall wins at the 135-mile Badwater Ultramarathon in 2002 and 2003, kept Nyad in dogged pursuit of her single goal for 35 years, and helps Lizzy Hawker place among the top 20 overall in almost every race she runs. These women have often been viewed as remarkable exceptions to the long-standing rule that women will only rarely beat the boys. But if endurance running continues to grow at the pace it has, and the women's field gains a larger competitive depth, these women might not be the exception for long.