Blind Climber Erik Weihenmayer to Race Leadville 100
Heading out the door? Read this article on the new Outside+ app available now on iOS devices for members! Download the app.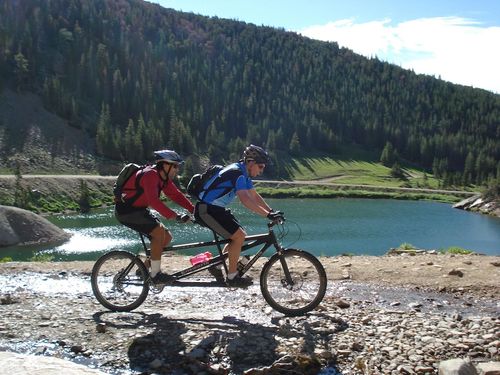 Erik Weihenmayer is best known as the first blind person to reach the summit of Mount Everest in 2001. Since then, the 41-year old has climbed the Seven Summits, carried the Olympic torch, graced the cover of Time Magazine and led six blind Tibetan teens to 21,000 feet on Mount Everest.
Next up? The Leadville 100-mile mountain bike race on August 14. Below, the Golden, Colorado resident shares his thoughts on mountain biking blind.

Why Leadville?
It usually starts at a neighborhood party in somebody's garage, drinking a couple of beers. Someone will suggest an adventure and we're all high five-ing and then I wake up the next morning and think, "Oh no! What did I commit to?"

So your riding partner, John Lemon, is your neighbor?
Yes. He's 47 and an animal. He's a really good mountain biker—a freak on the downhills, he's like insane. He'll look at something and say, "I think we can ride this, but if you fall, don't fall right."

Describe your ride.
Full-suspension Ellsworth. 40 pounds. Aluminum. Tubeless tires.

Can you shift or brake?
I have another mountain bike that's not full suspension that I shift and my wife steers. But on this bike, I'm just sort of the power. I try to pedal as hard as I can while staying quiet in the back. I have to mirror everything my partner does—everything he does, I do. I try not to be an issue. When somebody's on a tandem mountain bike, if the back person wiggles a lot, it's really hard. It's a long bike with 170 pounds on the back wagging.

Is it scary in the back with no control?
It's like Mr. Toad's Wild Ride in Disney World where you're in a train going toward a fire and you're going to crash into a wall but the wall opens. That's how it feels on the back of a tandem. I'm 175. My partner is 160-170 as well. So that's 350 pounds or something coming down hill—nothing is designed for two people barreling down a hill. We almost need a third brake. Coming downhill, we've cracked two rotors in the front because they scorched.

What's your training been like?
We started training four months ago. My longest training ride has been 10 hours. I've also been working on Soldiers to the Summit. The soldiers get in tomorrow, and this week I'll be teaching them all the climbing basics. So that project has been simultaneous with Leadville.

Do you have a time goal at Leadville?
There's never been a blind person to do the race. I would love to get somewhere close to 11 hours, definitely to break 12 hours. It's taking us seven hours, 20 minutes to 60 miles now, so we'd have four more hours to do 40 miles. If we could do 11:20, I'd be pretty psyched.

You were my fifth grade teacher, do you remember me?
I remember your voice.

Do I still sound like a 10-year old?
No!
–Erin Beresini

Photo by Paul Foster. Erik Weihenmayer and John Lemon ride near Rollins Pass.