The Caretaker
What goes on behind the scenes at cycling's biggest races? We know just the man to ask.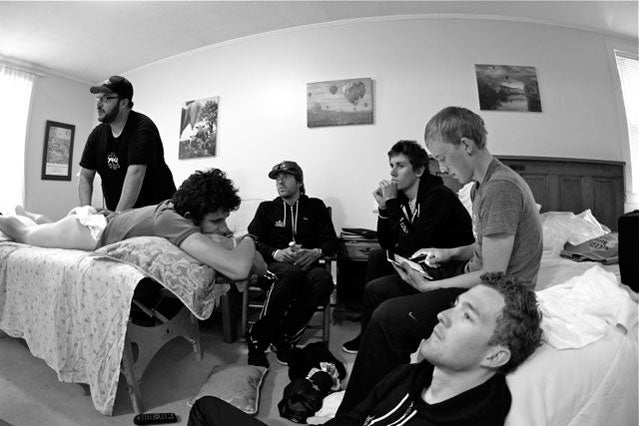 Heading out the door? Read this article on the new Outside+ app available now on iOS devices for members! Download the app.
Reed McCalvin has spent the last eight years working pro cycling's most underrated job. The 35-year-old has been a soigneur (SWAN-yair) for top pros like Christian Vande Velde, Taylor Phinney, and Levi Leipheimer. That means he's done everything from packing lunches to programming GPS's to massaging riders at the world's biggest races. In other words, he's witnessed just about every part of every tour in the world. We called him up to see just how romantic the job is, and of course, to see what he had to say about doping.
Reed McCalvin, Michael Vink

Reed McCalvin pins some numbers for Michael Vink
Reed McCalvin feedbags

Lots of feedbags today
Reed McCalvin
Reed and Taylor talking during warmup
What does soigneur mean?
It's from a French term. It's either "to care for" or "caretaker."
Who are some other non-riding members of the team?
For a race like the Tour de France you have five mechanics, five soigneurs, two sport directors, a PR officer, team chiropractor, team chef, one or two team doctors and then assistants hanging around. Your sponsor coordinator will be there as well.  There are nine riders, and you can have 20 staff running around.
What does your job entail?
On race day I get up at 6 a.m. and make sure we have enough bottles for before and after the race. I make sure all the cars are gassed up and that the start of the race, the feed zone, the end, and the hotel are in the GPS for all of the vehicles. I make lunch for everyone. Then I make sure all the boys had breakfast and that everyone is checked in and updating their U.S. Anti-Doping whereabouts forms. I put bottles on their bikes, tell them what the race is like, what the weather is like, and what type of clothing to wear. Then I go to the feed zone, hold up this little bag (two bottles, bars, gels, pastries, stuff to eat), and drive like a maniac to the finish, where I have a recovery shake, their lunch, and towels to clean up with. From there I shoot back to the hotel, do an hour massage for any of the eight riders, drive them to dinner, and take all their laundry. Then I make all the food and bottles for the next day. People will be like, "Oh, yeah, you are in the Pyrenees? It will be awesome." Yeah, I drove by at 80 miles an hour to a grocery store that was open for four more minutes. I had to pry the door open, run through, scoop stuff into a cart and beg in my terrible French to let me buy the groceries needed for my guy who was gluten intolerant. That's the job—trying to find gluten-free muesli in the middle of rural France.
What training do you have for this position?
Most soigneurs are massage therapists. I'm a bit different, because I'm a physical therapist as well. I'm also an EMT and am a Strength and Conditioning trainer. There are only about five people full-time in the U.S. who do this job.
How do you handle and manage the stress?
I was in the military for some time, and you deal with some pretty fun stuff there. After that, everything has been pretty easy going. Like, you are trapped on the side of a French highway, but no one is shooting at you. So it's not too bad. Your job is to make the riders lives as easy as possible. If you are stressed, then you are stressing them.
What is the best part of your job?
It is just one big un-politically correct rolling circus that we run. You put a bunch of young, testosterone-laden men together in a closed environment, and it's frat-boy time. The best part now, because I work with development cyclists [18-22 years old], is preparing these guys for the big leagues. They know I'm there for them and can talk to them about how to become a pro. You have to be realistic with them. And I tell them about financial stuff—what to do, what to invest in. Don't go buy a BMW convertible with your first contract.
What about doping?
I view it as stealing money from clean athletes. There is a U.S. cyclist who raced domestically and was under investigation by USA cycling. He's since been banned but basically won or was second in a lot of domestic races. Teams that I worked for have lost to him. By doing that, he cost us tens of thousands of dollars in prize money.  I lost money personally and all my coworkers did. And on top of that, if he wasn't there, then people on my team would have finished higher, which would have helped the sponsorship of the team or might have helped those riders get jobs on bigger and better teams. He literally changed the outcome of people's lives.