Competitive Cyclist Training Camp: Why domestic bike racing matters
Heading out the door? Read this article on the new Outside+ app available now on iOS devices for members! Download the app.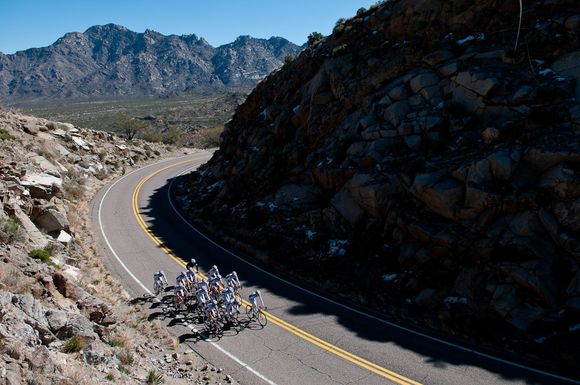 Tommy Chandler/Competitive Cyclist
This week I had the chance to spend a few days at the Tucson training camp with the Competitive Cyclist racing team. One of a few notable domestic pro cycling outfits, this team leapt onto the US racing scene last year with overall wins at five National Racing Calendar (NRC) events, as well as an anomalous award for 2011's top rider in the NRC. (More on that in a minute.) If you have no idea what I'm talking about, don't be alarmed—neither do lots of American cycling enthusiasts. Read on.
In cycling, as in most professional sports, there are different categories of racing to ensure a level playing field (and at least a modicum of budget parity). The ProTour is the top of the UCI ranking and includes the Schleck brother's RadioShack Nissan Trek team, BMC Racing with Cadel Evans, and probably most of the other "big" teams you know. Next down the list are Professional Continental teams (think United HealthCare and Team Type 1): They race internationally (we're talking Le Tour de Langkawi, not Tour de France) and domestically. Finally there are domestic professional teams like Competitive Cyclist, which compete in NRC events and hope for invitations to the country's biggest races such as the Amgen Tour of California and US Pro Cycling Challenge. 
So who cares? I asked Competitive Cyclist's Directeur Sportif, Gord Fraser, that question. "All American cycling fans should care because it gives them the chance to see good, hard bike racing without going to Europe," he says. "The NRC definitely allows young cyclists to develop and prepare for the European ranks. But it also is a place for many athletes to simply make a living doing what they love." Fraser should know. A three-time Olympian and one of the winnningest North American cyclists in recent history, the Canadian rode in Europe for a few years but eventually found himself happier racing the NRC series. "It's a different style of racing here," he explains. "Not as hard in terms of the long races, but it's short and fast and vibrant and is generally really exciting to watch."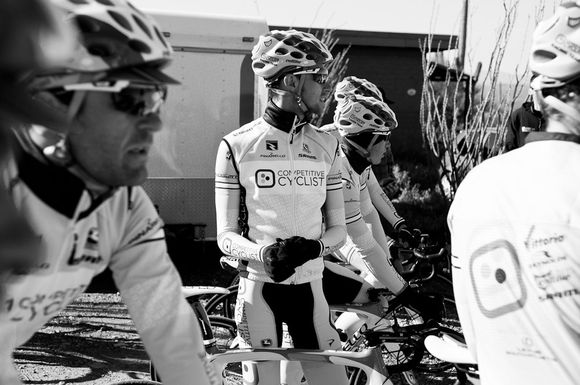 Tommy Chandler/Competitive Cyclist
Competitive Cyclist captured so many wins last year (Redlands, Sea Otter, Tour de Gila, Tour de Beauce, and the Cascade Cycling Classic) in large part because of one racer: Francisco "Paco" Mancebo. Once a rising star in the international racing scene (in 2005 he was fourth at the Tour de France and third at the Vuelta), Mancebo was tripped up in the Operación Puerto scandal that rocked the 2006 Tour, and though he was never charged of anything he eventually left the ProTour and has settled down to race in the NRC. It's akin to a New York Yankee's star moving back to the minor leagues, though Mancebo says he's just as happy now as he's ever been. "It's all new races for me, so it's interesting," he explains. "And I'm getting to be an old man [Ed: he turns 36 next month], so this is comfortable."
Having Mancebo is like bringing a pistol to a knife fight, I heard someone say to Fraser in Tucson. "He definitely makes me look very good sometimes," Fraser agrees.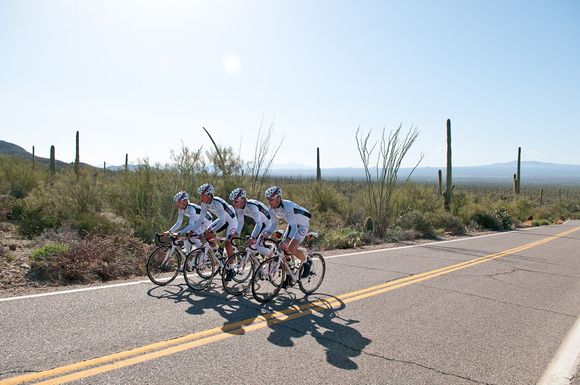 Tommy Chandler/Competitive Cyclist
After a couple of days at team camp, it's easy to see the appeal. The event, while extremely well organized with four to six hours of hard riding every day, soigneurs in the afternoon for athletes, and plenty of media exposure, is much more relaxed than the ProTour team events I've attended. The guys are mostly young, very enthusiastic, and supportive of one another. After one of the riders has to pull out of a day's workout because of a sore knee, everyone makes a point to check in and wish him well when the ride is done. There's all the benefits of high-level racing (brand new Pinarello Dogma 2s all around; beautiful Giordana kits), without all the stress.
And just so it's clear, this is not a bunch of second-tier amateur racers. Many of these guys will probably hit the pro scene in Europe in a few years, and they indeed ride very, very fast. On the last day of camp, half the team was scheduled for a training ride up Kitt Peak, a 16-mile climb southwest of the city. Journalists and sponsors were invited, but everyone knew that would mean mostly riding off the back. "If I get a 45-minute head start, I might be able to get to the top before the team," one journalist tells me. "Then again, I might not."
Here's where to catch some of the NRC action (and Competitive Cyclist) in 2012. Check here for a full schedule:
Mar. 22-25: Redlands Bicycle Classic, Redlands, CA
Apr. 26-29: Joe Martin Stage Race, Fayetteville, AR
May 2-6: SRAM Tour of the Gila. Silver City, NM
June 13-17: Nature Valley Grand Prix, Minneapolis/St. Paul, MN
July 17-22: Cascade Classic Stage Race, Bend, OR
–Aaron Gulley