Cycling's Super Manns: Allison and Justin Mann
Heading out the door? Read this article on the new Outside+ app available now on iOS devices for members! Download the app.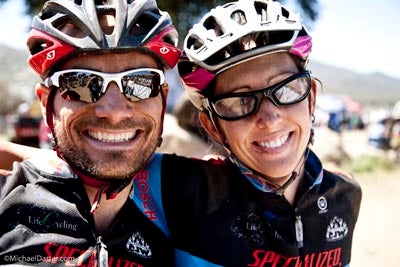 The husband-and-wife duo Allison and Justin Mann made a note-worthy showing at the recent U.S. Cup Pro XCT #1 in Fontana. Allison came in fifth for XC, second in super D, and ninth in short track, while Justin came in second in Cat One. This is one fast couple who make agreat team. They do a lot together: work, cook, and train. I call them the Super Manns. Allison took some time to chat with me after the races–with Justin interjecting here and there–about cycling, training, nutrition, and coupledom.
How long have you been racing for Rock N' Road and why?
I was a support rider last year for the Sho-Air/Specialized team, and Rock N' Road was a supporter in 2009 as well, so almost a year now. They are a great shop carrying the best products. They have a wide variety of nutritionals and carry all the Specialized products I love–tires, apparel. The shop sponsors one of the biggest teams in So Cal: VeloSport/Sho-Air. It's cool to see such a gathering of like-minded people out having fun at the races. This year they are my title sponsor, and I am stoked. I am also supported by Ergon USA Factory and CycleOps.
How many hrs a week do you work?
Full time: 40 hours.
Do people in your office think you and Justin are nuts?
Some do. Not a lot really understand, I don't think, how much we ride and train! It is pretty tough for us to wrap our heads around it sometimes.
How many hours do you train?
Typically 12 to 14 hours a week. Wish I could say 20-plus.
What exactly do you do for a living? Is it stressful?
I work in documentation for a medical device company. It's tough when training stress is high and there's a lot going on and work turns on the screws. The days can get super stressful. This doesn't happen often, but it has happened a few times in the past two months. My supervisor is allowing me a bit of a modified schedule one day a week to help me get my training in, and that is making a big difference.
What made you and Justin decide to try the Paleo Diet? Are you hooked?
A few of the fast guys Justin raced last year were on the diet, so I actually bought Cordain/Friel's The Paleo Diet book for him, but it has worked for both of us pretty well. Essentially, it's an anti-inflammatory diet. It's time consuming, but we love cooking together and enjoy the food we're eating. We do eat grains on occasion, but typically no dairy. I'm sold so far!
Give me your favorite recipe?
Probably the first Paleo recipe we ever tried! Butternut Squash with Cranberries: Dice/cube butternut squash and set aside. Dice red onion and put in a skillet with pressed/diced garlic and olive oil. Heat over medium until garlic and onions are sauteed, then add the diced butternut squash and coconut milk (1/2-1 can depending on how much squash you've got). Add curry and cinnamon as desired (we like a lot of both) and put a lid on the pan to cook down for usually 25+ minutes depending how "done" you like the squash. Ours usually becomes pretty mushy. Once near done add in Craisins as desired and serve!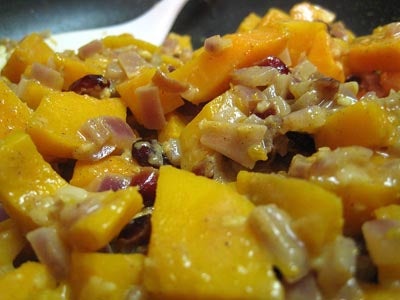 Was it hard to "stick" to?
Aside from the time-suck of the Paleo Diet, it's pretty easy. The food is clean and tastes good, and I think that nutrition is a really important part of being able to train better and stronger. We typically don't eat at restaurants, but those times are definitely the "cheat meal" part.
Favorite So Cal ride?
That's tough. I love the Santa Ana mountains locally, but I'd still probably have to say for an all-day ride it's Noble Canyon in San Diego. There are really great trails all around So Cal, but the driving can be a drag.
Any sights on the Olympics, Worlds, or are you thinking more regionally?
That would be awesome! I've got a long way to go before I can start thinking like that, though. I got my Pro upgrade just about a year ago, so I've got a lot more work to put in and a lot more race results to stack up first. I do plan to race locally and regionally this season and would love to hit up the national circuit for the Pro XCT and Triple Crown series but will see what the pocket book says.
Who inspired you to ride?
Initially, probably Lance Armstrong. My husband turned on the Tour de France in 2005 and we were looking for a way to get healthy and have fun outside of racing R/C cars. I said I wanted to ride like Lance. Unfortunately, Justin made me get a mountain bike. I didn't know how to shift on the climbs and walked every descent. I've improved a little. After that I read Marla Streb's book, and while I had no desire to race, it was awesome meeting her at Sea Otter in 2006. I got her to autograph my copy of her book, and it's definitely a prize possession. Now I'm inspired by everyone out riding and racing and trying to improve. My friend Nancy Harris is in her early 50s with quite a few injuries built up from years of MX and mountain biking, and she doesn't let anything stop her!
You are quite a Facebook updater/blogger. Where do you find the time?
I spend a lot of time on the computer. I'm a wanna-be tech geek. I also am connected 24/7 with my Droid phone.
Do you have a coach?
Officially, no. Justin wrote up a training plan for me in the off-season, and I'm following that. We do talk training with our friends and read what we can get our hands on (more appropriately, when we have time) and incorporate as much as we can learn into our training. I have yet to really plateau, but when that happens I am sure I will seek the advice of one of the many coaches out there.
PowerTap?
Absolutely. We bought a CycleOps PowerTap for my road bike last summer and it was great to utilize for the last part of the season. I was lucky to get hooked up with grassroots CycleOps for 2010 and picked up a mountain bike PowerTap as well. It's really helpful for doing intervals in a more useful and consistent way. Heart rate takes a long time to catch up to the effort, so I was always going out way too hard at the start and fading too much at the end. Power is instantaneous, so you can hold the "correct" numbers for the whole interval without pushing too hard at the beginning. The data can be overwhelming, but not having data can be worse!
Best weapon in your training arsenal?
Justin. It's awesome having someone that pushes you and that you can push in training. We're somewhat evenly matched in riding, and when he takes off up a hill I will fight to keep on his wheel. Same for descending.
Justin: Allison!
How has turning pro changed your life?
Not really. I train a lot more and am a lot more aware of my nutrition and health since turning pro, but my desk job pays the bills, and that ultimately comes first. I've definitely enjoyed the competition at races and traveling to race in Colorado and back east in Vermont and New York, though! If someone offered me a job riding and racing my bike I think that would change my life a lot. That hasn't happened yet, but I am certainly not opposed to the idea!
What is the most rewarding?
1) Seeing my hard work pay off, and 2) seeing other women out racing and pushing themselves to compete the best they can. I know I started out like they did in mountain biking, and I hope they all reach their goals and try their best while having fun.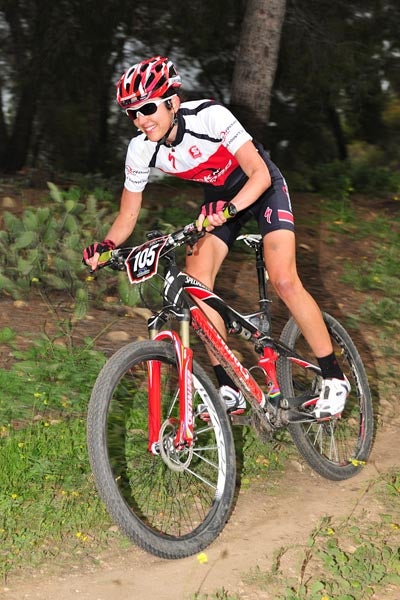 Do you know any other pros that have a full-time job and no coach?
For a lot of them, training is their full-time job!
Is it hard for you and Justin to race/train/work together?
We actually can't imagine doing it any other way. The support system is great. Sure, we take stuff out on each other, but we both respect the stress levels and work it out. It's amazing to have such a complete and awesome partner in all facets of life.
Justin: The hardest part is getting chicked during intervals. Other than that, it is pretty awesome!
Who is the better cook?
Justin would argue he is. I'll go ahead and say he is. I've done all the cooking the past week or so. Maybe he'll do it tonight!
Justin: You wrench on bikes, I will cook…I don't think that will last long!
When do you know you are over-trained?
I'm not sure I've ever over-trained. I know I've over-reached a few times, and it takes awhile before the symptoms became full blown enough that I realized it wasn't just normal training stress. The end of last season we had traveled back east for two races and then came home and did what looking back on it now was a really brutal four-to-six week stretch with a lot of intensity. I was responding really well to the training, so we kept at it. I think I was just on the edge of over-training last year at the Unification Race and I was full blown sick and really needing a break the following weekend at the California State XC Championships. Lots of negative emotions, unable to sleep/recover, and definitely confidence issues were what I noticed.
You are a rising star. You only started riding three years ago. What made you want to go pro?
I got my first bike in August 2005 and did my first race in October 2007. I think it's a sickness. By January 2006 I had a single speed built up and while I wasn't strong enough for it I thoroughly enjoyed riding it. We loved doing mountain bike trips–went to Crested Butte, Durango, Moab, and Fruita in 2006–and riding, and by late '06 I had signed us up for Counting Coup March 2007. I was one of the last finishers, and Justin stuck by me the entire day, and we got it done. We did a lot of downhill riding in 2007–Whistler, Mammoth, Snow Summit, Brianhead–but for some reason I got into XC and just really loved it. In 2008 I raced both downhill and XC, but my heart was in XC, so I stuck with it. Had no idea throughout 2008 I'd ever go pro but got the itch late in the year, I think mostly due to lack of turnout in Cat One for women. I love endurance mountain biking, but Justin's not so into it. He still secretly wants to be a downhill racer! XC fits the bill nicely for us right now, so we're sticking with it.
What is your big goal for 2010?
To continue to train consistently and smart and try to close gap between myself and the World Cup pros from last year. Last year I was 10-15 minutes back at most of the races, and I'd like to be more like 5 minutes back.
How long will you race pro?
When it stops being fun or we're not enjoying it anymore. Or when we go broke. Whichever comes first!
What's your training ratio of road to mountain?
Way more road than mountain biking. We don't have trails near town and ride a lot straight from work at lunch to get in short, hard workouts, so road riding is a lot more convenient.
Hardest work out to date?
I had some pretty hard sessions in base this year doing 1.5 to two hours with some hard sets. I think they're good for me, though. Otherwise, we've got a nice hill with about eight-to-nine-percent grade that we flog ourselves on doing 5×5's or pyramids before coming back and sitting at our desks for another four hours!
I saw your post about nuts. If you were to be a nut, what would you be and why?
Probably a cashew. Kinda plain and boring but still a really good nut.
Justin: What nut has the hardest shell? Brazil nuts, maybe? Maybe she is more like a coconut? In any case, Allison is super tough!
What advantage do you think you have over another pro rider?
Ha ha! Probably none. I really love my race bike–2010 S-Works Epic–and my mechanic is pretty painstaking about having my bike in the best possible condition for every race. But, I imagine most of the pros feel the same or similar! I live in So Cal, though, so maybe that is an advantage. I can train outdoors year-round for the most part. This may not be all that much of an advantage, though. I know a lot of the pros live in areas like Tuscon or do training camps in Arizona or California in the winter.
Would you ever consider being a pro full time?
Who wouldn't! If I had the means, absolutely. I know it wouldn't be forever, but I'd love to train and race full time for a few seasons and see where it leads me. Ideally it'd be great to write and photograph for a magazine and travel to events and get to do some racing as well. I was an English major in college and have always loved to write, and photography is sort of a passion as well. Are you hiring?