Cyclist Monique "Pua" Sawicki
Heading out the door? Read this article on the new Outside+ app available now on iOS devices for members! Download the app.
Monique "Pua" Sawicki has been a force on the endurance cycling scene, and she's now switching gears to XC. She'll throw in some 100-milers and has La Ruta in her cross hairs this year, too–just for fun. It's no easy task to race XC and endurance but she is a versatile athlete. Aside from racing and training, she runs Team Mata Keiki ("keiki" means "kids" in Hawaiian) and hosts local events.
Sawicki's been tearing it up here in Southern California lately. She took first at the U.S. Cup Sage Brush Safari, third overall and first in Super D at the Triple Crown at Bonelli Park, California, and second in XC at Nationals in Fontana. Here's what she says about living the dream.
You switched your focus to XC recently. Is it still your priority for 2010?
Yes. I started with endurance and I still love it and always will love it, but I have a lot of goals and my next goal to conquer is in the XC world.
Are you still honing in on London 2012?
Yes, London is definitely the goal. I have learned a ton over the years, and I know I still have more to learn, but I have been working really hard and things are slowly coming together. The competition is tough, but you can't go through life without goals!
What endurance races are you planning this year? Any stage races?
I think the most endurance I am going to see this year in terms of racing is the Marathon National Championships and the Marathon World Championships. If the schedule allows, I would love to throw in one or two 100-milers, but you have to be smart about picking your battles.
One thing I am super excited about is that in November I am finally going to be heading to Costa Rica to do La Ruta. I have been dying to do this race for so long, but our budget never allowed it. This year, our new tire sponsor, Duro Tires, surprised us and said they will send me over there to race. I can't wait!
When you are at the edge mentally in a 24-hour solo or any long, hard race, what keeps you going?
Good question. Some would say my insanity! A 24-hour solo race is a whole different beast that is so unpredictable. It is such a long day on the bike that anything can happen. And just when you think you have done enough of them and you have experienced everything that could happen, something else happens. For me, the biggest preparation for these races is not only my training, but, more importantly, my mental state. I have to remind myself that it is going to be 24 hours of pure pain and torture, but that I have prepared for it. Everyone else is going to be suffering, and I do not want to have any regret when I cross that finish line. And the ones who do not receive the much needed recognition for my 24 solo results are, first and foremost, Ron [Sawicki, her husband] and our friends who volunteer their time and dedication to be a part of our team and help support me for the 24 hours. At the end of the day, they are just as exhausted as I am, and it is because of them that I am able to do what I do. That is another aspect of my motivation because I have my team working just as hard and I do not want to let them down.
I want to applaud the fact that you and Ron are married, and you essentially work together. What's the best part of that?
I would have to say that having your best friend be the one that is always there for you, watching out for you and taking care of you is the best part. Ron knows me best and knows how I work and exactly what to do, so nothing really needs to be said. And rather than Ron being just another hired mechanic or manager, he has a lot more invested because I am his wife. I think things work a lot better when there is heart involved. We are lucky.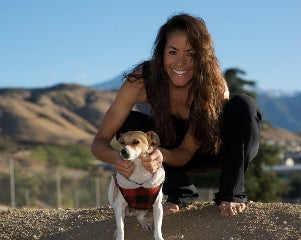 Tell me about the decision to change your life and become a pro mountain biker. Was it a long time coming, or did it happen fast? What was your first pro race?
The change happened fast. It went from let's start training, racing, and see if anything can come from that in 2004 to applying and receiving my pro license in 2005. It was fast. The way this happened was in 2004, the Marathon National Series was born, and when I realized this I decided that rather than taking on XC, I would take on the Marathon. It was perfect because I always loved the endurance. The Marathon had an open category, and I was able to race with the pros as an amateur. It was by no means a huge field, but I got third at my first race in Big Bear, California, and from there we decided to follow the tour. At my third race of the series in Sandpoint, Idaho, I took the win, and at the end of the year, I ended up taking the first National Marathon Series title in the U.S. as an amateur and was able to get my pro license for 2005.
I saw you ripping it up out there in cross this year. Which was your favorite race of that series?
Either the Turkey Cross–is that what it was called?–or the Santa Cross. I love the climbing courses, but truly, they are all so much fun. It is short, painful, and awesome to see so many people out there yelling as you are attempting to make your smoothest dismount and mount over the barriers. And I think I finally got the technique somewhat down!
What's the best aspect of cross for you?
The high intensity training. This is something that I really had to work on and get used to, the quick acceleration and the repetition of sprint and recover, and in cross you have no choice but to work on this.
I know you used to be a runner. Did that come into play here?
I was a runner years ago, but when I am jumping off my bike and trying to fly it over those barriers or up those hills, I would say that those years of running are long gone! I love running, but I don't get to do that very often anymore. So, the answer would have to be that it does not come into play at all!
Any new sponsors/relationships for 2010?
The one partnership that we have not been able to solidify over the years has been our tires, but for 2010 we have found a new home in the tire department, and I truly believe that this one is going to stick. It is a company called Duro Tires. Duro has been manufacturing tires for a long time but is finally making a push to show everyone just how great its own brand of cycling treads and designs are. It even looks like we may be coming out with a tire of my own design. One of the biggest changes this year is our title sponsor, Okolestuff.com, and it is our new line of chamois ointment.
It's fantastic you have your own line of chamois cream. Do you use it? Who helped you develop it?
Yes. Okole Stuff is a staple in my life when it comes to riding. When I started getting into the endurance racing scene, I began experiencing discomfort in areas down there that would make things really uncomfortable, and sometimes it was so bad that it would keep me off the bike. I began trying different products on the market, but nothing completely solved the issues, and one day Ron was on the road and he gave me a call and suggested that we should develop our own chamois ointment that really worked. I came up with the name and Okole Stuff was born. Ron and I took ideas from different products that we liked to use that as a base, and then we added in different products to make it better. If you take a look at all of the chamois ointments out there, you will see that they are all water-based. Would you put water on your chain? Hopefully the answer is no and this is why Okole Stuff is petroleum-based. You put it on and it stays on for the long haul. With the addition of allantoin, tea tree oil, and aloe it not only helps protect the skin, but it has shown to help keep the skin healthy and help it to heal.
How do you fuel yourself on your bike?
Infinit. With the endurance racing, we quickly learned that the nutrition on the bike was just as important as the pedaling while racing. I was trying many different methods of fueling and finally connected with Infinit nutrition in 2007, and everything changed. Michael at Infinit explained the science behind the fueling and explained to us why his custom fuel works. He joined our 24-hour crew at the 2007 24-Hour Solo National Championships in Wisconsin, and that was the first time I was able to completely focus on my pedaling and not worry at all about my nutrition. I took the title that year while fueling completely on Infinit that day. I think I may have had one or two bananas, along with a couple of bites of pasta, but the Infinit was my fuel, and I could not have felt any better. After that day–that long day–I was completely convinced and have used nothing else since then. It works. Also, when using Infinit, you no longer need any gels or any other supplemental fuel to make everything work. You put your serving in the bottle and if you are taking that in every hour, you can know you are taking everything you need to pedal to your potential.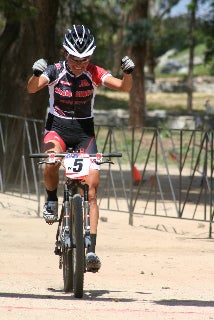 You have a fantastic kids team roster. What's the motivation to run Team Keiki? Do you receive any funding?
Thank you. The team is awesome. The motivation was really the kids. As we were traveling across the country, we would be at races and be approached by different kids on bikes and before we knew it we would be sitting on the grass talking to them about riding and exchanging stories about bikes. These kids were kids who just loved riding or racing their bikes but did not have an opportunity to be on a team. That is when we decided that we'd talk to our sponsors and see if they would be interested in helping to support a "keiki" team with some free product and special deals on different products, and many of them were very open to the idea and the team was born. We do not receive any funding for the team, and I am hoping to grow to that point because we do have some very talented athletes that have a lot of potential, and as we all know this sport gets really expensive so everything helps. These kids are the future for our sport, and it is so amazing and awesome to see our sport growing so quickly in the younger generations. It is awesome to share the love of the bike with them and provide a positive influence that they will hopefully carry with them throughout their life.
Training and racing is hard enough. How do you two find time to run/mentor a team?
Training and racing are hard and time consuming, but it is important to find a balance and give back. And the fun rides are so important–and fun. Anytime I have the opportunity to jump in on a group ride and see friends that we have not seen all year, we are all over that.
What's the biggest thing you've learned about yourself from coaching kids?
I think the biggest thing I have been learning about coaching kids is having to remind myself that they are still kids. Many of them are at a place where they are still learning about themselves and struggle with being a kid, yet wanting to be great on a bike and learning that in order to do that they need to focus and have discipline. The talent is quickly rising in the junior category, and if you aren't dedicated and focused, you are not winning. I have learned to be more patient, to guide them, and just help them grow into the sport.
Who is your coach and for how long?
Dr. Brandon Grove. I am really so lucky with this one. Brandon happens to be not only one of Ron's best friends but an incredibly intelligent doctor who loves sports and learning about the human body. Back in 2003, when we were thinking about putting some focus in racing for 2004, we called up Brandon and asked if he would be interested in coaching me and joining us in our little feat. He agreed, and here we are today. It has been around 6.5 years that we have been working together, and it is really amazing because I am his first athlete and currently his only athlete that he has ever coached. He just recently opened up his own family practice in Huntington Beach, California, and he is hoping to some day soon open up a coaching wing.
Congrats on the Sage Brush Safari win.
Thank you. That race is always so much fun, although I have to say that I was a little bummed when they were forced to change the course and take out my favorite part–the big climb.
Do you have an eating philosophy?
For the past couple of years I have been working with a nutritionist, Kim Mueller from Fuel Factor, and she has created a nutrition plan for me. The plan is based on a caloric daily intake and broken down into servings of each food group. Obviously, my plan is a little heavier on the carbohydrates because of what I do, but it is really balanced and healthy.
Who prepares your meals?
I am the chef, and I love that because I know exactly what it is I am eating.
Describe a recovery/rest week.
A rest week is typically less hours on the bike with some shorter high intensity intervals to keep the legs going. These weeks are always a little hard for me because I want to ride and I am one who feels like I am losing fitness if I am not riding.
What workouts yield the best results?
In 2009 I began training with a power meter, and this tool has been vital for my results. Power does not lie, and you always know exactly where you are at.
You went from Monqiue Sawicki to Pua. It's so Prince/Madonna-ish. How did that come about?
I have a lot of nicknames. Back home everyone calls me Niki, so when it comes to my name it gets a little confusing for those who have known me forever. But Ron would be the one who is responsible for Pua. My middle name is Puanani and when we met and he learned Puanani he began calling me Pua. When I started racing and people heard the name Pua, they would ask me if it was okay that they called me Pua, too. We figured it was a simple, unique name that represented Hawaii and just went with it. And now I am Pua.
Describe your hopes for 2010 in one word.
The chinese word "te" [meaning "virtue" or "inner strength"].
If you had to pick a time of day, what would you be?
I love the warmth and the sun, so, although it is not a time, I would be the warmest part of the day.
I know you guys have something cooking up in Yucaipa, which is now your home. What is it?
Because we have chosen the independent path, we face a lot more struggle in raising the funds to compete at an international level. This has forced us to look at finding ways to survive and not only have we got into manufacturing products like Okole Stuff, but we have become race promoters. We are currently working with our city, the City of Yucaipa to put on a weekend of racing in our local state and city parks. On the weekend of September 18-19 in Yucaipa, we will be having a 10K trail run, XC race, pro cyclo cross night race, amatuer cyclo cross race, and a 5K run/walk. Our open categories are also going to have a sweet cash purse. This is going to be a weekend of fun, food, racing, and entertainment. You can go to Yucaipadirt.com for all the information. We have been to many races around the country and our goal is to create an event that will give every participant an experience that they will never forget and leave them looking forward to coming back every year. It is also a way for us to share what we do with our city, promote a healthy lifestyle, and reveal our hidden gem of Yucaipa to the world!