Danny MacAskill Can't Ride a Bike
Which is a serious problem when you're the most famous stunt rider on the Internet. But as Nick Heil finds out, the oft-injured Scot is roaring out of rehab to dazzle the world once again.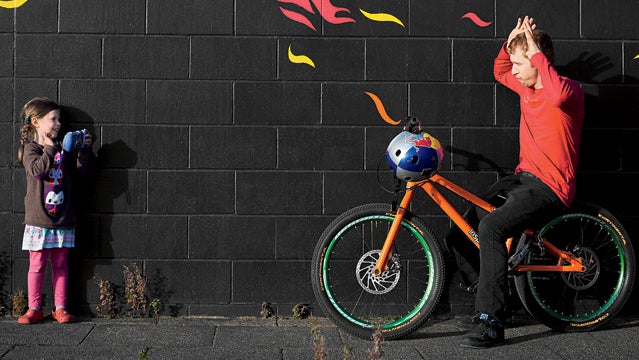 Harry Borden
Heading out the door? Read this article on the new Outside+ app available now on iOS devices for members! Download the app.
Danny MacAskill, the 26-year-old Scottish street-trials phenomenon, looks up from a plate of chicken enchiladas and out toward the Pacific. We're tucked into a busy boardwalk café in Venice, California, and nearby a lone trials rider is practicing tricks. He holds a track stand, pops onto a bench, then drops off.

One of MacAskill's tamer tricks.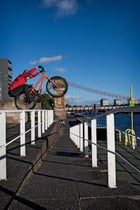 McAskill preparing for launch.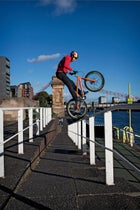 Coming in for the landing.
"He's pretty good, actually," says MacAskill, who is sometimes referred to as Danny MegaSkill, at other times as Danny MadSkillz.
Pretty good, sure, but no MadSkillz. Street trials is the obscure yet flashy cycling subgenre that entails pogoing your bike onto and over large obstacles (like, say, a train car), performing physics-defying balancing acts, and stringing together wheelies, pivots, bunny hops, and even complete flips into Cirque du Soleil–worthy routines. MacAskill, in case you're one of the five or six people in the world who hasn't yet seen his video clips, is the sport's reigning king—and one of the first action-sports celebrities created almost entirely through YouTube.
As recently as the spring of 2009, MacAskill was an unknown bike mechanic wrenching away at a small shop in Edinburgh. In April of that year, he released a beautifully produced homemade video, filmed by his close friend David Sowerby.
Within hours of posting it, the video went viral. It nabbed a few hundred thousand views overnight, got pinged across continents by influencers like Lance Armstrong, and popped up on the social-media feeds of people who had never even heard of trials riding before. All they knew was that some dude was doing stuff on a bike that most people couldn't do on two feet. The tricks appear to be as spontaneous as they are graceful and unexpected—you start watching and you simply can't stop. The video hit a million views in less than a month. Then 10 million. Then 20 million.
In the opening scene, we see MacAskill jackrabbit his bike onto a five-foot-high platform, itself an impressive feat. Without dismounting, and with indie-rock guitar chords swelling, he pedals off the platform and across the top of an iron fence, the pickets aimed at his crotch like a row of punji sticks. The video includes a couple of cuts showing MacAskill wiping out, ratcheting up the watch-this-man-become-a-eunuch tension. But of course he eventually makes it.
A year later, MacAskill had a manager, a starring role in a Volkswagen commercial, and a lucrative contract with Red Bull. Since then, his cachet has transcended the sport, with everyone from male-grooming corporations to the organizing committee of the London Olympics lining up to capitalize on his image. Without ever really trying to, MacAskill was living the dream.
Or was he? When I caught up with him in Southern California in May, he had recently flown in from Scotland for a month of intensive physical therapy following back surgery he underwent in February. The great gift of full sponsorship is that it liberates young prodigies like MacAskill from the tedious burden of making a living outside of their sport. The dough buys the time to ride—whenever, wherever, however. The most prized contracts, like the one MacAskill has with Red Bull, also cover all medical costs and rehabilitation.
In MacAskill's case, this is particularly salient. Since turning pro, he has been off his bike more than on, sidelined with a long list of injuries that include three broken collarbones, two broken feet, a torn meniscus, a torn disc in his back, and countless sprains, strains, and lacerations—almost all of them from bike accidents. "I think I've been hurt, or recovering, like two-thirds of the time since the first video," he says.
After lunch we stroll over to meet the lone rider, whose eyes widen as we approach. Off his bike, MacAskill stands a wiry five foot eight. He has a certain elastic quality when he walks, and his shoulders roll slightly forward, as if trained from so many years gripping his handlebars. He's fair complexioned and ginger tinted, dressed in youthful freeride garb: long bike shorts, sneakers, and a trucker hat.
"Oh, my God, it's you," says the rider, Dara Norman, a 37-year-old lighting technician and former mountain-bike racer who lives in Santa Monica. They geek out over bike components for a few minutes, then talk about the local trials-riding scene. Before we leave, Norman says, "I can't believe this. You're the reason I'm here."
MacAskill smiles and thanks him, a little wistfully, it seems to me, as if he wished his arsenal of tricks included the ability to body-swap with the guy, Freaky Friday style, trading his life as a laid-up star for that of an anonymous soul rider, spinning tricks in the privacy of his iPod.
I'D BEEN CHASING MACASKILL for nearly a year. The previous August, I was supposed to fly to Vancouver, where he was filming with Anthill Productions, the Teton Gravity Research of the bike world. But a few days before my departure, I got a call saying that MacAskill had slipped on a goose turd while performing a trick during the first half-hour of filming and had torn his meniscus. Yes, really. And that was just the start of the problems. The injuries, it turned out, had been a chronic issue since hurting his back on a jump two years earlier. Still, he'd managed to crank out two more clips since the first: "The Way Back Home," appearing in November 2010, and "Industrial Revolutions," in 2011, part of a documentary called Concrete Circus on Channel 4 (England's edgier alternative to the BBC). Combined, they've been viewed more than 50 million times online.
As widespread as MacAskill's fame has become, he remains modest to the point of bashful. On the mountainous Isle of Skye, where he grew up, he says, "you play everything down. Maybe it's a Scottish thing. There's more of this shared survival against the weather, a bit more misery. No one's ever like, 'I'm the best!' which seems much more common in America."
Street-trials riding is a kind of two-wheeled performance art. Some people have described it as parkour on a bike. Like parkour, there are no races or organized competitions, just a bunch of guys doing tricks. MacAskill's style of riding draws not just from traditional trials but also from BMX, as well as from mountain biking, another of his passions. His bike, the Skye from Inspired Bicycles, was custom-made to his specs and incorporates designs from both disciplines.
In his clips, MacAskill cultivates "flow," connecting tricks and jumps inspired by the different riding styles, the terrain around him, and his own imagination. When MacAskill looks at a streetscape, he doesn't see what the rest of us do: the traffic, the people, the pretzel carts. He sees a multifaceted canvas on which to paint his stunts. He doesn't just think like a rider but like a director, too: How will the scene be blocked and choreographed? Who's on the soundtrack? What's the money shot?
"He gets so excited, with loads of crazy ideas—like some huge stair drop to a 360 to something else," says Stu Thomson, the former World Cup downhill mountain biker turned filmmaker who shot "Industrial Revolutions." "But once you get down to specifics, you go, 'Yeah, that would be really cool.' "
MacAskill doesn't have a car here in Los Angeles, so every day before breakfast he pedals from the apartment Red Bull rents him in Marina Del Rey over to the Diagnostic and Interventional Surgical Center (DISC), a state-of-the-art facility that has helped a number of pros and Olympians, including Lolo Jones and BMX champ Mike Day, recover from injury. MacAskill's rehab takes place at DISC's Soft Tissue Center, where he trains under the guidance of E.J. "Doc" Kreis, a bearish former strength and conditioning coach at UCLA with silver hair and an impeccably trimmed goatee.
"What's rule number one?" Kreis barks at MacAskill as the young rider sweats out crunches on a cable machine one morning.
"Don't get hurt," MacAskill wheezes.
"That's right. And what's rule number 99?"
MacAskill doesn't seem to have the answer.
"Don't get hurt!" Doc volunteers.
"He knows, and he listens," Kreis tells me, leaning over and lowering his voice. "The road back can be a long and hard one, but this kid is tough. I can always tell the moment I meet them."
MacAskill believes that his spinal injury—a tear of the segment where the lumbar meets the sacral region—is the source of most of his troubles. His chronically sore back, and the couch time it has encouraged, has left his core weak and the rest of his body vulnerable to compounding problems. His postsurgical prognosis was favorable but arduous. MacAskill didn't expect to be back to 100 percent for five or six months, when he hoped to start developing new tricks and, ideally, filming his next video.
His sponsors, which in addition to Red Bull include GoPro cameras and footwear maker Five Ten, have been remarkably patient. "Everyone knows how motivated he is to get better, so they've been cool," Tarek Rasouli, MacAskill's manager, tells me. "If there's any pressure, it comes from Danny himself."
MACASKILL GREW UP IN the village of Dunvegan, on the north end of Skye, where the biggest claim to fame B.D.—Before Danny—was a folk band called the Peatbog Faeries. He and his friends would string fishing nets between trees and execute flying backflips out of the branches. He had started biking at age four, and as a teenager he began incorporating his acrobatic skills into his riding. At home he would replay video clips of trials-riding legends Hans "No Way" Rey and Canadian Ryan Leech, and before long he was emulating their tricks on whatever obstacles he could put his bike on.
In Dunvegan, MacAskill's dad, Peter, runs a museum dedicated to an oversize ancestor who lived in the late 19th century. Until 1998, when the Guinness Book folks stopped keeping track of such things, Angus "Giant" MacAskill held the record as the world's tallest natural man, a seven-foot-nine behemoth who weighed almost 500 pounds, had an 80-inch chest, and traveled around the world with the P.T. Barnum circus lifting horses over fences and carrying 2,200-pound ship anchors. But besides helping his dad rethatch the museum's roof every summer, MacAskill didn't think much about his colossal predecessor. He just rode his bike, eventually becoming good enough to perform in local trials-riding shows. In 2008, he and his old friend Sowerby started filming the first video—they refer to it simply as the Inspired video, because of the bike sponsor—around Edinburgh's streets and parks. It cost less than $100 to produce, and they made it up as they went.
In 2009, after the clip went supernova and MacAskill signed with Red Bull, he, Sowerby, and friend Mark Huskisson set out in a 25-foot RV to make the second video, "The Way Back Home," with a budget of more than 10 grand. Based on the conceit of a road trip from Edinburgh back to the Isle of Skye, it was an impressive sophomore effort—gorgeously filmed, melodically scored, and peppered with jaw-dropping tricks, including a front flip off the side of Edinburgh Castle.
"Danny didn't take it up just one notch," says Rey, who was in a video with MacAskill and downhill star Steve Peat in 2010. "He took it at least two notches up, which is almost impossible considering the level these guys are riding at now."
MacAskill is uncomfortable with the degree of celebrity he has attained, but he also understands that it's a reality he now has to manage. One of his nagging fears is that he'll get sucked into the big-money vortex of commercial action sports and get spit out the other end resembling somebody like professional skateboarder Rob Dyrdek, who parlayed his tricks into the popular if ostentatious MTV reality show Fantasy Factory. Such temptations are hard to resist when everyone wants a piece of you. Over the past year or so, he's shot a commercial for Remington shavers ("Power, precision, and control!") and stunt-doubled in Premium Rush, a formulaic action film about a bike messenger who gets tangled up in a suspicious-package caper. But mostly, due either to injuries or to his own discretion, MacAskill has declined: for every job he's said yes to, he's turned down at least 10 others. "I don't want to just be standing there holding deodorant or something," he says.
"It's like I've turned into a business director that I never really had any plans for," he continues. "It suddenly got so big that I couldn't really manage it myself. I'm not good in that way, the appointments and time management and stuff. I'm a creative, and that doesn't make me very effective at dealing with the work."
MACASKILL'S BACK ISN'T THE only thing being worked on in L.A. Before I leave, I also get to see his brain in action. Part of his rehab entails regular visits to Neurotopia, a brain-training program affiliated with DISC. Neurotopia purports to help athletes improve performance by developing "optimal brain-wave patterns," thereby enhancing focus, agility, and stress management.
In Neurotopia's spartan offices, a technician named Donnie Hale plunks MacAskill into an overstuffed black recliner and attaches a series of sensors to his scalp. Soon a colorful graphic appears on Hale's computer monitor and, concurrently, on a large flat-panel TV screen in front of MacAskill. Hale then switches off the lights, and the TV screen changes to a video game in which MacAskill drives first a rocket, then a stock car, through tunnels and over obstacle courses using only his mind. When he coaxes his brain into the right zone—or brain-wave patterns—the car revs along steadily. But when the electrical frequencies vary, the car sputters and stalls. Neurotopia has used this training technique with a number of Red Bull's extreme-sports athletes, as well as stars like Chicago Bears wide receiver Devin Hester and Olympic swimmer Jessica Hardy.
After the session, I ask MacAskill if he thinks it will make a difference. "I don't know, but it's cool, right?" he says, laughing. "With some of my tricks, you can't afford not to be fully focused. But it can be hard to maintain that, especially when there's a camera—or a crane, like with the front flip off of Edinburgh Castle. If you pause for a second to think about how the shot is coming off, you're in trouble."
Despite the perks of his success, MacAskill seems nostalgic for his old life, the carefree days before he and Sowerby hit the upload button in 2009. "I went from nothing to everything," he tells me, though everything in this case also means being everywhere. He doesn't have a girlfriend ("On the road too much") or a fixed address. His apartment in Marina Del Rey, albeit temporary, is furnished in a style that could be called Early 21st-Century Bro: bikes (upside down, partially dismantled), bike mags, an open laptop with browser loaded with bike-video forums, scattered clothing, an econo-size container of protein powder. Seeing his digs only reinforces what he's told me several times over the course of my visit: "All I want to do is be able to ride my bike again."
This past summer he started to do just that, pedaling the Olympic torch as it made its journey through Glasgow, though his most flamboyant trick was a standard wheelie. He also traveled to Germany to work with Dieter Dorn, a "mad scientist" who developed his own holistic method of massage and spinal treatment. "Nothing is more important to me than riding," he says. "It's what I've always done. And when I get healthy, I'm not going to waste another day."
The last time we spoke, at the end of the summer, all the rehab appeared to have paid off. He had just gotten back from Italy, where he had filmed some mountain-bike sequences with Rey. Even more promising, he had recently signed a lease on his dream-riding space in Glasgow, a sprawling warehouse that he was already pimping out with rails, terraces, and various obstacles suited to his brand of two-wheeled choreography. It would be the scene of his next video, which he was now targeting, tentatively, for sometime this spring. MadSkillz was ready to roll. There was no time to waste.
Contributing editor Nick Heil (@nickheil) wrote about helicopter rescues on Everest in May 2012.
Trending on Outside Online