Do Bike Share Systems Actually Work?
Bike sharing was launched in the United States seven years ago, and it's about time we considered whether the systems are actually benefiting cities and their residents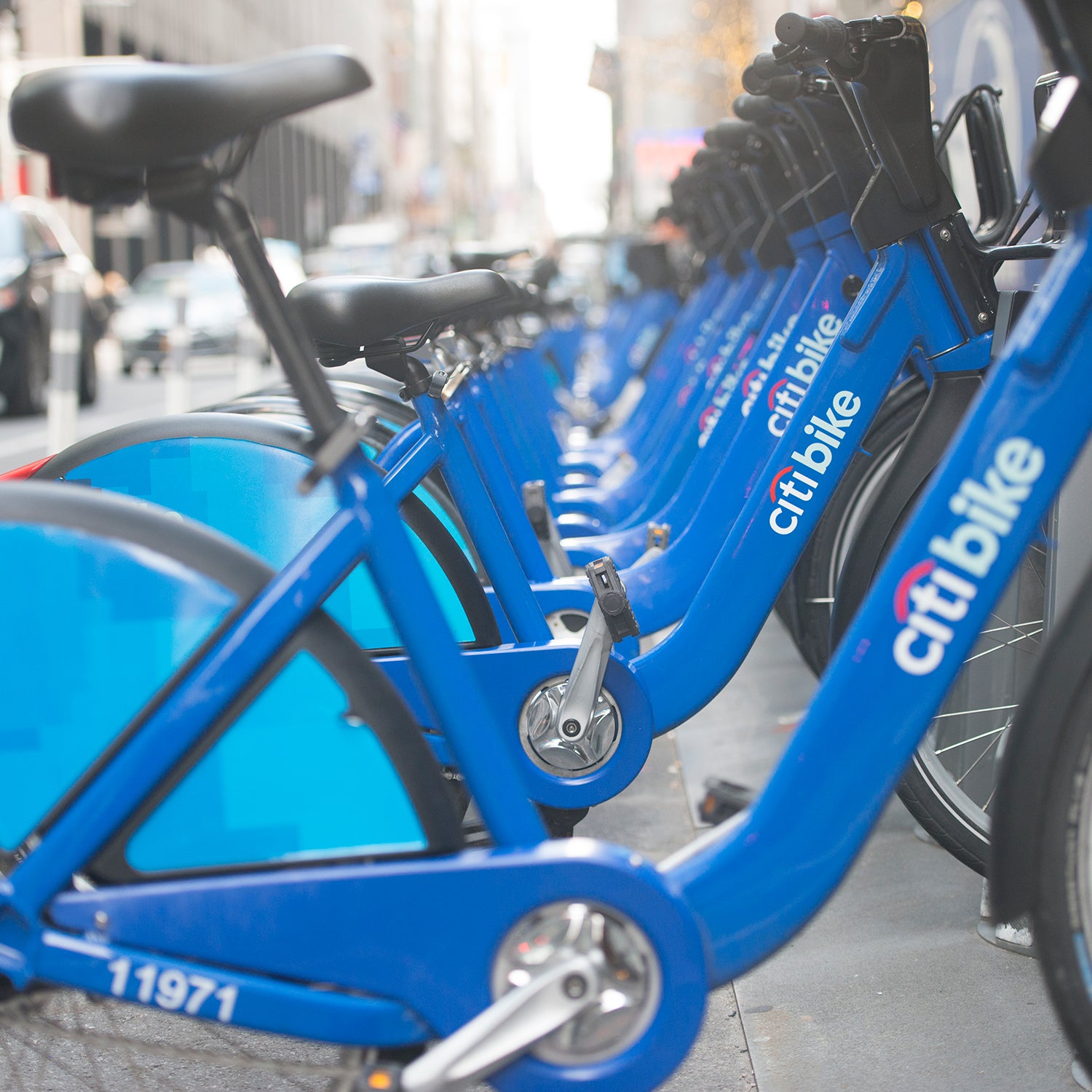 Heading out the door? Read this article on the new Outside+ app available now on iOS devices for members! Download the app.
In the spring of 2010, a small group of entrepreneurs set out to change urban transportation across the United States. They began with a single modest system in Denver, and the concept has since expanded to more than 60 U.S. cities, including nine of the ten largest. In New York City, its biggest market, the system gets well over a million customer visits a month during peak season.
If this were a startup, it would be a private equity darling. The CEO would be on the cover of Fast Company, praised as a bold, visionary captain of industry. It would be celebrated and debated for how it's changing the fabric of urban American life.
But this is not Uber. In fact, it's not even a company. We're talking about bike-share programs: fleets of public rental bikes in a network of stations across a city or community that anyone can pay to use. But while Uber is hailed as a success (if a controversial one), conversations about bike shares happen at the local, rather than national, level.
In part, that's because Uber is a single, for-profit company with a clearly defined goal: increasing profit. Bike-share programs, however, are typically run by nonprofits and have varied missions, ranging from reducing traffic congestion and pollution to improving public health to attracting tourists. Just because the programs have enormous collective reach doesn't mean they're successful. A program that works in one city doesn't mean it will in another. The question: What metrics should we use to determine whether the concept itself is a success?
How do we determine if bike shares, as a concept, are a success?
A good place to start is to look at the three major factors that Zoe Kircos, director of grants and partnerships for advocacy group People for Bikes, says are the primary goals of bike sharing: reducing traffic congestion, boosting public health, and increasing mobility.
A 2015 study in Transport Reviews looked at systems in five cities, including Washington, D.C., and Minneapolis, and found that users substituted rides via bike shares for car trips 8 percent of the time in D.C. and almost 20 percent of the time in Minneapolis. A separate study on D.C.'s Capital Bikeshare found that it contributed a modest but noticeable 2 to 3 percent reduction in traffic congestion. And a 2014 report from the NYC Department of Transportation found that even though some traffic lanes were converted to protected bike lanes on various streets, travel times for car traffic remained steady or improved: on Eighth Avenue, they were 14 percent faster, for example.
More people on bikes translates to not only less traffic congestion but also more physical activity: in excess of 23,000 hours in Minneapolis just in 2012, according to the 2015 study. Additionally, a report on London's massive bike-share system found injury rates for bike-share users were lower than those for regular cyclists. In the U.S., there has been one bike-share rider death in the system's seven-year history. By contrast, roughly 700 cyclists die each year on America's roads. (There is no known cause for that disparity.) According to the same London study, even when injury rates and pollution exposure were balanced against physical activity, bike shares have a modest but net positive effect on overall public health by virtue of the physical activity. And a recent study of New York's Citi Bike program in BMJ's journal Injury Prevention found that the city's addition of bike lanes, crucial to Citi Bike's success, increased lifespan even among nonusers because of the reduction in pollution.
However, bike shares still come under attack. Much of that criticism has focused on the use of public funding, or the idea that tax dollars are used for bike-share programs instead of roads or other services that more residents use on a daily basis. But that argument relies on two faulty assumptions: that bike shares aren't a public good and that taxpayer money is a significant source of their funding.
There are three general structural models for funding bike shares—publicly owned (like London's Santander Cycles), public-private partnership (like B-Cycle systems), and fully private (like NYC's Citi Bike). Those that use public funding often use just a small slice of taxpayer-derived money in their total operating budgets and rely primarily on other sources of income, like corporate sponsorship and rider fees.
An analysis by People for Bikes, a leading organization that advocates for new and safe bike infrastructure, found that public investment in Salt Lake City's Greenbike and the B-Cycle Denver program, on a per-trip basis, was far less than traditional public transit like bus or rail in those same cities. Both Greenbike and B-Cycle Denver's public funding subsidies amount to 10 percent or less of total trip cost. By contrast, Salt Lake's bus and rail system, called UTA, relies on 80 percent public funding per trip. Denver's equivalent RTD network is tax-funded at more than 70 percent per trip. Not only are bike shares achieving statistically measurable improvements in traffic congestion and public health, they're doing so at negligible cost to taxpayers.
Public investment in bike-share programs, on a per-trip basis, is far less than traditional public transit.
But there are issues yet to be resolved, particularly when it comes to reaching minorities and low-income communities. Initially, "marketing was targeted toward people who use bike shares a lot: typically a white, upper-class, male user," says Kircos. Despite a few encouraging trends (female ridership has increased in San Francisco, and a substantial number of low-income Philadelphians who use the system do so for recreation), the majority of riders in many cities still fit that mold. Which points to a sad truth about programs: they don't always reflect the cities where they operate.
Critics have dinged programs for not reaching more low-income communities. Kate Fillin-Yeh, who helped launch Citi Bike and now directs the bike-share program at the National Association of City Transportation Officials (NACTO), said she attended some 400 community meetings to try to understand how to integrate Citi Bike into the city's transportation structure and reach a diverse array of neighborhoods. "We talked with community boards, block associations, churches, everyone," she says.
Despite an effort to make sure that stations were located within a quarter-mile or shorter walk from most NYC Housing Authority campuses, a 2015 study from NACTO bluntly stated that New York City's Citi Bike program has "underperformed" with its discounted membership program, which was aimed at increasing ridership among low-income residents. Some 80 percent of study respondents reported they did not know about the discount, and although officials envisioned the program partly as a transportation solution, more than 50 percent of the study respondents who had used Citi Bike used it for recreation instead of as a replacement for another form of transit.
Several high-profile failures have also skewed the conversation: Washington, D.C.'s first bike-share system, BikeShare DC, suffered low use rates (in part due to limited stations) and was shuttered in 2011. Bixi Montreal, an early bike share operator that grew into a provider of hardware and technology services to other systems, also went bankrupt in 2014 (although the hardware and service side was subsequently sold off and now operates as PBSC). These failures have allowed developers to realize that bike-share programs work best at "scale and density," according to NACTO's Fillin-Yeh. In other words, they'll be successful when they're crafted specifically to the communities they serve. What works for New York City doesn't translate to a midsize Midwestern town. A key component is station density: there have to be enough stations close together so riders can use bikes for, say, short errands in addition to major commutes. "The idea that you can put down a couple of stations across a city and see how it goes, as a pilot, is ludicrous," says Fillin-Yeh.
There's a need for both better consumer marketing about discounts and a better understanding of what makes bike-share programs attractive to different communities.
Greenbike is a good example of a system that focused on density over scale. While Salt Lake City is far smaller than New York City, the initial station map was clustered in the downtown core. "We didn't have enough funds to start with 30 stations, so we did ten and focused on the central business district," says Greenbike founder Ben Bolte. After three years of strategic expansions, it's the second-densest system in the country, behind Citi Bike.
Bike-share operators are trying to encourage broader use by adapting payment models that are more open and flexible. Originally, bike shares were built on memberships, with annual fees or pricey day-use passes that discouraged use by groups like low-income users and tourists, for example. Today, bike-share operators are moving to simpler and less-costly pay-per-ride options and, in cities like Los Angeles, even integrating payment and membership with existing public transit cards.
"The hardware is fully integrated, and it's seamless," says Brian Conger, national director of operations for B-Cycle. "That's really where the market is going. If we can provide users with that option, maybe bike shares are the perfect way for them to get downtown after taking the light rail in from where they live. Transit is an ecosystem, and bike shares are part of that."
So, is the concept of bike share as a whole a success? It's hard to tell. Bike shares operate on a city-to-city basis, with innumerable unique factors affecting each system. Despite some imperfections, there are very few arguments from users, researchers, or advocates that a bike-share system is bad for a city. But to better quantify the role it plays in the United States, we simply need more frequent and rigorous data and analysis, like the London study. Interest as a research subject has grown along with the systems themselves, a path that will likely continue.
Bike shares benefit their cities in small, varying, and sometimes imperfect ways. Such cautious and incremental gains aren't the stuff of bold headlines. But they're small because the idea doesn't need a complete rethink. Perhaps that's because the original idea itself was pretty radical. In fact, maybe it's not really about bikes at all. We get excited about emerging technologies like autonomous vehicles (which Uber is pursuing) or Elon Musk's Hyperloop, but bike shares are at once a low-tech, low-cost solution that's available right now. And they have fundamentally altered how people get around a city. In that sense, it's no less revolutionary than any new technology.
Think about it, says Kircos, "How often does a city get to launch an entirely new transportation option?"
Corrections:
(06/04/2023) A previous version of this story misstated the number of bike-share rider deaths in North America.
Lead Photo: Reptile8488/iStock