"Fight Club" for Mountain Bikers
Fast, furious, and under-the-radar, short track mountain bike racing offers something for everyone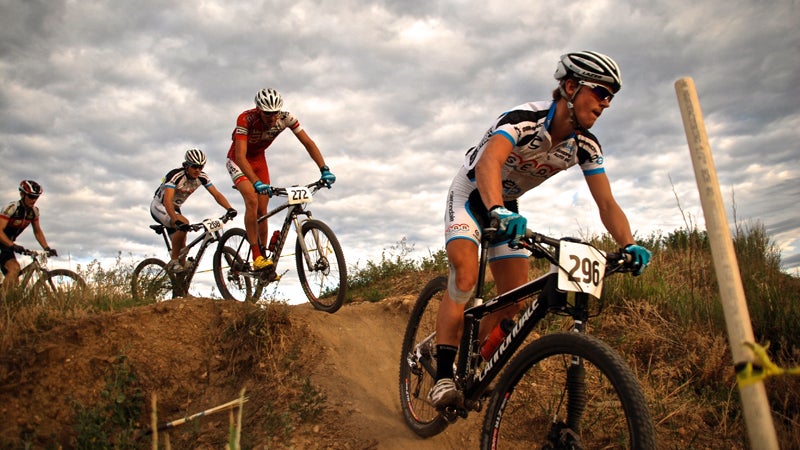 Heading out the door? Read this article on the new Outside+ app available now on iOS devices for members! Download the app.
Every Wednesday night throughout the summer, the parking lot at Valmont Bike Park in Boulder, Colorado, starts to fill up around 4:30 p.m. Over 150 mountain bikers—forget those reports about the death of mountain biking—will ditch the office early, don their spandex armor, and roll up to the start line on their battle-ready carbon and aluminum steeds. Over a handheld loudspeaker, a college kid holding a clipboard will count them down.
"30 seconds. 10 seconds. Three, two, one. GO."
They'll be off, skidding through tight, sandy corners, and cutting each other off around rock drops. They'll hammer. They'll taste blood. They'll want to puke. And they'll do it all for nothing but the pure joy of kicking someone's ass on a weeknight.
Welcome to "Fight Club" for mountain bikers—a midweek short track cross-country race. In short track, which has also been called "dirt criterium," riders race elbow-to-elbow on a 1- to 2-mile closed course for 20 to 30 minutes. The first to finish the predetermined number of laps, wins.
Whereas the race duration goes down, intensity and competition go way up. Compared to the strung-out nature of cross-country and endurance racing, where most amateurs won't see each other after the first couple of miles, the close quarters and constant jostling for position in short track give average Joe's the rare opportunity for a real race from start to finish.
Besides being one of mountain biking's most exciting race formats, short track is also the most underground. Most races are low-key, unsanctioned, weeknight series run by local clubs and promoted through social media or word of mouth. "With short track you either have elite races like the US Cup or you have these local weeknight series," says Bryan Alders, professional mountain biker and former race organizer for CU Cycling Short Track in Boulder. "You don't really have anything in between."
But short track's grassroots nature is part of its appeal. Despite reports that USA Cycling sanctioned cross-country mountain bike racing and 24-hour racing is struggling for growth, short track series like Boulder and Portland Short Track continue to report record attendance year after year. Portland has averaged nearly 18 percent annual growth from 2010 to 2013, and had 426 racers show up for a race last year—on a Monday night.
In terms of value for money and time, short track is hard to beat. $10 to $20 buys your entry into the fray, and race venues are down the street rather than a 2-hour drive away. Warm-up to finish takes less than an hour. And you don't have to dedicate your life to training.
"Even more so than cyclocross, short track is the perfect gateway into bike racing," says Kris Schamp, Portland Short Track race organizer. "The short duration of the races and the relatively flat course make it totally doable and fun for all types of riders, including those with less endurance or fitness." Schamp estimates that about a fifth of the riders who show up to his races each year are totally new to short track.
The comparison to cyclocross is apt, as the two disciplines share similar characteristics: short duration, spectator-friendly, and surrounded by a fun and inclusive atmosphere. In Portland, participants race in cut-off jeans and t-shirts at the annual "casual night". At New Belgium Short Track in Fort Collins, Colorado, spectators drink $3 beers behind the brewery while they heckle riders. Boulder short track organizers think they've gotten an attendance boost in the past year from those looking for a summer alternative to cyclocross.
For serious racers, short track also provides a high-quality, midweek workout at and above lactate threshold. In Boulder, short track is informally called "Wednesday Night Worlds" for the number of world championship-caliber cyclists that have shown up to race for nothing more than bragging rights, six-packs, and donated prizes like a watermelon. Outside the jurisdiction of governing bodies, most short track series like Boulder simply run "A", "B", and "C" races instead of formal categories. This means anyone can test their mettle against the pros… if they're up for the punishment.
As mountain bike racing evolves to attract new audiences, the continued popularity of grassroots short track racing serves as proof that big fun doesn't have to be a big production, or a big time suck. When it all boils down, people don't race bikes for upgrade points, prize money, or schwag. They're just looking for a good old-fashioned scrap.