How can I get into clipless pedals without falling on my face?
What's the best way to train for getting in and out of clipless bike pedals? New to the road bike, I'm also living in a chaotic city and terrified of falls. Thanks a million!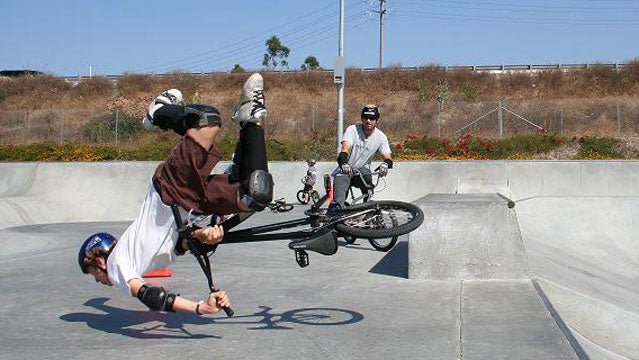 Heading out the door? Read this article on the new Outside+ app available now on iOS devices for members! Download the app.
I love this question. And not just that it came from Zorana in Beijing, which is as wonderful to say as Picasso in Paris, but because it's something I can relate to all too well. Not many bicyclists will admit it, but just about every one on the road has a story or two about clipless pedals. My day of pedal shame came about ten years ago when I was biking into a town near where I lived. As a bit of a retro rider, I'd only converted to clipless pedals two or three years earlier.

Crank Brothers Egg Beater
Anyway, traffic was backed up in my lane for some "Salmon Days"-type festival. As cars in front and behind me slowed, I pulled into the lane to see if I could find a way to pedal down the center strip to my next left turn, 100 yards or so ahead. Just then, another car came toward me, forcing me back into the middle of my lane and very close to the car in front. The vehicles bearing down on me from all sides filled my consciousness, not the thought of my pedals until I came to a stop and tipped over, feet still firmly clipped in. The guy in the car behind me about had an infarction from laughing.
Anyway, it isn't all that tricky. Ideally, you find a big empty parking lot and spend 15 minutes there. Clip in one foot, starting with the foot you favor (the one you'd use to kick a soccer ball, for instance the right foot in my case). Then shove off. Get a little speed, then work the left foot until it's clipped in. The trick is learning where exactly to place your foot. But you'll hear it snap in. Then BEFORE YOU HAVE TO STOP unclip it by rotating your heel away from the bike.
If that doesn't work, practice inside, holding yourself up against a wall while you clip in and out. Get a friend to help support you and the bike if need be. Even better would be putting the whole bike on a trainer and locking it in place so it can't tip over.
Anyway, you'll get the hang of it pretty quickly. The biggest mental hurdle is to remember to unclip, then stop. Not vice versa!
As they say, hao yùn!
Read the review of the clip-in Pearl Izumi Viper Mountain Bike Shoe in the new Outside Gear Blog.
Lead Photo: fargothman via Flickr