How Mountain Biking Is Saving Small-Town, USA
From Nevada to Minnesota, hollowed-out mining towns are seeing economic revitalization on trails and tracks that attract mountain bikers from far and wide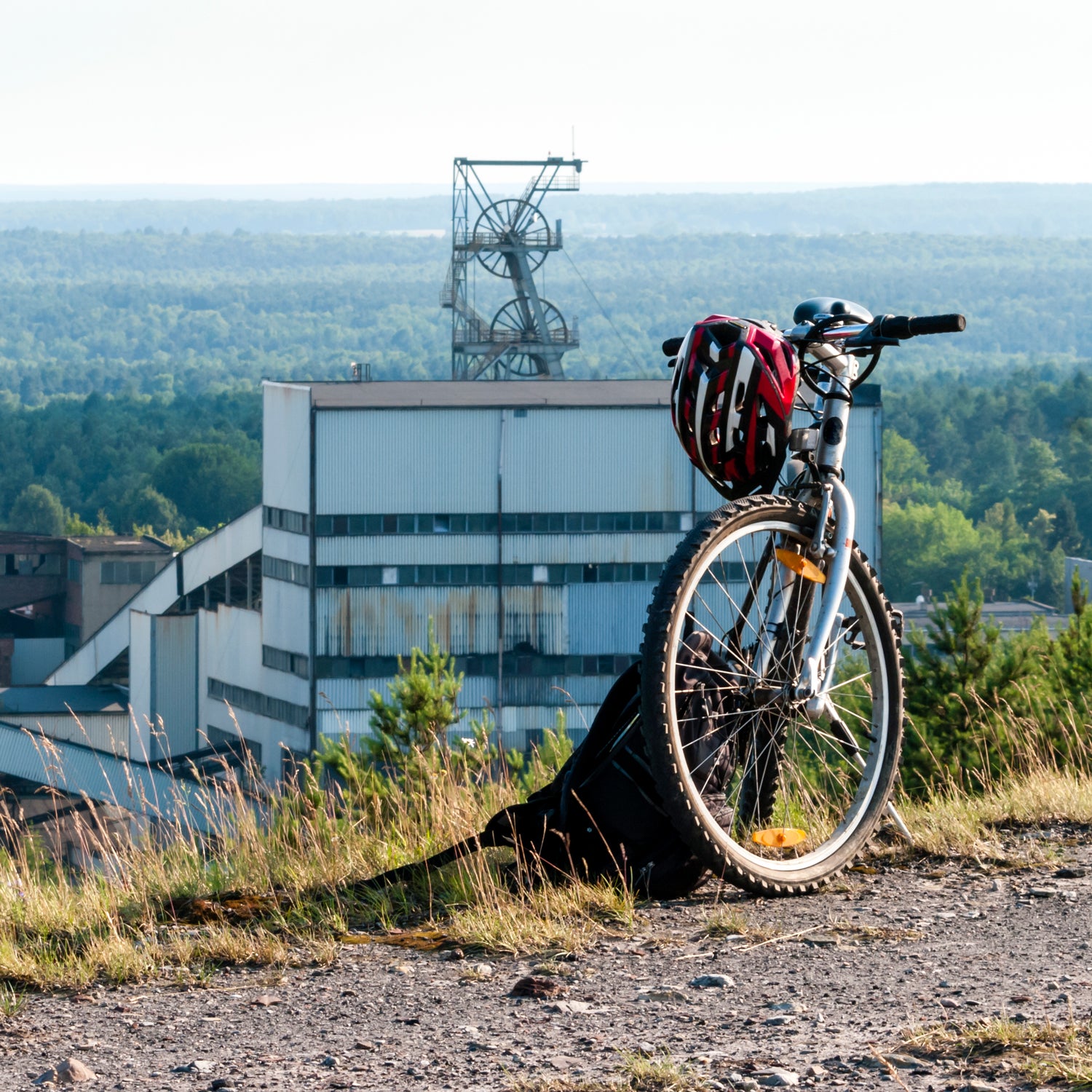 Getty Images/iStockphoto(Photo)
Heading out the door? Read this article on the new Outside+ app available now on iOS devices for members! Download the app.
Nearly 50 years ago, the iron mining companies that were once the backbone of Crosby, Minnesota's economy pulled the plug, leaving behind a scarred landscape of open pits and piles of unwanted red dirt. The area soon became an illegal dump that looked more like Mars than Earth, and the town became the kind of place where visitors locked their doors as they drove through. Then in 1993, the mines and the surrounding land were designated a state recreation area to preserve their mining heritage, and the state cleaned it up as best it could, hauling truckfuls of garbage out. But no one visited much, and the area sat mostly forgotten and untouched. Over the next two decades, the land recovered, Crosby did not.
Then the mountain bikers came. Members of an off-road cycling club from Minneapolis, 125 miles away, took one look at the red dirt landscape and fell in love. The 200-foot-tall piles excavated during mining operations created a site ripe for trail building, and with the help of the International Mountain Bicycling Association, those cyclists successfully lobbied the state to create its first mountain-biking-focused state park. After local volunteers built a demo trail, the Department of Natural Resources hired a professional crew to put in 25 miles of flowing, technical singletrack, creating one of the best trail systems in the Midwest. 
"We call it Cuyuna Gold, the wonder dirt for mountain bicycling," says Aaron Hautala, volunteer president of the Cuyuna Lakes Mountain Biking Crew, the local IMBA club responsible for maintaining the trails. 
  
Almost as soon as the trails opened in 2011, Crosby was designated a bronze-level IMBA ride center, a title which honors large-scale mountain biking facilities with trails for every skill level and rider type. Suddenly, tourists began arriving in town with bikes strapped to the back of their cars, Hautala says. The local bike shop's map of visitors' hometowns filled up with pins in nearly every state of the Union.
There's data documenting the trails' economic impact, too. According to a survey conducted by Hautala's club and IMBA, 25,000 cyclists a year ride the trails, adding an estimated $2 million to the local economy. That same survey predicts that number will increase to $21 million once the trails are expanded to the planned 75-mile total. "It's become this thing where people are like, 'Wow, we're coming back,'" Hautala says.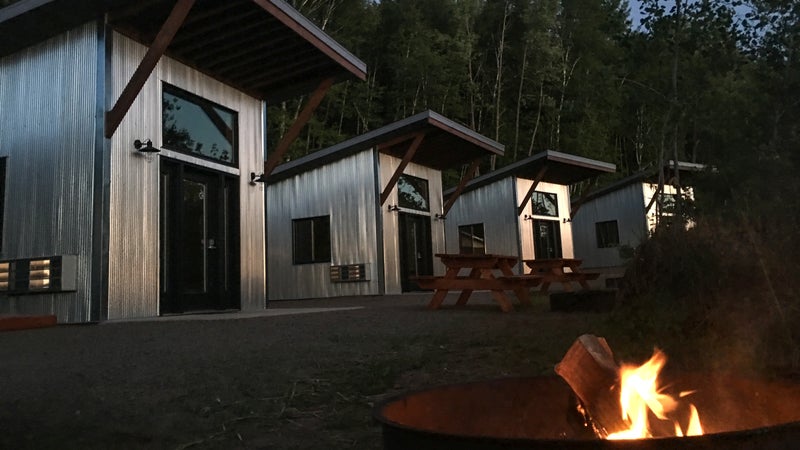 Fifteen new businesses have opened in Crosby since 2011, and the only thing that's changed, Hautala says, is the singletrack that now winds through the woods outside town. There's a new brewery, a yoga studio, two wood-fired pizza joints, and the True North Base Camp, which caters to cyclists with six bike-in, lakefront cabins. More importantly, many of the business were started by young people who moved to the area or chose to stay because they see potential in the trails. 
Crosby is not alone. All across the county, single-resource towns are building trails where they once harvested timber or mined ore to attract a new source of revenue—mountain bikers.    
"We're an untapped resource," says Andy Williamson, who manages IMBA's Epic Trails and Ride Centers as the organization's director of program development. "The idea of dirt bag mountain bikers going to places and sleeping in their cars isn't really relevant anymore. We want to really experience the places we visit, and the communities that really embrace that are the ones that can take full advantage of us."
According to a Singletracks.com survey of more than 1,400 cyclists across the country, 62 percent of mountain bikers travel to ride, make an average of two trips a year, and spend about of $382 each trip. So at a relatively cheap $50,000 per mile of top-flight, professionally-built mountain bike trail, the return on investment can be "truly amazing," Williamson says.
 
Oakridge, Oregon, has become a poster child for the movement. Once a thriving lumber town in the heart of an old-growth forest, Oakridge took a nosedive in the 1990s after the local mill closed. In 2004, it received a grant to develop a trail plan, and the city began working to brand itself as mountain-biking destination. Today, it has over 380 miles of trails in the surrounding mountains. According to one 2014 study, mountain bike tourism generates as much as $5 million in direct spending each year.
 
"That whole community is rallying around trails, mountain biking, and recreation," Williamson says. "Everybody from the mayor to the little ukulele shop in town are all at the table saying, 'This tourism is good for us.'" 
In Michigan, Copper Harbor, a former mining and port town on the Upper Peninsula with a population of just 108, has built over 35 miles of singletrack and now sees more than 20,000 visitors a year on its trails. Weaverville, California, a former gold rush town then logging center reinvented itself again in the mid-1990s as an off-road biking destination specializing in long-distance trails. It now hosts several annual mountain bike races and in 2015 was the location for the first U.S. running of the World Solo 24-Hour Championships. In the South, it's estimated the 22 miles of trails outside Anniston, Alabama, a former steel town in the tail end of the Appalachians, could generate $2 to $6 million dollars in economic impact annually. And in Northern British Columbia, another former logging town named Burns Lake secured $1.5 million in grants to build and maintain mountain bike trails in an effort to attract visitors, and it's working. 
"It really seems like a case of … if you build it, they will come," says Martin Littlejohn, executive director of British Columbia's Western Mountain Bike Tourism Association. "[But] it's not just a tourist attraction, it is part of the local fabric." 
 
Nine other mostly resource-based towns in the region have also turned to mountain biking, Littlejohn says, to not only diversify and improve their economies, but also attract and retain young, skilled workers by improving quality of life. Their efforts were rewarded this year with a northern edition of the popular BC Bike Race significantly raising the area's profile as an outdoor recreation destination, and while there is no economic data yet for what effect mountain bike tourism has had there, Littlejohn cites a report released last month by MBTA that shows visiting mountain bikers in Squamish to the south spent $10 million and supported $15.6 million in economic activity in the province in 2016.    
Even big cities like Chicago are buying in. Located in the city's South Side on a former slag dump for heavy metals and other byproducts from nearby steel foundries, the 300-acre Big Marsh park combines ecological restoration with singletrack, gravity, and flow trails. "It would be upwards of $200 million to remediate [the site]," says Jay Readey, the interim director of Friends of Big Marsh, a coalition of companies and organizations supporting the park's development. "That just wasn't feasible, so to cap it and build a bike park on top of it is fantastic."
More than 1,000 people showed up for opening day last November, which Readey hopes is a sign of things to come.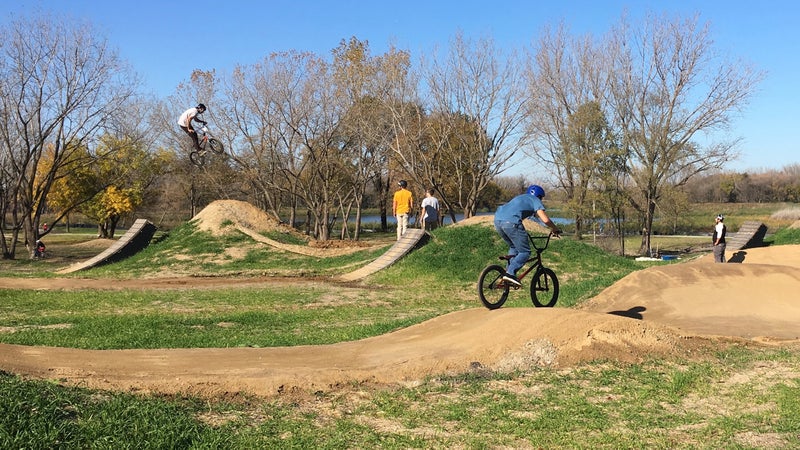 Back in Crosby, Hautala isn't satisfied. He wants to not only expand the trails, but also wants Crosby to increase its amenities and become the mountain biking equivalent of a ski town. He wants mountain bikers to spend days there, not afternoons. And he wants to create a community so cool that some of those tourists stop being tourists and make the move.
The rest of the town seems to understand this, too. With the help of a matching grant, a community fundraiser just brought in over $1 million to help expand the trails.
"That's the biggest thing," Hautala says. "You can't stay status quo to what you were before."  
Lead Photo: Getty Images/iStockphoto