How to Start Mountain Biking
It's not as scary as it seems. Here's all you need to know to get out for your first ride.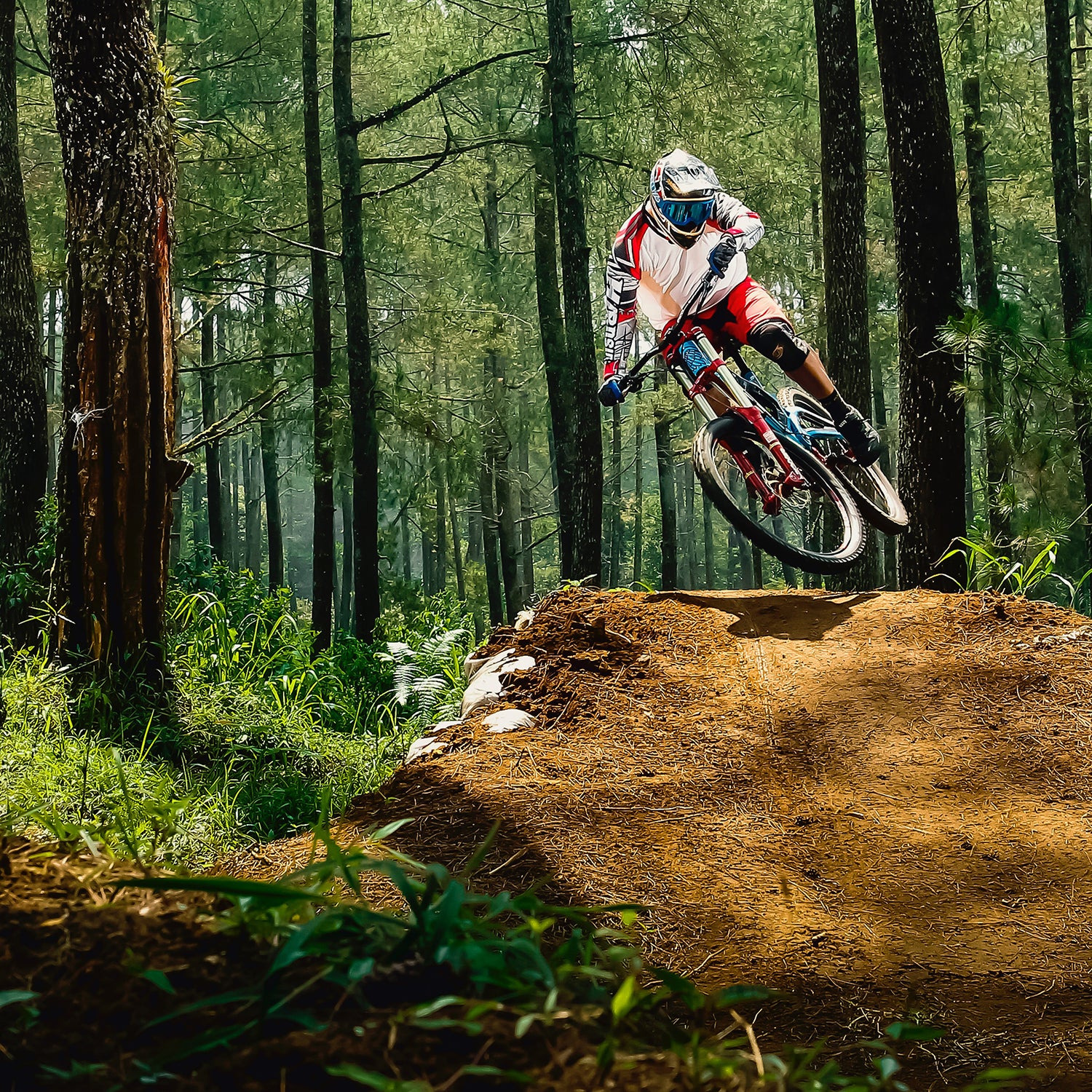 Andhika Soreng/Unsplash(Photo)
Heading out the door? Read this article on the new Outside+ app available now on iOS devices for members! Download the app.
The most recent report from the Outdoor Foundation found that 8.3 million people tried mountain biking at least once last year—the third year in a row that the sport has grown. In terms of how people get on trails, mountain biking is now second to only hiking.
When compared to its road cycling counterpart, mountain biking is considered far more laid-back. But it can still be an intimidating sport to enter, thanks to a dictionary's worth of jargon, a long list of gear you seemingly need (spoiler: all it actually takes to get started is this seven-item kit), and trails that can be pretty damn scary the first time you go out.
But life as a rookie mountain biker doesn't have to be all that bad. We talked to former world champion and Olympic bronze medalist Catharine Pendrel to get her pointers on how to take the intimidation level of this badass sport down a few notches.
Find Your Tribe
The people you ride with are directly responsible for making you a better and more confident rider. If you respond to trial by fire, go with people who are slightly better than you, says Pendrel. But if you like to progress at a more moderate pace and perfect techniques before moving on to the next one, find people who are happy to ride at your pace.
Hit the Gym
Mountain biking demands more than just rock-solid legs. It's a full-body sport where the core is key. "To see a real change in your riding, start the day with ten minutes of ab work," says Pendrel.
Be Smart About Your Gears
"When I was younger, it was a point of pride to grind away in a hard gear—meaning your rate of turnover is low and your effort is very high—so I would never shift down," says Pendrel. People tend to think you're getting a better workout and moving at a faster pace when you're using more force. In reality, Pendrel says, your pedal strokes are just inefficient and you're wearing yourself out. Shifting to an easier gear will make accelerating and getting around corners much easier and keep you from getting tired too fast.
Master Your Body Position
More often than not, you'll want to assume an "athletic stance"—butt slightly back over the saddle, torso low toward the handlebars, and knees and elbows both bent—says Peter Glassford, Smart Athlete coach and bike skills expert. "You want to be wide and low so you're ready to react to bumps and absorb impact."
Steer with Your Eyes
"A common mistake is sitting upright and turning the bars where you want to go rather than staying in that crouched position and simply looking where you want to take the bike," says Glassford. When you let your eyes lead you around corners or focus ten feet in front of you on a downhill, your shoulders and hips will follow suit, which guides the bike naturally and smoothly, he says.
Fuel While You Fly
For some reason, many beginners forget that you have to fuel while mountain biking. "It's not until you bonk that you realize you haven't been doing it right," says Pendrel. "You definitely need to eat and drink during a ride. And that's tricky on the mountain bike." Use a hydration pack to drink on the go, and take advantage of open roads to fuel, Pendrel says. For a short ride, you can probably get away with an electrolyte-heavy drink like Tailwind or Skratch, but for a longer ride, you'll want some slightly more substantial fueling options, like gels or chews.
Try It Again
"The best piece of advice I have is to keep it fun and never be afraid to try something new," says Pendrel. "Learning is always a process, and it won't go perfectly every time, but those mistakes are how you learn." More than many other sports, mountain biking requires trial and error, because it's difficult to understand instruction without actually trying out new techniques or approaches, says Pendrel. You're bound to get it wrong sometimes. But the beauty of the sport is that you can literally get off your bike, walk it back to the thing you messed up on, and give it another shot. Do that, and you're bound to see rapid improvement.
Lead Photo: Andhika Soreng/Unsplash