Joie de Bike
A city kid takes off the training wheels on a pedal-happy French isle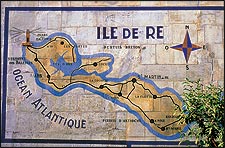 Heading out the door? Read this article on the new Outside+ app available now on iOS devices for members! Download the app.
LEARNING HOW TO RIDE a bicycle is not normally a big deal in this great suburban land of ours. But in Manhattan, where I live, children have no motive to learn, since the bicycle has no practical value unless you make a living as a messenger. And so my son, Alex, reached the age of nine with only the haziest sense of how to maneuver on two wheels. Then, abruptly, we lowered the boom. "Alex," my wife said one day, "Next summer, we're going to an island in France, and the only way to get around there is by bicycle. You're going to have to learn how to ride a bike." To which Alex said, "I'll do the best I can"—family code for "Don't blame me if I fail."

Illustration by Nik Wheeler

Alex is the kind of child who stands in left field with his mitt on his head, talking to the kid in center; his coach once said, "Alex, I know you're going to be a great lawyer someday, but we've got to work on the athletics in the meanwhile." Bicycling did not come naturally to him. We farmed him out to a cycle-happy dad. No dice. We trained on the roadways of Central Park. Alex cycled, and I ran behind to prevent catastrophe. I think the low point came when I accidentally sent him south on a northbound bicycle circuit, and as he gathered speed downhill a phalanx of cyclists came charging straight at him. Alex's idea of braking at that time consisted of putting his feet down. When I uncovered my eyes, Alex was sprawled next to his bike. I think his first words were, "Thanks, Dad."
Well, we didn't cancel the trip, and one July afternoon we walked down to the little bicycle rental shop in Les Portes-en-Ré, a trim and quiet hamlet at the nether end of Île de Ré, an island halfway down France's Atlantic coast. Alex picked out an old black three-speed with the little thumb-operated silver bell mounted on the handlebars. We parents got bigger versions of the same. We practiced for an hour or so in a nearby parking lot, where Alex could work on his moves without humiliating himself—a fate that is, from the nine-year-old's point of view, infinitely worse than death. The auguries were not good. Every time I said, "Alex, use your brakes," he shouted, "I am!" as he toppled over onto the pavement. We half-rode, half-walked, back through town, while French six-year-olds went tearing by with infuriating aplomb.


Les Portes is a dollhouse-size town. Little white houses with green shutters line narrow, winding streets that converge on the main square. Now we slowly wheeled along them on our way home to lick our wounds. Alex loved the miniature house we had rented on a shaded lane filled with hollyhocks. He had a bunk bed—the top for himself and his animals, the bottom for his Game Boy, his CD player, his tennis racket, and his dirty clothes. A spiral staircase snaked up to a sunny kitchen with a dining table and cushion-covered love seats. That afternoon, Sophie cycled over. The English-speaking daughter of a French friend, Sophie was also nine, and had been instructed by her mother to serve as Alex's interlocutor with the world. The two of them camped out on the love seats, their heads almost touching, while Alex read the latest Harry Potter, and Sophie, early Harry. Alex absentmindedly fed himself from a bowl of the local strawberries. Here was the bliss of an indoor child. "This," he announced with the flourish of a Barrymore, "is living."


But he couldn't escape the bicycle. Alex took a daily group tennis lesson, with Sophie acting as his translator. The courts were a few hundred yards away—the perfect biking opportunity. That next morning, he wheeled his bike out of the alleyway, got up, fell down, got up, stayed up, and wobbled on down the road to the court. Each day Alex became less unsteady, but he still viewed the bicycle more as an instrument of torture than as a means of transportation.



We were asking Alex to adapt to an awful lot of things at once. He had never been in a foreign country, and he was trying to adjust to an unfamiliar setting, unfamiliar food, and an unfamiliar language, in addition to an unfamiliar vehicle. Sometimes it was just too much. On the third day, as we were walking back home from the cafe in the village square, Alex said, "Daddy, I'm feeling kind of lonely for home." There was no mistaking the pain in his voice. When I asked why, he said mournfully, "Because I can't talk to anybody here; nobody speaks American." For a child who lives to talk, the idea that he couldn't make himself understood by a waiter or shopkeeper or another kid was just unbearable. And it was a little bit like the bicycle: Everything that was supposed to become easy had turned into an effort. At that moment, Alex would have given anything to be back home in summer camp.


And then the moment passed. Alex got a little steadier on his bike, and he started making farting noises with a boy in tennis class, and he went to the candy store where he could get weird-shaped fruit sticks for ten francs. And then there was the beach. The first time we went, Alex gasped in amazement—there were women, some older than his own mother, who weren't wearing anything on top. In public! "That is so gross," he said.
Alex never got over his shock; he would shoot me a look when a particularly dreadful specimen walked by. Perhaps to combat this moral pollution, Alex took to making drawings of a spiritual nature in the sand; he would pose by his work cross-legged, his palms pressed together in meditation. None of this work survives, alas.


The major source of recreation in Les Portes, besides dawdling at the beach or in the cafe, was a leisurely bike trip one could take along the paths through the salt marshes that lie between the town and its neighbor, Ars-en-Ré. Signs along the way identified the migratory waterfowl, thus inviting the rider to dismount every kilometer or so to take in the picturesque scenery. The terrain was perfectly flat, and a fresh breeze always seemed to blow through the tall grasses; the French would go out of an evening and ride around as if they were taking a constitutional. Since Alex had continued to make modest progress in the cycling arts, we decided toward the end of our week on the island that he was ready for the five-mile promenade to Ars.


Leaving the house, Alex and I rode down a narrow alley to avoid a trafficked road, and he wobbled to a halt. Since he was still starting off with his head down, he didn't see an older woman coming up the alley on a bike, and he just about flattened her. She said something that fortunately I didn't understand, and went furiously on her way. It was Alex's fault, but we still hated her. Alex gamely remounted and we crossed the highway to the marshes. I rode ahead of him, occasionally turning around to shout, "Get over to the side!" But the cycling gods were with him: He didn't run into anyone, and no one ran into him, and he only tipped over once, at a sharp turn, and after about half an hour of steady pedaling across marshes and salt ponds and vineyards and fields of sunflowers, we made it to Ars. I could only guess what a colossal sense of vindication and relief Alex must have been feeling. He rolled his bike into a stand, and we found a cafe, where he celebrated his victory with a Roy Rogers. It had been, he said, one of the great achievements of his life.