Mountain Biker Mike Montgomery on Going Big
The high-flying slopestyle star shares where his tricks come from and how he gets ready to face the competition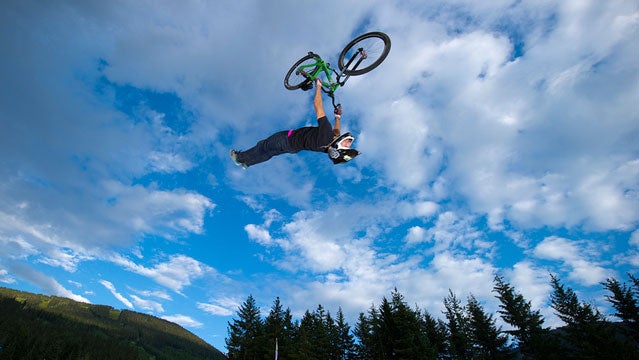 Camp of Champions via Flickr(Photo)
Heading out the door? Read this article on the new Outside+ app available now on iOS devices for members! Download the app.
In August 2010, mountain biker Mike Montgomery strapped a GoPro HD Hero camera to his helmet and barrelled down the slopestyle run at Whistler's Crankworx festival. The resulting minute-and-a-half-long compilation of backflips and tailwhips, interspersed with commentary from Montgomery ("Holy shit, I made that!"), became one of GoPro's early viral videos, garnering over three million views to date.
Since he switched from BMX to freestyle mountain biking, Montgomery has made his name with a repertoire of gorgeous tricks. "My pitch in the sport is thinking outside the box, doing certain tricks that people can't really think about properly," he says. That's earned him a slew of awards and Best Trick titles, plus first place in slopestyle at the 2011 Teva Mountain Games. We caught up with him ahead of his return to Vail, where he aims to take back his title.
Outside: What's your mindset going into the games?
Mike Montgomery: It's more of, just go and have fun. But you've still got to take it seriously, because sponsors always like to see you do well at events. Whether it's a higher-level event or a lower-level event, you've just got to treat them all the same.
How have you been training?
I've just been on the bike a lot, and in the gym, making sure my body's fit and ready to take hits. Just basically keeping all your skills super sharp and tuned up.
You started out in BMX. What made you decide to make the switch to freestyle MTB?
It just looked more fun. At the time with BMX, the courses weren't great, the people were a little salty, and [mountain biking] just seemed more open, more relaxed. The courses looked amazing to ride.
Do you think your BMX background has affected your MTB performance?
BMX definitely gave me an upper hand in pushing over, because I had such a great foundation from BMX, for the tricks and all that stuff. I just had to take that influence, put it on a big bike, and then try maybe five percent harder than I would on a BMX bike.
You do a lot of experimenting on the bike. Have you always been so comfortable taking risks?
I guess over the years just spending so much time on the bike, I figured, hey, no matter what, if I can get away from it, if I can find my feet again, I'm totally fine. I didn't want to do the normal runs, what all the other riders do. I can only imagine how boring it must be for all the judges, to watch the same thing over and over again and be super nitpicky on points.
How do you come up with these new tricks?
A lot of it comes from the freestyle motocross background. I live in Southern California. The whole industry's here, all the races are here, all the tracks are here. It's really, for me, taking what they do and kind of manipulating it to what we do on our bikes, and finding the happy medium. Sometimes it doesn't work at all, but if I can figure it out in my head—how properly to adjust the bike, how to adjust my body in the air, how to maneuver certain angles—normally it works out.
Do you have a favorite trick?
Unfortunately you can't really do it on a mountain bike, but it would have to be a turndown.
Will you be bringing any new tricks to the GoPro Mountain Games?
There are a few things that I haven't done this year yet that I want to do. I'm really curious to see how the course is gonna be built and what obstacles are there, because that's part of the fun. You have to really think about what you're gonna do.
Where are your favorite places to ride?
Highland Mountain Bike Park in New Hampshire is in a class all its own. They have all the downhill trails, all the cross country trails, and they have the more full mountain bike jumps that are more my forte.
Anywhere you'd like to go?
I think riding in the Alps would be really cool. Doing tricks has brought me all over the world. It's kind of crazy where freestyle actually takes you. The later part of this year is taking me to the Cayman Islands to ride with a few kids and teach them how to jump stuff.
You seem to work with younger riders a lot.
Basically, they're the ones who are going to keep the sport alive. A lot of the younger riders think you have to train, train, train, and do X-Games type runs every single time you get on your bike. The more they realize if you just go out and ride for fun, that's always when your best riding comes out.
Do you have any pre-competition rituals?
I have no idea why, but for the last two years whenever I would have an event later in the afternoon, I would always want to eat bananas in the morning.
I don't even really watch the other competitors compete on their runs, because I always figure, with what I have in my head, if everything goes well, then I should place well. So I just stick to that game plan and it normally works out.
Lead Photo: Camp of Champions via Flickr
Trending on Outside Online