My Life with Lance Armstrong
I was Lance's personal assistant for two years, during the height of his racing career. Do I think he cheated? Yep. But my real problem is something that diehard fans seem unable to grasp: the vengeful tactics he uses against people who tell the truth about him, on and off the bike.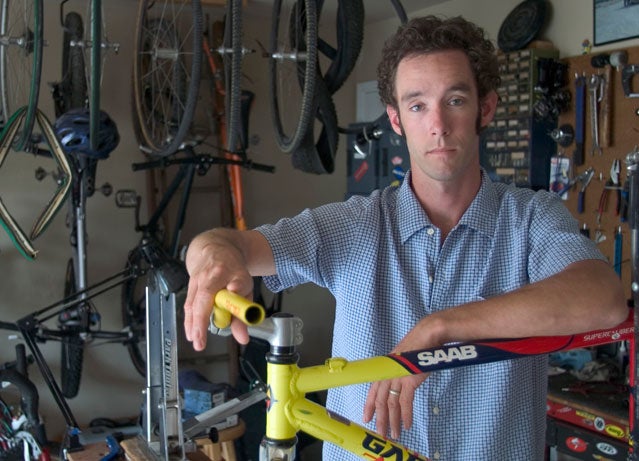 Heading out the door? Read this article on the new Outside+ app available now on iOS devices for members! Download the app.
Last week, just before the news broke that Lance Armstrong had decided to walk away from his battle with the U.S. Anti-Doping Agency (USADA) and accept the likely loss of seven Tour de France titles, Betsy Andreu gave an interview to Bill Strickland, an editor-at-large for Bicycling magazine who has written frequently about the allegations that Armstrong doped. Betsy, the wife of one-time Armstrong teammate Frankie Andreu, has been a public critic of Armstrong's for a long time, starting back in 2005. That year she and Frankie both gave depositions saying that in 1996 they heard Armstrong tell doctors in an Indianapolis hospital room that he'd used EPO, human growth hormone, cortisone, steroids, and testosterone.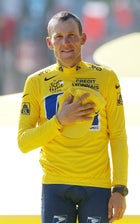 Lance Armstrong holds his hand on his chest as he listens to national anthems after winning his sixth straight Tour de France.
Armstrong has always denied that. As often happens with him, the denial has been accompanied by harsh attacks on the messenger. So, in his telling, Betsy wasn't just mistaken about what she said she'd heard, she was a liar and a shrew, motivated by "bitterness, jealousy, and hatred." In fact, her motivation was straightforward: she was subpoenaed to give a sworn statement in a legal dispute between Armstrong and Dallas-based SCA Promotions, which was trying to withhold a $5 million bonus payment to Armstrong based on allegations that he'd doped to win the 2004 Tour de France.
Strickland asked her what it was like to be blasted for speaking honestly. "What's the upside been, going up against Lance?" she said. "To be publicly and privately portrayed as an ugly, obese, jealous, obsessed, hateful, crazed bitch?" She pointed out that crossing Armstrong wasn't exactly good for her husband's career arc in bike racing. "We've dealt firsthand with very real threats to our economic well-being because we refused to be on the lie-for-Lance train."
Andreu isn't alone in being vilified. Others on the list include David Walsh (co-author of the investigative book L.A. Confidentiel, who Armstrong once called "a fucking little troll"), Greg LeMond, Floyd Landis, Tyler Hamilton, Emma O'Reilly, Richard Pound, Travis Tygart, and me.
I joined Armstrong's staff in late 2002 as a mechanic, trail builder, and all-around handyman and assistant. At that time, we were friends who had often been on mountain-bike rides together, and he had made a written and verbal commitment to finance my dream of opening an Austin bike shop once my work with him was done. Armstrong soured on me for reasons that had nothing to do with my performance as an employee, and when I was abruptly fired in late 2004, no clear reason was given for my termination. He reneged on the promise about the bike shop and started attacking me, personally and professionally, in a way that ruined my job prospects in Austin. I ended up moving my family to New Zealand to start a new life.
Keep in mind that Armstrong went on the offensive first—filing a civil suit that alleged I was extorting him—simply because I was trying to get him to live up to a business agreement we'd made. Unlike some of his foes, such as Landis and LeMond, I had never said a harsh word about him in public. I countersued to protect my livelihood and reputation, and during a battle that was ultimately settled out of court, Armstrong and his lawyers dismissed me as a disgruntled schemer, a line they continue to push whenever my name comes up. A fact sheet that Armstrong's camp supplies in response to journalists' queries about me is headlined "Anderson's Complete Lack of Credibility."
Armstrong is having a bad year, and it's about to get worse. His lawyers' efforts to derail USADA's case against him—a scorched-earth campaign aimed at destroying the organization outright—failed, so he chose to quit rather than keep fighting. But more revelations are coming soon, with the release of The Secret Race, a tell-all by Tyler Hamilton and co-author Daniel Coyle that promises to expose U.S. Postal's organized doping program in excruciating detail. Judging by an Associated Press report based on an advance copy, the book could be the death blow to Armstrong's reputation as an athlete.
Unlike Hamilton, I can't offer dramatic proof that Armstrong doped—the evidence I saw and heard was convincing to me, but it was also circumstantial—but I can shed light on how he operates as a friend and an employer. This is relevant because Armstrong's strongest remaining line of defense is that he's a good guy who's being victimized, a theme that permeated his statement last Thursday. He still doesn't admit that he cheated, instead claiming that he's walking away because USADA's "charade" is rigged and the legal battles are taking too much of a toll on him and his family. "From the beginning," he wrote, "this investigation has not been about learning the truth or cleaning up cycling, but about punishing me at all costs."
If you've followed the reactions to Armstrong's decision, you know that many people—fans and journalists alike—believe him. "I never thought I'd see #Armstrong quit," read a typical tweet. "But this smells more like a witch hunt by #USADA than anything else. He's never failed a test."
The standard Armstrong defense starts with the naive assumption that it's impossible to beat drug tests and usually rounds out like this: Even if Armstrong did cheat, he's a person who came along when drugs were endemic to the sport of bike racing, and he got sucked into using them like many others did. But that era is behind us, so we should let it drop and move on, celebrating Armstrong for the good work he does as a cancer philanthropist. "Yes, Lance has 2B stripped of his 7 Tour de France titles now," ESPN columnist Rick Reilly wrote in his Twitter feed. "Still, to millions, his work for cancer victims alone makes him a champion."
"Lance Armstrong is a good man," Sally Jenkins (co-author of It's Not About the Bike) declared in a Washington Post column that took dead aim at USADA. "There's nothing that I can learn about him short of murder that would alter my opinion on that."
I might be sympathetic if I hadn't worked for Armstrong, hadn't seen him act so often based on a combination of self-interest and spite. Many of the episodes I discuss in what follows—including what I observed on the doping front—have been aired before, in depositions taken during the lawsuits. Some haven't been heard anywhere, including the statements I made last year to Jeff Novitzky during the FDA investigator's failed attempt to take Armstrong to federal court.
I'm telling my story now because millions of people still look up to Armstrong as a role model. That's their choice, and I think it's possible he can emerge from the wreckage and continue his second career as a fundraiser for cancer awareness. But he needs to come clean at this point, and the people who support him need to understand that he isn't and never has been a victim. Here, too, Betsy Andreu put it best: "Until the truth is told, you're not even dealing with reality."
I'VE BEEN MADLY IN love with cycling since I was five. Not the sport at first but the bikes themselves—for the exhilaration they gave me as an Army brat, constantly being moved from place to place and needing consistency wherever I could find it. Growing up that way made me an independent kid, a trait encouraged by my very independent Irish Catholic mother. I wasn't into team sports at all. The only vaguely sporting thing I liked was racing down the street or through the woods on a bike.
In 1989, when I was 17, my father retired from the Army and we moved to Dallas, where my parents had grown up. About halfway through my senior year in high school, I got a job at one of the huge bike shops that sprouted during the sport's late-'80s boom. That's where I first heard the name Greg LeMond and developed an interest in road racing. The sport was mainly contested in Europe, and it had the Old World feel and traditions. Even better, it seemed like an individual's pursuit, and for once an American was winning.
The shop was owned by a well-to-do South African who sponsored a junior racing team and spent generously to provide good kit and a proper coach. The team members were off racing most weekends, often returning with stories to tell. Some were about another kid who was already dominating, and not always in a nice way. His name was Lance Armstrong, and like me, he was 17.
At the time, Armstrong was sponsored by a shop down the road and looked after by the owner, Jim Hoyt, whose role seemed to be equal parts Daddy Warbucks and Il Duce. News of their tumultuous relationship traveled fast in Dallas bike circles. One early legend concerned an abandoned car, an IROC-Z28 owned by Armstrong but cosigned for by Hoyt and registered under Hoyt's name. Armstrong had reportedly ditched the car and the passengers—his friends—while fleeing from the police one night, and he refused to apologize to Hoyt, which damaged their relationship for years. Such tales formed my initial picture of Armstrong as arrogant and reckless.
Throughout the '90s, I focused on college and graduate school, but I still rode and raced, especially mountain bikes, which I found more exciting. Armstrong turned pro as a road racer, riding for Motorola between 1992 and 1996. His name came up a lot, but his record in Europe—including mixed results in his handful of Tour de France appearances—meant nothing to me then, and I didn't pay much attention to bike racing again until 1998. That was the year of the infamous Festina affair, a doping scandal that nearly brought the Tour to a halt, the year I first realized the sport had a dark side.
By that time, Armstrong had been through the defining episode of his life: a 1996 diagnosis of testicular cancer, which spread to his lungs and brain and led to a series of grueling treatments, including surgery and chemotherapy. We'd both relocated to Austin by 1999, the year he became world-famous with his first win at the Tour. Armstrong not only had come back from a killer disease but appeared to be racing clean, and so his victory was billed as redemption for a dirty peloton. To me the story seemed borderline miraculous.
By late 2001, I'd dropped out of graduate school and taken a full-time job as a head bike mechanic. The shop where I worked was sent a specially painted Trek that Armstrong would ride while carrying the 2002 Winter Olympics torch through Austin. I met him for the first time when he came in to pick it up. Over the next year or two, when he was in town, he'd call me to have his bike worked on or to go for a ride on one of the mountain-bike trails in the area. We became casual friends through these informal training sessions on routes I picked, connected by sweat, blood, and a lot of good-natured shit talking.
During the next year, a mutual acquaintance named Derek Russey—whose company cleared brush and maintained the lawns of Armstrong's numerous properties—said Armstrong had asked about me coming to work for him. The job was subsequently described in an email: he needed an assistant for the final period of his professional racing career, which (he confided) was going to end in two years. I would fix his bikes, attend to various personal needs, and deal with whatever else cropped up. I'd also drive the follow car in Austin while he trained and tend to his houses when he was in Europe. In return, he agreed to provide funding and endorsements for the bike shop I wanted to open.
There was no formal contract spelling this out, just the email explaining the job and containing Armstrong's promise of financial help later on. I feel stupid now for not getting everything in writing, but at the time I was naive, and the need for such a document didn't occur to me. Armstrong and I were on friendly terms, and I trusted him. From his side of the fence, I wasn't asked to sign a nondisclosure agreement, so he apparently trusted me, too.
"We had you checked out," Bill Stapleton, Armstrong's agent, told me once. "You're white trash like the rest of us." It was a jokey way of telling me I was in.
Working for Armstrong was hardly the career I aspired to, but as I saw it I was helping a buddy who needed a hand. The pay was an improvement on what I was making. I was married by then, and my wife, Allison, was pregnant. It seemed ideal in many ways.
AFTER I'D BEEN WITH Armstrong for a month, it became clear that the job description was fluid and often required 12-hour days. As Christmas approached, I found myself building toys for his three children, taking out the garbage, and fitting childproof cabinet-door locks. Lance's wife, Kristin, jokingly called me "H2"—husband two—and it was rewarding to give her a hand. It felt like being one of the family; the kids even called me Uncle Mike.
In all, the role seemed more like helping a pal than punching a clock, and I found myself in the thick of Armstrong's personal life. This was not always easy or comfortable, especially when trouble in the marriage cropped up. In February, I flew to Santa Barbara with Lance, Kristin, and the kids to help out while he shot a commercial. It was during that trip—on the beach in front of the house they were renting—that Lance told Kristin he was leaving her.
This came as an absolute shock to everyone and made the rest of the time there very stressful. I did my best to provide Armstrong with advice and support, which was difficult, given that I was also friends with Kristin. Clearly, he wanted his marriage to be over. But he showed no emotion, and the way he handled it—dropping the bomb and then leaving Kristin alone on the beach—seemed abrupt and cruel. She was devastated, and over the next few months I watched her shrink from a confident, healthy woman to someone who was frantic and depressed, which was heartbreaking.
Justifying himself, Armstrong later told me he'd read an email between Kristin and the owner of a local running-shoe store that led him to suspect her of infidelity, which I found hard to believe. At the same time, he told me he didn't want "to live a lie anymore." Later, on the last morning we were there, I went to meet him at the hotel where he'd spent the night, to fetch him for a training ride. Empty beer bottles were scattered all over the room. He seemed to be unraveling, and he complained about losing a Rolex somewhere in the night. No surprise, the ride didn't last long.
Later that month, when it was time to travel to Girona, Spain, for early season training before the 2003 Tour de France, Armstrong asked me and Allison to come along, since he'd decided that Kristin and the kids could not be around. Having studied a handful of languages in college, including Spanish, I knew I could be of use. This came on very short notice—about a week—and was completely unexpected. But Allison and I were excited to go.
EUROPE WAS AN EYE-OPENER for me. That's where I saw indications for the first time—which I discussed over the phone in an interview with Jeff Novitzky—that Armstrong might be dishonest in ways that mattered.
For starters, there was all the cash he threw around. I had heard from Derek Russey, our landscaper friend in Texas, about the wads of money Armstrong gave him as payment. He said Armstrong would often return from Europe with money stuffed into his pants. It was clumsily concealed from authorities, but this was easy to get away with for a celebrity flying in and out of private air terminals, where control over passengers was fairly lax.
The cash came from the post-Tour races that are an important part of the cycling culture in Europe, because they allow people in smaller French towns, or outside France altogether, to see pros racing on their local roads. All a rider had to do was show up, race for a while, and collect payment, which was made under the table. Russey told me how much it freaked him out to be handed tens of thousands of dollars in bills.
In Spain, we often paid people with Euro notes worth $500, which Armstrong told me to pull from the pockets of a pink Chanel coat that hung in Kristin's old closet. He kept the coat crammed with cash from his appearance fees. Whether he declared this as income or not, I don't know. All I discussed with Novitzky was its existence.
In addition to the spending money, Armstrong always had loads of bike swag he wanted to discard, often the spoils of what seemed to be overzealous shopping sprees at NikeTown or other sponsors. I remember one time in Austin when thousands of dollars in shoes, clothing, sunglasses, and other items were simply piled into a heap in his bathtub. Armstrong told me to get rid of it. I had no idea what to do with it all, so I doled some out to my old friends at the bike shop and deposited the rest in Goodwill bins.
If I was so put off, why didn't I quit? Well, in part because of my own flaws. I was not immune to the job's obvious perks. Or, as Bill Stapleton once phrased it: "Welcome to the country club."
Being in that sphere of fame was a strange experience: superficial, manic, sometimes energizing, but often nerve-racking. Within months of starting the job, I'd gone from being a quiet and anonymous wrench to a fixture in Armstrong's entourage, a role that had me flying around in private jets with a wealthy, widely adored celebrity. Commercial shoots, great hotels, nice cars, free stuff. Armstrong gave me a BlackBerry loaded with every contact imaginable. I had Tiger's number. I had Hein Verbruggen's number. I had Bono's number. I even had the number for President Bush. Not that I ever called any of them.
That summer of 2003, Allison and I watched the Tour at home in Austin with our newborn son. Armstrong won a difficult and tumultuous race, and we were proud of him. After the win, he returned to Austin for a repeat of the previous off-season menu of training, traveling, sponsorship, and Livestrong obligations, which sometimes seemed to get on his nerves. (At one Livestrong event where he had to speak, I heard him mutter under his breath: "I hate these fucking things.") And, of course, he was dealing with his divorce, which was ugly.
AS I LATER REALIZED, I should have minded my own business—there were times, for example, when I thought Armstrong was partying too much in Austin bars, and I said so. He thanked me for the advice, but this period marked the start of a steady decline in our relationship. Perhaps I came off like a nanny, but a certain meanness emerged on his end, an increased self-centeredness that at times was understandable, given the strain of Armstrong's breakup.
It wasn't just his personal life that I was brooding about, however. During a training ride after the emergence of a doping scandal centering on Belgian rider Johann Museeuw—who'd been a favorite of mine for his multiple wins of Paris-Roubaix, the hardest one-day race of them all—I asked Armstrong whether he thought any of the cheating allegations were true. "Everyone does it," he said nonchalantly, looking me straight in the eyes. That floored me. I didn't say anything else, but the implication was clear enough.
We carried on that fall and winter with the same routine of training and traveling. I continued to do more and more, which at that point included looking after Armstrong's ranchette, two houses in town, and the cabin that often housed guests like Michele Ferrari—the Italian physician, now also banned for life by USADA, who worked with Armstrong during all of his Tour wins. (See Bill Gifford's 2006 Bicycling profile, "Paging Doctor Ferrari.") We didn't see as much of each other as in the previous year, and his training didn't seem to be as solid, which I concluded was the result of his new bachelorhood.
When late January of 2004 rolled around, Allison and I prepared to leave Austin with our infant son, heading to Spain to get the apartment ready for Armstrong and his new girlfriend, Sheryl Crow. This process was referred to as "de-Kiking" the place. (Kik was Kristin's nickname.) He asked us to get rid of everything of hers, with no clear instructions about where it should go. There was a great deal of clothing, personal items, mementos, and family photos. We piled it up in boxes and put it on the steps around the corner from the apartment like ordinary household trash.
In the middle of this purge, I found a prescription box in the medicine cabinet—to the side of the vanity in the bathroom—that sent everything spiraling. I knew what it was. Not exactly at first, but I sensed from my rudimentary knowledge of medicine that this box shouldn't be in the bathroom of a professional cyclist.
The label said Androstenedione. I looked it up on a laptop computer Armstrong had given me months before. I was searching for valid reasons why he would have this substance, a banned steroid. There were none. I put it back and did my best to forget about it. But I was torn. Should I risk alienating Armstrong and losing my job by calling him out?
I didn't say anything, but I was so rattled that Allison noticed, despite me not saying a word to her about what I'd seen. The day after Armstrong arrived in Girona, I sneaked another look at the medicine cabinet and saw that the box was gone. In short order, Armstrong started behaving very differently with me. There was no longer any of the kidding around I was accustomed to. He was all business and would remain that way from then on. I think he knew what I knew, and he knew I didn't approve.
Training commenced in the hills around Girona much like before, though it didn't last as long, which was surprising. After a short visit from Ferrari, whose presence was always pointedly kept on the down-low, Armstrong and Ferrari departed suddenly for Tenerife. Allison and I were left to our own devices, which was enjoyable, but in the back of my mind the various problems festered. I had to start examining the morality of my situation, which was clouded by emotional bonds.
I'd made a commitment to Armstrong, and I couldn't walk away from that—though, looking back, I wish I had. I had self-interests, of course: a family to support, a mortgage. I had my own ghosts to answer to. I desperately needed this job to lead to the promised conclusion: the bike shop, which would have been an instant success, given my association with Armstrong.
Years earlier, when I'd walked away from a graduate degree in Middle Eastern studies, I'd had regrets about not finishing. To this day, I can still hear the voices of my parents saying, "You'll make something of yourself one day. You're smart." Being a bike mechanic didn't qualify. It's a hard way to make a living in the best of times and a very difficult way to support a family. I could not go back and finish school. It would have been financially impossible. There seemed like no way out.
ONE LATE-SUMMER MORNING in 2004, the phone rang at my home in Austin. It was Russey.
"Where's Lance?" he asked nervously.
"At the ranch, as far as I know," I said. I wasn't due to make the 25-mile trip out there for another hour or so, and I thought Armstrong was already there. "Why?"
"Man, the WADA people are here waiting at the gate!" he shouted.
"Shit. He was there last night and didn't tell me he was going anywhere." This was highly unusual. Armstrong always told me where he was, and there were plans in place to meet that day.
"Well, he sure as hell ain't here. And if he's not, he's in big trouble with WADA for not being here. I'm gonna call College." John "College" Korioth was one of Armstrong's best friends.
I got myself together to head for the ranch. A few minutes later, as I was driving, my phone rang again. It was Russey. "He's left town with Sheryl," he said. "College is gonna go to the airport and get his Suburban and drive it back to the ranch. The WADA people won't be able to tell if it's Lance or not when he drives past them and will think it is."
The ruse was designed to make WADA's out-of-competition monitors, who had arrived outside the locked gate of the ranch as part of WADA's "whereabouts" program, think the person behind the wheel was Armstrong. Even though the WADA people wouldn't be able to contact Armstrong directly, the trick would allow him to avoid getting hit with a so-called non-analytical positive, based on a failure to accurately report his location. Under the rules of the World Anti-Doping Code, Armstrong had to let WADA know exactly where he was at all times.
As I drove the last few miles to the ranch, I passed a small white Hyundai SUV, which Russey later told me contained the officials from WADA. I never heard another word about the incident. Armstrong didn't mention it, but he must have known it was a problem for me, since it was such a clear sign that he was willing to game the drug-testing system when it suited him. Much later, I was completely blown away when both Korioth and Russey flatly denied—in sworn depositions—that any of it had happened, with Korioth mockingly stating that there was never any conspiracy to evade a test.
WHEN MY JOB WITH Armstrong came to an end a few months later—in the office of his friend Bart Knaggs—I wasn't especially shocked, and in some ways I was relieved. Foolishly, I held out hope that the parting could be amicable.
Knaggs stressed that Armstrong had a history of not getting along with people. He had gone some time without speaking to his now-reconciled friend, Korioth, who had helped put together the Lance Armstrong Foundation. He'd had shouting matches with Bill Stapleton and major feuds with teammates.
There was a pattern. Anyone who challenged him or disagreed with him would eventually feel his wrath. "Lance is intimidated by you for being smarter than he is," Knaggs said. "Lance doesn't like Chann McRae because Chann can outrun him," he added, saying this was no different.
I suspected Knaggs was right, and that Armstrong would take any disagreement all the way. He'd waged a war against Kristin and her dad over money and real estate during the divorce. He'd told me he would "put LeMond out of business"—referring to Greg LeMond's bike business with Trek—because of LeMond's public statements about his association with Ferrari. He'd ostracized former teammates who'd faithfully served him, but who had aspirations of their own and had gone to other teams.
I asked about the bike shop. "He mentioned it to me," Knaggs said. "You and Lance can talk about that." I went away with some hope that, having fulfilled my end of the bargain, the arrangement was still sound.
That dream crashed when I refused to sign a nondisclosure agreement that would have made me liable for a large sum of money if I even mentioned ever having worked for Armstrong. He had cut me off at the knees financially by firing me; now he held out the prospect of several months' pay in exchange for my silence. Either way, there would be no bike shop.
A few days later, while I was sitting with my son at home, the phone rang. I picked up and said hello.
"Mike, it's Lance," he said. "Hey, look, man. You need to cut this shit out." He meant my refusal to sign.
"Lance, we had a deal," I said.
"No, we didn't. There's no deal. People try this shit all the time."
I could feel my blood pressure dropping. I put my son down and tried to get up from the table, but I actually passed out. I came to a few moments later, with Allison shaking me and asking if I was all right. The strain of being fired and blackballed was too much. I'd slumped face-first onto the table.
Allison grabbed the phone. After I regained my senses, I listened to her talking to Armstrong. She said he told her I was a "great guy" but that "we just weren't getting along."
The next day he called again. Allison advised me to stay cool. "Look, Lance," I said. "This isn't gonna do either of us any good at all. All I want is for you to fulfill your end of the bargain."
"It's not gonna happen."
At this point, I felt like I was being coerced into signing the document. By then, Russey had called me to say that Armstrong, in a fury, had told him I'd better sign if I ever wanted to work in the bike industry again. On the advice of a friend, I spoke to a lawyer to determine what rights I had. I didn't think that negotiating with Armstrong would go anywhere, so my lawyer wrote a letter asking him to honor his original offer. If he did, I could walk away, bruised but still moving forward. Instead, Armstrong dug in.
OR, AS BILL STAPLETON aptly put it, he launched World War III, which went by the same script I'd witnessed with the others. Stapleton asked my lawyer for a settlement proposal, which we promptly provided and was stamped up top with the word CONFIDENTIAL. This was part of the normal routine for settling disputes like these.
The next day, Armstrong slapped us in the face by leaking the terms of the proposal to the media. Stapleton falsely referred to me as a landscaper. Tim Herman (one of Armstrong's army of lawyers) called me a dogsbody and described my actions as a shakedown.
Armstrong filed suit against me in Travis County District Court, asking a judge to declare my employment contract—that is, the email Armstrong had sent—invalid. I filed a countersuit for wrongful dismissal, breach of contract, and defamation. Armstrong's lawyers denied the existence of any contractual email—foolishly, I had not kept a copy, but I could nearly recite the thing from memory—and challenged us to spend the money on forensic computer examination to find it.
As the struggle unfolded over weeks and months, many people sneered at my story, assuming that Armstrong—Tour hero, cancer survivor, philanthropist—would never fight dirty or lie, so I had to be the dishonest party. I suddenly had a lot of former friends, no job, no money, and a gaping hole in my professional reputation.
The rest of the story was fought out in rooms full of lawyers and witnesses, a process that took far too much time out of my life, ruined me financially, and put great strain on me and my family. After 10 months of it, Allison and I decided to settle the suit for terms that both sides agreed not to disclose. The courts had thrown out parts of our counterclaim, which was a huge surprise and a setback to my legal team.
The whole process was, in my opinion, grotesquely influenced by politics, faulty and inconsistent judgments, and outright lies. In my view, Armstrong was able to avoid answering my claims by using his power and influence. The judge allowed him to stall for months on giving a deposition, and the case was settled before he ever had to answer questions under oath.
I was powerless, and I was inaccurately portrayed by the media, thanks to Armstrong's efforts at spinning the story. But I stuck by my principles, which I don't regret. During the two years of my employment with Armstrong, I'd fulfilled my end of the agreement. I did more than required of any mere employee. I'd been his confidante, minder, protector, and more. For that, I got nuked.
THE PAST 12 YEARS of my life have featured plenty of irony. I turned away from the career path that I had believed would please my parents—my mother, in particular—and toward something I wanted but that made me apprehensive. The choice connected me with Armstrong, whose reputation and resources seemed to guarantee my success. But things didn't work out as planned.
Armstrong's aggressive attempts to ruin me, and their effectiveness, left me with a deepening sense of disappointment in the U.S. justice system, where the well-heeled often get away with things that ordinary citizens simply can't. We had to sell the house during that period, and in 2006, with little chance of repairing the damage to my reputation in Austin, we sold nearly everything else and moved to New Zealand. Oddly, what earned me permanent-resident status was my experience as a bike mechanic, which at that time was on the list of jobs that needed to be filled.
Sometimes I look back at my old decisions with regret. I'm still in the bike business, but until now I've been hesitant to let anyone know what my past contains—fully aware that, in the polarized world of cycling, doing so would earn me respect from some fans and hatred from others.
In the absence of any benefit from my time with Armstrong—the moral and ethical lessons notwithstanding—I'm in the same place as before. Geographically, of course, I'm as far removed from Lance Armstrong as possible. And that's the one part of this story that feels pretty good.
Lead Photo: Thomas Terry/Associated Press