The Queen of Pain
Six-time world champion Rebecca Rusch on the state of women's mountain biking, the hardest races she has faced this year, and how she hopes she'll be remembered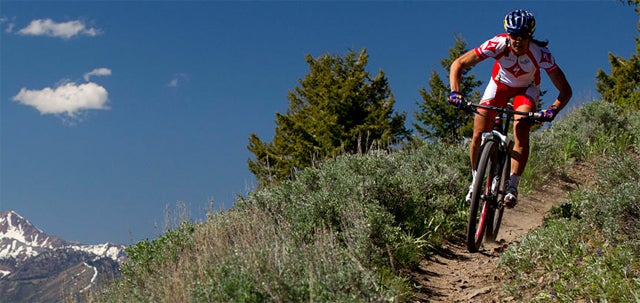 Heading out the door? Read this article on the new Outside+ app available now on iOS devices for members! Download the app.
The Queen of Pain is what they call her on Twitter. But she's also been called "the world's greatest female endurance cyclist," which tells you a bit more about who Rebecca Rusch is and what she does. That title didn't come easy: In more than 15 years as a professional, Rusch has won the Leadville Trail 100 Mountain Bike Race three times and also claimed six world championships.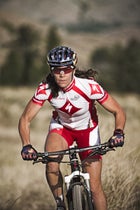 Rebecca Rusch.

Rebecca Rusch.
Heidi Volpe recently talked with Rusch about the state of women's mountain biking, the hardest races she faced this year, and how she hopes she'll be remembered.
You've won Leadville three times, you've been a world champion. Now what?
Now what? That's a good question! I've always sought out adventures and races that inspire me.  I've been around the world a few times and I still have a wanderlust to see more. I'll never stop exploring, but I'm also inspired by sharing my experience and motivating others to get outside.
My work is now a combination of racing, women's clinics, product development, and marketing. The backbone behind all of the different things I take part in are to be inspired myself and continue to push my boundaries and encourage others to do the same.
The podiums and championships are awesome to have on my resume and are validation of many years of hard work. I'm super proud of my wins, but they are not the ultimate end goal. The adventures along the way are what really inspire me.
How did the Gold Rusch Tour come about?
The SRAM Gold Rusch Tour came about because I kept seeing holes in the cycling industry when it came to women's participation. I wanted to help change the small numbers of women racing, working in media, female pros not getting exposure, women who want to learn to ride, but didn't know how. I've always shared my experiences because outdoor sports changed my life and I'm happy to bring more people outside. The SRAM Gold Rusch Tour was just a way to put on some official events that would encourage women's participation in all aspects of cycling and give them the opportunity and confidence to go for it. Each event is different and I choose great places to ride and try to hit all sort of markets such as New York City; Sun Valley, California; France.
How you are moving female mountain biking forward?
My goal is to be inclusive, share my experience and make it easier for women to ride, learn about their bikes, and break down the intimidation barriers.
There are so many great athletes out there, sometimes women just need a little confidence and a push from someone they can relate to. Even in the short time I've been mountain bike racing, I'm seeing more moms, daughters and female participation than ever before. The tide is starting to turn and it's so great to witness and be a part of.
Are you done racing?
No, and I probably never will be. I've been racing and competing in one sport or another since high school and I expect I will always line up. Pushing myself like that on a regular basis is part of what I need to do in order to stay fit, motivated and inspired. I won't always be standing on top of a podium as the next generation takes over, but I will always be lining up and pushing myself in races.
What do you wish your legacy to be as a pro athlete?
Longevity: That you can keep racing, competing, and kicking ass for a long, long time. Inspiration: That it's never too late to learn a new sport, push yourself and try something that seems impossible. Passion: Seeking and experiencing things that you love to do will make you a better person. And perseverance: Getting up after you fall to try again.
What was your hardest race this year?
Physically, the Titan Desert stage race in Morocco was the hardest thing I've done this year. It's a six-day stage race in the sand dunes of Morocco. Each day was nearly 100 miles in the heat, sand and scorching sun. Each night was rough, camping in the desert and very little recovery while trying to clean the sand off my bike and body. It was an epic adventure.
Mentally, the USAC XC National Championships were my hardest event this year. The race was in my backyard, on my home town trails. I was attempting to defend my single speed national champ win from 2011. I felt super strong, was in the lead and was having a great race when I flatted about 10 minutes from the finish. That started a frustrating 20 minutes of fixing the flat, getting another flat, running my bike, asking for help from other competitors and finally crossing the finish line in third. It was a hard lesson in patience, sportsmanship, accepting bad luck and getting back on the bike. No use crying over flat tires. It doesn't really change things.
What's happening with women's bike technology these days?
What's happening with women's bike technology now is that bike companies are listening to us. They're hearing that we want great gear and bikes that fit us, perform well and look great. The products are being developed and women are getting more educated and vocal as consumers about what they want. The manufacturers are listening.
My race bike, the Specialized Fate, is the lightest, fastest race machine I've ever ridden. I'm certain that I was able to break my own Leadville 100 record because of this bike. People always ask about the difference between men's and women's bikes. The best analogy I can give is that it's like a pair of jeans. Some women fit fine in men's jeans and look great. However, most women's bodies fit better in jeans designed specifically for women. Women's vs. men's bikes are the same thing. Also, like jeans, I feel it's essential to try a bike before you decide to buy.
What has changed for you with regard to nutrition and training now that you are a master pro athlete?
I've gotten smarter as a more experienced athlete. I now train with a coach, Dean Golich from Carmichael Training Systems, and having his guidance helps me train quality vs. quantity. I spend less time training than I have in the past, but am still getting better and faster results. I think a road map from a coach is essential for anyone who wants to be faster. You don't need to be a pro to benefit from coaching.
I've also learned to rest and recover better with Restwise. I've taken a good look at my nutrition and eliminated many processed and packaged foods. I get more sleep, stretch a little more and generally take care of myself better than I did when I was in my twenties. It's made a difference and I'm fitter and faster than I've ever been.
Are you excited about the Olympics?
I am so excited about the Olympics because I have friends and teammates racing. Two of my Specialized teammates Todd Wells and Lea Davison are racing. Todd's going on his third Olympics and Lea her first. I watched the last Olympic mountain bike race via the Internet while I was at a race with Lea. It was the first time I met her and her energy and riding ability blew me away. Here she is four years later as a Specialized pro and representing the U.S.
Georgia Gould, our other female MTB athlete, is from Idaho and learned to ride a bike here. I've known her for years and her career has skyrocketed as well. Sam Schultz will be racing for his first time and I know him too. These four are some of the nicest athletes I've ever met, so I'll be cheering for all four of them.
As a Specialized pro, I've also had the fortune to be able to meet the Specialized-Lululemon women's road team. They have 10 athletes in the Olympics this year from various countries. Kristin Armstrong, a fellow Idahoan is also defending her Olympic time trial win four years ago. Knowing all of these athletes is going to make it hard to know who to really cheer for.
Why Idaho?
I've lived out of my truck around the West for years. I surfed many couches and checked out plenty of outdoor towns along the way. In all of my wandering, Idaho is the only place that felt like home the moment I got here. The terrain is out of this world, the mountain biking is world class and there's a welcoming small town vibe that embraces you immediately. It's a friendly, off the beaten path place with an outdoor playground that can't be beat.
Trending on Outside Online