Rebecca Rusch Repeats Win at Leadville 100
Heading out the door? Read this article on the new Outside+ app available now on iOS devices for members! Download the app.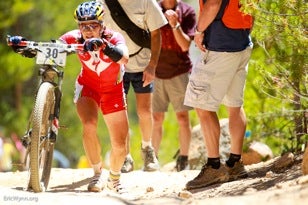 TypePad has a feature where it remembers titles of posts much like your address operates. So I typed in Pro Specialized rider Rebecca Rusch and was reminded of just what a consistent bad ass she is. I had to change the title of this post from Three-Peat for her 24 hr Solo 24 hrs victory to Repeat for her recent Leadville 100 victory.  This year was a much drier course and  Rebecca was rolling the 29 Stumpy Hardtail.

Leadville uses a lot of road race tactics? Were you working with anyone? Pulling?
This race is absolutely a combo of road and mtb tactics.  This year I knew the course much better and knew the places where I needed to try to go hard and hang onto a group of people.  My coach, Matthew and I had talked about how I needed to go out harder than last year and try to hang onto some of the front men for the first couple of hours if possible.  I was lined up on the front line and despite the 6:30 AM start, I had warmed up and was ready from the gun.  I did go out faster than last year and hit the first two hills as hard as I could. 
They are each about 30 minutes long and made the selection for many people.  I was in a group of about 4 guys, plus Amanda.  Unfortunately, it seemed as if I was one of the strongest in the group, so they all sat behind me for much of the first part of the race.  I tried to circle to the back of the line and a few guys pulled, but when the pace slowed, I went back up front.  It was a bit of cat and mouse with me and Amanda, but she was riding a smart race and was matching my attacks on the first two climbs.

During the first 40 miles, Amanda Carey and you were very close. When did you make the move and gap her?
We were together all the way to mile 40 at the Twin Lakes aid station.  This is right before the bottom of the 3200 ft Columbine ascent.  It's a mack daddy climb and takes you up to the high point and the 1/2 way mark in the race.  After I was unable to shake her on the smaller climbs, I knew that Columbine was my only chance to really try to gap her.  I took a really quick rolling feed with a musette bag from Greg and then basically put my head down and rode hard up the climb.  It takes nearly an hour an a half, so from the base I just picked up the tempo and stared at my odometer trying to push the mph numbers a bit higher and higher.  Within the first few minutes of the climb, I had lost sight of Amanda behind me, so I kept hammering and dug pretty deep for the rest of the climb.   At this point, I was catching a few more men and working my way up into the low 20's overall.  Since the climb switchbacks through the trees for 3/4 of the ascent, I could not see Amanda and did not know if she was just behind me on the next bend or if I was opening a growing gap.  I kept the pressure on and started to feel some cramping on the upper super steep sections.  I drank, ate, popped some Endurolytes and kept focusing upwards.  I reached the summit above treeline and could not yet see her behind me.  Since this course is out and back,  I looked at my Suunto watch and began keeping times so I could calculate the gap when I saw her climbing.  By my watch I had made about 5-6 minutes on her during the climb.  From that point on, there was no looking back.  The gap continued to open for the rest of the race, but I was not settling for just the win.  I now had my eyes on the course record.  I also knew that a 10 minute lead is nothing if you get a flat tire or mechanical, so I kept pushing super hard until my tires touched the red carpet at the finish.  I was so tired from the effort that I could not even raise my hands at the finish!  I could smile from ear to ear though!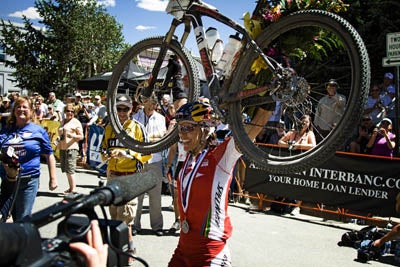 How was this race different from last year aside from the conditions for you?
The big difference this year is that last year, this race was icing on the cake after winning 24 hr worlds for the 3rd time.  That race was my main priority for 2009 and Leadville was basically just a bonus race.  This year, Leadville became my #1 focus race for the season and all of my training, racing and planning was centered around this race.  I went out 10 days early to learn the course and acclimatize.  I memorized sections of the course and time splits that I wanted to try to hit.  My training was shorter and focused on an 8 hour effort instead of 24 hrs.  I was much more specifically prepared for the 2010 race.  It was scary to put all your focus and commitment into one day, but in the end it paid off. 

Any mechanicals?
No bike mechanicals.  The equipment was perfect.  Specialized S-Works Stumpy 29er hard tail and SRAM/Avid components.  Seriously, not one issue with my bike.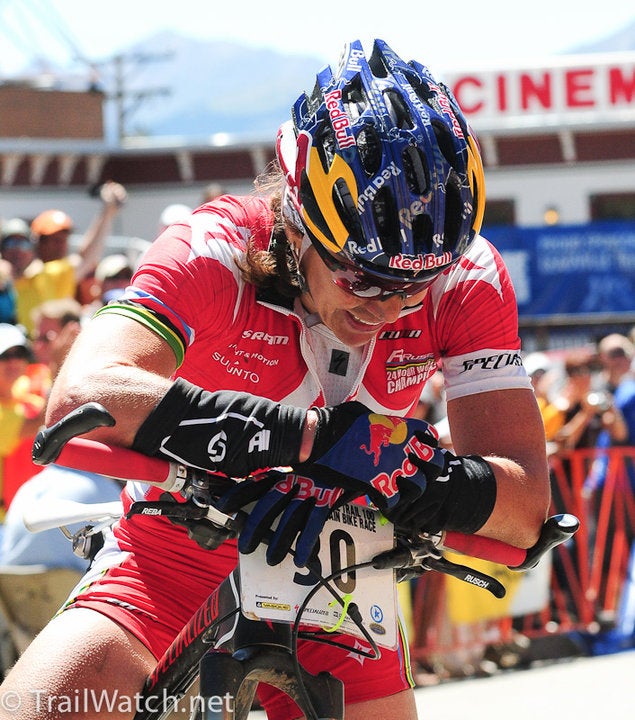 Did you stop at any aid stations? Who was your support?
I did not stop at any aid stations.  After watching the film Race Across the Sky last year, I saw how the top guys just grabbed musette bags and kept rolling.  Again, road tactics implemented into a mountain bike race. I had never done this before, so my boyfriend, Greg and I practiced the day before and we nailed it on race day.  I figure that saved me at least 5 minutes during the race.  The only time I did actually stop and get off my bike was 10 miles before the finish, there was a neutral aid station at the top of a climb.  At this point, I was cramping badly, out of food and water and trying to get to the finish.  They had big jugs of water there, so I put a foot down to fill my water bottle.  When I did this, my calf seized up and I fell over onto my side.  The aid station volunteers stared at me in horror not knowing what to do.  As I quickly massaged, the cramp away and they filled my water I asked if they had any electrolytes.  There was a panic shuffling around and then someone said all they had was a salt shaker.  They handed it to me, I shook it straight into my mouth and rode away.  I'm not sure if it helped or not, but it was a comical, desperate moment.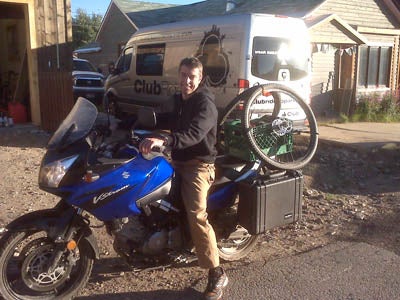 For the rest of the aid stations, Greg Martin, my BF was my crew.  He brought his motorcycle so he could get to aid stations quickly.  He went out the day before and scouted all the routes and we had a game plan with the musette bags and where he was going to do the hand offs.  It was a huge confidence boost for me to have him there because he's a world champ athlete himself and he knows how I race, what I eat, what motivates me.  I got to see him about 6 times during the race and it gave me motivation every time.  He was keeping time splits for the placing and also the course record.  It was also really special to see him waiting for me at the finish line and being even more excited than I was. 

What was you pre race fuel?
Since it's such an early start, I only had coffee, water and a really light smoothie before the start.  I did not want to fill my belly with a bunch of food before racing.  Since I was skimping on breakfast, I just made a point to be sure to start fueling with all my Hammer Nutrition as soon as the gun went off.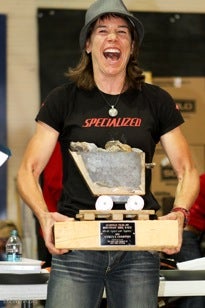 How much do you "warm up" for an event like this? 
I warmed up about 40 minutes.  My normal warm up is about an hour, but I condensed it slightly because of the super early start.   Last year I did not warm up at all, but I knew that I wanted to be ready to race from the gun instead of taking 30 minutes to get into it.  I did not want to give away any time from the start.

What about pre race dinner?
Dinner was at the house I rented.  Ginger chicken, rice, veggies.  Greg made the meal and it was awesome.  I had a group of friends with me and we did not talk at all about bike racing. It was a really relaxing diversion.

Was this a A race for you?
it was THE A race for 2010.

What's next on your plate?
I am helping out with the brand new 24 Hours of Leadville in a few weeks.  I'm hoping to pull together a fun women's team of friends. After that, I have not yet planned the rest of the season.  I'm working on that right now.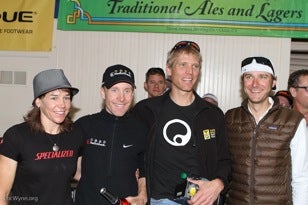 Are they going to make another movie tour out of this race?
Yes, Citizen Pictures was there again this year with more cameras, a bigger budget and commitment to air the film around the world again.  I will absolutely be involved with the film showings and hopefully help bring the film to as many places as possible.

Do you anticipate any female roadies on the scene for 2011? First there was Lance and now Levi.
I don't know.  I would not be surprised, but I guess it all depends on how this race fits into their primary race season.  There are plenty of women (mtb and road)  out there who could do really well at this race.  I never count out any competition.  People kept asking me this year who would be tough, who I was watching.  Frankly, I really just focused on myself leading up to the race. I made sure I was as prepared as I could personally be, regardless of who else was lining up. That's the only way I know how to do it.

How did you like the 29 inch wheels and what made you choose that over the Era?
The Stumpy 29 hard tail is perfect for this race course.  I rode the same bike last year in Leadville.  This year, I added a few upgrades from SRAM, but essentially it was the same bike.    I love it for this course because it rides like a road bike.  It's super light (20.4lbs), fast and nimble.  There are few technical sections on this course, so I felt I did not need the suspension.  I chose the Era when the course is more technical, or when I'm riding a 24 hour race and I need the suspension for comfort.  The bottom line is that bikes are like shoes.  You cannot have just one.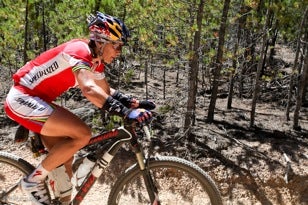 What tires did you run?
Specialized S-Works Fast Trak LK.  Front tire with standard tread.  Back tire with center knobs cut down.

What is the biggest benefit for the 29 in your opinion?
It wants to roll over obstacles instead of smash into them.  It really does float.

What's next up on your plate?
You already asked that!

Heh Heh. Seeing if you are paying attention.
Here is a cool video from the race.

One more thing:  The Gentlemen's Award in my book for the 2010 LT100 goes to Ned Overend.
At the top of the very first climb (St. Kevin's) and about 40 minutes into the race, Specialized rider Todd Wells and Levi Leipheimer crashed into each other.  Levi fell and Todd ended up flatting and breaking 6 spokes in his front wheel.  These were the top 5 guys in the race, including Ned Overend.  Ned and Todd were on the same bike (2011 Specialized Epic 29er), so Ned gave Todd his wheel and the race continued on.  Ned rode down the really difficult Powerline descent on a carbon wheel with 6 spokes missing.  He rode about 12 more miles to the first aid station.  The only Specialized wheels available there were mine.  He took my front wheel, put it on his bike, then waited for me to go through the aid station to make sure I would not need my wheel.  After I passed through, he started racing again.  I found all of this out after the race.  I remember seeing Ned climbing Columbine as I was descending and I was confused about why he was behind me.  The really great part is he also was not able to catch me for the remaining 60 miles.  That was a little victory for me to be able to stay in front of the legend, Deadly Nedly!  Thanks for being such an awesome teammate, Ned.
Trending on Outside Online