Returning to New York City's Daily Bike Commute After 14 Years Away
The Big Apple has changed a lot since 2009 with the introduction of bike lanes, micro-mobility gadgets, and the CitiBike program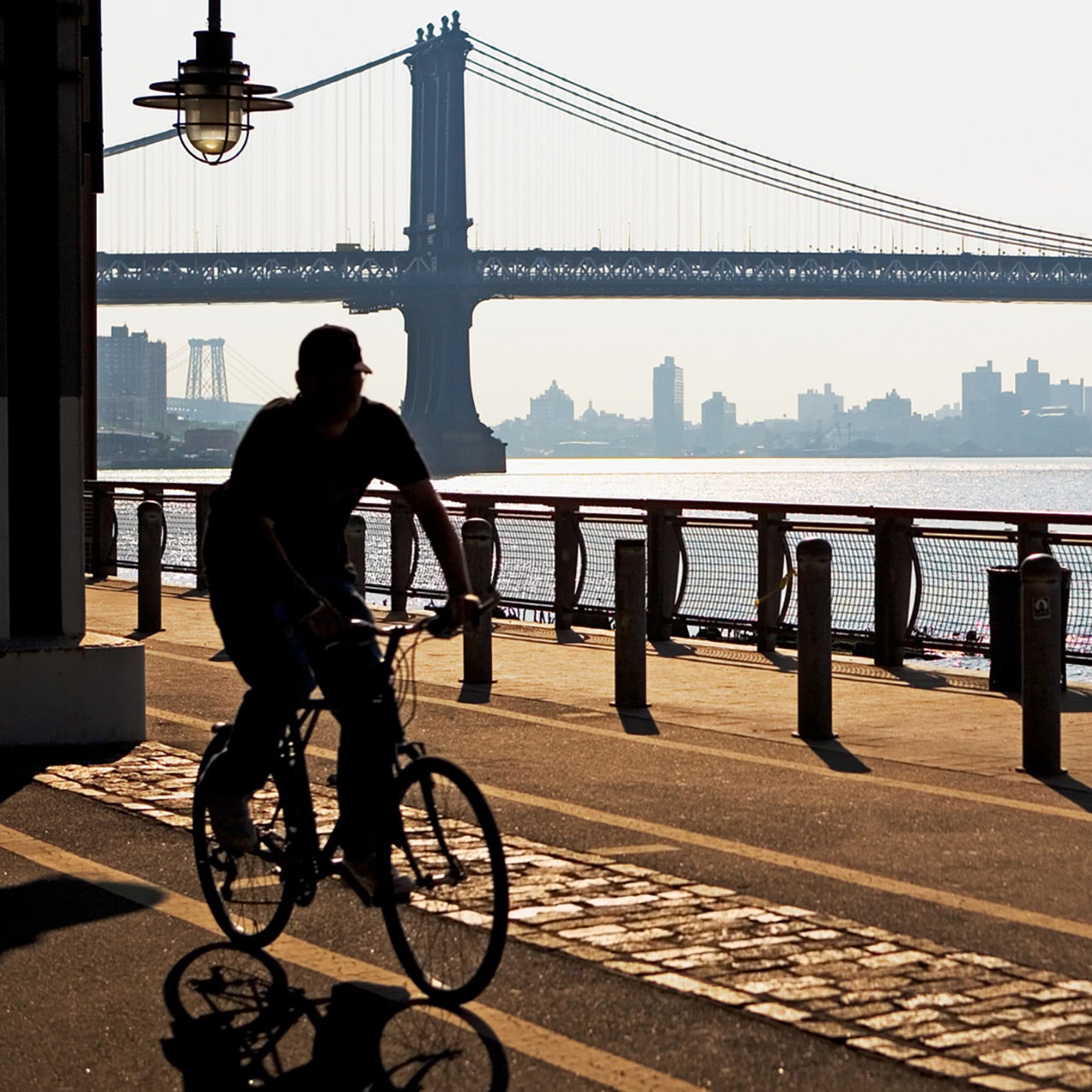 Getty Images
Heading out the door? Read this article on the new Outside+ app available now on iOS devices for members! Download the app.
2023 was a big year for me. For one thing, I was coronated as king of the United Kingdom and the commonwealth realms at Westminster Abbey, which is a pretty big deal. Also, I started commuting by bike again in New York City for the first time since 2009, which is even more significant.
That's not to say I had left New York City or stopped riding in the interim—I didn't, and I didn't. But riding for pleasure, and riding through the city during the morning and evening rush to the same destination on a regular basis in order to perform services in exchange for monetary compensation, are two very different experiences. So after a 14-year hiatus, I returned to bike commuting. It felt like I was returning to a new metropolis, and one that I was seeing with new (or, more accurately, old) eyes.
When I stopped commuting in 2009, the mayor of New York City was this rich guy, Mike Bloomberg. Bloomberg's plan was to gussy up the city, presumably so it would be tolerable to him while he wasn't at his home in Bermuda. To that end, Bloomberg appointed this woman named Janette Sadik-Khan as commissioner of the Department of Transportation. Sadik-Khan had an idea that was considered very radical in America at the time: people should be able to ride bikes and walk in a city without getting run over by motor vehicles. So, she started installing plazas and bicycle lanes, including the city's very first "protected" bike lane (meaning bicyclists were ostensibly sheltered from motor vehicle traffic), which opened on 9th Avenue in Manhattan in 2007. By 2009, the city had built 200 miles of bike lanes, though barely five miles of that was physically separated from car traffic.
Nevertheless, those were heady days indeed, and cycling was very much in the zeitgeist. Everywhere you went, hipsters were inexpertly piloting brakeless fixies. The New York Times had a regular cycling column called "Spokes"—their first since the "Gossip of the Cyclers," which used to run back in the 19th century during the original bike boom. Talking Heads frontman David Byrne became New York City cycling's unofficial spokesperson, and he even hosted sort of a cycling variety show as part of the New Yorker Festival. All of this resulted in endless hand-wringing over whether or not all this was to blame for New York City's hyper-gentrification (an unanswerable question really, it's a chicken-and-egg type thing), and how difficult it was becoming for pompous windbags to park their Jaguars.
Meanwhile, for all this excitement, these things didn't even exist in New York in 2009:
Citi Bike bicycle share program (launched in May 2013)
Uber (launched in New York City in 2011) and Lyft (launched in New York City in 2014)
Ebikes, escooters, other e-stuff (I mean I'm sure they existed, but they weren't a thing, and virtually all bicycles were still fully human-powered)
Chick-fil-A (launched in New York City in 2015, doesn't have all that much to do with bikes, but it seems worth mentioning)
Anyway, that's what things were like when I stopped commuting. Now I'm back. Perhaps the biggest change, at least on paper, is the increase in the size of the city's bicycle network, which now consists of over 1,400 miles, 590 of which are protected. In 2009, the city estimated that around 24,000 people per day commuted to work by bike; now it's around 54,000—still a pretty small piece of the overall transit picture, but a sizeable increase nevertheless. Then there's Citi Bike. As I mentioned, in 2009 it wasn't even a thing. Now it's celebrating its tenth anniversary, is the largest bike share program in the country, and as of this past April the system averaged over 90,000 trips per day.
But as far as actually riding in the city goes, the biggest change I've seen by far is what people are riding. Back in 2009 the height of folly was someone skip-stopping a brakeless fixie down the Williamsburg Bridge path and exploding their tire in the process. (Yes, I've seen it.) Now it's someone in a full-face helmet and motorcycle leathers coming at you on an electric unicycle at 40mph. Riders clad head-to-toe in protective gear ply the city's greenways on high-speed electric scooters like they're probing the surface of an alien planet. Pedal-assist e-bikes have given way to full-on electric motorcycles, and thanks to the preponderance of food delivery apps, there is now a steady stream of both electrified and gasoline-powered motorscooters in the bike lane. It now seems like every time I change direction on my bicycle there's an electrified something-or-other on my flank in the process of overtaking me, resulting in a near-miss, and sometimes to pedal an old-fashioned bicycle in New York City is to feel like a nineteenth century dandy who's fallen through a wormhole in time, bewildered by the bizarre electrified world in which he's now found himself.
Meanwhile, while drivers were always crazy, their reckless has now taken on an additional dimension of wild abandon. Sure, they were always like the psycho in the thriller movie, but now they're like the psycho after he's been stabbed and left for dead but it turns out the stabbing only made him angrier. License plates are a thing of the past, and people just drive around with pieces of paper taped to their tinted windows, their vehicles exuding the scent of the week. They don't just sneak through intersections a second or two after the light turns red; now they just fully run the light in exactly the way people have always accused cyclists of doing it. Car-salmoning too has become commonplace, and it's not unusual to see someone speed into the oncoming lane in order to cut to the front of the line at the red light they then proceed to run. During the time I wasn't commuting it became fashionable for city officials to talk about how they were going to "break the car culture," but there's now more traffic than ever, thanks in no small part to all those Ubers and Lyfts.
In 2009 there was a sense that we were on the verge of a transformation, and that it wouldn't be long before the city resembled its forbear, Amsterdam. To be sure, there are more cyclists, and more bike lanes, but there's also more…everything. It's not so much a transformation as it is an intensification. In 2009 New York City saw the fewest number of traffic deaths in the 100 years since it started counting them; this number included 12 cyclists. In 2018 the city saw another all-time low, when "only" ten cyclists were killed. But in 2019 that number went up to 29; in 2020 it was 24; in 2021 it was 18; and in 2022 it was 17. Is this simply the result of the increased number of cyclists on the roads? Is it the e-bikes? The unregistered cars and mopeds? The lawlessness of the lockdown years? The backlash against traffic stops? The unprecedented traffic? The massive shift to Internet shopping and all the truck traffic that comes with it? The legal weed? Depending on what your own personal agenda is you'll likely blame one thing over the others, but most likely it's a mix of all of them, whipped into a froth by the churning and roiling that has always characterized life in New York.
There is one thing that hasn't changed in all those years though, and it's that for all the mishigas, it's still deeply and profoundly enjoyable to ride a bicycle in New York City. Yes, it can be fraught at times, and the bike lanes are often blocked, but once you learn how to deal with that (or revert to the way we all rode before bike lanes were a thing) you can focus on savoring the freedom from traffic jams and timetables and transit delays and the beauty of pedaling along the Hudson River as the sun sets behind the New Jersey Palisades. Yes, New York changes so much and so quickly that even the skyline itself is much different than it was in 2009. But the transcendent feeling you get when ride into it from across the river is always the same.
Anyway, it sure beats riding the subway.
Lead Photo: Getty Images