Riders on the Storm: Colorado Cyclists Come Together After Floods
Flooding along Colorado's Front Range kept cyclists off their bikes for days. Now, they're back on the roads with a new sense of camaraderie.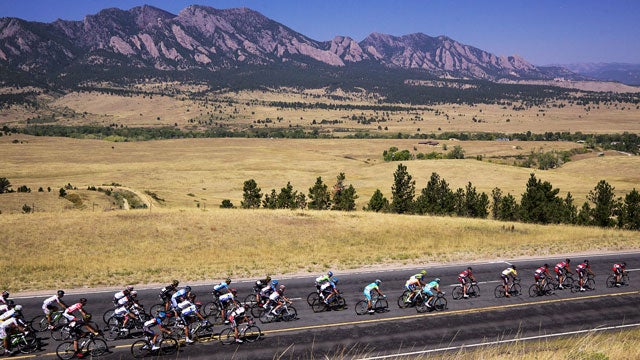 Ben Klaus(Photo)
Heading out the door? Read this article on the new Outside+ app available now on iOS devices for members! Download the app.
Clad in our best pajamas (mine, it must be said, floods), we shifted our feet in the rising water, drowning our anxiety with gossip. I hadn't ridden my bicycle since the sky had cracked, and I worried aloud about my training plan. I secretly hoped, if only for a moment, that my basement would flood, too, so I wouldn't be consigned to the trainer.
My Front Range roadie friends and I are going crazy. The Boulder and Larimer floods have turned our premier rides—the veinal canyons that rip the Rockies—into huge culverts, wiping out roads, homes, entire towns. The inconvenience is temporary and trivial for those of us merely put off our favorite roads. It may even be callous to mention. Yet so much of serious amateur athletics is selfish. We don't acknowledge the oxymoron. What are America's fittest cities to do if they can't out-Strava one another on steep canyon climbs, or engage in daily, unofficial stage races?
A relatively recent convert to cycling, I bridged the gap to middle age and a post-divorce life by becoming a fervent amateur racer, a Cat 4. I used to bench twice my bodyweight; now I'm lithe, legs shaved and shiny. The Front Range—if not all of Colorado—has a way of turning otherwise sane, productive people into obsessives and weight weenies. Moderation's for flatlanders.
Shut out of our beloved hills, our tribe has been forced to improvise. One local triathlete is preparing for the Virginia Triple Iron by doing seven hours of a 16-minute loop, drilling himself into the ground. A Boulder racer gets his interval and hill work, normally supplied by long, creek-side grinds into Sunshine and Lefthand Canyons, by scaling the two miles to the National Center for Atmospheric Research—12 times a ride. Others respond with a 13th repeat, eleven-plus-minutes a pop.
Sullen Cat 4s in skinsuits line up outside my gym. They want to be first inside to lay claim to the best spin-class machines where they form an echelon in the crosswind of the instructor's fan. Burying themselves in pretense, the high C in the instructor's song becomes the sprint sign at the crown of the false flat. Their classmates stand on the pedals and do the prancing pony. I've never been called a "Crash 4" indoors.
Many of us are fanning out on the eastern plains, discovering new roads in the places we thought we knew, particularly the flat, seemingly endless ribbons of dirt that unspool through the grass. But the canyons remain our proving grounds. Everyone knows the meaning of the mailboxes and who is and who isn't the KOM.
Recently, before the deluge, I was hammering up Lefthand when the air got abruptly humid. A pack from New Zealand's PureBlack race team blew by—a churning, steaming train producing its own weather. I hopped on and sucked the last wheel for close to a mile before getting spit out the back. I pedaled faster than I thought I could, then all of a sudden much slower. "Hammering" became a bluntly relative term. Again. I was old and fat, but also inspired. The Kiwis and I shared chocolate chips at the general store at the top, swapped stories about shaving a minute off personal bests and how someday the Tours of Utah and Colorado would lead to France.
If all ditches want to be creeks, and all creeks want to be rivers, and all rivers want to be floods, then all rec riders want to become racers, and all racers fantasize they're pros. But something strange has happened in the wake of the floods: We've been busted out of our narcissistic training bubbles. The fastest guys trying to drop everyone else in the canyon are now helping us all work together, pulling each other to the summit.
Even before the rain had settled to a steady drizzle, the leaders of our Lycra-clad community had started soliciting cyclocross racers for donations—offering up even bigger brats, better beer, and barrel-roasted s'mores at the start of the otherwise free 'cross races. Cyclists 4 Jamestown, a grassroots group, is partnering with local teams Naked Women's Racing and RealD Amgen as well as Bissell Pro Cycling, to host another fundraiser later this month in support of one of the many mountain towns cutoff and devastated by the flood. Through the sale of area trail maps, Fort Collins and Loveland's Peloton Cycles is coming to the aid of a fellow shop, Redstone Cyclery in Lyons, an enclave on the Lefthand and St. Vrain loops that awoke one morning during the rain to find it had become an island.
The money can't begin to impact the millions of dollars in repairs the region faces, but it'll help a few families who've lost their homes or worse to the water. Eventually, with cooperation, there will be gravel through the canyons again. Then hard surface. Maybe we'll remember the best part of racing is the fellowship, that the best training plans put us into position to help a teammate and, depending upon circumstances, a stranger.
Lead Photo: Ben Klaus