Ryder Hesjedal Reflects on Winning the Giro d'Italia
Heading out the door? Read this article on the new Outside+ app available now on iOS devices for members! Download the app.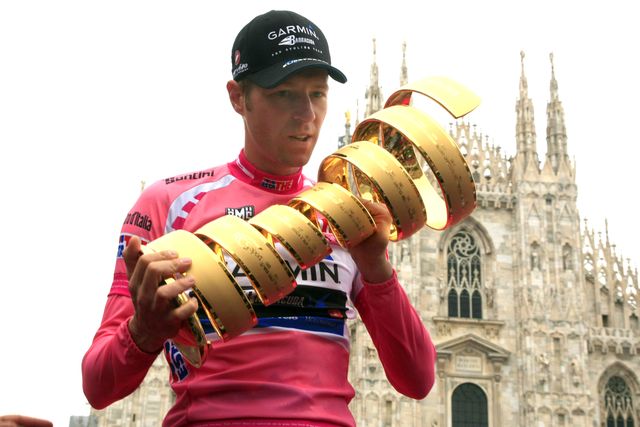 Hesjedal takes the trophy in Milan. Photo: Garmin-Barracuda
On Sunday, Ryder Hesjedal won the Giro d'Italia to become the first Canadian in history to stand atop a Grand Tour podium. The three-week race turned into a tense, tactical battle between Hesjedal and Spaniard Joaquim Rodríguez, with the two flip-flopping in and out of the race lead after Hesjedal first assumed control on the Stage 7 mountaintop finish at Rocca del Cambio.
The drama persisted all the way to the final day's 28.2-kilometer individual time trial in Milan. Rodriguez started with a 31-second lead over the Canadian, but Hesjedal rode the course 47 seconds faster than the Spanish climber to take the overall title by a slim 16 seconds. It was the fourth smallest margin of victory in a Grand Tour in history. At one minute and 39 seconds back, Belgian Thomas de Gendt rounded out the podium.
It was the first Grand Tour victory for Hesjedal, as well as for his team, Garmin-Barracuda. Founded on a strong, anti-doping platform in 2007 by retired U.S. racer Jonathan Vaughters, Garmin has long been considered a model for clean racing. Overall victory at one the world's biggest bike races is sure to be seen as a continuing sign that the sport is moving forward from its scandalous past. "We don't think of ourselves in those terms," Hesjedal said of his team. "Doing things right is just what we do."
We spoke with the Canadian this morning after he'd just traveled from Milan to the Garmin training complex in Calpe, Spain.
So you won the Giro. Congrats! Has it sunk in yet?
Yeah, I mean it pretty much sank in when I was standing up there on the podium on Sunday. I'm the 2012 Giro d'Italia winner, and that's just the way it is. I'm happy, for sure, but it's hard to describe exactly how it feels. Achievements like this don't come easy or often. I've been working a long time to stand where I stand now. All that work is what makes it sink in.
How did you celebrate?
By not riding. Not having the stress of racing. The night after the race, we had a nice meal with the team at a mom-and-pop-style family restaurant. It was the whole team and my friends and family who came over to see the end of the race. Since then I've just been eating well, sleeping in late. You know, basically just getting myself sorted.
You didn't come from mountain biking to road racing until 2005. Did you always dream of winning a Grand Tour?
Definitely. As I progressed in mountain biking and went to Europe to race the World Cups, I was learning about road racing culture and what was out there, and I was just drawn to it. In Victoria, which is the best place to train in Canada, you do most of your training on the road and lots of pro road riders are there training too, so you're already a road rider even though you're racing on the mountain bike. I turned pro with U.S. Postal while I was still racing on mountain.
You went into the Giro as Garmin's GC rider. At the start, did you believe you could win?
I believed that I could do well, and I prepared to have the best race I could ever have. I didn't fixate on any particular result. There are too many variables, and when you've never won a grand tour before, you can't go in thinking, "Yeah, I'm going to win this." But the longer the race went on and I was still up there, the more I realized I could have a very good race. Now that I've won the Giro, do I believe that I could do it again? Certainly.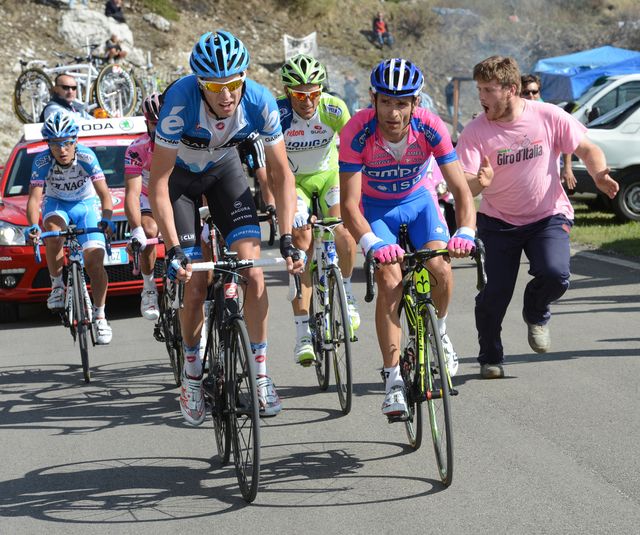 Hesjedal leads the favorites on Stage 17. Photo: Garmin-Barracuda
When did you start believing?
I guess deep down I really started to believe I had a chance once I pulled on the pink jersey [Stage 7]. On the first day, when I was ahead of all the GC riders after the TT, I looked around at that point and saw that I was in a good situation. Then, the first time I pulled on the jersey, I knew I was doing something special. That alone would have made the whole race a success. I wore the jersey for three days, meaning that I was winning the race for three days after the first week. And I was never lower than three places after that.
Other than the overall win, what was the highlight of your Giro?
There were so many of them, but I think the best one was when the Giro came back to Italy [Stage 4]. The first stage back in Italy was when we won the team time trial and put [Ramunas Navardauskas] in the jersey. We had won one of the most prestigious races in the world. To show everyone that we were the best team in the world was a proud moment.
What does the win mean for a team like Garmin, which has staked its reputation on racing clean?
The win is huge simply because it's the first grand tour title for the organization. As far as clean cycling, it says everything. In all honesty, we don't even think about the team in terms of being clean anymore. That's just what it is. Everything we've ever done has been the right and good way.
What do you say to fans who have become disillusioned by all the scandals?
Obviously there's a history, but everything has its past. You have to look at the present, and right now cycling is doing and has done more than any other sport to combat doping. Fans shouldn't be disillusioned. They can be sure that cycling is clean and honest, and I'm proof of that. Myself and Christian [Vande Velde, Hesjedal's teammate and one of his top domestiques in the mountains] were tested at least 10 times throughout the race. On the last day, I had a blood and urine sample taken before the time trial and then another blood sample taken after the race. No other sport does that. Period. And we as racers are willing to do it so that everyone knows the sport is clean.
Now that you've won the Giro, are you thinking about the Tour de France?
Right now I'm enjoying winning the Giro, but the Tour has always been a goal. But it's not so simple as what you want. It becomes about looking at where you're at, what races suit you, what the team needs, and figuring out what makes sense. It's already been a big season for me. I already have 40 race days. And I'll probably do another 30 this year. So you have to be selective about what you ride. We'll sit down in the next week and decide about the Tour.
When will you get back on the bike?
It's as much mental as physical. Everyone responds and recovers differently. You start riding when you feel like pedaling again. Right now, I haven't touched the bike since the race. But probably sometime this week I'll go for a ride.
—Aaron Gulley