Sarah Kaufmann: XC/Endurance MTB Racer
Heading out the door? Read this article on the new Outside+ app available now on iOS devices for members! Download the app.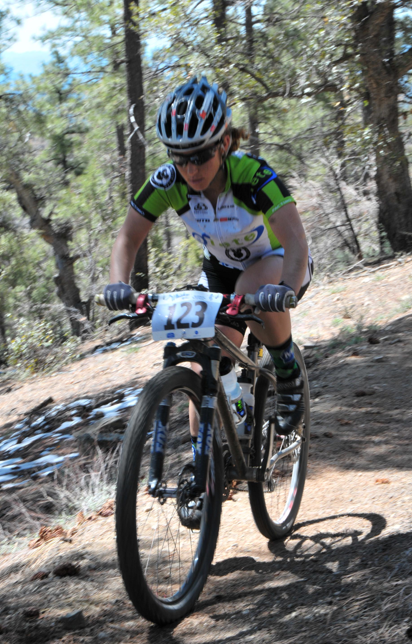 I've known Sarah Kaufmann for a few years now. A new job at Elete brought Sarah to Utah and has given her a good opportunity to succeed at both work and racing. She came in second at 24-hour nationals in Moab and just finished second at the Whiskey 50.
Before she moved, I'd see her at a few local races, and we'd squeeze in a few training road rides. Earlier this year, she decided to escape the snow and come down to suuny So Cal to get in some mid-winter training and give some Elete demos in this area. It rained almost the entire time. I know the most memorable ride for her was in my living room. Nothing like sweating out an LSD ride to some bad reality TV, though some may find that motivating. I checked in with her after her visit to see how work and riding are going for her.
How are you liking Utah?
Utah has been great. As a rider, the winter was tough but when the weather is clear, the riding is awesome and the trails are super fun. I feel really welcomed by the riding community here in Ogden, including the local shop, Bingham Cyclery, which made the transition a lot easier. It also helps that I am not the type who wants to go out and party every night. There's, um, not much of that.
What about the snow? Big adjustment?
Yeah, like I said, the winter was tough. I have had three knee surgeries on a torn ACL so I don't ski much anymore. I rode pretty much all winter–I did a few days on the trainer and a few days of snowshoeing–but I spent a lot of time on my bike wrapped in a million layers, just hating life. My boyfriend helped me build up a Surly Cross-Check frame I had into a winter machine; we put big 29er tires on it and full fenders. It wasn't fast or sexy but it rolled through some pretty nasty weather. When it got really cold, some of the trails were actually rideable. They'd get packed down by hikers and freeze. That helped break up some of the misery on the road. I had never ridden anything like that before. It wasn't horrible.
What do you do for Elete?
I am a sales rep. I help with some of the marketing, and I handle all of the sponsorship for events and athletes.

Why should I want to use that product as an athlete?
I found Elete when I got into endurance racing. I was hooked before long and was lucky enough to become a sponsored athlete. It wasn't until several years later when I started thinking about moving to Utah that I inquired about employment.
I started using Elete because I found that I could ride harder longer and recover faster than if I didn't use it. That simple. I've never been a big muscle cramper, but on the rare occasion that I do, a dose of Elete is a guaranteed fix. Because endurance athletes have such high demands for electrolytes, many of us are predisposed to deficiencies, especially of magnesium. Because our demands are so high, the only way to keep up with our electrolyte needs is to continuously replenish our stores. I carry around one of the small pocket bottles of Elete all the time and add it to water throughout the day. That way, I never start a ride or race without my electrolyte stores fully topped off. Most sports drinks don't have enough electrolytes–especially magnesium, because it's the most expensive electrolyte. But magnesium is essential for the conversion of adenosine triphosphate to energy.
How does racing/training fold into your job at Elete?
The company sees value in my racing, and they appreciate the credibility that I have as a professional athlete. As such, they've been flexible and creative with my schedule and responsibilities so that I can train and travel to races.
What are your big racing goals this year?
I was planning to go back to the Intermontane Challenge but just found out that the race was canceled. Now, I think I'll be doing the three-day solo option for the Transrockies. I will go back and race solo at the 24-Hour National Championships, and I'll do a lot of XC races and some longer, marathon-length stuff like the Mount Ogden 100K and the Park City Point to Point.
I saw you ripping it up out there for cross. Plan to do that again?
Yeah, cross is super fun, and the local series here in Salt Lake is great. I can't race cross without laughing–usually at myself when I try to get over the barriers.
Interesting to see endurance racers getting their red line on. How was that?
I think it is a nice compliment to the endurance pace. It's refreshing to do something so different.
What bike are you riding now?
I trade back and forth between my Titus Fireline and Racer-X. For most XC courses, the Fireline makes the most sense, but for the longer or more gnarly races, it's nice to have some suspension–particularly something that pedals as well as my Racer-X. Titus has been the only bike sponsor I've had–which is a good thing because they are one of the few companies that make a stock frame small enough for me.
How do you like your Scrub components? What size are your rotors?
I am stoked on the Scrub rotors. I can't tell the difference between standard steel rotors and the Scrubs as far as performance and stopping power–other than that the Scrubs scream when they get wet. Still, performance does not seem to be compromised…I just can't sneak up on anyone. I run the 160s.
What the most forgiving component on your bike?
A couple of years ago, I think I would have said the actual Racer-X frame. I remember so many times when I would get sloppy, feel like I was going down–I mean I was already bracing for impact–and that bike would just magically steer itself right. I have never found another bike with the superior handling of my Titus bikes. But, after a couple years of rolling on Stan's wheels, I've got to go with those. Not that the frame isn't super forgiving…but I don't think I have quite as many of those super-close calls. Those wheels are dead-on; point and shoot. And that's saying a lot on bikes that have either no rear suspension or 3.5″ and 3″ up front. Pretty rad.
Better Ride had a camp that came through So Cal. Sorry I missed it. What do you do for them?
Next time Gene Hamilton comes through So Cal, take his camp! Cannot emphasize this enough. Gene's gift is his ability to articulate the physical movements required to master various skills. Lots of 'ah ha' moments ensue in his presence.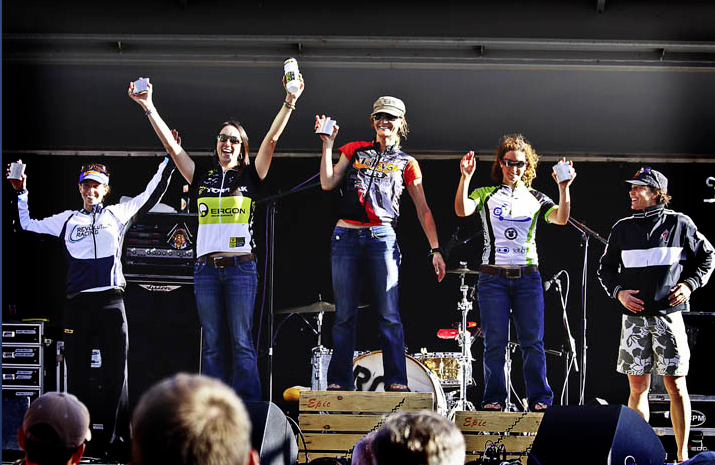 Nice job at the Whiskey 50. Was it a good battle? What's next?
To be honest, Whiskey wasn't a great race for me. But, as horrible as this is to say, I got lucky in that some people had a worse day.
Mostly local stuff coming up–some XC races, with some road races thrown in. I crashed really hard last week and am taking some forced rest right now. Turns out, it was a nice little lull in my racing calendar anyway, so the timing isn't horrible.
So, Nationals last year, very nice race for you. What did you learn in that one?
That was the first time I did a 24 that stayed so close for so long. Eszter Horanyi and I spent most of the race in second and third, pretty close together. It is both exhausting and motivating to be in such a close race. It turned out that the very lap when we passed first place at about 6 a.m. was the lap where I cracked and lost 20 minutes to Eszter. I remember thinking the race was over when I finished that lap, and I just wanted to hold on to second. But in retrospect, there were over five more hours of racing and in that context, 20 minutes doesn't seem so huge. At the time I felt like it was a lost cause, and all I could do was back off and just concentrate on holding onto second. But now I wonder what would have happened if I could have just kept a little more pressure on Eszter. There is a chance we both could have ridden 15 laps before it was over. I'm guessing Eszter would have just kept motoring along as strong as she did the whole race. But now I'll never know.
I made some tactical and nutrition errors that caught up with me. Note to self: Don't decide to try a new light system at 4 a.m. Although, in retrospect, it did get me hooked up with Light and Motion…. Execution is so challenging in those races and small mistakes can have huge consequences.
For your 24-hour Nat races, does your brother always support you? What makes him such a good pit crew–the Sarah Dance?
David has supported me at my last three 24-hour races. It's bizarre; he's a casual athlete himself, but he isn't super obsessive or studied. And yet, his gut instincts on what I should do or eat when I'm in a really bad way–suggestions I whined and pouted about and tried to resist–have been some of the most race-changing things I've done–for the better. At Nationals in 2008, he pulled me out of what I was sure was a race-ending bonk.
My boyfriend joked about how at Moab, David was doing complicated mathematical equations in the middle of the night to figure out how to mix my nutrition so that I could keep getting the right amount of Infinit mixed with my water, even though I was drinking less. I think everyone loses a few brain cells in a 24, support crew included. But David's nature is super relaxed, super focused, but still silly enough to make me laugh. That combination is pretty priceless. Plus, the Sarah Dance never hurts.
Sometimes I wonder what he'll eventually ask for in return for those 72 hours and counting he has dedicated to me…that could be some serious payback!
How did you get into riding?
I started riding to rehab the knee injury I mentioned. At first it was really casual, then I got into some touring, and I biked across the country–definitely the best way to see the country! I got into a (very) little road racing after that. But it wasn't until the guys at Roaring Mouse Cycles got me on a borrowed singlespeed mountain bike that was too big for me that I ever rode dirt. I was hooked.