South-of-the-Border Singletrack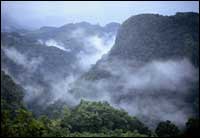 Heading out the door? Read this article on the new Outside+ app available now on iOS devices for members! Download the app.
Q: A few friends and I are planning a trip to Chiapas, Mexico to help build a church and would like to mountain bike a couple of days at the end of the trip. I would consider us as intermediate bikers. Any suggestions on where to go? Thanks.

Knobby Land?: The (almost) unridable rainforest of Chiapas
— Kevin Berry, Bel Air, Maryland
Adventure Advisor:

A: For obvious reasons, travelers to Chiapas in recent years have paid more attention to its politics than its singletrack. But the word from recent visitors to the area is that recreation tourism — which dropped considerably while Zapatista rebels clashed violently with the Mexican army — is making a strong comeback. And while mountain biking is included in the surge, it's hardly the region's activity of choice — after a couple hours of dragging a bike through muddy jungle paths, you might find yourself wishing you'd gone exploring on foot instead. Still, if you're dead set on getting your fat-tire fix, simply ask around once you're there — with new outfitters popping up almost daily, finding bikes and a guide should be easy.





If you don't mind peddling on pavement, however, the 140-mile road from San Cristobal to Palenque is considered to be one of Mexico's most scenic bike routes. You can make a shorter, two-day trip of it by biking the 34-mile, rainforest-rimmed road to Oxchuc, stopping to check out the caves at Las Grutas along the way. Spend the night in sleepy Oxchuc, then head back the next morning, taking a breather in the Tzotzil town of Huixtan, which overlooks the Sierra Madre range.


For a non-bike getaway option, several companies in San Cristobal de Las Casas offer trips to Agua Azul, where waterfalls tumble into deep blue pools in the middle of the jungle. Not far from there, you can rent a kayak at Agua Clara, which is almost as beautiful and feels considerably more remote.