The Spoke Word: Lance Armstrong Buys Stake in Honey Stinger
Heading out the door? Read this article on the new Outside+ app available now on iOS devices for members! Download the app.
Lance Armstrong is now part owner of the Honey Stinger brand of energy foods, based in Steamboat Springs, Colorado. Armstrong befriended company co-owner Len Zanni after moving to Aspen, Colorado, in 2008. Zanni, a high-level mountain bike racer, has teamed up with Armstrong in mountain bike races in Colorado, and the two frequently train together.
In addition to his established relationships with major brands like Nike, Oakley, and Nissan, Armstrong has also made a habit of getting involved with relatively smaller brands. In addition to his new Honey Stinger deal, Armstrong is also the spokesman for FRS energy drinks and part owner of the cycling-component company SRAM.
Full Honey Stinger press release below.
—John Bradley
@johnwbradley
Lance Armstrong Joins HoneyStinger Ownership Team
Seven-time Tour de Francechampion partners with natural foods company
April28, 2010 (Steamboat Springs, Colo.) – Honey Stinger, the manufacturer of honey-basednutritional foods, announces a partnership with professional cyclist LanceArmstrong. In addition to future product development and endorsement of HoneyStinger energy gels, bars and organic chews, Armstrong becomes part of theownership team in the Steamboat Springs-based company. 
 
"I firsttried Honey Stinger products during a mountain bike race in Colorado," saysArmstrong. "I was impressed with the great taste and energy they provided.Honey Stinger works for me in training and racing because you want to eat themand they work. I like the whole team – they understand what athletes need andthey're great to work with.  I'mexcited to be part of the Stinger team and work with them on expanding theproducts and business.

Armstrong first met Len Zanni, Honey Stinger's marketing director, when theyteamed up to race the 12 Hours of Snowmass mountain bike race outside Aspen in2008. The foundation for a new business partnership was hatched over the courseof long bike rides and get-togethers with company leaders.
BillGamber, an athlete/ entrepreneur, teamed up with his father William, a honeyindustry veteran, Bob Stahl, a food product developer, and John Miller, aprofessional beekeeper, to found Honey Stinger in 2002. Today, the companyproduces over 20 honey-based energy products that are distributedinternationally at specialty sporting goods retailers and natural food grocers.

"We're thrilled and honored to have the opportunity to work with an athlete ofLance's stature. Beyond his athletic achievements, Lance is an inspiration anda leader in the fight against cancer," states Bill Gamber. "Our relationshipwith Lance comes at a time when Honey Stinger is riding a wave of momentum andthis partnership is a major step for our brand."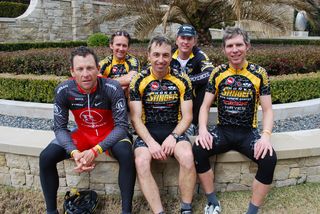 Trending on Outside Online