The Spoke Word: SRAM's 2010 Force Group Reviewed
Heading out the door? Read this article on the new Outside+ app available now on iOS devices for members! Download the app.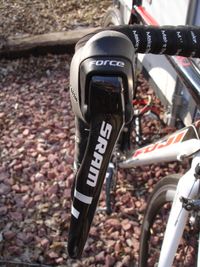 The Sea Otter Classic gets underway this week in Monterey,California. The multiday race/festival/trade-show hybrid has become anincreasingly important stage for new product announcements, falling as it doeshalfway between the bike industry's major fall trade shows.
My guess is that this year, Chicago-based SRAM will beunveiling a new and seriously improved version of its top-end Red road group. Isay this because, after a few months on the 2010 version of the company'smid-tier Force group, I think SRAM has removed any justification for buying thecurrent Red group. Force is that good.
The weight difference between the two groups is negligible;the full Force group (shifters, derailleurs, brakes, etc.) is about 3.5 ouncesheavier than Red. And the performance difference is almost imperceptible. Thecost difference, however, is hard to miss. At around $1,300, Force is about$800 cheaper than Red.
Like I said, expect a big announcement on a new Red groupthis week. Otherwise, SRAM would have been foolish for making Force as good asit is.
The 2010 Force group borrows a lot from Red. Short leverthrows; small, ergonomic hoods; long, comfortable brake levers; and independentreach adjustment for both the brake and shift levers (they can be moved closerto the bar for smaller hands or personal preference). Braking performance isalso similar. And the eye-catching graphics package is basically just agrey-scale version of Red.
There are some differences. Where Red has SRAM's "Zero Loss"technology for both front and rear shifts, Force has it only on the front. "ZeroLoss" is SRAM's terminology for a shifter design that delivers instant cableengagement. The moment you move a shift lever, the shifting begins—immediateand crisp. Force's front shifts are immediate, though just a slight step behindShimano's comparable Ultegra group. But even without Zero Loss out back, it takesonly a very short lever throw to initiate rear shifts, which feel smooth andfast, thanks in part to a redesigned rear cassette.
SRAM has already made huge inroads into the OEM market(selling to bike manufacturers who use their parts on the complete bikes theysell to stores). Shimano still holds the edge, but in the five years since SRAMentered the road market (has it really only been that long), the company hasseriously eroded the Japanese dominance. And in the OEM sweet spot of mid-tiergroups, bike shops are already full of bikes spec'd with the new Force.
Considering that just five years ago SRAM's sponsored proswere racing a much heavier and less refined version of Force in the Tour deFrance, this new iteration is more than enough for the enthusiast consumer. ForRed diehards, however, the latest and greatest should be just around thecorner.
—John Bradley
Twitter: @johnwbradley