The Spoke Word: Tyler Farrar Interview
Heading out the door? Read this article on the new Outside+ app available now on iOS devices for members! Download the app.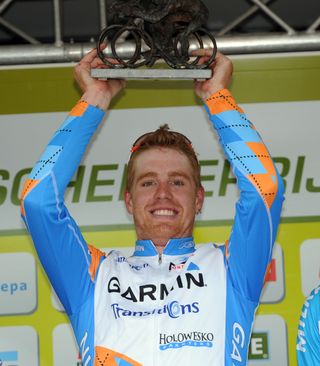 Tyler Farrar is a rarity among American cyclists in Europe. The 25-year-old, who rides for the Garmin-Transitions team, is both a specialist in the grueling one-day cobbled classics of spring and a world-class sprinter. Aside from George Hincapie, very few Americans have ever been competitive in both types of races. In fact, Farrar's ability to win both cobbled classics and the hectic bunch sprints that end the flat stages of the grand tours makes him a rarity among cyclists in general.
Last year Farrar started all three grand tours—the Giro d'Italia, Tour de France, and Vuelta a España—and won stage 11 of the Vuelta. He was also the only rider last year who seemed able to consistently push Mark Cavendish, the British sprint star who won 24 races last year, including six stages at the Tour de France.

Cavendish has had a rough start to 2010 after a tooth infection and subsequent surgery left him unable to train properly through the winter and early spring. Farrar, meanwhile, is coming off the best spring of his career, topping his 2009 Vuelta win with victories on his beloved cobbles—in the Grote Scheldeprijs and Stage 3 of the Three Days of De Panne—plus 5th at the Tour of Flanders.

I caught up with Farrar this week as he was putting the final touches on his preparation for tomorrow's start of the Giro d'Italia to find out what he has planned for the rest of the season.
—John Bradley

Twitter: @johnwbradley
How have things been for you since the classics ended?
Pretty good. Had a pretty busy spring up through Paris-Roubaix. Took a little under two weeks off after that, then came down to Girona, where I've been plugging away at the training, getting ready for the Giro.
What does time off mean for you?
After the spring classics I gave myself a whole week of the bike, really took a break. You train hard all winter and then it's a big stress of two and a half months of pretty serious racing. So a week off the bike and then another week where I was back riding every day, but not particularly hard. Then back into real training.
You had a great spring. Did you train any differently this winter, or is this just building on previous seasons?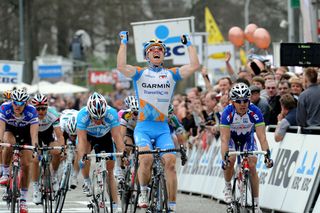 Mostly just building on previous seasons. Every winter we tweak a few things. Every year you learn more about yourself through your training and racing. So you're constantly tweaking your training. But we didn't really change anything major.
I think the biggest thing was that I had a really smooth winter and spring, never got really sick, never got hurt or anything like that. So I was able to keep in my routine and keep building the form. Last year I had pretty good form for the spring, then in the first classic I crashed and separated my shoulder. So I didn't even get to see where I was really at.
So this year everything went smooth. I couldn't really ask for better conditions.
Has the team come together as far as better lead-outs?
That's something we were working on last year. At the beginning of the year we were very inexperienced with it. As the year went on, we did more and got more experienced, then we brought in a few more riders this year who are strong for the sprints. And also with the guys we have, Julian, Dave, we know each other really well, so that helps a lot to make things go smoother.
What are your immediate goals?
The Giro starts Saturday. We're going there to chase stage wins. That's my goal, to try and win a stage. Then we have the team time trial early on which, for the team, is always a huge goal.
Are you doing all three grand tours again this year?
Tentatively that's the plan again this year. It worked pretty well last year. It's a lot of racing, but I seem to come out of it stronger in the end. I think my body needs a lot of racing. Plans change as the season goes on, but for now we're planning on racing all three.
Do you hope to finish all three, or is it more go for some stage wins then get out before you've pushed yourself too hard.
Yeah, I can pretty much guarantee I won't finish all three of them. That's asking a lot. Certainly it's not something you can repeat year after year. The one, of course, is the Tour. You go there with the full intention of riding to finish. No one quits the Tour by choice. With the Giro and the Vuelta it's more go in for two weeks, chase stages, then after that see where I am, how tired I am, that kind of thing.
Will you try to be in the mix for the green jersey?
I think it's a possibility, but there are a lot of factors that go into that. It's a bit of luck. If you have a flat one day in the sprint and you don't score any points, you're already behind. Going into the race, I'm not really worrying about it. So I'm going in with the goal of chasing stages. If we get 10 days in, 12 days in, something like that, and I'm still in the hunt for the green jersey, then I'll do everything I can to fight for it. But I'm not going into the race putting that pressure on myself.
Americans produce GC riders, great time-trialists, but sprinting has been the discipline where we haven't done as well. Now there are riders like you, Taylor Phinney, etc. winning sprints. Has there been a change, or are you guys an anomaly?
That's a tough one. There have been very few American sprinters. I don't know why. In theory, America should produce a lot of sprinters, because there's such a culture of criterium racing. That's the prime breeding ground for sprinters. But for whatever reason, there haven't been a lot. It happens to be what I'm good at, so that's what I do. It looks like Phinney's developing into a pretty quick guy, and there are a few other young guys who are quick. I don't know what brought it around, but there does seem to be a movement of young American sprinters.
I think one of the biggest things for why we've always developed GC riders is that that's what people are drawn to on T.V. That's what gets covered, the Tour and the yellow jersey. And when you've got a guy like Lance winning it year after year like he was, that's what young riders aspire to.
How helpful was the U.S. youth-development program in Belgium for you?
That program was huge for me. I spent a long time in it, my last year as a junior and three years as an under-23. That was crucial. Without that program, I don't know if I would have made it, period. That was the perfect stepping stone to get introduced to European racing and get noticed by European teams, and then move on from there.
Does the program mostly focus on one-day races?
No, they run a really balanced program. When I was there I did every type of racing there was. You do all the amateur and under-23 versions of the one-day classics, but they also go and do all the big under-23 stage races. They focus on everything. Any kind of rider can be properly exposed to the right races through that program.
Cavendish is racing the Tour of California instead of the Giro, so there's a good chance you won't compete against him until the Tour. Do you think he'll have recovered his form by then?
He has plenty of time to get on form. He just won a race recently. Even when he's not on great form he's a threat to win races. The Tour is still two months off. He has lots of time and racing to fine-tune his form. Looking toward the Tour, I see him as one of the main competitors for the sprint stages.
You got a reputation last year as the only guy who was really challenging Cavendish consistently. Do you think that's accurate?
I don't think it's that the other sprinters were afraid of him. It just kind of happened that he and I raced an almost identical race program for a big part of the year; so day in, day out, we kept going up against each other. I did beat him once, he beat me quite a few times, but I was always close, always running second. So I think that's why people thought that. But there were other sprinters who were pushing him hard last year. It was just the sheer number of times that he and I had relatively close sprints.
Do you like to have one guy to measure against, or does it not matter?
I don't like to focus on one rider. You get myopic, then you get beaten by someone else. I just focus on my own training and preparation and go into the races as good as I can. This year we've built up our lead-out train a bit more. Hopefully we can be the one's dictating how the final one or two kilometers of the stage go, and then it will put the weight on the other sprinters to have to beat me instead of me trying to beat another sprinter whose team has taken control of the race.
Would you rather win a spring classic like Flanders or Roubaix or a green jersey at the Tour, which would it be?
I'd take any of them! For a rider like me, those are the three most special think you could ever win. I think Flanders is my favorite race in the whole world. That's the one really special day of the year. There aren't any other races like it. So that one has a special place in my heart. But any of the three would be amazing.
Targeting the classics means your season starts very early. Will you push through to the fall and make a run at the World Championship?
I hope so. This year could be a course that suits a sprinter. It won't be a sprint from a group of 200 riders at the end. But it could be a sprint from a group of 50, and hopefully I would still be there. And next year is also a sprinter-friendly course. So this year and next the World Championships will be a goal for me.
I've always loved the classics. At the beginning of the year I thought of myself as a classics rider who had a decent sprint. It's just in the past couple of years that I developed into being a pretty quick sprinter, too. I maybe a better sprinter than classics rider now, but I can still go well when I'm really on form for the classics.
What differentiates a classics rider from a pure sprinter?
Different sprinters have different strengths. If you put me in a sprint after a 140k flat stage like at the Tour of Qatar, I'll have a hard time winning. There are several guys who can sprint maybe faster than me. But at the end of a hard 200, 250k, there are fewer guys who can stay with me. My sprint seems stronger relative to the other guys the harder the day is leading up to it. That's my strength, I guess, the hard days that end in a sprint.
Is it a problem that the Giro and the Tour of California overlap this year, or Is the Giro better for you?
I don't know about that. I would love to be able to do both. The Giro is a grand tour, one of the three biggest stage races in the world. But the Tour of California is the key American race. As an American, I would love to do that. You're kind of forced to choose, and the teams are forced to choose. This year there are not many sprint stages in California. They've gone for a spectacular, mountain-filled race, for the most part. If I went there, I might be doing two or three sprints for the whole race. At the Giro, there will be six or seven just in the first two weeks.
So the team looked at it and decided it was important for us to make a huge push for the GC in California, so we're going to send our climbers and time-trial specialists and go for the overall. Then they're sending me and a few other specialists to the Giro to go for stages there.
But you've got Christian VandeVelde at the Giro. He's certainly a GC rider.
Yeah. That's one of the luxuries of having 28 riders. Christian's big fish to fry is in July, the Tour. In 2008, he rode the Giro as preparation for the Tour, and then he was fourth at the Tour. So he wants to stick with the recipe that worked there, see if he can go a little better and get on the podium in France.
How long are you under contract with Garmin-Transitions?
Through 2011.
Do you prefer being on an American team? Does that even matter?
I like being on an American team. But I'd be happy to ride anywhere if it's a good team that's organized. Right now I'm really happy with Garmin-Transitions. But I started my career at Cofidis, which is a French team. I speak a few languages, so it's not like the language thing would be such an issue.
But one good thing about the American teams is they're all kind of the new school of cycling. They're all really cutting-edge. I like that. That's the direction cycling's going in. They're really open to new technologies, new training styles. They don't have the baggage that some of the old-school teams that have been around for a while have.
How much time will you spend in Europe?
I go home in November and stay through the holidays, then back to Europe in January. I'm here nine-and-a-half to 10 months a year. Gent, Belgium is sort of my home now.