Strava Lets You Compete With the Pros In Classic Races
A quick glance at the app's stats on the best-known segments of the upcoming Paris-Roubaix reveals a fascinating mix of professionals and amateurs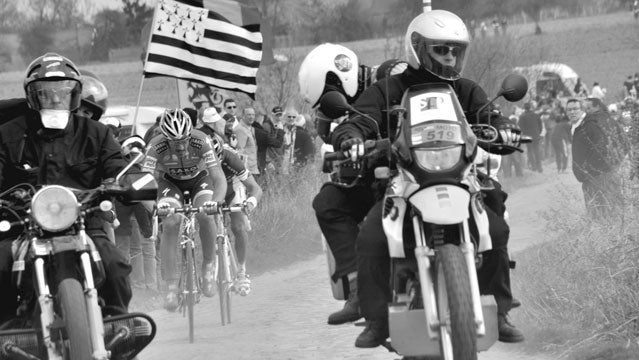 Heading out the door? Read this article on the new Outside+ app available now on iOS devices for members! Download the app.
This Sunday will mark the 110th running of the grueling cobblestone Paris Roubaix, better known as the Hell of the North, and my, how things have changed. Back in 1896, the French daily sports paper Le Vélo helped organize the first race as a means of promoting its circulation (can you imagine?). The route is different, too: For the first 70 years it started in Paris proper, while today it commences 37 miles north of the French capital in Compiègne and gets its extra mileage en route to Roubaix. As for the gear, the original riders were saddled with baggy wool kits and heavy steel bikes with mountain bike-width tires and leather satchels—a far cry from the high-tech skintight super-fabrics of today and the featherweight carbon rigs built to shave off seconds.
See Also: How Strava is Changing the Way We Ride

A new social-media app for cycling has more than a million riders racing, cheating, and even dying for virtual supremacy over the world's roads and trails
And then there's Strava, which announced earlier this month that it's keeping a running tally of the most important segments for Roubaix. The list isn't public yet, but you can easily find established segments for all the decisive cobbled sectors, including the legendary Trouée d'Arenberg and Carrefour de l'Arbre. And it's not just Paris-Roubaix. Strava has segments on all the major classics, including the Poggio in Milan-San Remo, the Oude Kwaremont and the Paterberg at the Tour of Flanders, and Liège-Bastogne-Liège's Côte de la Redoute and Côte de la Roche aux Faucons.
Just imagine trying to explain that to the 1896 Paris-Roubaix winner, Josef Fischer—that any old recreational cyclists could beat him, virtually, on portions of the most important races on the calendar.
A quick spin through some of the best-known segments reveals a fascinating mix of professionals and amateurs mixing it up for the KOMs. Taylor Phinney, for instance, holds the quickest time through the Carrefour de l'Arbre, and Ted King is fastest on Gent-Wevelgem's Monteberg, though neither of those times was set on race days. There are pros riding under fake names, too, likely because their teams forbid them from using Strava. By comparing race dates and times with riders' histories, though, it's not too tough to figure out who is who.
Better yet, you can simply go out and try and rack up a few Classics KOMs of your own. To that end, here's a partial list of some of the most important cobbled sectors at Roubaix:
Pavé de Quiévy: 3.7 km, 5 minutes 49 seconds
Trouée d'Arenberg: 2.3 km, 3 minutes 59 seconds
Mons-en-Pévèle: 3 km, 4 minutes 44 seconds
Cysoing à Bourghelles: 1.5 km, 2 minutes 25 seconds
Camphin–en–Pévèle: 1.8 km, 2 minutes 55 seconds
Carrefour de l'Arbre: 2 km, 3 minutes 8 seconds
Roubaix Velodrome: 0.5 km, 36 seconds
On the off chance you manage to wrest a KOM from the likes of Phinney, King, or any other pros out there, don't get too cocky. After all, not only are these guys riding segments in the context of race tactics and team strategies, but they're also registering their blistering times in the midst of long, hard days in the saddle. To even the playing field, try scoring a KOM or two in the midst of a 159-mile race pace effort.
Not read to go toe to toe? You can always watch the race (and the ever-shifting leaderboards) this Sunday.
Lead Photo: THS D90 via Flickr