The Vuelta a España Is an Absolute Shit Show Right Now
The Tour of Spain has been marred by crashes, acts of sabotage, rider protests, and plenty of controversy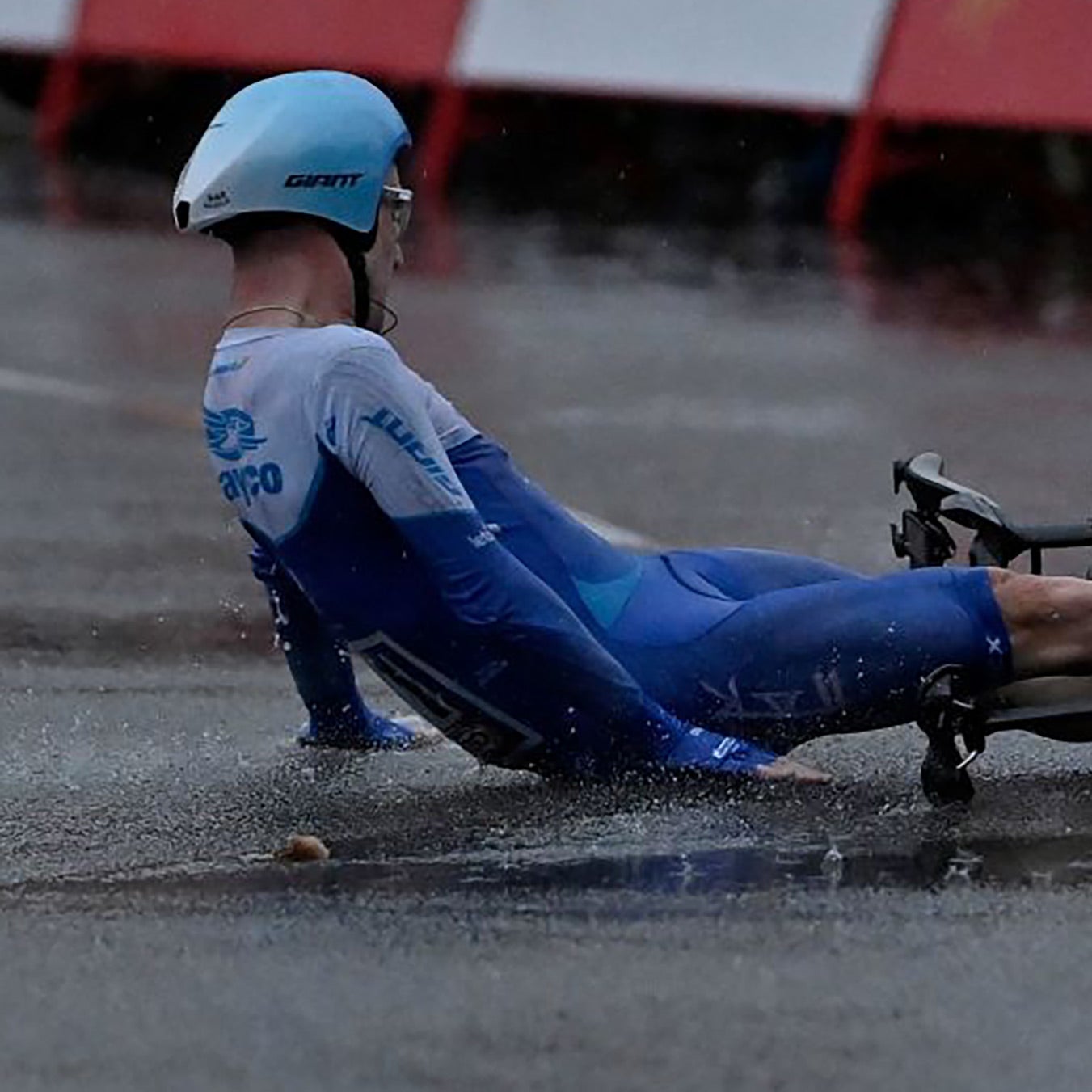 PAU BARRENA / Getty Images
Heading out the door? Read this article on the new Outside+ app available now on iOS devices for members! Download the app.
Monday's third stage of the Vuelta a España (the Tour of Spain) was shaping up to be epic.
The strongest cyclists in the race pedaled up the soaring Arinsal climb deep in Andorra, flanked on either side by steep Pyrenean peaks. As the group neared the finish, the race's defending champion, Remco Evenepoel of Belgium, bolted from the pack, with Jonas Vingegaard, the recently crowned champion of the Tour de France, nipping at his heels. It was going to be a sprint between two of the most thrilling male athletes in pro cycling, a brawny battle that would surely make cycling scribes (like yours truly) spill pages of ink.
And then it all went to hell.
Evenepoel crossed the line first, punching the air with excitement, but his happiness quickly turned to terror. For some reason, the Vuelta organizers had allowed photographers and team personnel to crowd the area just beyond the finish line. Evenepoel had no time to stop—he slammed into a woman at full speed and then cartwheeled into a metal fence. Staffers from Evenepoel's Soudal—Quick-Step team rushed to his side to see if he was injured, and he lay crumpled on the asphalt heaving for breath. When he finally stood up a few minutes later, blood streamed down his face.
😔No esta teniendo mucha suerte 🇧🇪Remco Evenepoel en estos tres primeros días de la Vuelta a España 🇪🇸 #LaVuelta23 #Noticiclismo #Ciclismo pic.twitter.com/wUaYgISmDV

— NotiCiclismo ➡ 🇪🇸 #LaVuelta23 (@Noticiclismo1) August 28, 2023
I watched this scene unfold in horror on the livestream. Let me tell you, I've attended a lot of professional bicycle races, and have been warned numerous times by race officials to clear the area just beyond the finish line. Organizers typically rope off a zone for media and team personnel that is far enough away to prevent collisions. Any cycling journalist (or fan) could plainly see that the crash was utterly preventable.
In a vacuum, this snafu could be viewed as a simple yet costly mistake. Organizers might chalk it up to a learning moment and then move on. But Evenepoel's crash was just one of multiple organizational disasters that have plagued the Vuelta since it began on Saturday, August 26. My colleague Andrew Hood, who is attending the Vuelta and covering it for Outside's sister publication Velo, counted nine costly kerfuffles—some of which were caused by race organizers, and others by fans, wet roads, or just bad luck. Teams are upset. Riders are sketched out. Nerves are getting frayed.
"We're not happy with it but we're just pawns in the game, aren't we," British rider Geraint Thomas said after Sunday's stage 2.
Could anything have been done to prevent Remco Evenepoel's crash after the line? 🤔@SportsOrla | @AdamBlythe89 | @daniellloyd1 | #LaVuelta23 pic.twitter.com/37CbZM0S5H

— Eurosport (@eurosport) August 28, 2023
The race got off on the wrong foot on Saturday in downtown Barcelona. This year, organizers began the Vuelta with an eight-mile team time trial, an event that requires all eight cyclists on a team to ride together in tight formation on aerodynamic time trial bikes. It's a terrifying race that requires total focus and precision, because the tighter the formation, the faster a team goes. But a momentary lapse in concentration can result in a nasty crash. For some reason, Vuelta organizers staged Saturday's event late in the evening, and as luck would have it, a major rainstorm blew in, drenching the streets and blotting out the sun. Riders crashed left and right, and the final teams to start had to finish in complete darkness.
So sad 😭

It's hard navigating the wet streets of Barcelona. It's a domino effect out there! 🥹😞 pic.twitter.com/77AESNIsGO

— Team Jayco AlUla (@GreenEDGEteam) August 26, 2023
"It's super dangerous," Evenepole told reporters afterward. "It's like driving your car 200 kilometers per hour on the highway in the dark without any lights."
The situation worsened during Sunday's stage 2, a 110-mile route from the town of Mataró to Barcelona. Roads were wet, and the mood inside the peloton was bad. Prior to stage 2, organizers shifted the location of the finish line not once but twice, and the confusion angered the riders. Broadcaster GCN reports that the peloton was on the verge of staging a protest and refusing to ride prior to the stage beginning. Then, with approximately 60 miles to go, the peloton slowed as multiple riders suffered flat tires at exactly the same time. As it turns out, saboteurs had thrown thumbtacks and nails onto the roadway just after a bend in the road. Sabotage like this happens from time to time in pro cycling—earlier this year troublemakers did the same thing at the Tour de France.
But things got worse after that. More rain drenched the roadway, and the route included twists, turns, and sketchy roundabouts. Riders crashed again and again—Evenepoel and pre-race favorite Primoz Roglic both hit the deck. So dangerous was the situation that riders from several teams attempted to call a truce on the road. This is when top riders feel that the course is simply too dangerous, and convince the peloton to pedal slowly to the finish line in an act of protest. That's exactly what happened, and the peloton pedaled the final 18 miles to the finish safely.
🧘 ¡@JumboVismaRoad pide calma!

🐝 🇳🇱 Dylan van Baarle and 🇩🇰 Jonas Vingegaard making attempts to slow the peloton down#LaVuelta23 pic.twitter.com/8CJniOzx6t

— La Vuelta (@lavuelta) August 27, 2023
But more weird and wacky stuff happened on stage 2. A gust of wind blew over barriers, tents, and tables at the finish line (no riders were hurt). The Jumbo-Visma team bus drove into a tree (no team officials were hurt) later that day. The race awarded bonus seconds atop a mid-race climb called the Castell de Montjuic, but officials seemingly didn't station a camera there to help determine which riders crossed the line first. Video circulated on social media showing race officials asking spectators atop the climb to share photos and footage to help them determine which riders earned the bonus time.
There is some good news, however. On Tuesday, Reuters reported that authorities stopped protestors who planned to spill 100 gallons of motor oil onto the roadway in an attempt to cause more mayhem.
"If you don't say anything they will not change it." – An agitated Remco Evenepoel at #LaVuelta23 pic.twitter.com/fX9FhND328

— Sophie Smith (@SophieSmith86) August 26, 2023
As you may know, bike races are prone to mishaps and organizational blunders. Perhaps you recall when the 2021 Tour de France was brought to a screeching halt when a spectator holding a cardboard sign caused a massive crash. But this Vuelta has packed perhaps a decade's worth of cycling mishaps into just three days of racing, which is quite an accomplishment, especially when you consider the race's lofty place within the sport. It is one of pro cycling's three "Grand Tours," alongside the Tour de France and the Giro d'Italia—three-week events that are supposed to represent the pinnacle of competition, prestige, and yes, organization. The Vuelta 2023 Vuelta has two out of three—and that's not good enough.
Lead Photo: PAU BARRENA / Getty Images