The Latest Tour de France Controversy Involves Beer
A team manager's rebuttal to doping accusations led to an even bigger kerfuffle over booze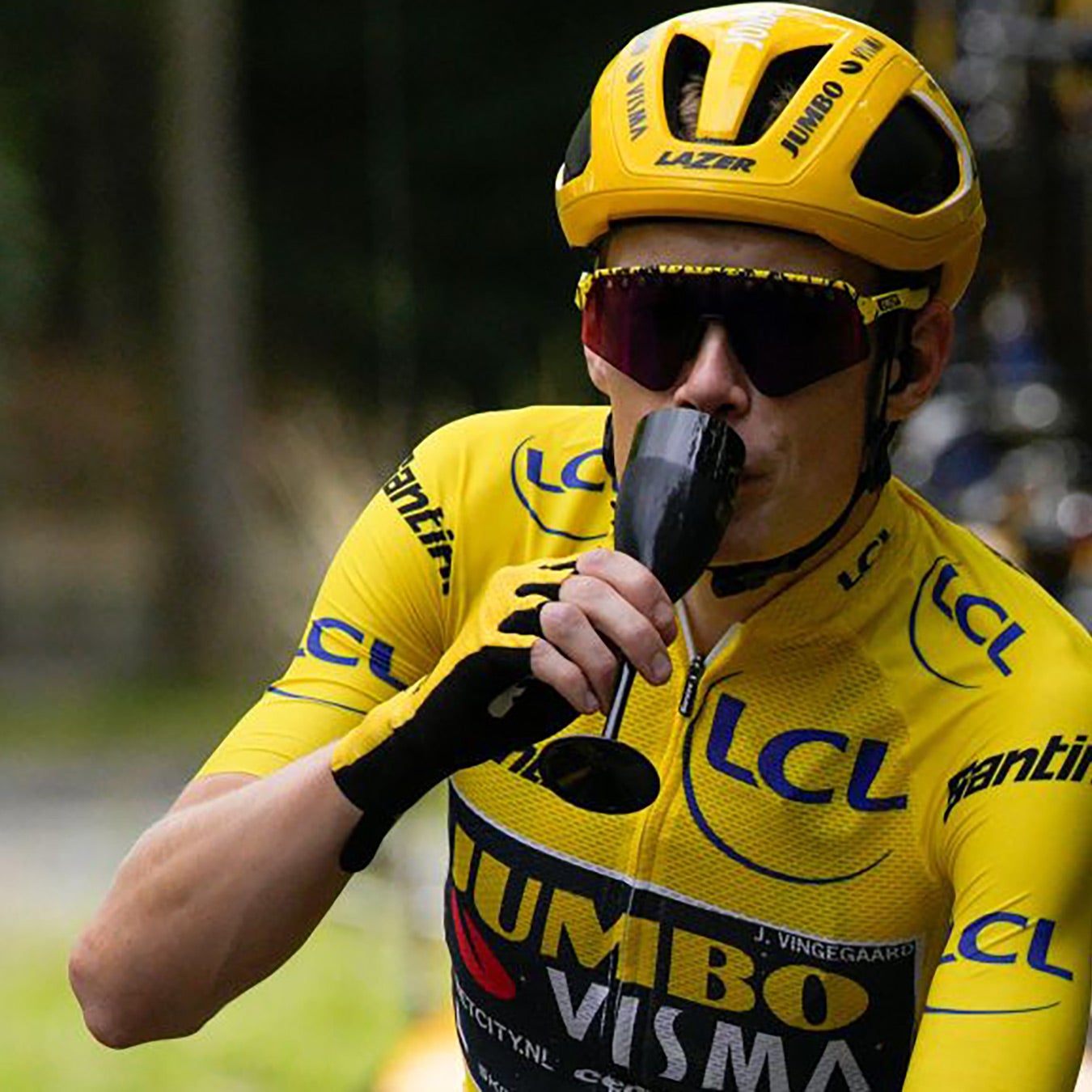 Getty Images
Heading out the door? Read this article on the new Outside+ app available now on iOS devices for members! Download the app.
The 2023 men's Tour de France wrapped up on Sunday, July 23, with the familiar sprint along the Champs-Élysées in downtown Paris. Race winner Jonas Vingegaard of Denmark stood on the final podium, and like many Tour champs before him, thanked the fans.
These scenes occurred just 24 hours after another Tour de France tradition played out in the French media: bruised egos and accusations of doping. Only this year's kerfuffle involved a different and extremely hilarious allegation: beer drinking! Come, let me take you inside a ridiculous final few days of the 2023 Tour.
As you may know, the first 15 stages of the 2023 Tour featured a two-man battle for the yellow jersey between defending champion Jonas Vingegaard of Denmark and Slovenia's Tadej Pogacar, the Tour champ from 2020 and 2021. Then, during the individual time trial on stage 16, Vingegaard blew the race wide open and gained nearly two minutes on Pogacar. Vingegaard's time advantage widened on stage 17, when an exhausted Pogacar was dropped on an early climb and effectively raised the white flag with four stages remaining.
Almost every Tour winner faces suspicion over doping: Chris Froome, Vincenzo Nibali, and even Pogacar did. Fielding questions about performance-enhancing drugs is modus operandi in the post-Lance world, and critics quickly voiced doubts over Vingegaard shortly after the time trial. I scanned the web to see if any French newspapers would jump on the story, and headlines began to trickle out the day after the time trial. On Wednesday, July 19, L'Equipe published a headline calling Vingegaard's performance "from another planet," a not-so subtle cycling code for dirty. The next day, French newspaper Ouest France quoted anonymous sources from teams in the race calling Vingegaard's huge lead in the overall a "climate of embarrassment." Vingegaard, like most Tour leaders since 2012, addressed questions of doping in his final few press conferences. He was diplomatic, telling reporters he was clean, before acknowledging that "I understand that it's hard to trust in cycling with the past there has been."
L'Equipe today: "From another planet." 👽💛#TDF2023 pic.twitter.com/NpyqMFqazY

— Mihai Simion (@faustocoppi60) July 19, 2023
Vingegaard's Jumbo Visma team manager, Richard Plugge, also used every interview as an opportunity to push back on suspicion. Plugge, who rose to the highest position at the team after serving as its PR liaison decades ago, pointed out his team's commitment to transparency in each rebuttal. During cycling's infamous "EPO era" two decades ago, Tour teams shooed media away from team hotels and training camps. Plugge told website Cyclingnews that various media had shadowed Jumbo Visma riders over the previous months, including a L'Equipe reporter. Netflix filmmakers were embedded with the team in 2022 and 2023, he said, as was a book author, who spent three years with the squad. Had the team been doping, media would have seen it, he said. "I think also it's the job and the responsibility of some journalists to look a little bit deeper into it rather than just spread around suspicion," Plugge said. "We open our doors, we are transparent, we do as much as we can. And yeah, we are always happy to answer all questions. So, ask us the questions and we will answer."
As someone who has covered cycling for the last two decades, I can tell you that none of this felt particularly strange for the Tour de France's media cycle.
And then Plugge took things a bit too far. In an interview with (of course) L'Equipe, Plugge said Jumbo Visma's success was due, in part, to the team's fanatical commitment to the fine details of training and nutrition. None of the riders drank alcohol during the race, he said, before hurling a verbal atom bomb. "We were with a French team at our hotel during the rest day. We could see riders drinking large beers," Plugge said. "Alcohol is poison, and when you're tired, it makes you more tired."
The Tour distributes hotel information to media, and it took little time for journalists to see that just one French squad had shared a hotel with Jumbo Visma on the rest day: French squad Groupama FDJ. Had it been any other French team, Plugge's comments would have generated little more than a few goofy tweets. But Groupama FDJ is managed by Marc Madiot, cycling's version of hothead Yankees skipper Billy Martin (see the clip below).
Any chance of getting some live footage of Marc Madiot? pic.twitter.com/mIDKmUw5CL

— Graham Healy (@Healycycles) July 22, 2023
And boy was Madiot pissed.
"Who does he think he is? Frankly, it's an exceptionally vile attack on his part," Madiot told reporters. "Let him keep his mouth shut. I don't intend to see him. I don't care about him. I'm not going to go and see him. I'm angry. It's pathetic. I don't watch what he puts in his riders' bowls."
Please read Madiot's quote again and let the acid sink in. Cycling is an infamously boring and buttoned-down sport from a media perspective. Athletes drone on and on about the "sensations in their legs," and team managers rarely, if ever, talk trash. Madiot's rebuttal is basically him reciting Rage Against the Machine lyrics in public. Madiot even clowned Jumbo Visma on social media.
— Mar_chan (@mar_chan501) July 24, 2023
Madiot's anger was due to the timing of Plugge's quote—the verbal barb was rain on French cycling's coming parade. The beer quote circulated the evening before Madiot's star rider, Thibaud Pinot, raced for the final time over his hometown roads through the Vosges Mountains on the Tour's 20th stage. Pinot, 33, was France's star rider during his prime, and he finished third at the 2013 Tour. Everybody knew that Pinot was going to attack on his familiar mountains, and the day was supposed to be a glorious moment for Pinot, Groupama FDJ, and Madiot. But rather than field questions over Pinot's gilded spot in French cycling history, Madiot was peppered with inquiries about how much beer his riders drank each night during the Tour.
"On every rest day, we have a moment of conviviality between my riders and the management. The management drinks a beer, not necessarily the riders," Madiot fumed. "And even if they had drunk one, it wouldn't have been fifty centileters (16 ounces). I was at the table, there was Perrier!"
THERE WAS PERRIER! Finally, we get to the golden quote of this entire saga, and some fascinating insight into the nutritional habits of French cyclists. Yes, they fuel themselves with fancy seltzer water you can buy by the pallet at Costco.
As for Vingegaard, cycling media cannot say for sure whether he is fueled by fizzy water and smart nutrition, or by the latest and greatest chemical developed to cheat sports. The current reporting—and many signs within the sport—point to the former being the case. But believing the Tour de France champion has always required a leap of faith for fans and journalists alike, due to the sport's history.
One mystery has been solved, however. We know that Plugge's comments—and Madiot's fiery rebuttal—earned Vingegaard and the Jumbo Visma team very little support from the French fans lining the road. During stage 20, Pinot surged from the peloton and rode through the mountains to a roar of applause. Behind, Jumbo Visma and Vingegaard chased after him amid a chorus of boos.
Lead Photo: Getty Images