Tour de France Cyclists Overbooked a Hotel. Enter the Entrepreneurs.
Want a room at the only hotel on Mount Teide in the Canary Islands? You'll have to battle stars of the Tour de France to get one. Two British ex-pats came up with a solution to pro cycling's battle of the bedrooms.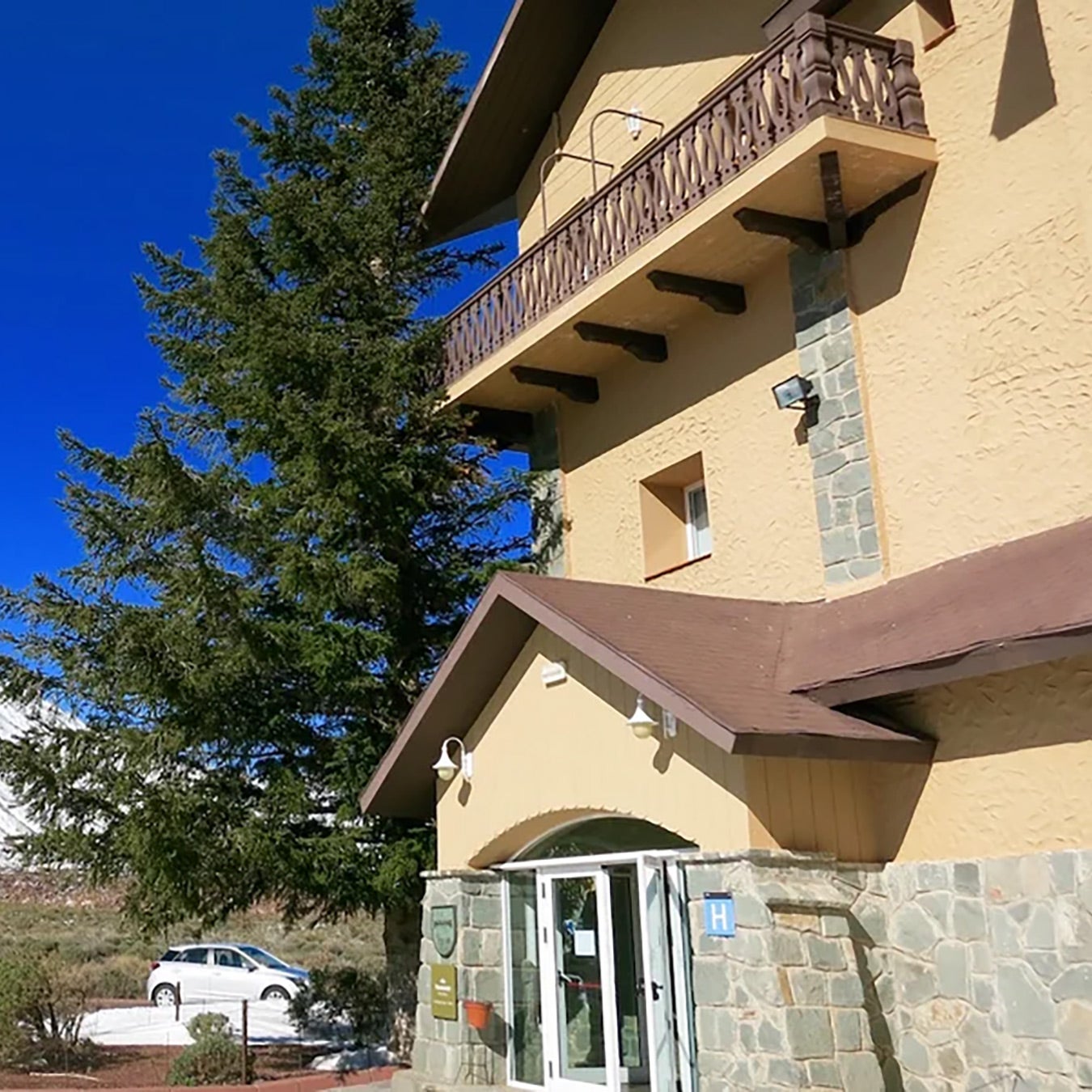 Andrew Hood
Heading out the door? Read this article on the new Outside+ app available now on iOS devices for members! Download the app.
When the time comes for Tour de France stars to train for the upcoming pro cycling season, many head to the island of Tenerife in the Canary Islands. There, they decamp to the collection of hotels and bed and breakfasts on the slopes of Mount Teide, the highest point above sea level on any Atlantic island.
The soaring volcano stands 12,188 feet above sea level, and the combination of winter sunshine, thin air, and long, grinding climbs make it an ideal training ground for bicyclists. There are so many world champions, Tour winners, and classics specialists clogging the roadways during certain months that a high-altitude logjam forms at the Parador de Las Cañadas del Teide hotel perched on the edge of the crater.
The competition for a room is so fierce that some WorldTour teams now book reservations there two to three years in advance to secure boarding for the peak winter training windows.
The competition has also spurred entrepreneurs to capitalize on a hospitality opportunity. A chance meeting a few years ago between a British ex-pat living on Tenerife named Jane Lucks and four-time Tour de France winner Chris Froome is helping to ease the pressure near the top of the volcano. Back in 2017, Lucks spotted on Instagram that Froome would be training on the volcano, and she hung around the Parador hotel until Froome showed up to get a signed copy of his autobiography.
"I started to talking to his soigneur about how they wanted to come back, but the rooms were full," Lucks said. "I said I know a few people and I could call around. Chris signs the book, we take some photos, and we're happy. Then two weeks later I get a call from him. Remember us? Can you help us find something?"
Froome's inquiry got Lucks thinking of possible solutions to the high-altitude stampede of pro cyclists. She and a business partner, another British expat and endurance coach named Carolyn Gaskell, came up with a solution that borrows from familiar short-term rental sites like Airbnb or VRBO. They tapped into a network of locals who own homes, apartments, and cabins on the slopes of the volcano, and started a business to help rent the homes out to Froome and other pro cyclists. It's like Airbnb, but for stars of the Tour de France.
"We didn't start out planning to do anything of the kind," Lucks said. "That's how it started. We did it as a favor for Chris, and he dealt directly with the owner. And here we are."
Chasing Altitude on Teide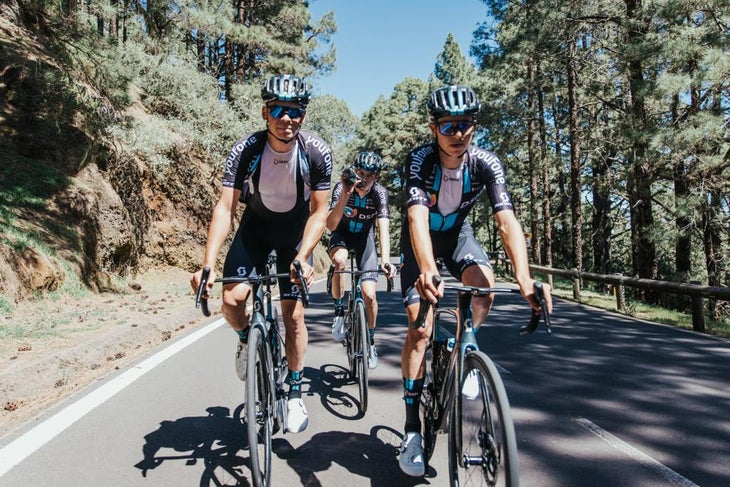 Only at the Tour de France will you see more star cyclists than during a typical January day on Teide. Riders flock there prior to the season beginning, when other high-altitude destinations in the Alps and Pyrenees are still socked in with snow. The volcano started attracting cyclists a generation ago, and back then, only a handful of elite riders would book out rooms in the Parador hotel. It is perched at the base of the volcano's highest crater, and it sits at an elevation of 6,500 feet above sea level. For comparison, the summit of famed climb l'Alpe d'Huez is at 6,100 feet.
Back then, many of the cyclists financed the trips themselves. On a few top pros like Froome and Spaniard Alberto Contador had deep enough pockets to hire out rooms for themselves and their personal staffers to live and train out of the hotel for weeks at a time. In recent years, however, teams have recognized the value of prolonged high-altitude training camps, and now they budget in cash for hotel stays for riders, staff, and coaches.
"Suddenly there is this massive interest in the altitude camps," Gaskell told Velo. "The training here is unique. They can go low and train on the flats, and there's plenty of climbing up four different roads up. There's a lot of variety and the weather is usually pretty good."
Also read: Life at thin air — Inside a WorldTour altitude camp
But the Parador, with its 37 rooms, could not keep up with the traffic. It's the only fully-serviced hotel sitting above 6,000 feet on the island. Efforts to book out room made headlines earlier this spring when it VeloNews reported that teams such as Dutch squad Jumbo-Visma were renting out rooms in key training windows two to three years in advance, much to the chagrin of other riders and teams looking to sharpen their high-altitude base miles.
How fast is Remco Evenepoel going after a Tenerife training camp? Very fast.

He crushed a Strava record on the Teide volcano ahead of racing return.https://t.co/bt0KSe9363

— Velo (@velovelovelo__) March 14, 2023
"The story came out in the media this spring and we suddenly received a flurry calls and inquiries for 2024," Lucks said. "No one else is doing what we are doing up here in Teide."
After her encounter with Froome in 2017, Lucks began scoping the hillsides in Teide for other homes and cottages. Not knowing who owned the homes, she went into the only restaurant near the Parador and asked the staff if they knew who owned property in the area.
"The waiters said they didn't know who it was, but only that they owned a record shop. So I started calling all the record shops and I found the owner," she said. "At first they were suspicious, but they were happy to rent it out."
Lucks brokered the deal, and Froome and his teammates arrived several months later to rent out the record store owner's home. The success gave Lucks the idea, and she started networking with more property owners. She found eight who were interested in renting to cyclists—all of the homes are above 6,000 feet on the volcano.
"We found another house, and then we had two houses where we could accommodate riders and staff up there," she said. "We said, wait a minute, maybe we can turn this into something serious that we can offer all the teams."
After Froome, word quickly spread around the WorldTour peloton of a cottage industry of rental homes on Teide that were available for cyclists. More WorldTour teams contacted her: Trek-Segafredo and Team DSM became regular visitors, among a half-dozen other squads.
Lucks and Gaskell had to spruce up some of the homes to make them usable by the cyclists and teams. Amenities are sparse on the volcano. Teide looks like a cross between the Nevada desert and the moon, with few plants and lots of barren terrain. At that altitude, most cabins and homes generate electricity from gas generators or solar panels. Water must be trucked in. At some homes, Lucks and Gaskell have had to add kitchen facilities, heat, wifi, and extra rooms. .
"There's nothing to do up there," Lucks said. "Some cyclists love that train-eat-sleep routine, and there are others who do like the isolation and can struggle with it."
They now offer a variety of services as part of their growing cycling portfolio, called VeloCity Cycle Coaching. Gaskell, who coaches cyclists, also offers training camps and coaching services, and is working with a young cyclist who hopes to become Tenerife's first top-level pro.
Also read: Meet the rider who is trying to become Tenerife's first pro
They also work with local chefs who can prepare special training-friendly menus for the riders.
But the business is thriving, and Lucks still traces everything back to that chance encounter with Froome. In the years after their meeting, he became a regular customer at the cottages, and offered advice to Lucks and Gaskell about how to make the living spaces more attractive to WorldTour riders. Some riders want to bring their families, or mechanics, so the cottages need to be big enough for multiple people. Wifi is a must.
"We have learned what the riders needs, and we take that feedback to our customers, and they can improve the properties," Lucks said. "It's funny that it's two foreigners who have come with this idea of altitude training camps."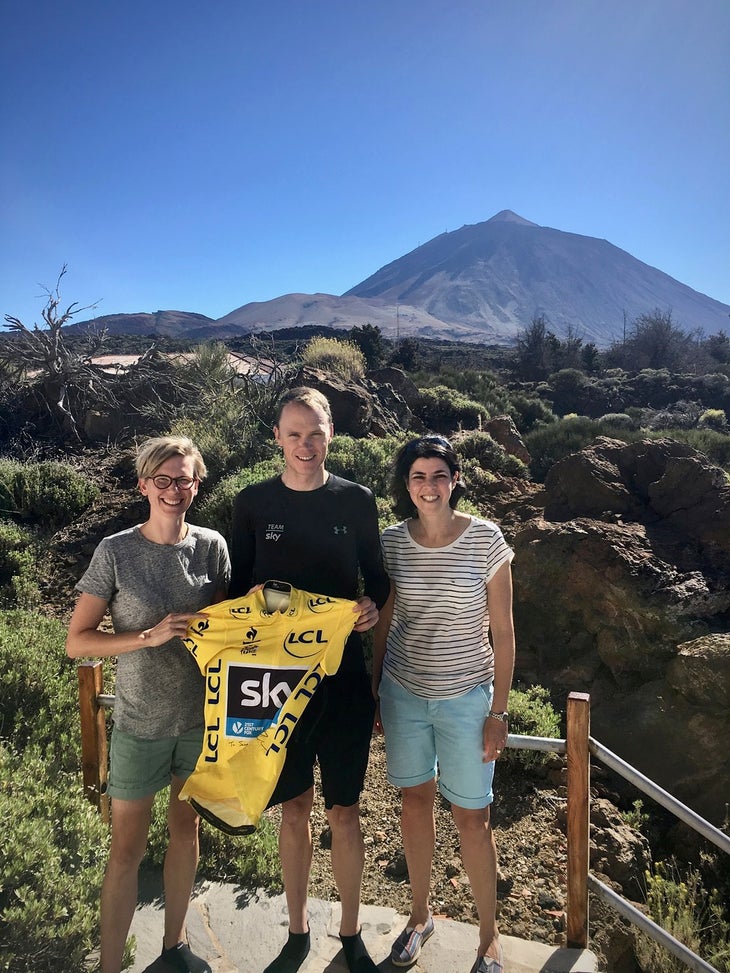 Lead Photo: Andrew Hood